Vegan Chinese Chive Tofu Pockets
Hi everyone!
This week, traveling friends from abroad came to visit me. and once again I had the opportunity to prepare delicious food and host. And this time I made these lovely Vegan Chinese Chive Tofu Pockets. The chive-tofu filling turned out so amazing and full of umami that you just have to try it. 
The truth is that they turned out so delicious and juicy, that I almost couldn't finish photographing them the way I want (the guests were really hungry). I also made a perfect sweet & spicy Crispy Shallot Chili Oil recipe. This chili oil goes with so many Asian dishes, has a long shelf life, and turned out just yummy.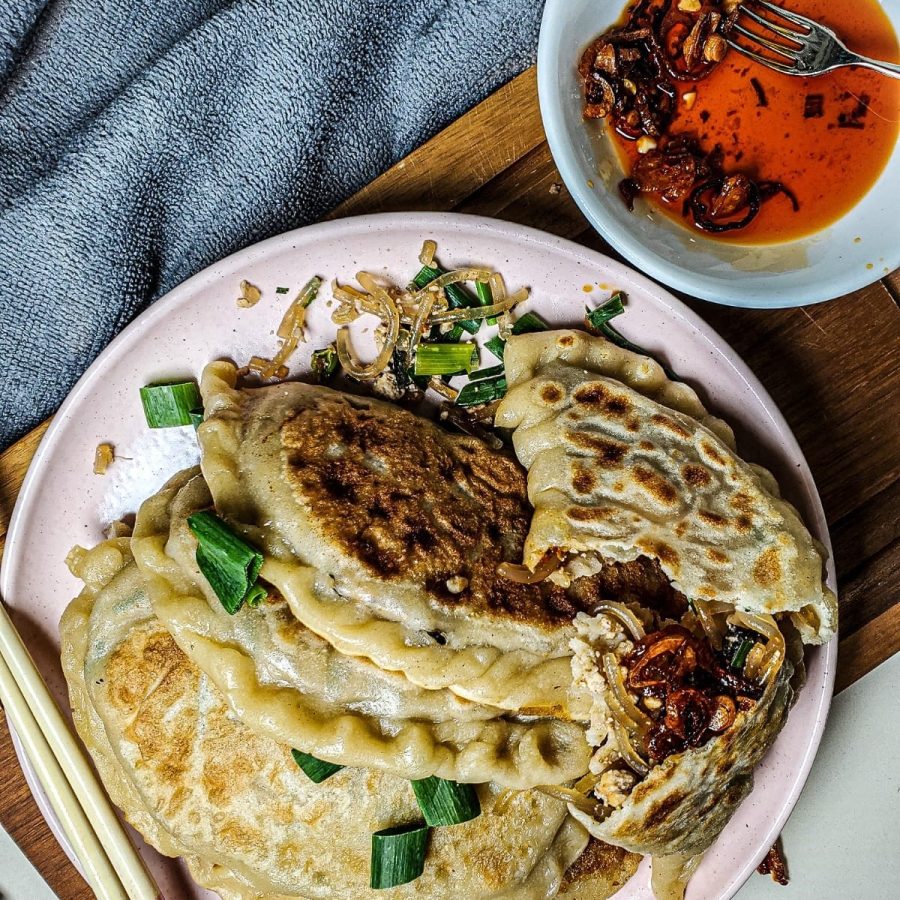 At the last minute, my mom asked me to make the dumplings from Whole Wheat Spelt Flour, because she doesn't like white flour. I wanted to take a picture of the second batch of the dumplings, which were made from whole spelled flour! 
And you just won't believe it. They turned out even more scrumptious than the White Flour dumplings. And that's why I didn't have time to photograph those – they were just grabbed too quickly. Maybe next time I'll be able to haha. In the meantime, I've also included a recipe below for whole-spelt flour pockets. I promise. They are simply the best😊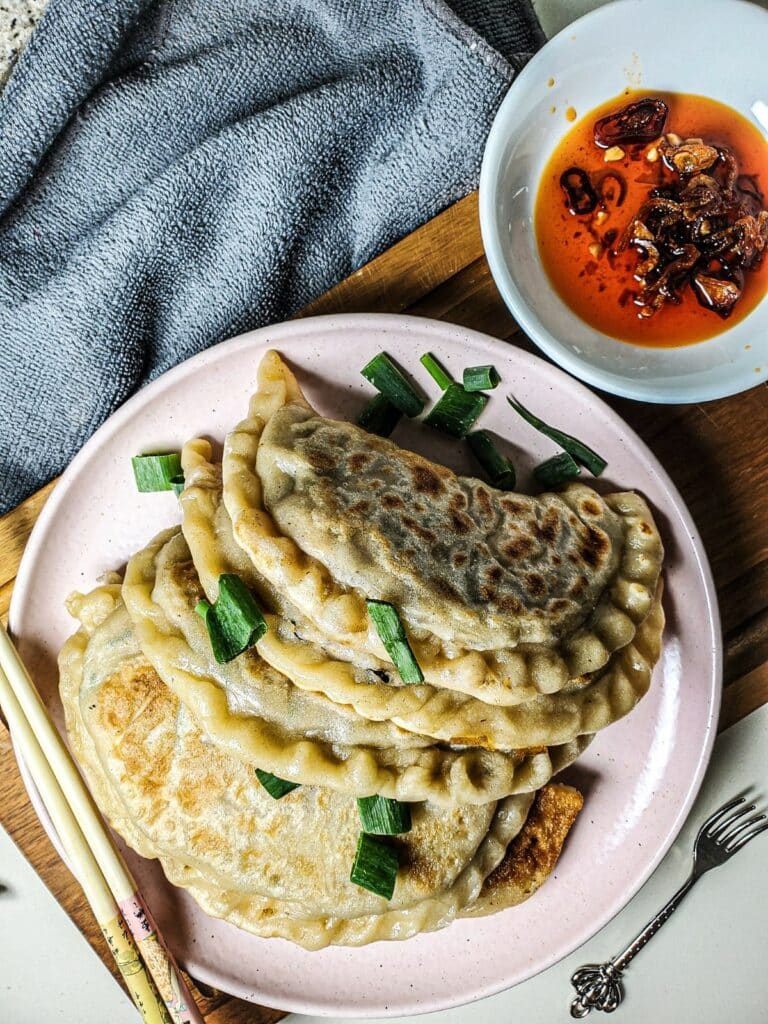 What are Chinese Chive Tofu Pockets?
So pockets or dumplings are a food that is very associated with China and Asian countries in general. There are lots of variations, shapes, and recipes for Asian dumplings. This version of the dumplings is usually associated with Chinese New Year celebrations. And in its original version, it is prepared with eggs, fish, meat, etc. In this recipe, we replace the eggs with tofu and add amazing spices that make them delicious and perfect so that you can celebrate with them all year round.
Do you know the question, what would I take with you to a desert island? So these dumplings can totally join. And let's not forget to add the Crispy Shallot Chili Oil that I made for them! Yes, click there for this recipe.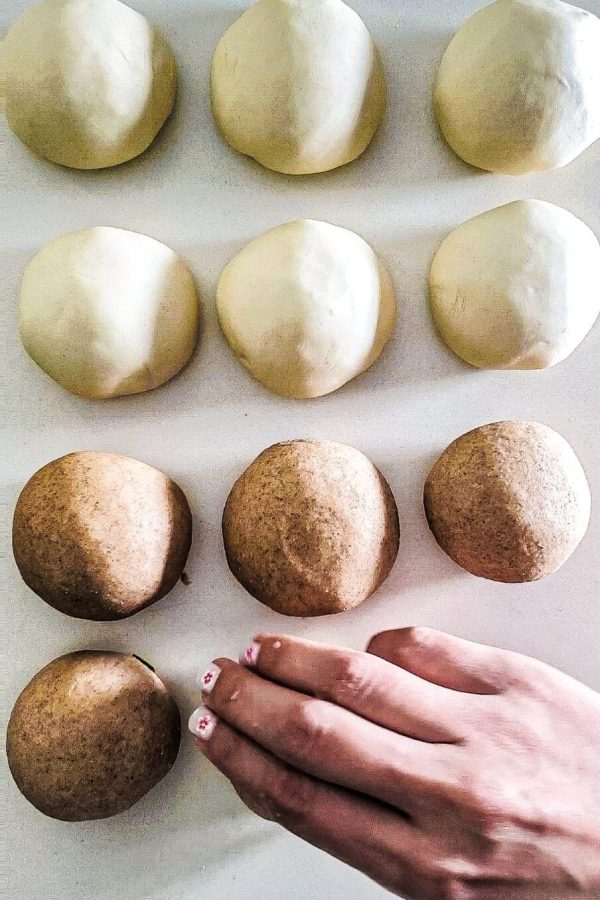 Ingredients for Chinese Chive Tofu Pockets
So we have several product categories that will make these Chive Pockets not only mouthwatering, but authentic and..in short, perfect. All these ingredients can be used in many more recipes so I always have them at home.
Flour – any white flour will be good here, and if you want to use whole wheat or spelt flour, you can see the recipe below, there is also an explanation for that.
Tapioca Flour – so tapioca flour is used for many things. In the original version, it is sometimes accustomed to use an egg inside the dough. So I decided to add tapioca to get a chewy and soft texture instead of egg. But not mandatory if you don't have one.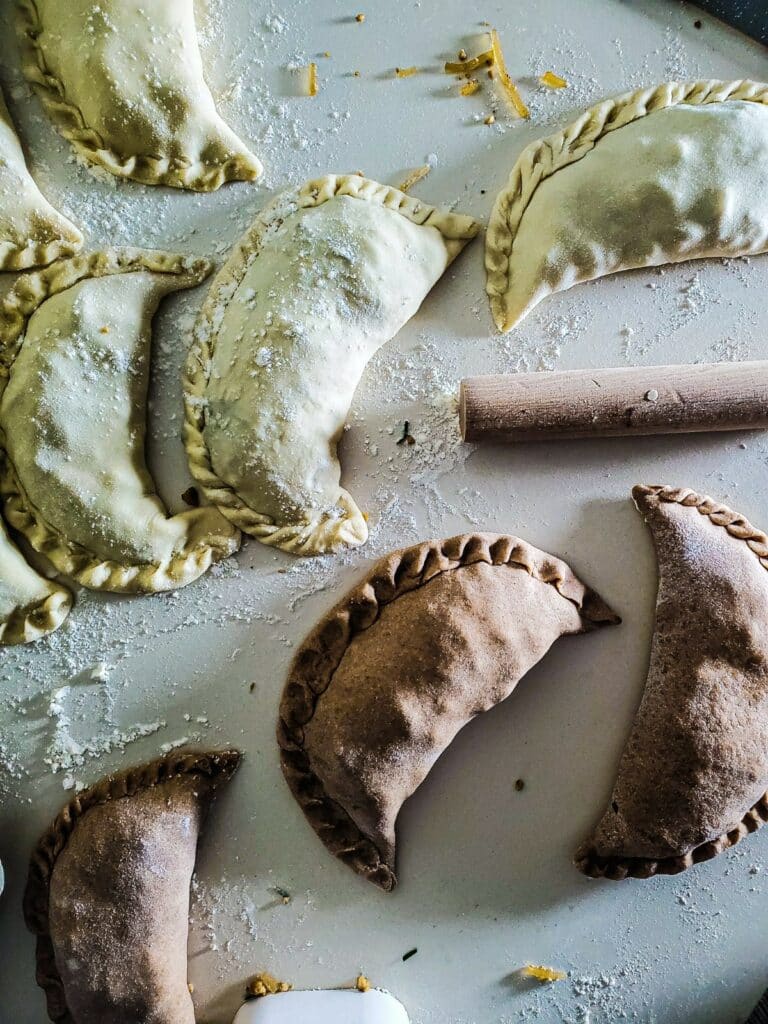 Tofu – Any firm-textured tofu that you can get near you will work well here.
Dried Shiitake Mushrooms – Another product that is always at home with a long shelf life. Before starting the recipe and preparing your 'mise en place', soak them in boiling water.
A Small Tip: You can save the shiitake mushroom stock made from the soaking to slightly moisten the tofu mixture if it gets too dry in the pan. This will add stronger shiitake mushroom flavors to the chive stuffing. Add some of the stock to the boiling pan with the tofu and let the liquid evaporate.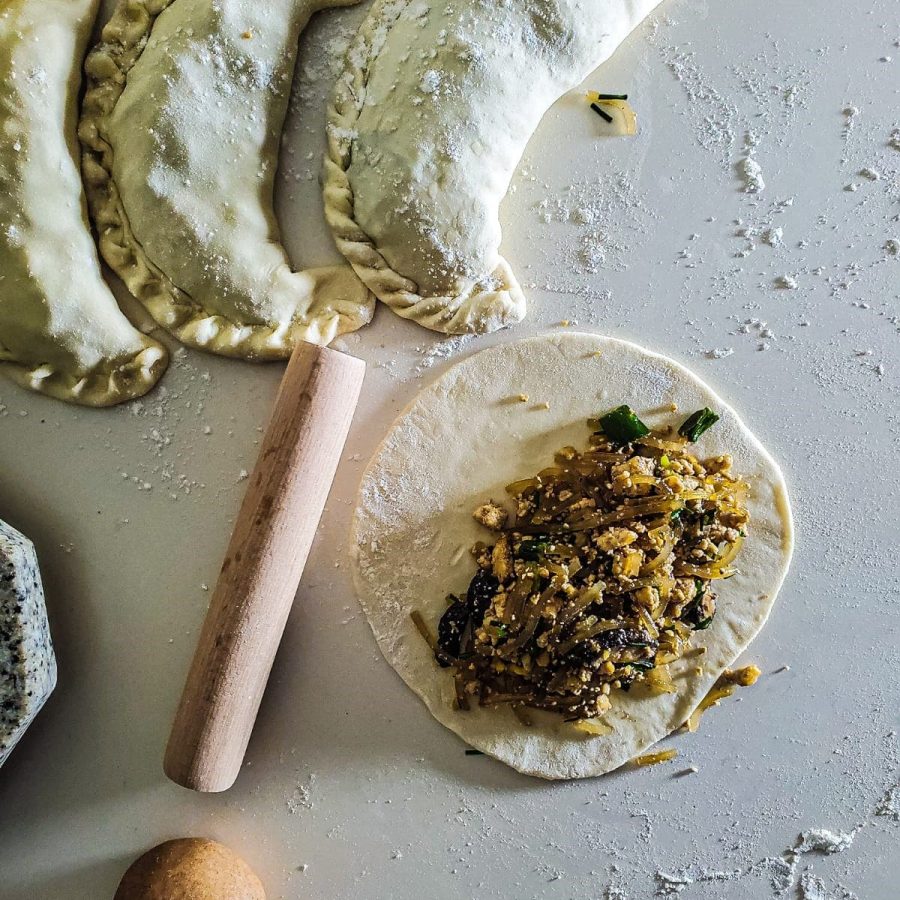 Korean Sweet Potato Noodles – pretty much any type of glass noodle will work here. Also bean or rice noodles. But if you have access to Korean sweet potato noodles, do yourself a favor and buy some. I like these noodles a lot. They are relatively low in calories, satisfying, and delicious with any sauce you want. There is also a vegan Japchae recipe that you can make from them.
Soy Sauce – Because, why not?
Miso Paste – I used light but dark would also be fine here. Miso paste is quite necessary here in the recipe if you don't have umami powder which is used a lot in Chinese cuisine. It simply enriches the filling with flavor.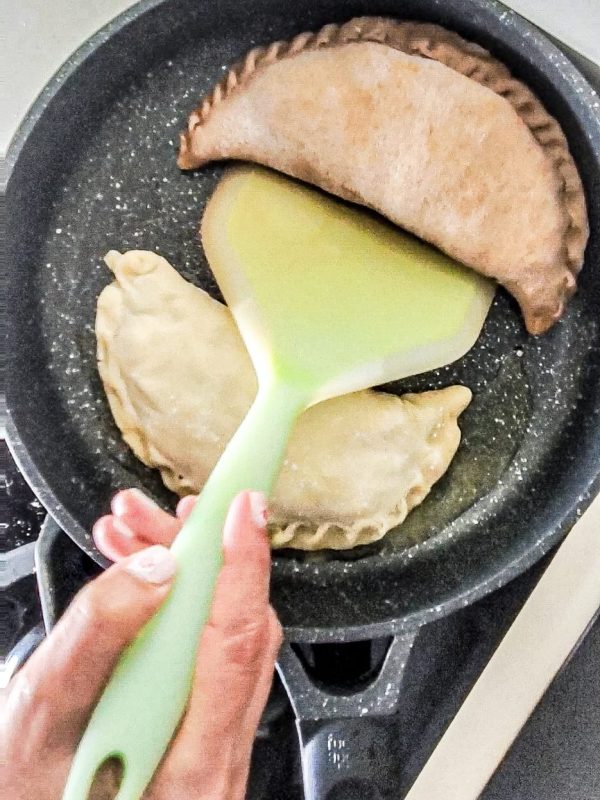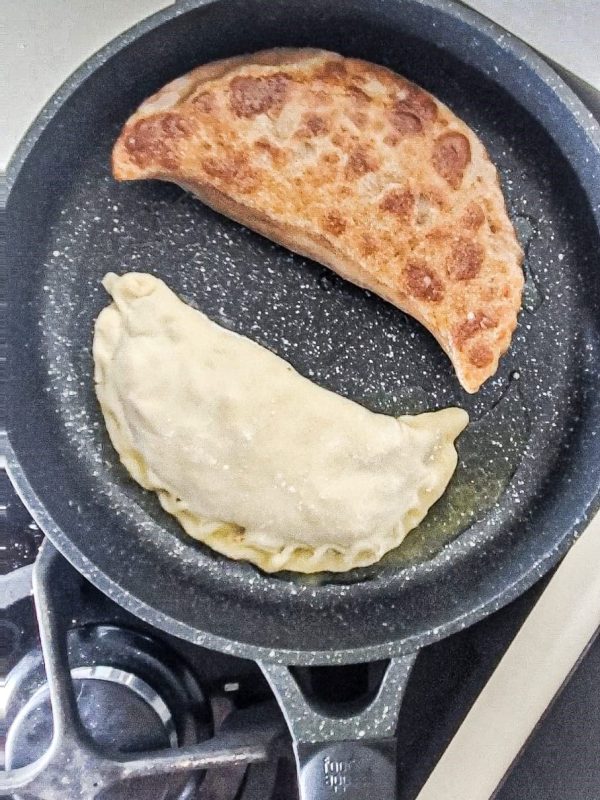 Five Spices or "Five Spice Powder" – This is a mix of 5 Chinese spices consisting of star anise, Szechuan pepper, fennel seeds, cloves, and cinnamon. Everything can be crushed in a pestle and mortar or a coffee grinder. I had a store-bought from my herb, it's much easier and you have perfect Chinese seasoning anytime. In the recipe, I wrote half a teaspoon of 5 spice but in reality, I kept adding. I think used 1.5 teaspoons in the end because the aroma and flavors are really good. So in any case, it's up to you and I always recommend to taste and taste.
Sesame Oil – don't give this one up. A tablespoon or two into the mix gives a rich nutty flavor that you won't be able to stop feasting on these dumplings.

Chives – I wrote 100 grams in the recipe, but you can double the amount if you like more greens. I also added scallions for more flavor but it's optional.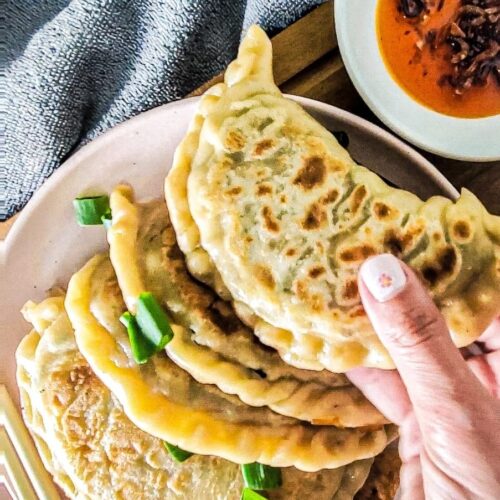 The dumpling dough is the easiest recipe in the world. You just need to mix flour and water, knead, and let the dough rest for about an hour. In the meantime, you can cook the chive-tofu filling.
It's a perfect recipe for entertaining as I found out haha. The Chinese dumplings with tofu and chives are really perfect for lunch or dinner and I'm not exaggerating. It's also high in protein because of the tofu and can be made with whole wheat flour for a healthier version.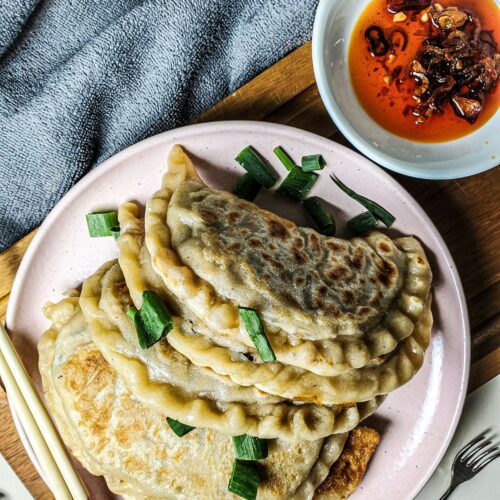 Chinese Chive Tofu Pockets
Vegan Juicy Chinese Chive Tofu dumplings with Glass Noodles and Shitake Mushrooms
Equipment
Scale

Measuring cups

Mixing bowl

Rolling Pin

Wide sutee pan with a lid

Spatula

Dough cutter
Ingredients
* You can make the pockets from all-purpose flour / or whole-spelt flour
Chinese Pockets Dough - All-purpose flour (makes 6 dumplings)
250

gr

White Flour

And some more for dusting

150

ml

Warm water

2

Tbsp

Tapioca starch

*Optional - makes it more chewy
Chinese Pockets Dough - Whole Spelt flour (makes 6 dumplings)
250

gr

Whole Spelt flour

170

ml

Warm water

2

Tbsp

Tapioca starch

*Optional - makes it more chewy
Vegan Chive Tofu Stuffing (enough for 12 dumplings)
2

Tbsp

Olive oil

For pan frying

300

gr

Tofu

Finely crumbled

6-8

Dried Shiitake mushroom

Rehydrated in hot water and sliced

1

Tbsp

Chopped ginger

100-200

gr

Chives

Chopped

3-4

Green onions

Chopped

1

Cup

Sweet potato noodles

Cooked, rinsed, and chopped to a really short noodles with scissors.

1.5

Tbsp

Miso paste

1

Tbsp

Sesame Oil

2

Tbsp

Soy sauce

1

Tsp

Salt

½

Tsp

Chinese five-spice

½

Tsp

White pepper
Instructions
For the dumpling dough (same instructions for whichever flour you choose)
In a bowl, mix the flour, tapioca, and hot water. At first, use a spoon or a mixing stick, and when it cools down a bit, mix by hand until the mixture is combined.

Knead the dough well for about 15 minutes until a smooth dough is obtained. Make a ball out of it and wrap it in baking paper or a bag. Let the dough rest for about an hour and in the meantime, you can prep the filling.
For The Chive Tofu-Filling
Heat a little olive oil in a pan, and fry the ginger and shiitake tofu on medium-high heat for about 10 minutes until the tofu is slightly golden.

Add the chives, green onions, noodles, and spices, and mix well.

Add the miso, sesame oil, and soy sauce and mix again. If the mixture is dry, you can add a drop of water. Make sure to taste and correct the seasoning. The mixture should come out a little salty, inside the dumplings, the saltiness decreases a little.

Let cool for about 10 minutes.
Assembling
Remove the ball of dough from the bag and, using a dough cutter, cut 6 pieces of equal weight as much as possible. Shape them into a ball.

Flour the surface so that the dough does not stick, and use a rolling pin to roll the dough from side to side to create a thin circle of dough that can be filled.

Fill the pockets in the center with 2-3 tablespoons of the filling, fold the pocket over the filling, and firmly tighten the edges to close the pockets well.

Prepare half a cup of lukewarm water on the side for each frying round. Heat a little oil in a pan on medium, slightly high heat, and fry the dumplings on one side until golden.

Turn the dumplings to the other side with a spatula, add the water, and continue cooking in a covered pan until there is no water left in the pan and the dumplings are well-steamed and have a nice color on both sides.