Hi friends!
What could be more delicious than a savory, super crunchy vegan vegetable pancake on the outside, and soft on the inside? Filled with thin vegetable cuts, and a touch of green hot chili pepper and ginger? I'll tell you what could be tastier. Exactly that, along with its insanely, full of umami, chili soy dip that is super easy to make. I do this recipe a lot because it is delicious, and very quick.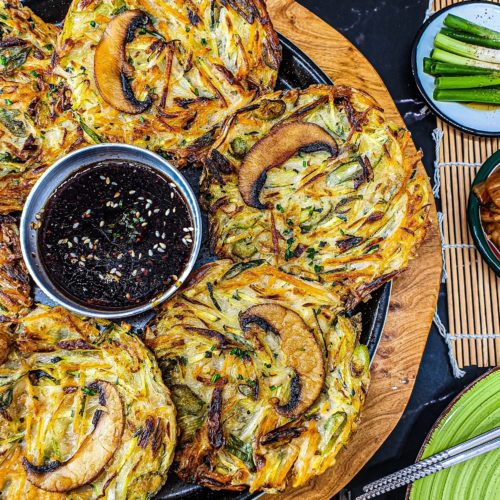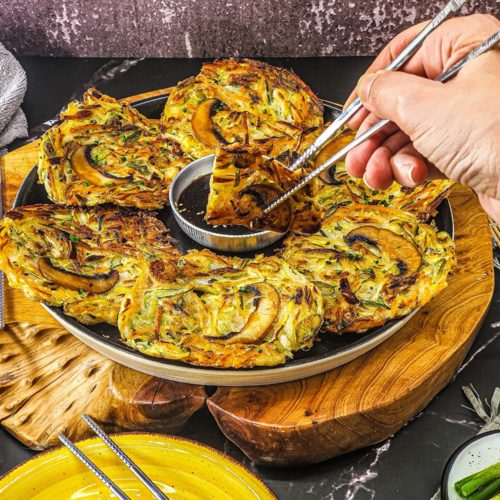 Vegan Korean Vegetable Pancake always reminds me of the vibrant and colorful food market "Gwangjang", in the heart of Seoul, South Korea, where I tasted it for the first time. Enjoyed it with a surprising variety of street foods, and a bottle of refreshing cold rice wine – "Makgeolli" at the height of summer 2017.
This vegan vegetable pancake is a Korean street food along with other types of street foods like Tteokboki (spicy rice cakes), and can be found on almost every corner and in restaurants. Same as we can find falafel joints everywhere here in Israel. It is also often served as a side dish and can be found in Korean BBQ restaurants along with the rest of the sides. That is the main reason I go to Korean BBQ restaurants. Besides the fact that it is the most fun social eating style there is, I come there to roast my vegetables, for side dishes, and for this Vegan Vegetable Pancake as well.
how to make a crispy korean pancake
As as you already know, I make it a lot. I must point out that it didn't always come out quite right at first because there are some things to keep in mind when making it, and here are my conclusions.
First of all, you have to cut the vegetables into thin cuts (Juliennes). This can be done with a Sharp Knife or with a Mandolin Slicer. Both are fine as long as you cut thin.
The ratio of batter to vegetables will look as if there are more vegetables than batter. But this is how it should look when all the veg are covered with a thin layer of batter.
We need to maintain a medium to high heat on the stove. If the heat is too high, it will burn the vegetables from the outside. on the inside, it won't cook completely when we take it out. If the heat is too low, it won't crisp up nor will it cook the dough as well on the inside.
How to make a crispy Korean vegetable pancake
It is important to make sure that when pouring the batter into the oil, you must flatten the pancakes to the desired shape with a wooden spoon or a suitable tool. If not flattened to a thin thickness it just won't cook again on the inside. I personally used a classic pancake ring just to make them look beautiful and round. You can definitely skip this step and just flatten the pancakes without a pancake ring. If you still choose to use a pancake ring, make sure to oil it on the inside before use.
If you see that during frying the oil runs out in the pan, add a tablespoon of oil each time to continue frying. There should be 2-3 tablespoons each time in the pan so that it forms shallow frying for crispiness.
For this recipe this time I used peanut oil. There were times I used grapeseed oil or olive oil and it came out just fine but it is best to avoid frying with olive oil. 
you can use any vegetable you want!
As long as it does not too watery. I used leeks, sweet potatoes, zucchini, and mushrooms. Alternatively, you can use carrots, for example, blanched and squeezed spinach, finely grated potatoes, and more.
The spicy soy dip is easy and quick. Just mix everything in a dipping bowl and do not stop snacking.
Needless to say, I devoured it with my Vegan Korean kimchi I made! feel free to visit the recipe.
To make it short Yummy, Yummy, Yummy! Go to make it!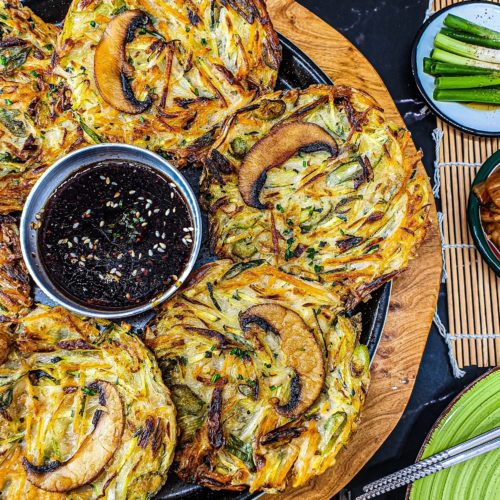 Korean Vegetable Pancake 야채전
Vegan Korean Crunchy Savory Vegetable Pancake
Equipment
Frying Pan

Whisk

Round small pancake ring (optional)

Slotted turner spatula

Mixing bowl

Mandoline or sharp knife
Ingredients
Vegtebles
½

Medium

Sweet Potato

Thin Juliennes

1

Zuchinni

Thin Juliennes

½

Leek

White part only Thin Juliennes

2

Green Onions

Chopped

2

Tsp

Ginger

Finely chopped

2

Tsp

Hot Green pepper

Finely chopped

1-2

Mushrooms

Sliced
Batter
¾

Cup

Flower

2

Tbsp.

Potato Starch

2

Tsp

Cornstarch

½

Tsp

Salt

1

Cup

Water
For Frying
2-3

Tbsp.

Peanut oil

2-3 Tbsp at the time per each frying round
Dipping Sauce
½

Cup

Soy sauce

½

Cup

Water

1

Tbsp.

Korean chili pepper flakes

1

Tbsp.

Sugar or Maple syrup

1

Tbsp.

Sesame oil

1

Tsp

Roasted sesame seeds
Instructions
Cut all the vegetables into thin juliennes and place them in a large mixing bowl. Place the mushroom slices on a separate plate.

In a separate bowl, mix all the batter ingredients for a smooth, lump-free texture.

Pour the batter into the vegetable mixture and mix well so that each veg is covered in batter.

Heat about 3 tablespoons of oil in a pan over medium-high heat and place a greased pancake ring on the sides, inside the oiled pan.

Pour about 2 tablespoons of the vegetable batter into the hot oil and flatten the pancakes into a very thin, round shape with a wooden spoon. Put a slice of mushroom or two on top and gently tighten with a spoon. Fry for about 5 minutes on 1 side or until golden.

Gently detach the pancake from the ring with a spatula. Turn the pancake over and fry on the other side for another 7 minutes until golden and crispy on both sides and the dough is completely cooked. Can be turned again if the pancake is not completely golden.

Transfer the pancakes to a plate with a paper towel.

Mix all the sauce ingredients in a small bowl. Dip each piece in a soy dip and eat. Bon apetite!