Mushroom Duxelles is one of my favorite fillings, It is a basic recipe that's most used for fillings of different stuffed vegetables, lasagna, ravioli, cannelloni, pastries, dumplings, pies, and more. You can flavor mashed potato or any other type of mash. you can also add it to cooked rice or to enrich a cream sauce and basically, the options are endless with this recipe.  
There are actually many types of Duxelles and a few different ways to make it when the base is usually chopped mushrooms. Today there are already types of Duxelles from all kinds of vegetables like leeks, onions, and more. The Duxelles we are making today will be pretty close to the classic one. It will contain chopped onion and garlic, fresh thyme leaves, chopped parsley, we will reduce it with a little of white wine and white wine vinegar and finally add about a teaspoon or two of panko crumbs that will absorb the wine flavors and combine the mixture together.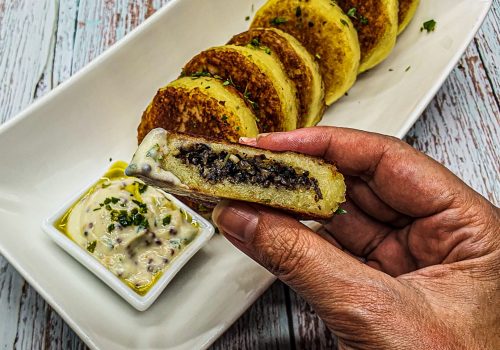 Here is one of many recipes you can use Mushroom Duxelles for, My Vegan Stuffed Potato Pancakes. Super easy to make and incredibly delicious. Click here for the full recipe of the Stuffed Potato Pancakes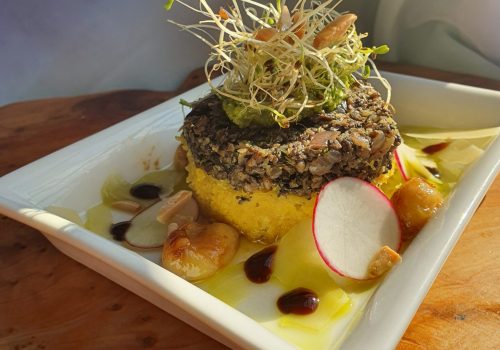 Another option to incorporate Mushroom Duxelles is here with the Polenta Pattie Recipe from the Polenta 2 Ways Post. Polenta really likes Mushrooms. For the full recipe click here Polenta 2 Ways!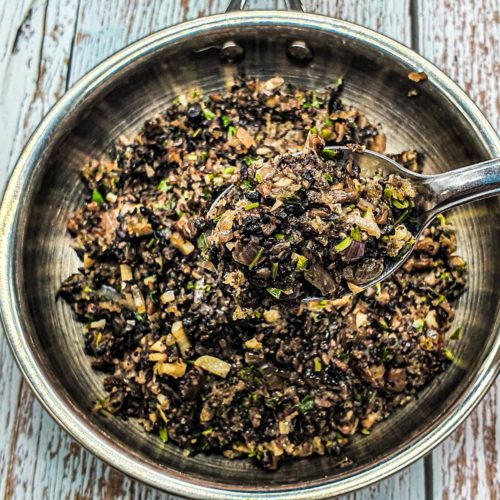 Mushroom Duxelles
finely chopped sautéed mixture of mushrooms for fillings and flavoring
Equipment
Sharp knife

Paper towel

Saute pan
Ingredients
Drizzle

Olive oil or Grape seed oil

1

Pack

Champignon mushrooms

finely chopped

2

Shallots

finely chopped

Fresh Thyme

2

tbsp

Fresh Parsley

finely chopped

3

cloves

Garlic

minced

2

tbsp

Panko bread crumbs

optional

¼

cup

White wine

2

tbsp

White wine vinegar

Sea Salt

Fresh ground black pepper
Instructions
Using a paper towel, wipe the mushrooms from dirt and sand residue, do not rinse with water so that they do not convert too much liquid during cooking.

Chop the mushrooms finely till they will look like small crumbs

In a hot skillet drizzle some oil and Sautee the chopped mushrooms. Don't stir, make sure all the moist evaporates from the mushrooms. add a pinch of salt.

Add the shallots garlic thyme and stir.

Add the vinegar, stir and let all the liquids reduce. right after that add the wine and again let reduce for few minutes

Add bread crumbs salt and pepper and stir.

once done cooking remove from the stove, add the chopped parsley and mix well.
Notes
Panko crumbs are not mandatory you can add them only if you want a more stable  mixture and less crumbly. the panko crumbs do a really good job of sticking the mixture