Aquafaba: the Vegan Alternative to Egg Whites
Ever wanted to try a meringue recipe but couldn't find out what to use to replace eggs? I mean, one of the challenges of the vegan lifestyle is creating everyday food we love, while still trying to stay true to our path. Today, I bring you a major culinary breakthrough in the form of aquafaba! With this, you might just be able to create every desert you have always been 'window eating'.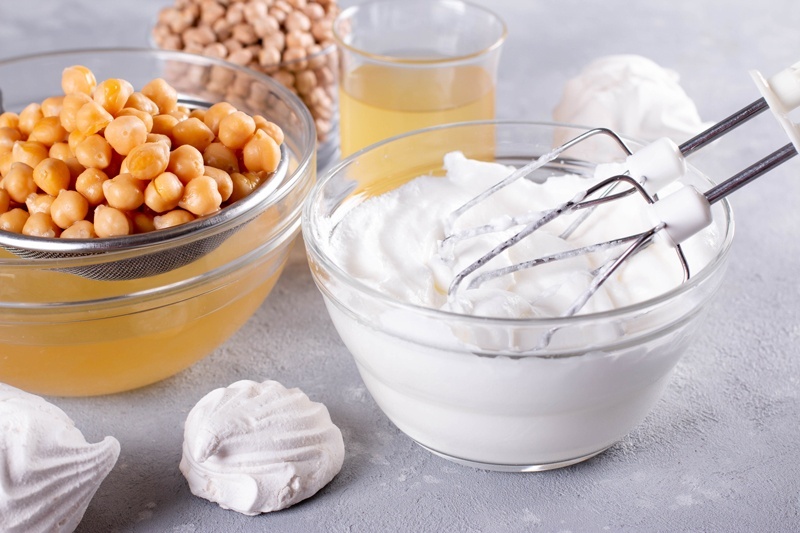 Aquafaba is the egg white equivalent in the vegan kingdom. It is the liquid obtained from a can of beans, that creates culinary magic when whipped. Some people refer to it as bean water or liquid. But the name lacks culinary sophistication. We'll just stick with aquafaba then. Aquafaba usually forms stiff and fluffy foam when whipped properly. As in the case of egg whites, sugar can be used as a stabilizing agent when whipping. Cream of tartar is also used to stabilize aquafaba. Aquafaba do taste a little beany, but this taste disappears when you add a flavor to it. So, you can't go wrong with a pinch or a drop of vanilla or strawberry flavor in your aquafaba.
Who came up with Aquafaba?
Aquafaba was first discovered in December 2014, when Joel Roessel, a musician, found out that the liquid from canned beans can form a foam similar to egg whites. He was amazed and decided to share his discovery for people to experiment with.  He later developed and published recipes to that effect. He also named that liquid its famous name aquafaba, which derived from the Latin words 'water beans'.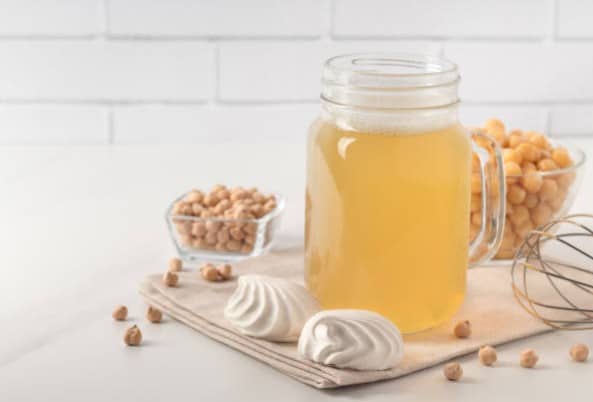 In March 2015, Goose Wohlt, an enthusiast in the vegan community, suddenly discovered that bean liquid can substitute for egg white without the need for stabilizers. All he had to do was strain the liquid from the beans and voilà! He also discovered that whisking a simple chickpea liquid and sugar mixture could create whipping cream.
how to make aquafaba from a can of chickpeas
1. Shake an unopened can of beans to ensure even distribution of all content. If left untouched for a while, residue from the liquid can settle under the can. So, you want to make sure you give it a good shaking to ensure you get all the content.
2. Using a fine-mesh sieve with a bowl underneath, pour all the contents of the can and drain. Separate the beans from the liquid.
3. Depends on the recipe you are making, and the brand of the canned chickpeas you bought, sometimes you would want to reduce the aquafaba to half of the obtained content from the can. That is to increase the protein concentration in the liquid and reduce the water content. Usually done before making Macaron cookies or Meringue pies. These recipes call for a stable meringue which is much easier to achieve after reducing your aquafaba.
4. If you're making meringues, you can go ahead, and whisk the aquafaba thoroughly and take the required measurement for your recipes.
5. The beans can be used for other recipes. So, don't throw them away. You can make Humus, falafel, salads stews ant more.
Alternatively, you can prepare your aquafaba from dry peas.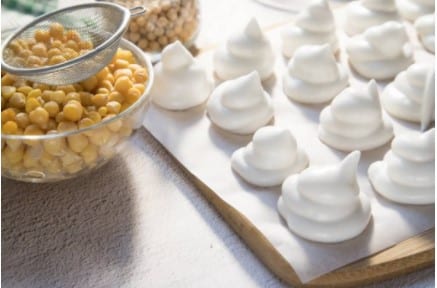 How to make Aquafaba from dry chickpeas?
1. Soak 3 cups of dry chickpeas in enough water inside a bowl or container with a lid, for a long time (overnight is best for possible effect). The water should be enough to cover the peas.
2. The next day, drain and discard the water. Rinse the peas and place them in a pan.
3. Fill a pressure cooker with 7-8 cups of water.
4. Bring the heat to a boil, then continue over medium-high heat for about 2-3 hours, while checking occasionally that there is still water inside the pressure cooker. If you are cooking chickpeas specifically for aquafaba, avoid adding baking soda as it will spoil the aquafaba. This can be done right at the end of the process after we have separated the water from the chickpeas. You can continue to cook for a while more and add baking soda to get softer chickpeas to make your best ever hummus.
5. Once chickpeas become tender, turn off the heat and let it cool.
6. You can go ahead and continue to reduce more to thicken the liquid. Depending on what you are going to make. To obtain a high protein concentration, reduce to 1/3 of the water obtained in the pressure cooker or until you see that the liquid has a gelatinous-like texture like egg whites. Additionally, if you refrigerate all this content together, the chickpeas and water in the refrigerator overnight, the protein becomes even more concentrated and the liquid becomes thicker.
Your aquafaba is ready for use. Again, don't discard the chickpeas. You can freeze them and use them for your next recipes. You can also freeze your aquafaba.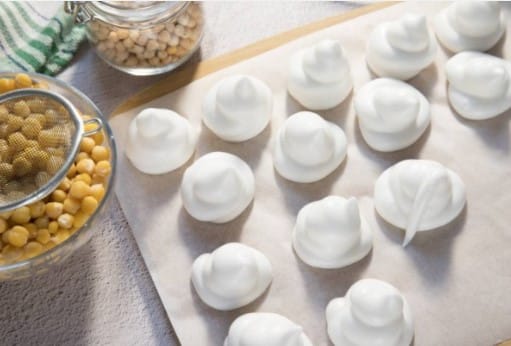 When the aquafaba is reduced enough and cooled down, use a measuring cup to divide your aquafaba into equal amounts between 100ml to 150ml and store in a plastic bag or a sealed container. You can also use a scale and have it measured between 100gr-150gr.
You can store your aquafaba by refrigerating it in an airtight container. If stored in the fridge you have about 4-7 days to use it. Then it can go bad quickly. Make sure to smell it before using it, in case you refrigerated it for a long time and you are not sure. you can also store little portions of aquafaba in an ice cube tray or keep them refrigerated in a freezer bag.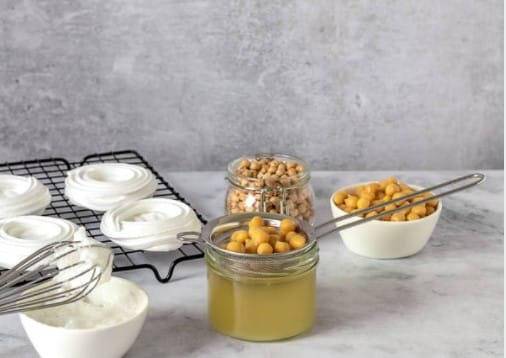 Lastly, You can make use of the liquid from other beans to make your aquafaba such as fava beans or even black beans. However, from experiments carried over time, chickpeas have quickly topped the charts for some of their stellar qualities. One of which, is how it looks quite similar to egg whites. They are also very thick, and when whipped, they produced the best results.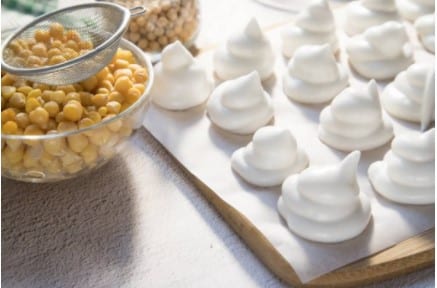 The most amazing recipes you can make with aquafaba!
One of the most intriguing qualities of aquafaba is the diversity of things you can use it for. It is not a boring ingredient and it is almost a perfect replacement for egg white. If the recipe has egg whites in it, you can simply go aquafaba.
You can use aquafaba to make simple meringues, Baked Alaska, strawberry ice cream, buttercream, and much more.
Below are the most amazing recipes you can make with aquafaba as one of its main ingredients.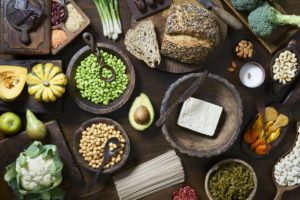 Top 10 Energizing Vegan Foods A vegan diet, which excludes animal-type products such as meat, dairy, and eggs, has many health benefits. The most obvious
Read More »