Hi Friends!
The advantage of having a food blog, and perhaps sometimes the disadvantage, is that I have to taste test and eat the recipes I make myself. Why a disadvantage? Because in order to get to the perfect taste and texture I want, I do a lot of experiments in the kitchen. And on the way to the perfect vegan recipe, there are sometimes small failures. That means I eat them too… Not that they are not good. But in order for a recipe to gain his spot in our blog of delicious foods, they have to be no less than perfect. So imagine how many scones I ate this week when I'm experimenting with the perfect recipe for vegan scones … lots of carbs! 
Mmm, that's OK though, I love carbs and I'll balance that in the following week with Leafy Greens week!
What's good about this recipe,
Is the fact that with in the first two times I have managed to get really good results. Hot and fresh vegan scones, crispy on the outside and soft on the inside, "buttery" aroma and occasionally surprising sweet-sour blueberry and crispy walnut. The scones are not too sweet and there is a very slight hint of salt. Very good and delicate taste for a morning pastry with your coffee for Breakfast. You can have it with any spread you like. The truth is I'm pretty addicted to peanut butter and jam… How American of me… I baked those scones so I would have an excuse to eat with my organic peanut butter and excellent French strawberry jam I bought in my last visit, no less and no more, in the Loire Valley region of France.
This recipe is very simple and quick,
In fact, make sure you don't process the dough too much. Also make sure to use a very cold vegan butter, cut it within the flour to create a sandy texture. Then add the rest of the ingredients and combine everything quite loosely. Over-working the dough will cause it to develop gluten and become too hard after done baking. The texture we are aiming for should be uneven and crumbling on the inside. Therefore, the dough should also be cooled for at least an hour before being baked in the oven.
Plus you don't have to add sugar. You can add maple syrup or any other sweetener substitute you want. Or not at all. On some of the scones, I drizzled a simple and easy Vegan White Chocolate Ganache that I made. It turned out pretty and tasty if you want to bounce up the sweetness.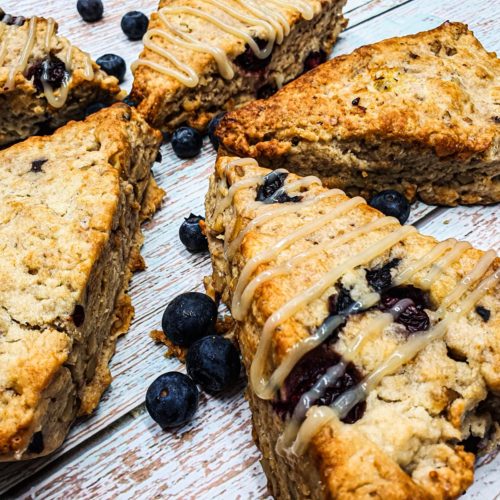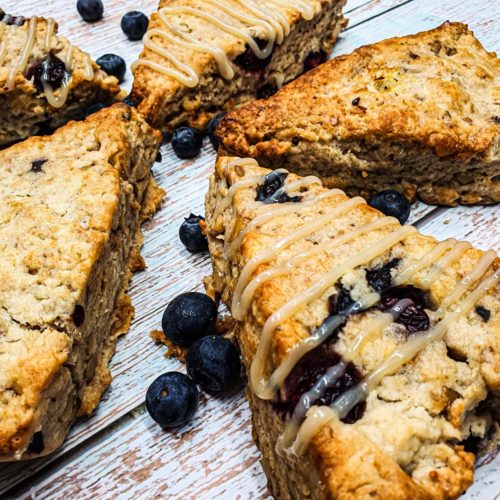 Vegan Blueberry Walnut Scones
Vegan Scones with blueberries and walnuts
Equipment
Dough cutter

Rolling Pin

Baking Tray
Ingredients
500

Grams

Self rising Flour

170

Grams

Vegan Butter

Very cold and cubed

3

Tbsp.

Sugar

1

Tsp

salt

1.5

Tsp

Baking powder

½

Cup

Coconut cream

Full fat

125

Gram

Blueberries

100

Gram

Walnuts

Crushed

2

Tsp

Vegan butter extract

Essence

1

Tsp

Vanilla extract
Instructions
In a mixing bowl put all the dry ingredients and the butter cubes

Start cutting the butter through the flour with a dough cutter to mix the butter with the flour but stay cold. you should get a sandy kind of texture

Add the coconut cream and mix gently to combine but don't over mix, we want the scones to get a crumbly texture that is not perfect - flakey and buttery

Add the walnuts and blueberries , and again mix everything, combine all to a wheel shape, so we can cut it to 8 triangles.

Place in a round container and chill in the fridge for 1 hour.

Roll the dough a bit, cut the scones to the shape you want and place them on a baking tray with a parchment paper

Bake in a pre heated oven of 200°C for 16-18 minutes
Notes
You can replace the sugar with any sweetener you want
you can add or replace the fruits and nuts to any other you like or make it completely plain
The scones are great for quick breakfast, you can eat those with different spreads like jam, vegan cream cheese, peanut butter etc
You want to store them in a close container with a lid up to 2 days outside or freeze them, and warm in the oven before serving.