Vegan Canelés de Bordeaux
Hi friends!
This stunning Vegan Pastry completely surprised me! Recently, and on many occasions, I'm finding myself sleepwalking, Trying to find the perfect Vegan Substitute for egg whites in Baking. A few months ago I came across an ingredient called Potato Protein. It is a very stable egg white replacer to use in Vegan Macaron cookies, so I learned. I was a little skeptical after some inconsistent results with aquafaba (which is chickpea water) for macaron cookies, but I said alright let's try.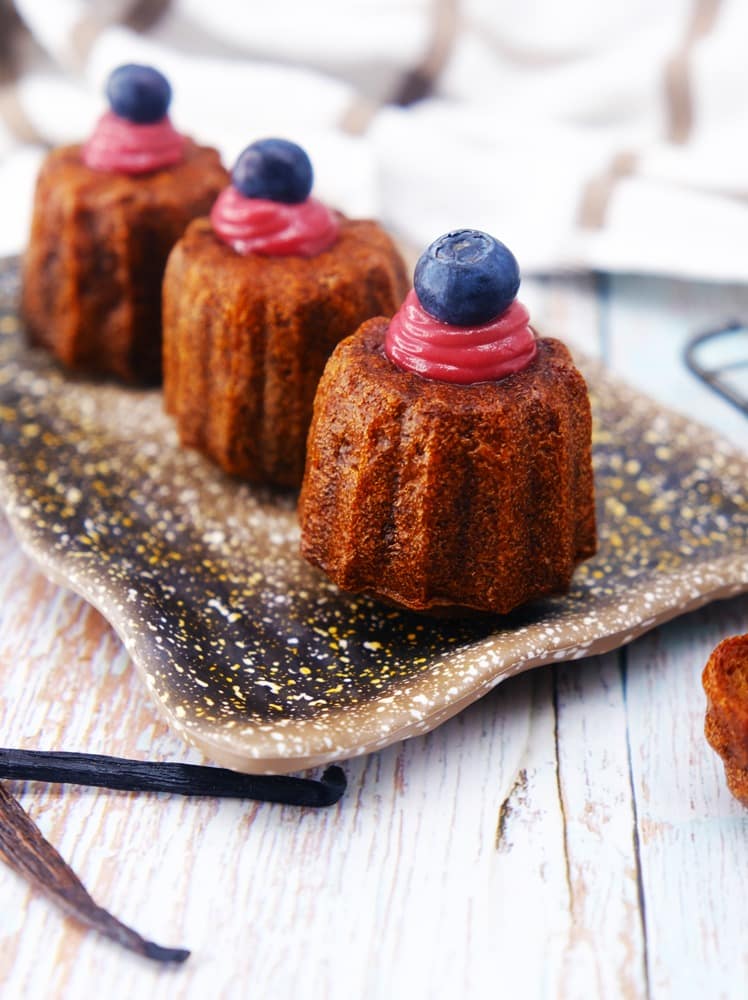 And so began the search for this Vegan Ingredient called Potato Protein.
Right now Potato Protein is not so popular ingredient. You cannot Just find it everywhere. In fact, very few companies are manufacturing it. It is a bit challenging to find it depending on your living area. However, if you're seriously vegan, that's to say – if your diet is 100% vegan, when conducting good internet research you would most likely pinpoint a company that can ship it to you.
It took me a while to find a supplier in my area. Eventually, I found a confectionery store that imports Fabbri's "Vegan Base". Yes, this famous brand brought us the Amarna Cherries in Syrup. Potato Protein for baking is the kind of ingredient reserved for the food engineering industries and confectionery industries. However, in these strange times, while we experience quarantines every so often, there is much desire and ability to be creative at home and bring out the Vegan Pastry Chef in you. That's what was happening to me.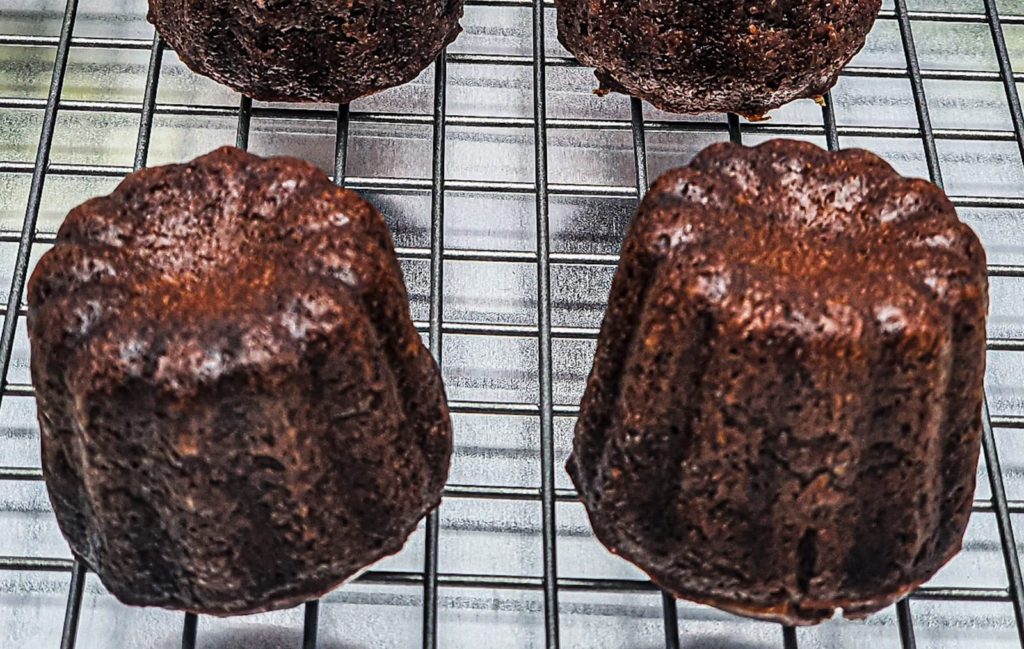 So Fabbri's "Vegan Base" is a great substitute for egg whites. For just 25 grams of Potato Protein powder, mixing with 180 grams of water you get a mixture that is equivalent to 210 grams of egg whites. The first recipe I experiment with this product was these amazing and super delicious French Canelé Pastries. I am so excited with the result and texture I achieved with these Vegan Canelés that I will definitely attempt more experiments with other recipes using this product and see what else I can do with it. And of course, I will share those goodies with you.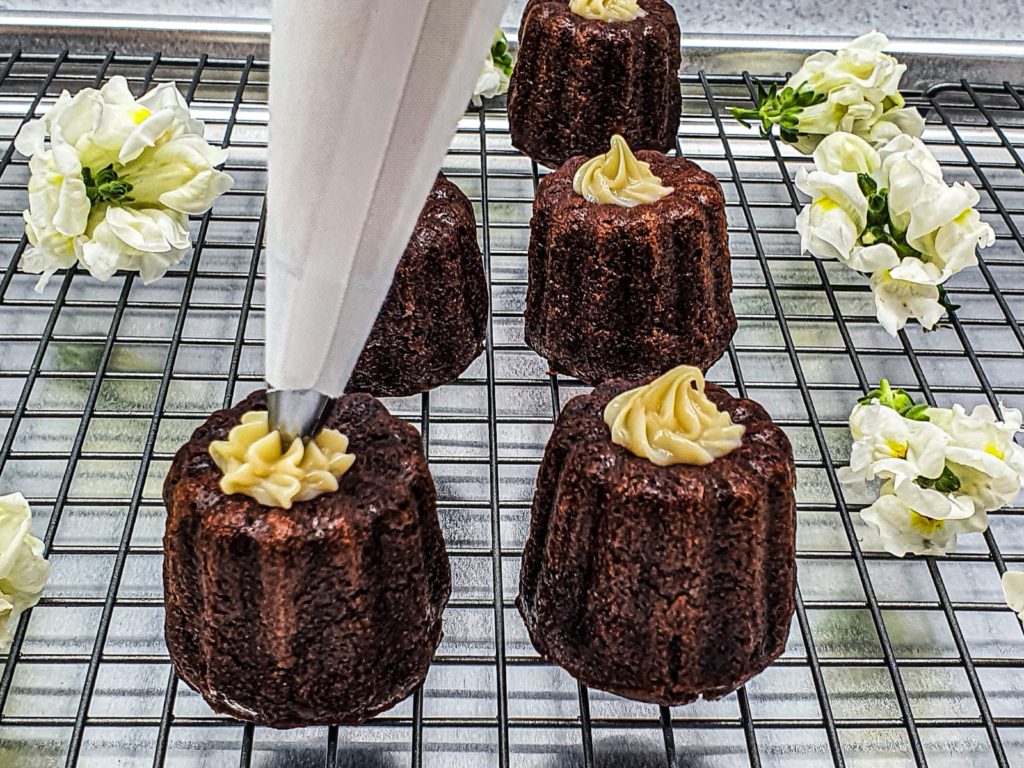 Classic Canelé vs. Vegan Canelé
Canelé is a small French pastry that in the classic consists of milk, flour, eggs, dark rum, and fine Vanilla beans. Paste or straight from Vanilla pods. To achieve the desired result one must also obtain Canelé – shaped baking molds. I know there are all kinds of cheap types that are made of silicone and authentic more expensive ones that are made of copper. From a little research I did, I found that the baking result varies quite a bit with the type of mold you are choosing for this recipe, The heat is conducted better with the copper molds. I ordered the ChefMade Canelé Mold that is somewhere in the middle. a good quality non-stick metal mold from Amazon. It was delivered to my house very quickly and wonderfully packed and overall very satisfied with the product.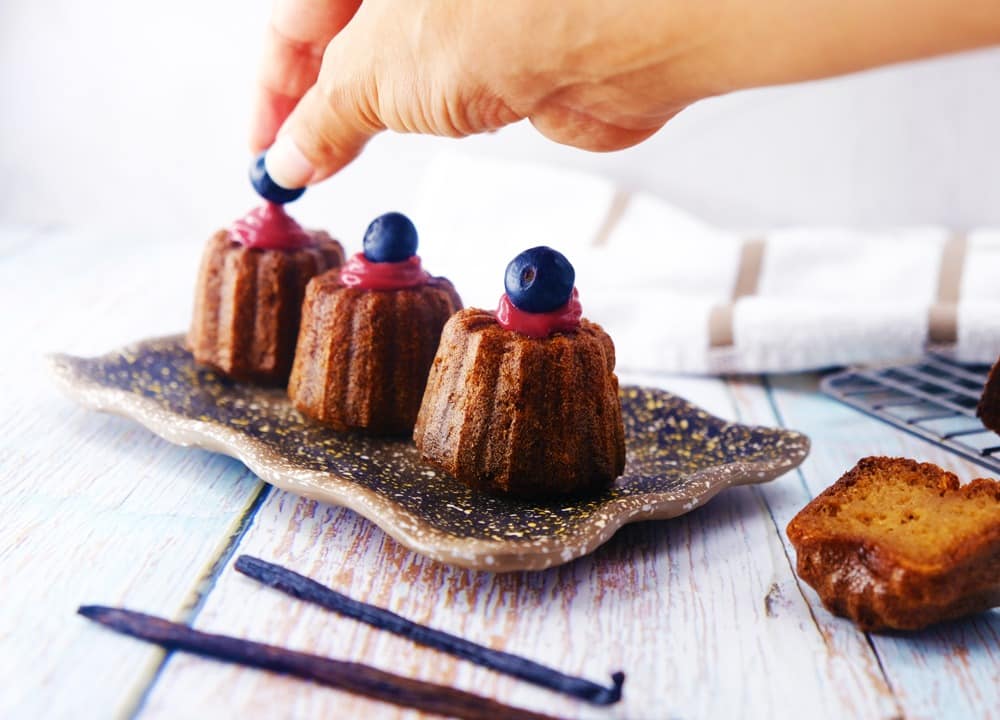 In order to create this pastry recipe, I switched the original ingredients to their vegan version and did an experiment with Fabbri's "Vegan Base" Potato Protein. It turned out that even my mother was amazed by how it came out with such a perfect texture. Crispy and crackling on the outside and inside the texture of a sweet baked custard with Rum and Vanilla. I'm officially addicted to this pastry.
Tips for a perfrct Vegan Canelés de Bordeaux
This recipe is very easy. Just make sure to follow these next instructions:
Sift the dry ingredients – the flour and starches into a bowl to prevent lumps from forming.
Let the heated milk mixture with the butter cool before mixing with the dried ones. Otherwise, lumps will form and then you will need to mix well to dissolve them. You can use a blender stick to smooth the batter much faster. Alternatively, you can melt only the Vegan Butter. Then add it to the Vegan Milk mixture.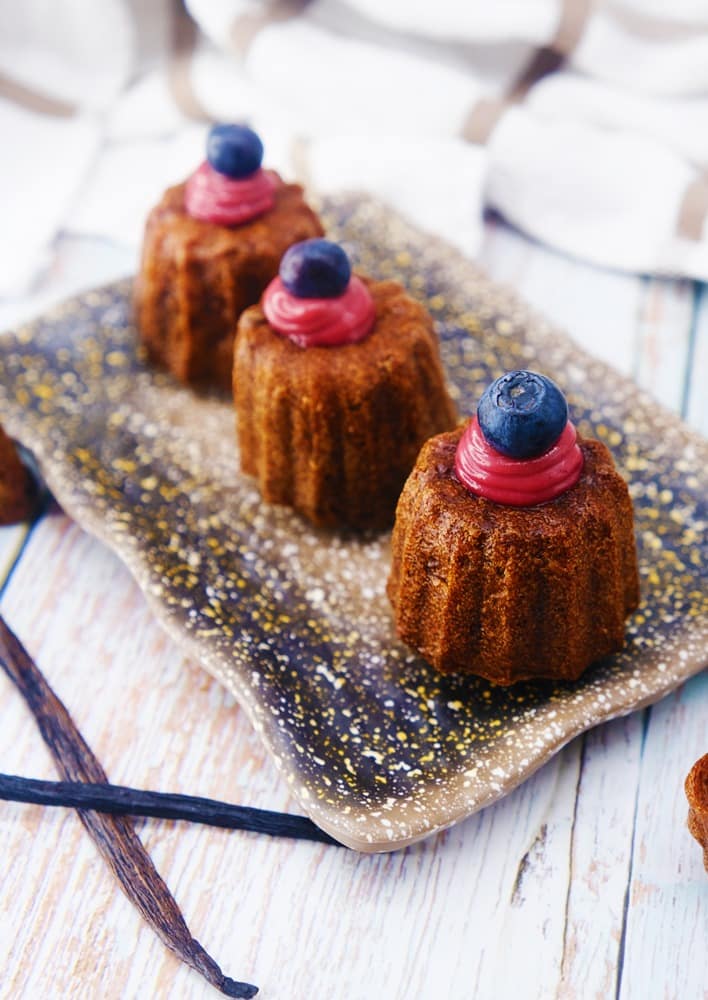 Once the batter is ready, pass the liquid through a sieve again before transferring it to storage for a whole night in the refrigerator.
The only thing that can be challenging is where to get the ingredients from and purchasing a mold that is used specifically for Canelé. However, I must note that if you do not yet have a pastry shop that sells Vegan Canelé in your area (probably not yet), you should really try to get the Potato Protein and a Canelé mold to make it at home. You already got it? Amazing! You are ready to make this easy recipe !!
Click here if you want to make a Vegan White Chocolate Ganache.
Vegan Canelés de Bordeaux Video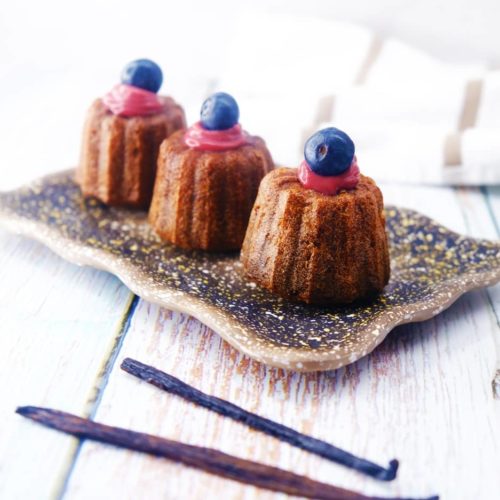 Vegan Canelés de Bordeaux
French Tea Cake Pastry crunchy on the outside and filled with vegan chocolate ganache
Equipment
Sieve

Sauce pan

Canelés Baking Molds

Scale

Spatula

Mixing bowl
Ingredients
200

Gram

Soy milk

100

Gram

Sugar

65

Gram

Flour

15

Gram

Potato starch

15

Gram

Tapioca Starch

15

Gram

Vegan Butter

1

Tsp

Salt

20

Gram

Dark Rum

2

Tsp

Vanilla bean paste
For the egg replacer
25

Gram

Potato Protein

I used Vegan Base by Fabbri

180

Gram

Water

Mix these 2 together and set aside for 15 minutes
OR
3

Tbsp

Aquafaba

Water from a chickpea can

1

Tbsp

Ground Flaxseeds

Mix these 2 together and set aside for 30 minutes
Instructions
Pass through a sieve the flour and starches into a mixing bowl. Add the salt and mix.

In a sauce pan warm the milk, butter sugar and vanilla and stir until sugar has dissolved and butter had melted.

Set aside and wait for the milk to cool completely.

Pour the milk and butter mixture to the flour and mix well until you get a smooth batter with no lumps.

Add the egg replacer mixture and rum and mix well.

Pass the liquid through a sieve again to get a smooth batter.

Pour the batter to a container sealed with a lid and let mixture rest for 24-48 hours in the fridge and develop flavors.

Brush each Canelé mold with butter.

Transfer the batter to a pouring container and pour into each mold from the batter leaving about a millimeter of space from the top.

Bake in a preheated oven at 220°C for 15 minutes, then reduce the heat to 190°C for another 45-55 minutes.

Take out from the oven and flip the Canelés mold straight away on a resting net to form the crust.

Serve a few minutes after it has cooled. You can pipe with chocolate ganache or vegan hazelnut spread on the top if desired.
Notes
Each batch makes between 6-7 Canelés. When I doubled the recipe I reduced the sugar by 20 Grams.