Hey friends!
There is nothing like a fresh homemade Challah that has just come out of the oven. Even the next day, a slice of lightly toasted Challah in a toaster with a spread you like, a vegan butter, avocado salad, and tahini or peanut butter and jam – my favorite combination.
The following guide will help you make vegan homemade challah easy and without a problem. With simple ingredients and finally, also brush it with a vegan egg wash that will give our challah a beautiful golden brown color and crispiness.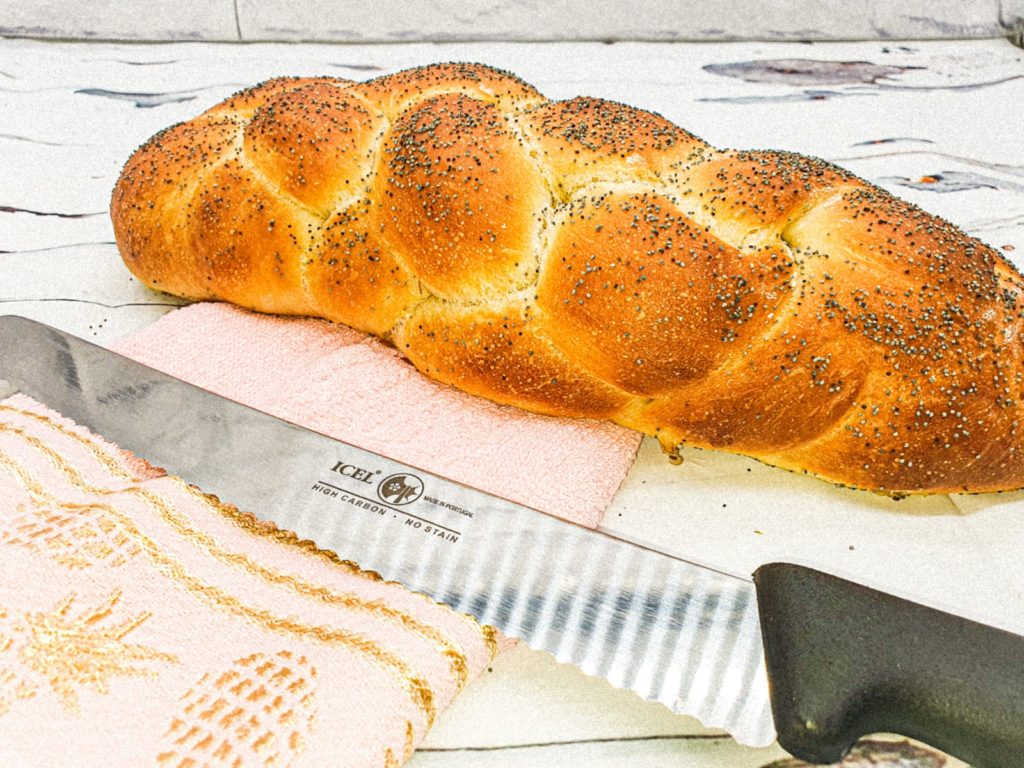 I will make the recipe with a standing electric mixer. There are hand mixers with a kneading hook that you can use to make the dough. It is important that the mixer you work with is strong and does not get tired in the middle. Of course, you can also knead the dough by hand. Keep in mind that working the dough with your hands is a bit messy because the dough is quite sticky. If you decide to knead the dough by hand, all the kneading will be done in a bowl, in the exact same steps and order that we did with the kneading process in a mixer.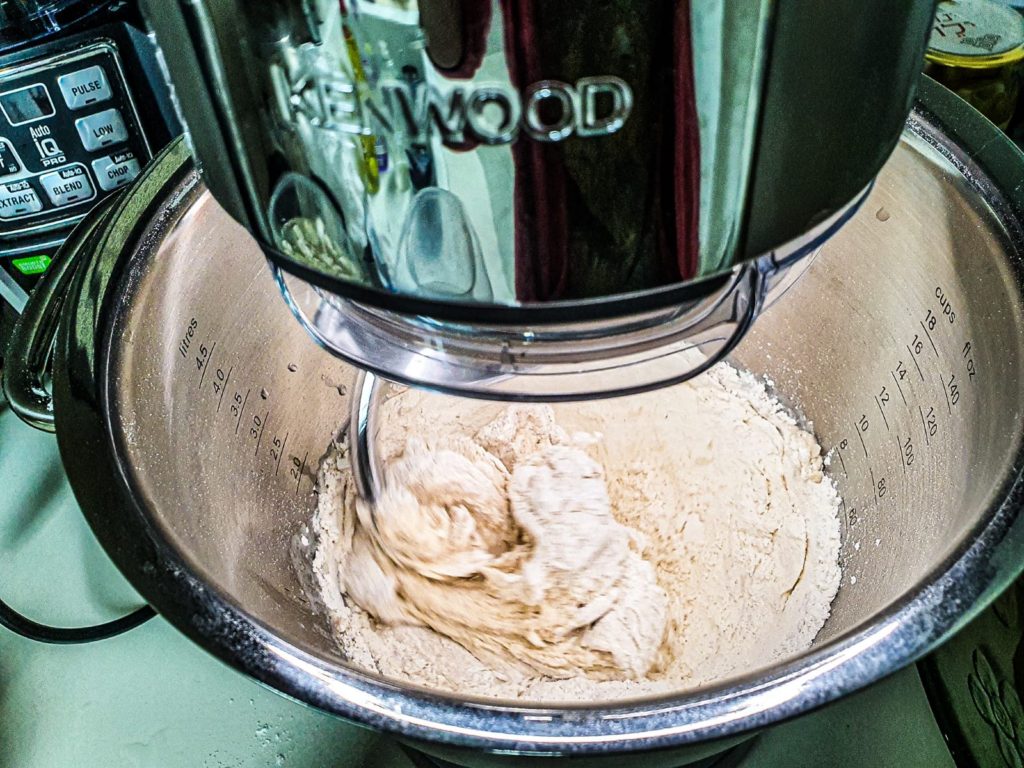 We start with 500 grams of bread flour. This will yield us one large challah bread loaf. Braided from 6 dough strips, or alternatively, 2 small challahs braided from 3 dough strips. In a mixer bowl, gradually add the flour, yeast, sugar, and water. The recipe calls to start with 250 grams of water to the amount of 500 grams of flour. The type of flour we use can change the amount of water needed. What needs to be considered is that we need to put in enough water to get a uniform dough at first and not too dry and floury. In the current recipe, I added another 40 grams of water because the dough did not combine with a ratio of 250 water to 500 grams of dough. So, it is very much depending on the type of flour you use. Some types will need to absorb more water in order to combine and others less. 
Once our dough ball is uniformed, we can add the salt and olive oil and increase the kneading speed of our mixer. At first, it will look like we put too much oil and it is not going to come together. But it will combine into a soft and smooth dough. We will leave the dough ball to rise for about an hour and a half and cover it with a towel. After an hour and a half, it is time to create a stunning and beautiful challah braid shape.
There are many types of braiding techniques for challahs that can be easily found online. I will talk a little here about braiding a braid of 6.
Weaving a braid of 6 dough strips is a classic and beautiful challah shape. In this method, we will divide the already risen dough into 6 balls. Weighing about 150 grams each. Roll each ball into a thick strip and place them next to each other. When we got 6 strips that stand next to each other, we then tighten them at one end and we will start braiding the challah.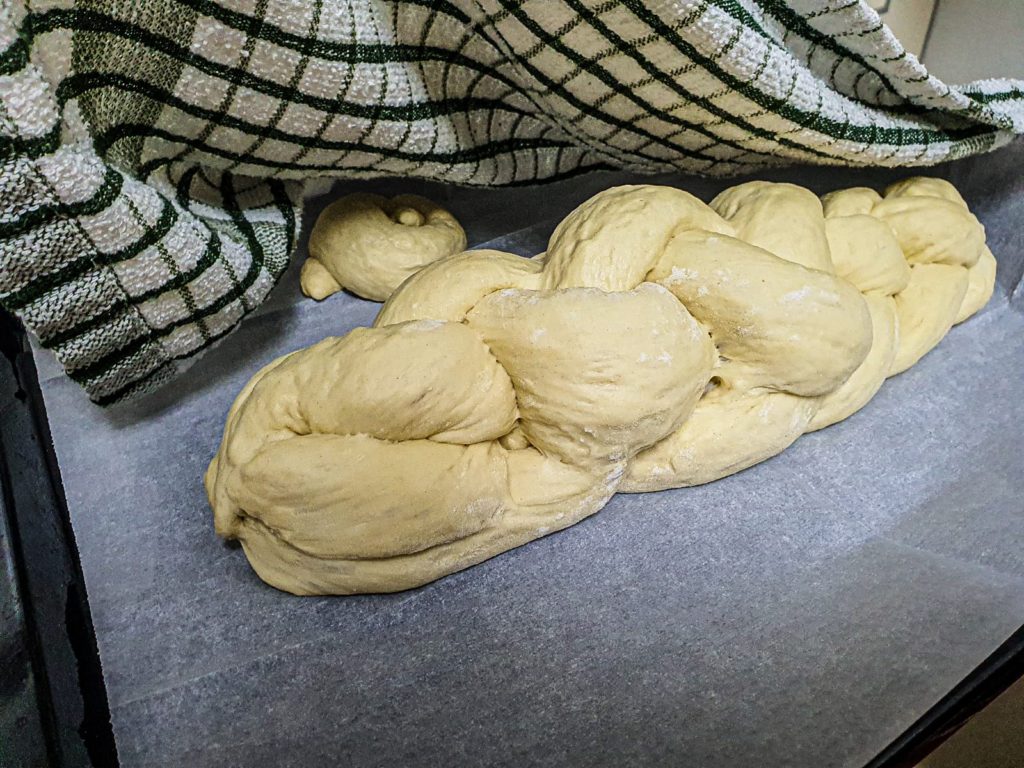 We will start from strip number 2, from the right side. We will move it over all the strips to the other end to the left side. After that, we will take strip number 1 from the right side and transfer it to the space between strip number 4 and strip number 5. Then repeat the same action but on the left side. Take number 2 all the way to the right side. And take number 1 to the space between 4 and 5. And again, the same from the right until we get to the end of the dough. Tighten both ends, and if one side comes out too long it can be shortened with a dough cutter. Once we have finished shaping our Challah, we will let it rise for at least another half hour. Rest it over a tray and cover it with a towel. Meanwhile, preheat the oven to 200 degrees Celsius. I have a fairly strong oven so that 22 minutes of baking was enough for my Challah. Make sure it is well baked in the center and that its color is brown and beautiful.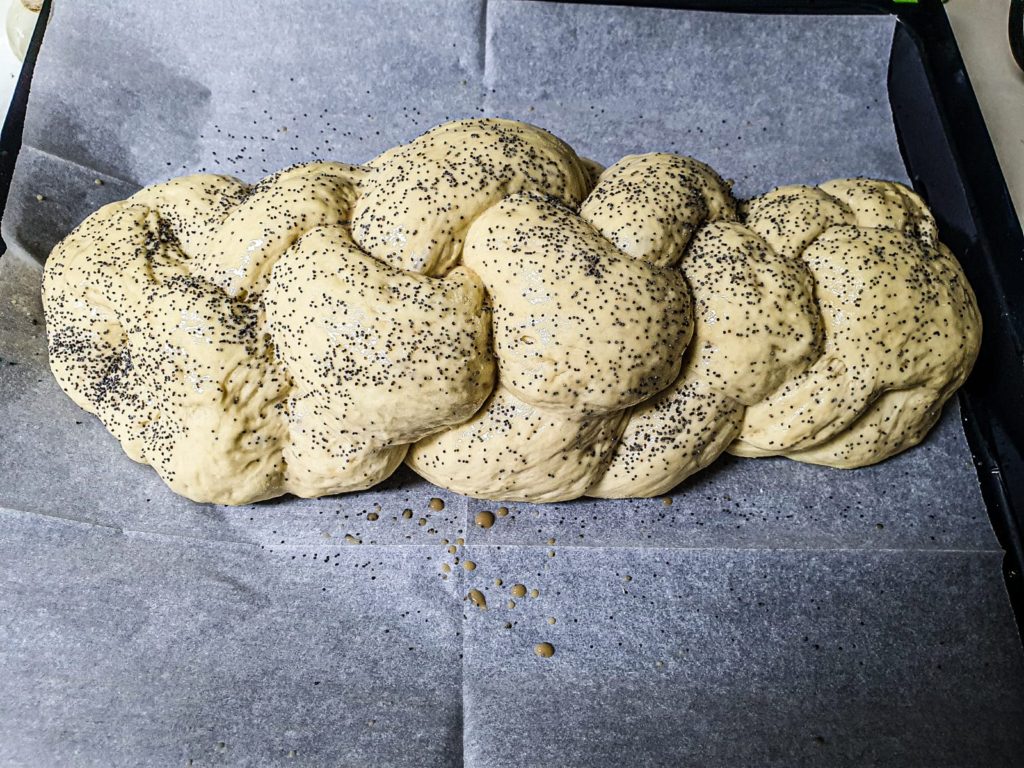 To get a golden color and a crispy crust for our Challah we will make a vegan egg wash that consists of only two ingredients. I used hazelnut milk mixed with a little bit of maple syrup. Hazelnut milk can be replaced with soy milk, and maple can be replaced with Silan which is sweet dates syrup or dates honey. Using a dough brush, brush on all sides of the Challah and add seeds of your choice for decoration. You can use poppy seeds, sesame seeds, fennel seeds, and any kinds you like.
This Challah came out just amazing. Airy, soft, and slightly sweet. You can add even another 20 grams of sugar if you want it a little sweeter. You can also use maple or Silan in the dough mixture instead of sugar. Note that if you do this the amount of water should be reduced accordingly. With this Challah you can make countless recipes, stuffed Challah with various mixtures and sandwiches all the way to desserts such as French toast, bread pudding, and more.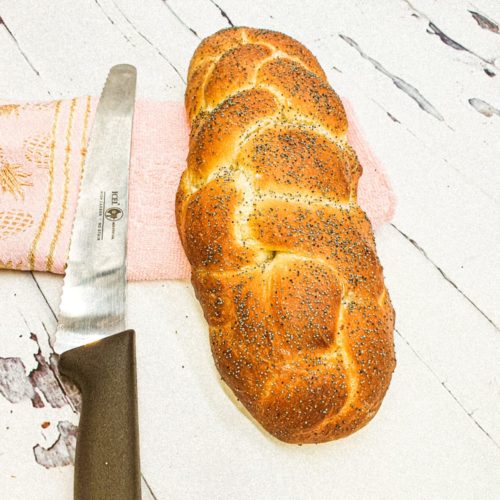 Vegan Challa Bread
The Full Guide on how to bake the perfect Vegan Challa Bread
Equipment
Standing Mixer

Scale

Dough cutter

Baking Tray

Dough Brush
Ingredients
500

Grams

Flour

14

Grams

Dry Yeast

250-290

Grams

Water

50

Grams

Sugar

5

Grams

Salt

50

Grams

Olive Oil
Instructions
In a mixer bowl with a kneading hook put yeast flour sugar and water and mix until the dough is combined on medium speed.

Add salt and continue at the same speed.

Add the oil and transfer to a high speed until you get a dough with a smooth and slightly sticky texture.

Stop the mixing and let the dough rise inside the bowl for an hour and a half, cover with a lid or a kitchen towel.

Once the dough has doubled in size you should get about 900 grams of dough. Divide the dough into 3 pieces of about 300 grams each, or into 6 pieces of about 150 grams each depending on the desired braiding.

Knead each piece into a ball shape.

Roll each ball of dough into a strip about 40 cm long.

Tighten the edge strips to each other to braid, either from 6 strןps or from 3 strןps.

Shape the desired braid and leave to rise for about 30-40 minutes on a baking tray with baking paper and cover with a kitchen towel.
For the Vegan Egg Wash
Mix 2 tablespoons of soy milk or hazelnut milk with a teaspoon of maple syrup in a small mixing cup.

Brush the challah on all sides with the milk and maple mixture.
Baking
Before baking, you can sprinkle different types of seeds and grains to choose from, sesame poppy seeds, oats, fennel and more.

Preheat oven to 200 ° C and bake for 20 to 30 minutes.