Hey friends!!!
This Vegan Soufflé recipe is exceptionally important to me because it wasn't technically easy to make. Simply because there isn't much information online about a classic vegan Soufflé. It took serious online research to make it a success. So, I gathered this information and experiment here for you if you want to try this recipe. I want to thank Tom from the amazing blog Project Vegan Baking For the tips to succeed in this recipe, and for allowing me to share his video of the vegan souffle recipe.
I also want to thank Pastry Chef Jessica McKenzie from the blog and school Vegangastronomy.com, For the egg replacer recipe and more vegan souffle tips.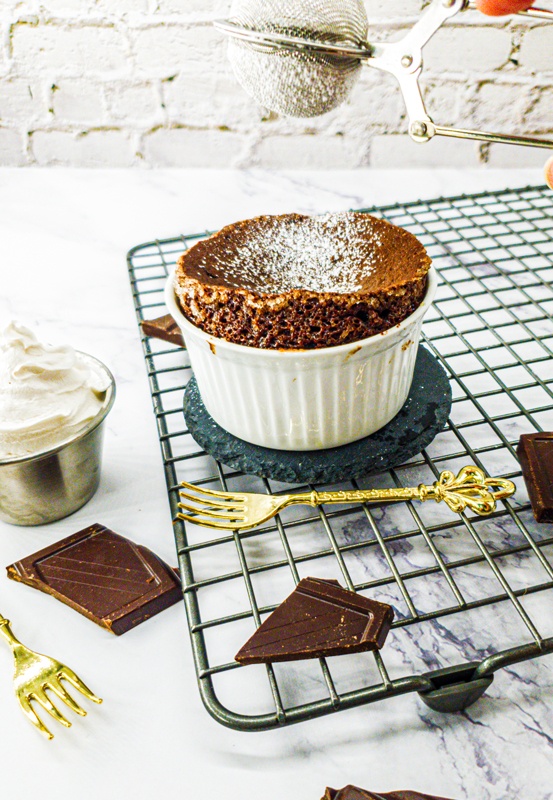 For a while now I've wanted to make a vegan version of a classic French Soufflé that rises to an impressive height. However, the challenge of finding the perfect egg replacer in this recipe really requires a lot of time for experimenting. I was working on a vegan butter croissant recipe to publish this week. And what happened was, just as I finished gathering all the footage and materials I had prepared for the recipe, a message was received on WhatsApp about the "Soufflé Challenge",  from no other than the chef who was our teacher at the culinary school I graduated from. And then I said, okay … it's time. Let's try.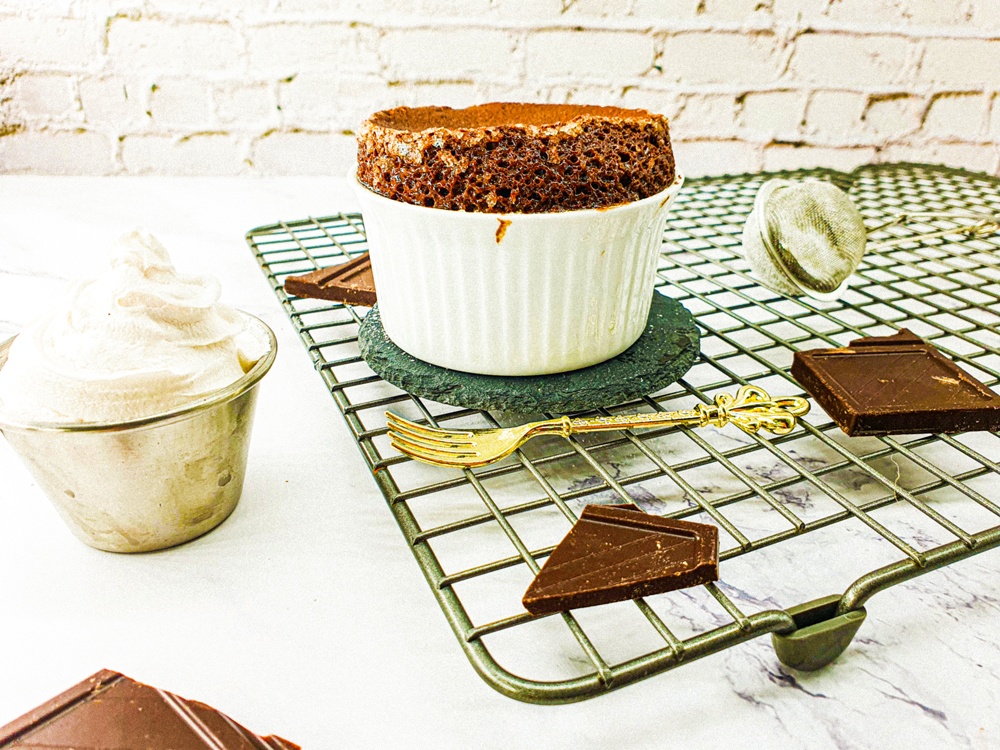 Our teacher and chef, Michael Katz, is a well-known and active figure in the culinary field in Israel. He has a lot of love for culinary education and passing on knowledge to the younger generation. Chef Michael has his own cooking blog, the blog is not vegan and in Hebrew, but it is rich in knowledge of classic cooking techniques. I still highly recommend to anyone who wants to perfect his cooking techniques, to visit and enjoy his highly articulated and detailed articles. Here is the link to the blog: https://michaelkatz1.com/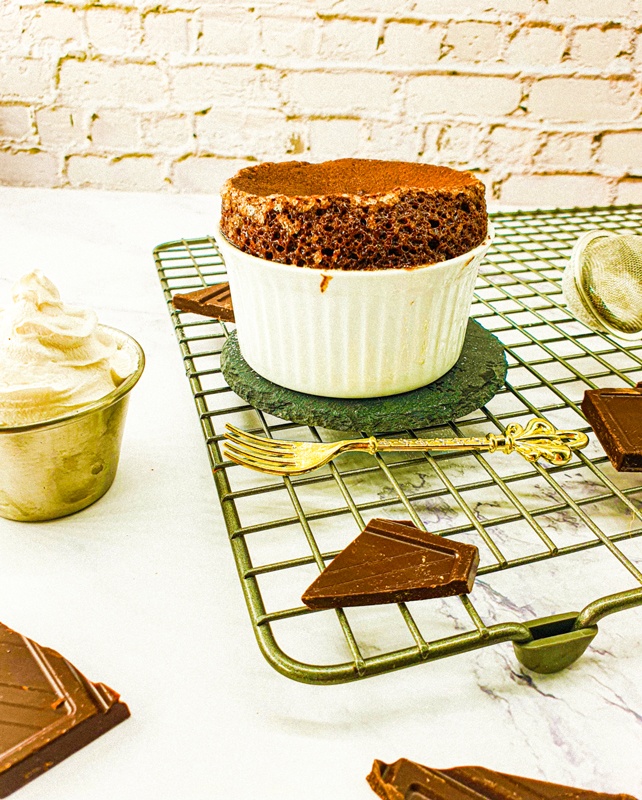 In the Soufflé Challenge, chef Michael challenged chefs and acquaintances in the culinary field to make a classic Soufflé, in any flavor of choice, with the criteria for success being, that the Soufflé reaches a height of at least 2 cm. Additionally, the challenge is limited in time.
A bit about my attempts with the Soufflé, I want to share that it is still a learning process that hasn't been completed for me and I will continue to update here on changes and improvements.
I approached the Soufflé Challenge according to the classic technique detailed in Chef Michael's blog with the béchamel base. Instead of eggs, I used French meringue I made from chickpea protein (aquafaba).  Instead of egg yolk for the chocolate mixture, I used Jessica McKenzie's egg replacer recipe, see instructions in the recipe itself.
The first 2 attempts with the béchamel as a base, were a resounding failure. My suspicion was that because unlike the protein in egg whites which is more concentrated, the protein in the aquafaba already contains more water, and the liquids present in the béchamel base simply diluted the protein even more and caused the Soufflé to lose stability during baking. 
As much as I want to stay true to the classical methods, there are ingredients that need to be learned to work with otherwise and adjust the technique accordingly. Aquafaba is an amazing protein for making vegan meringue-based desserts and provides an excellent solution for the vegan community, the only thing is you have to change the ratio in the classic recipes for the reason that in the first place the protein in the aquafaba is less concentrated than egg whites.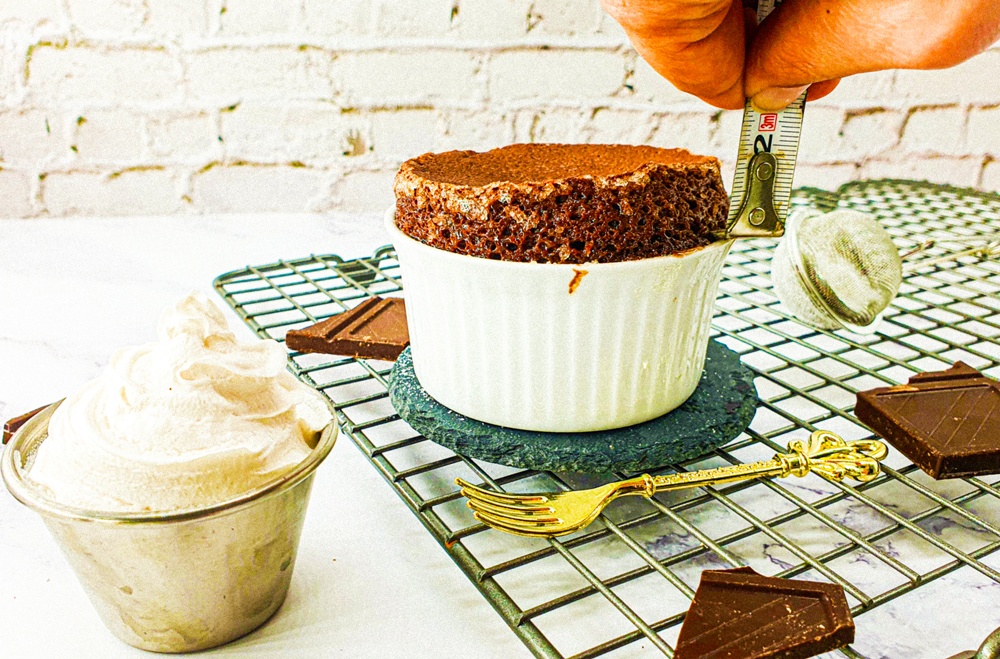 For this reason and despite the disappointment, I did not give up and was determined to send the chef a respectable picture of a fluffy Soufflé that does not embarrass the classic Soufflé. And luckily with a few changes in technique and help from my virtual baking friends I was able to get to this proud vegan Soufflé.
This Vegan Chocolate Soufflé reached a height of a bit more than 2 cm. Lasted high very nicely for about 5 minutes and then began to fall slowly like the classic Soufflé. The taste was delicious and the texture was fluffy and soft. In the center, it was still creamy and chocolatey. With my next attempts, I will try to make it a much higher Soufflé and will combine other flavors. You are welcome to catch up and stay tuned.
Good luck and have a nice and lovely weekend.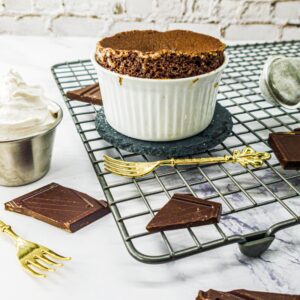 Vegan Chocolate Soufflé
A classic French chocolate-flavored souffle egg-free.
Equipment
Mixer

Scale

Mixing bowl

Spatula

Butter brush

Ramekins, I used 9 cm diameter/ 4cm high
Ingredients
Vegan French Meringue
120

Gram

Reduced aquafaba

¼

Tsp

Xantham gum

70

Gram

White sugar
Chocolate Mix
75

Gram

Dark chocolate

50

Gram

Vegan butter

½

Tsp

Vanilla paste

Pinch

Salt

30

Gram

White flour

2

Tsp

Egg replacer

See egg replacer recipe below
Egg Replacer Recipe (about 45 "eggs")
A recipe by Jessica Mackenzie from VeganGastronomy.com
90

Gram

Tapioca flour

32

Gram

Potato starch

45

Gram

Baking powder

5

Gram

Xantham gum
A Guide To Using An Egg Yolk Replacer
1.5

Tsp

Egg replacer + 3 tablespoons water

For cakes

1.5

Tsp

Egg replacer + 1 tablespoon water

For cookies
Garnish
Powdered sugar or vegan whipped cream or ice cream
Instructions
Brush ramekins with cold vegan butter from the bottom of the dish to the top using a brush. Do this 3 times and place in the fridge after each time to stabilize the brushed butter.

For the third time, add sugar to the greased ramekin and roll it so that the entire side of the dish has a layer of butter and sugar.

Melt the chocolate and butter in the Bain Marie. Add the vanilla puree and a pinch of salt. A Bain Marie is, a bowl over a pot with simmering water, and steam. Stir until the chocolate and butter are melted and combined. Set aside.

Using a mixer, Whisk the aquafaba together with the xanthan gum until you get a nice fluffy foam. Start adding the sugar gradually at 3 times until meringue is obtained.

Add the flour and egg replacer to the chocolate and mix well.

Take about a third of the amount of meringue and mix with the chocolate mixture.

Once again take a third of the amount of meringue and fold gently into the chocolate so that the batter remains airy.

Fold the last third of the meringue into the chocolate again gently until no white meringue remains.

Pour the batter into the ramekins, and with your finger clean the edges.

Bake in a preheated oven for 12-20 minutes until the souffle has risen.

Serve with vegan whipped cream or ice cream, fruit jam, or ganache. Enjoy!