Hi lovelies!
Today's recipe is super delicious! I had fun making and enjoyed munching on them as well! What is the food that was most difficult for you to let go of when turning vegan or vegetarian? Let me know in the comments :). For me it was fish and seafood. Mostly seafood. Veganism for me has been a pretty extreme process and change.
the movie that changed it all
I was watching the movie Earthlings, narrated by the amazing actor Joaquin Phoenix, and was horrified by it to the depths of my soul. The dots were suddenly connected. What I had felt for years since growing up, about how wrong it is to consume animals, but couldn't explain prior to watching the movie. I became vegan overnight. Naturally, it failed. I couldn't find myself, and for several months and I didn't know what to eat. For that reason, I took a step back and started from the beginning.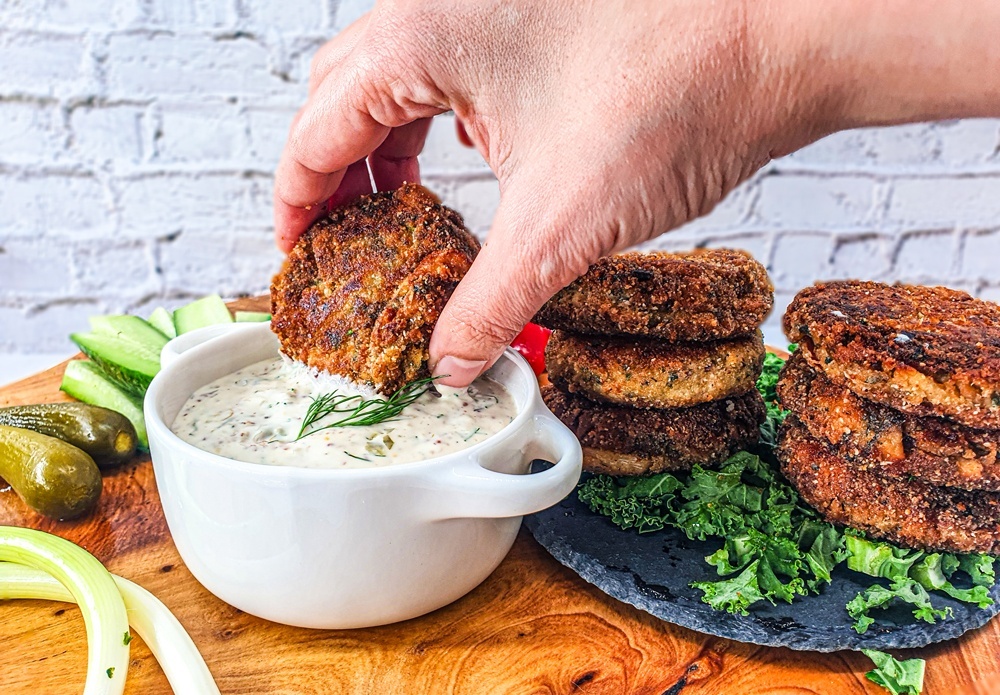 First thing I quit meat and poultry, that was easy. I became a vegetarian eating fish or Pescatarian if you will, for quite some time. Pescetarianism is a vegetarian diet that includes fish and seafood. In order to implement a positive change so it becomes a habit, and later on a lifestyle, it is always better to go gradually with it. Rather than go through an extreme change. So, when the first attempt failed, I decided to first try to be a vegetarian or Pescatarian for a while.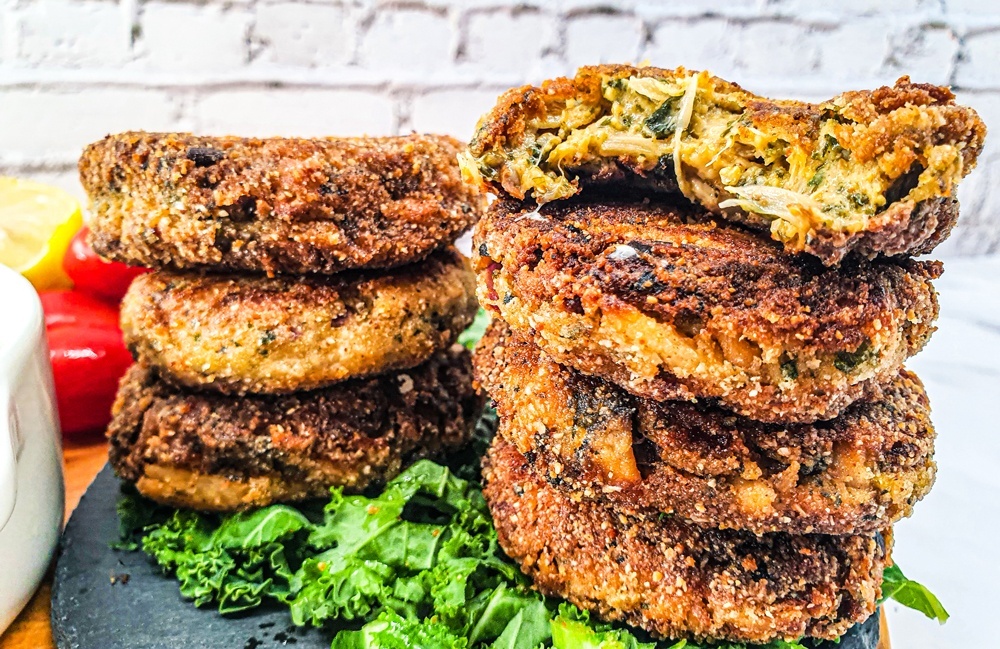 One of the dishes I really liked to order while dining at seafood restaurants in the States was crab cakes. Crab cakes are pan-fried or baked crabmeat patties. They usually contain mustard, mayonnaise, chopped vegetables, egg, bread or panko crumbs, and Worcestershire Sauce. They can be served in a brioche bun, with fresh vegetables, pickles, and Tartar Sauce. In other restaurants, they are usually served as an appetizer on a plate without bread, and with the tartar dip on the side. So delicious you want to just stuff your face up with those.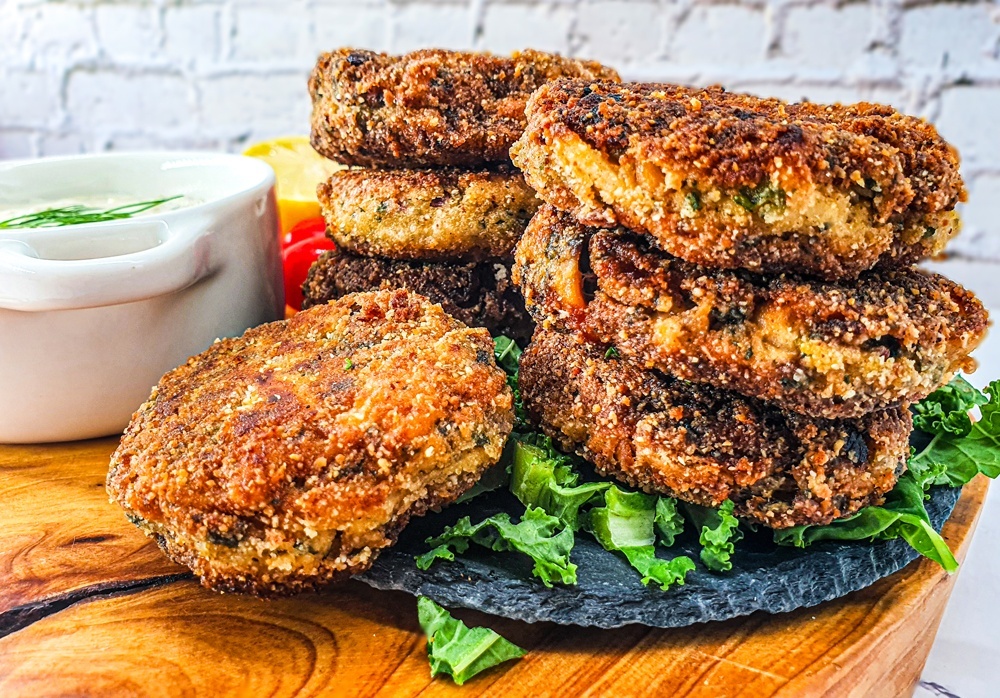 How to make delicious vegan crab cakes
Well, I made a few attempts at those crab cakes. You can do other variations and upgrades to this recipe. You can do it with tofu, or with jackfruit as well. I haven't tried these yet but I will report from the field if I do try. But even this recipe came out delicious to die for! (if you ever had crab cakes, you'll know what I mean). I also made a Vegan Worcestershire Sauce and a Vegan Tartar Sauce from scratch in advance for several reasons. Both the crab cakes and the Tartar sauce contain Worcestershire sauce in their recipe. The classic Worcestershire sauce contains anchovies, so of course, I was able to veganize it easily. Hence, one recipe made me do 3 recipes. Vegan Crab Cakes, Vegan Tartar Sauce, and Vegan Worcestershire Sauce
These Vegan "Crab" Patties are perfect as an appetizer, and now that everyone is going crazy with Passover coming, it can be made kosher for Passover and gluten-free as well. You only need to replace the bread crumbs with almond flour or use bread crumbs made from Teff bread. Teff flour is kosher for Passover.
Go make it! You will thank me later 😊
Passover celebrates liberty and freedom.
And so on that note –
May everyone have a Happy Liberty Holiday, and Happy Holidays!
Both for all humankind, and all the animals.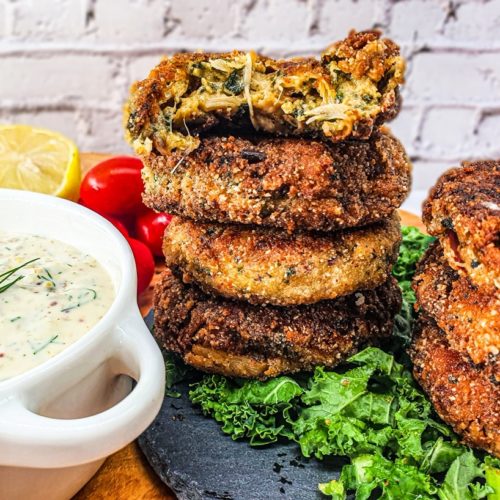 Vegan Crab Cakes
Vegan fried "crab" patties made from king oyster mushrooms, with tartar sauce with a gluten-free option!
Equipment
Mixing bowl

Spatula

Frying Pan
Ingredients
3-4

Large

King oyster mushrooms shreds

About 350-400 grams shredded with a fork into thin strips

5-6

Hearts of palm

Canned, strained from the water, dried with a paper towel, and lightly mashed with a fork.

½

Cup

Celery

Chopped

2

Tbsp.

Green onions

Chopped

½

Cup

Red onion

Chopped

2

Tbsp.

Parsley

Chopped

3

Tbsp.

Dried wakame

Blend it to a powder

2

Tbsp.

Vegan Mayonnaise

1

Tbsp.

Miso paste

1

Tsp

Dijon mustard

1

Tsp

Garlic powder

1

Tbsp.

Old bay mix

Or half a tsp of each: black pepper, red chili flakes, sweet paprika.

2

Tbsp.

Egg replacer or tapioca.

The egg replacer should be thickening and a binding agent like cornstarch or potato starch.

2

Tbsp.

Bread crumbs or almond meal for a gluten-free option

And about 5 Tbsp more for coating.

1

Cup

Oil for frying
Instructions
Preheat oven to 180 ° C degrees.

Season mushroom shreds with a tablespoon of oil and a little salt and pepper and mix well. Place in a baking pan. Bake the mushrooms for about 20 minutes until slightly golden.

Add the mushroom shreds in a bowl with the rest of the ingredients and mix well. It is recommended to refrigerate for an hour to get all the flavors incorporated.

Heat oil in a pan. Prepare bread crumbs or almond flour on a flat plate.

Take a tablespoon of the mixture and shape it into a patty shape. Coat the patty in the almond flour mixture on all sides.

Fry all the patties in a frying pan for about 7 minutes on each side until a darker color is obtained, then transfer to a plate with a paper towel.

Serve with vegan tartar sauce or any sauce you like.