Hi friends!
I finally found some time to upload a recipe for this amazing vegan kimchi stew! If there are 2 things in a soup that turns it from a good soup to an amazingly delicious soup to me, is that it will be slightly spicy and have the right amount of acidity. When I eat this type of soup in cold winter, not only it's stimulating the taste buds and uplift me, it also makes my body feel warm and good. I ate kimchi soup maybe once or twice during my long stay in South Korea, and I probably didn't appreciate it enough then. The one I made this time, really exceeded all my expectations. Maybe it is because my love for kimchi has grown so much more over the years.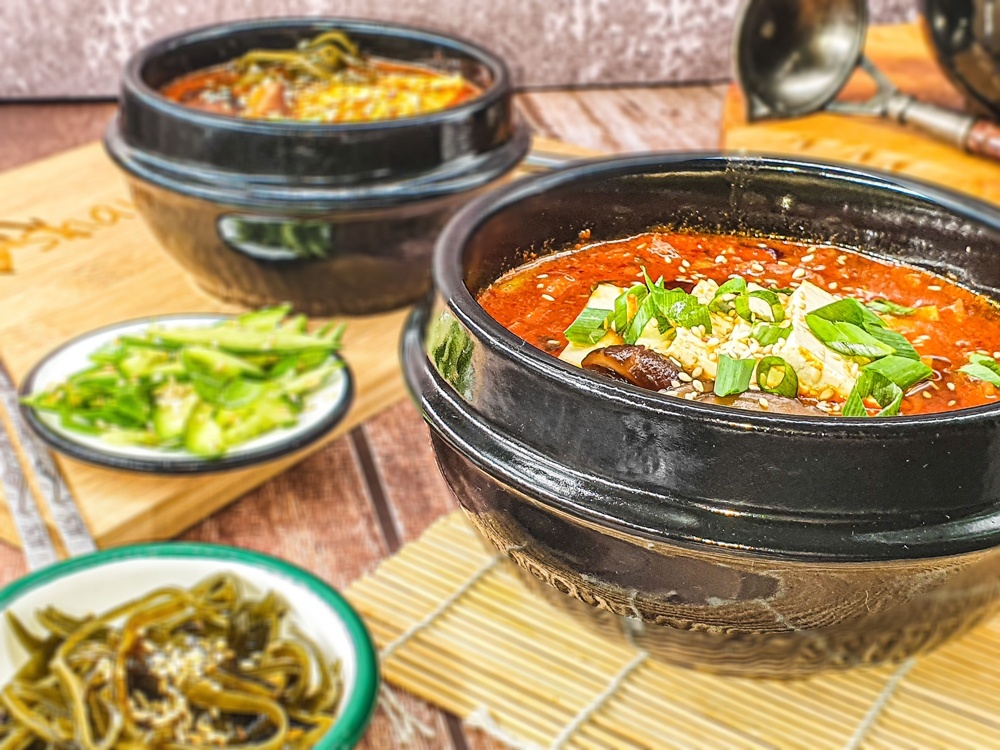 If you have kimchi that you have been fermenting for at least a month or more, you can definitely use that and the kimchi brine for the recipe. If you do not have kimchi and really want to make it, you are welcome to visit my Vegan Kimchi Recipe and make it prior to making this vegan kimchi stew recipe. You can definitely use store-bought kimchi if you find it, I have not tried it. Once you have fermented vegan kimchi, the recipe is super simple and quick to prepare.
To prepare the soup we will need:
Fermented kimchi – aged for at least a month, the longer it is aged, the deeper, sourer, and spicier the taste of the kimchi stew will be.
Korean Red Pepper paste (Gojuchang)
Kelp seaweed or kombu – dry algae with a very distinct smell. Super healthy and is considered a superfood because it is nutrient-dense algae. We will use it to make a combo and shiitake stock for the soup that would intensify the flavor. You can also use it after the stock is done cooking, don't discard it. Cut into very thin strips, season as you like, and serve as a side dish. Possible seasoning for example could be a combination of soy, lemon, mirin, toasted sesame oil, and green onions. The Kombu seaweed should be rinsed in cold water before use. It usually comes with white dirt on it. Nevertheless, it is a perfect, super healthy, and delicious side dish. You can find it at Asian grocery stores and if you can't get it, you can just use vegetable stock or water.
Dried shiitake mushrooms – which we'll add to the combo or vegetable stock.
Vegetables – red onion, and green onion. You can also add diced potatoes, zucchini carrots, or whatever you like.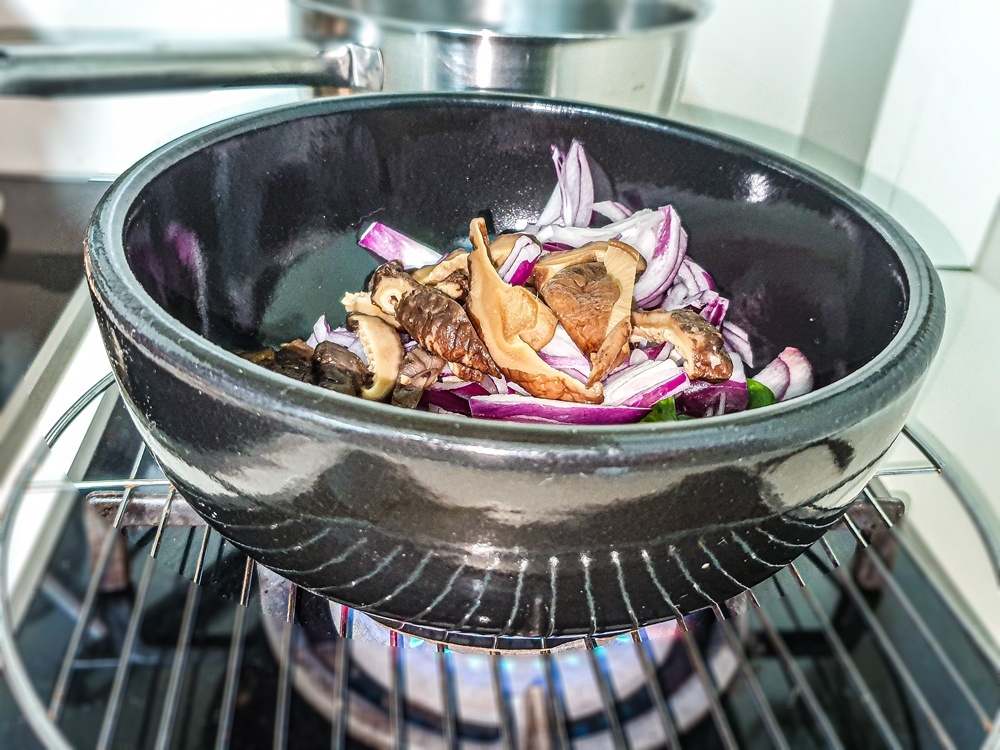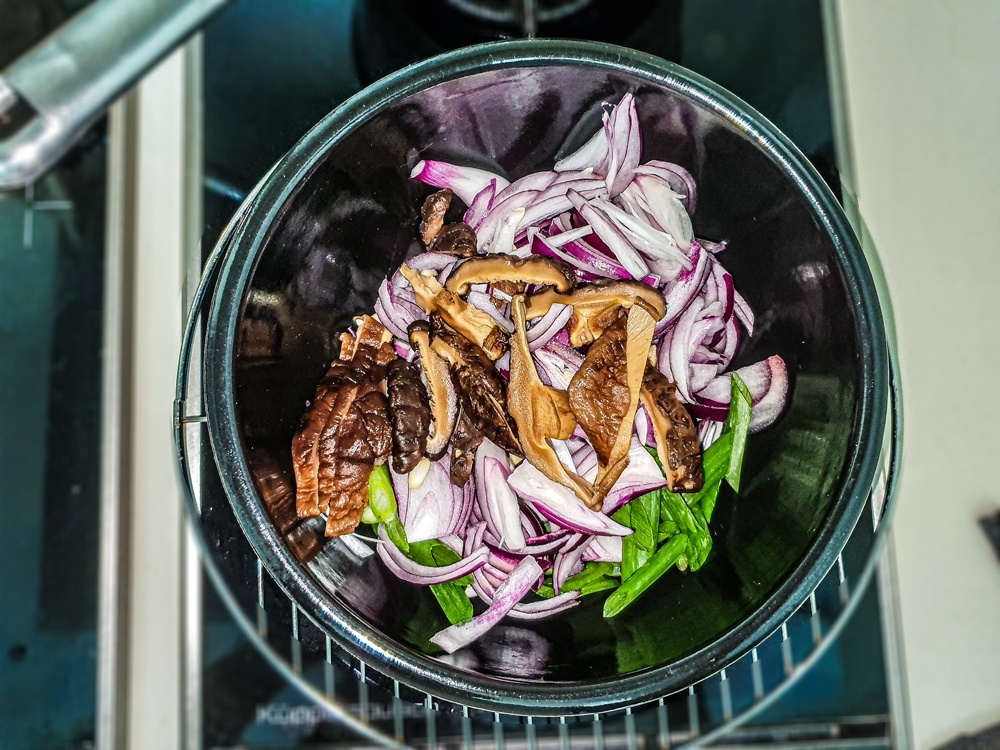 For the cooking, I used a traditional Korean pot that conveys heat perfectly and so can be used to cook with. If using it, just be careful not to touch it while cooking as it is very hot to the touch. You can of course use any small-medium pot for this soup.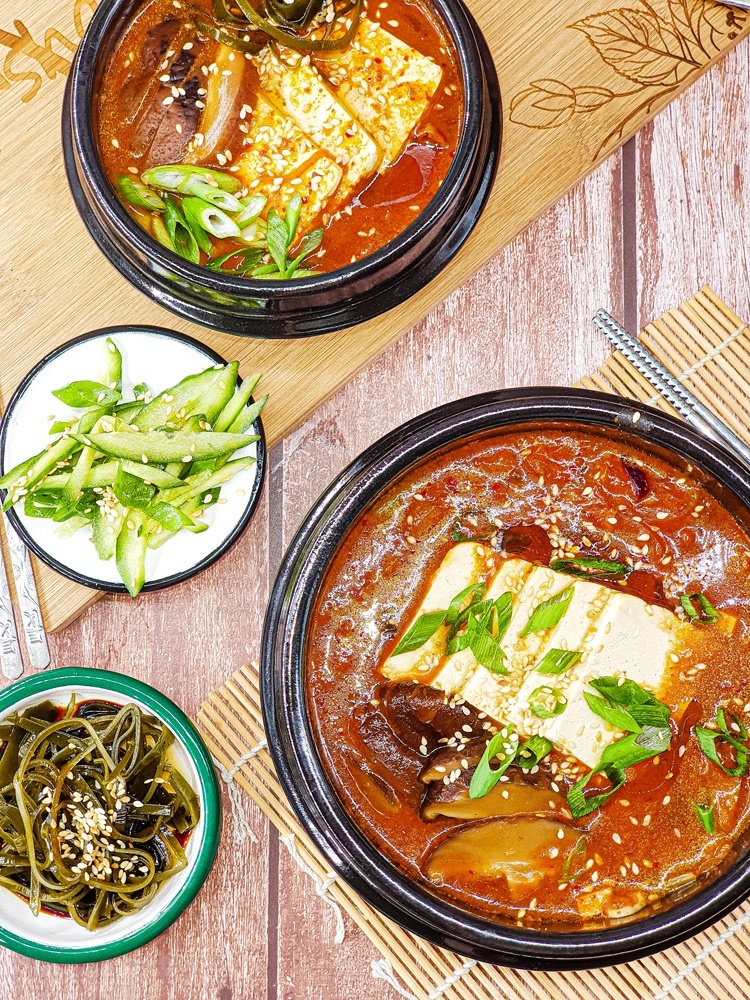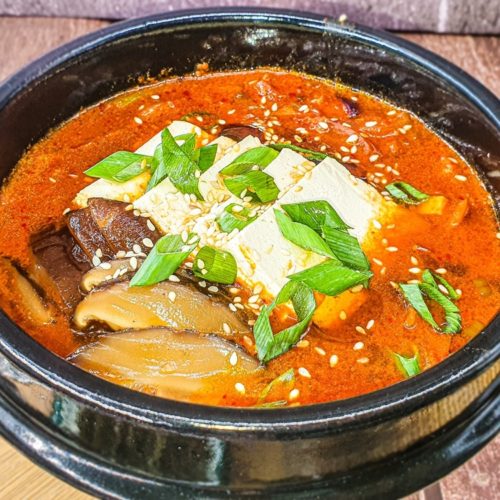 Vegan Kimchi Stew 김치찌개
A rich stew of spicy and healthy fermented kimchi
Ingredients
Kombu/Kelp Stock
1

Kombu seaweed

washed in cold water

8

Dried Shitake mushrooms

4

Cups

Cold water

A bit of salt
For The Stew
2

Tbsp.

Olive oil

2

Cloves

Garlic

Chopped

1

Small

Red onion

Thin Juliennes

2

Green onions

Cut to about 2 inch batonnet

3

Shitake musrooms from the stock

Sliced

250

Grams

Fermented Kimchi

Mine was 1 months aged

2

Cups

Kimchi brine

2

Tbsp.

Korean red pepper paste

2

Tbsp.

Soy sauce

150

Grams

Firm Tofu

Cut to bite size pieces
Garnish
1

Tbsp.

Sesame oil

1

Tsp.

Toasted sesame seeds

2

Green onions

Chopped

3

Shitake Mushrom

Sliced
Instructions
For the Kombu stock, rinse the dried seaweed in cold water from its white residue. Place in a in a medium size pot with the water, shiitake mushrooms, and salt.

Bring the stock to a boil for 20 minutes and remove with a spoon, proteins, and dirt that float on the surface.

In a small saucepan, lightly steam the garlic, onions and shiitake with olive oil.

Add the kimchi and continue to steam for another 2 minutes, then add the kimchi brine.

Then add the stock, Korean pepper paste, and soy sauce and mix. Add the tofu and let simmer for about 20 minutes.

For garnish, add chopped green onions, sliced shiitake, sesame oil, and roasted sesame seeds.