Hey friends!
Today we will learn how to make authentic Korean Kimchi step by step. Fermented, spicy if you want, and… vegan. So, what exactly is kimchi? Kimchi is a Korean dish made of fermented vegetables. There are many types of different kimchi. It can be made from Bok choy, Brussels sprouts, cucumbers, and many other vegetables. There are also non-vegan versions that combine meat, fish, or seafood. The more common version is kimchi made from a Napa cabbage. You will always find it served in any Korean home. Whether accompanied by a drink or as a side dish. The kimchi itself is also a building block of some Korean dishes like kimchi stew, kimchi pancakes, and fried rice kimchi. 
The first time I tried it, was on my first trip to South Korea. At the peak of winter 2017. The truth is, the first time trying it was very strange for me. It took me a few moments to develop a fondness for this fermented food. When that has happened, everything became history. I really miss it when I don't have it and after I make it, it just accompanies any meal. Rice, noodles, fried foods, with a drink – I do enjoy a glass of the old soju from time to time. Kimchi has an interesting kick. It is spicy and gets sourer the longer it ferments. Then gives a unique flavor to what you add it to or cook with.
Kimchi has amazing health benefits that I was reading about and now sharing with you here.
Assist a healthy digestive process – Kimchi is a fermented food like yogurt. Therefore, it is basically a probiotic food that contains healthy bacteria that helps the body to fight infections. It is very healthy to consume after intermittent fasting if you live such a lifestyle.
Lowers Cholesterol Levels – With the help of garlic in kimchi which contains allicin and selenium, these two helps lower cholesterol, lower blood pressure and lower the chances of developing a stroke or other cardiovascular disease by preventing plaque buildup in the arteries.
Rich in antioxidants – and vitamin A which is known to improve eye vision and prevent the development of cancer.
Good for skin and hair – and helps prevent wrinkles in the long run.
Prevents Stomach Cancer – Professor Miri Kim from the Department of Food Nutrition at Chongnam National University found that Chinese cabbage and radish found in kimchi contain biochemicals such as isocyanate and sulfide that help cleanse toxins and heavy metals found in the liver, small intestine, and kidneys. These biochemicals, especially isocyanates, are being studied to prevent stomach cancer as well.
Slows down the aging process – and it's no surprise that Koreans always look young for their age. The antioxidants in kimchi reduce the rate of skin aging and the rate of cell oxidation.
Good for weight loss – 150 grams of kimchi contain only 40 calories. The capsaicin found in chili peppers in this Korean dish boosts your metabolism and causes you to use the excess energy in your body, thus increasing weight loss
Strengthens the immune system and helps recovery from the bacterium Helicobacter pylori which is a negative bacterium in the stomach.
kimchi is very easy to make. It consists of two main steps:
First step, Salting the Napa Cabbage
First, cut each cabbage into quarters. Make a small cut in the white stem of the cabbage. Then in both hands divide them into halves. Repeat this process and each half divide into quarters. Then rinse each piece of cabbage to moisten it with water and to help the salt stick to the cabbage. Sprinkle kosher salt over the cabbage and between the leaves. Place them inside a large bowl or tub next to one other. Every 30 minutes turn them on their other side. Also, move the ones that were at the bottom and place them on top. Do this 4 times every half hour. A total of two hours. At the end of the process rinse the salt properly from the cabbage and leave it to drain.
second step, making the Kimchi Paste.
 While we wait for the cabbage to finish the salting process, we will make the kimchi Paste that helps it ferment. The paste is made from 3 very simple steps:
Rice porridge – In a small saucepan, bring to a simmer the water with rice flour and sugar. Mix until the liquid thickens and a milky color is obtained. Set it aside to cool completely. The rice flour provides starch which feeds the lactobacillus acidophilus bacteria, causing the fermentation needed to make kimchi.
Vegetable mixture – In a separate bowl, cut the vegetables into very thin juliennes and chop the green onions as well.
Onion puree – In a blender, grind the onion, ginger, and garlic into a smooth puree.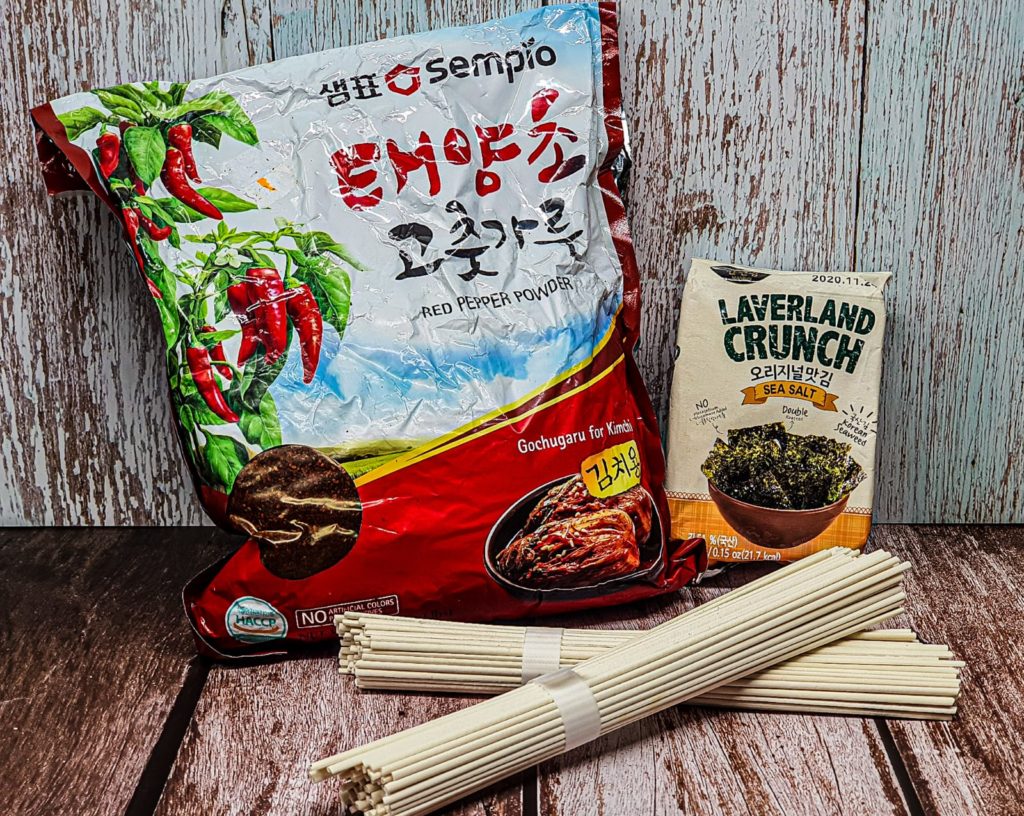 After we have prepared these 3 steps separately and the rice porridge has cooled completely, add the Korean chili pepper mix to the rice porridge together with the onion puree and mix. Add the vegetable mixture, soy, and vegetable stock and mix well. This is how simple our kimchi paste.
Lastly, that our cabbage is washed and drained, all we have left to do is simply rub the kimchi with the paste well on the outside and inside between the leaves. Place them one next to the other and on top of one another in a container that can be closed with a lid. We will leave the kimchi outside the refrigerator for about 24 hours. Notice that it starts to migrate liquids and every so often gives it a slight push with the help of a wooden spoon so that the cabbage is covered with the kimchi liquids that have formed.
After a day that the kimchi left outside, place the vegan kimchi container you prepared in the fridge where it continues to ferment much slower. As time goes on the kimchi becomes even sourer. Kimchi is usually served with fresh hot rice, Korean Vegetable Pancakes, Spicy Braised tofu, and other dishes from Korean cuisine.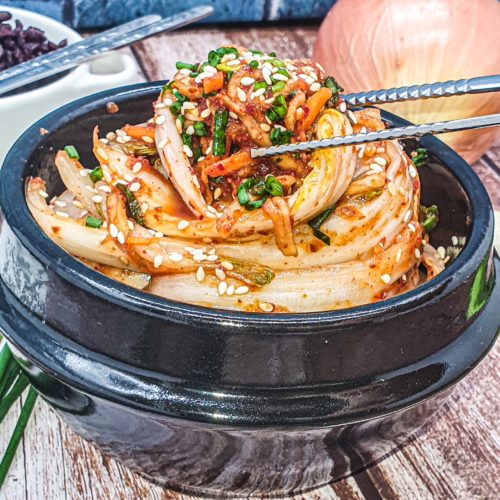 Vegan Koran Kimchi
Traditional Vegan Korean kimchi fermented spicy and delicious.
Equipment
A large bowl or tub for the salting process

Large strainer

Blender

Small Sauce Pan

Sharp knife

Mandoline (optional)
Ingredients
2

Napa cabbages

1

Cup

Kosher Salt
For the Rice Flour Porridge
2

Cups

Water

2

Tbsp.

Rice flour

3

Tbsp.

Sugar
Chopped Vegetables
1

Cup

Korean Radish or Kohlrabi

Thin juliennes

1

Carrot

Thin juliennes

5

Green onions

Finely chopped
For the Onion Garlic Ginger Paste
1

Cup

Onion

½

Cup

Garlic

1

Tbsp.

Ginger

1

Cup

Korean chili pepper flakes

Kimchi mix - 2 cups if you want extra spicy

¼

Cup

Soy sauce

¼

Cup

Vegetable stock
Instructions
Using a sharp knife, cut each cabbage in half but only in the white part and then break the cabbage apart in half from the cut area towards the leaves. Repeat this again every half separating into quarters.

Rinse all quarters of the cabbage in cold water well, and also wash between the leaves and place in a large bowl.

Sprinkle Kosher salt on each piece of cabbage, also sprinkle between the leaves and place in a tub or large bowl.

Every half hour turn all the cabbages over. Those at the bottom take out and place the ones that were at the top, and the rest above them. Repeat this process 4 times, every 30 minutes for two hours. in between each time we can make the kimchi paste.

After we have finished turning the cabbages 4 times, wash them well with water and place in a large strainer to drain.
For the Kimchi Paste
For Rice Flour Porridge

In a small sauce pan, mix 2 cups of water with the rice flour and bring to a boil. Once it has started to bubble add sugar and mix well until a thick mixture is obtained. About 10 minutes. Set aside until completely cooled.

Vegetable Mix

Using a mandolin or a sharp knife, cut the carrots and kohlrabi into very thin strips. Chop the green onion stalks finely and place all the vegetables in a bowl.

For the Onion Garlic Ginger Paste

In a blender, grind the onion, garlic and ginger until smooth paste.

Once the rice porridge has cooled, in a large bowl mix all the ingredients of the kimchi paste: rice flour porridge, onion puree garlic and ginger, Korean chili pepper, soy sauce and vegetable stock and mix. Then add the chopped vegetables.

Take each cabbage and rub the paste between each leaf and around the cabbage. Place in a storage container. Place the rest of the cabbages next to each other and on top of each other and close the container with a lid.

Keep the kimchi in a container outside the refrigerator for 24 hours. The kimchi will start to migrate fluids and that's fine. It should then be refrigerated for further slower fermentation.

Every piece of a cabbage is 1 serving. You can have it freshly made with rice or after it has fermented. To serve, cut one cabbage on a cutting board in half lengthwise and then cut into small bite-sized squares. Serve with roasted sesame seeds and chives.