Feta cheese! Who doesn't like cheese?? This is perhaps one of the hardest foods to give up when adopting a plant-based diet. Luckily when you combine the process of cheese making with different ingredients like nuts which have similar enough properties such as high-fat content, you can achieve ALMOST similar results. Yet delicious on its own.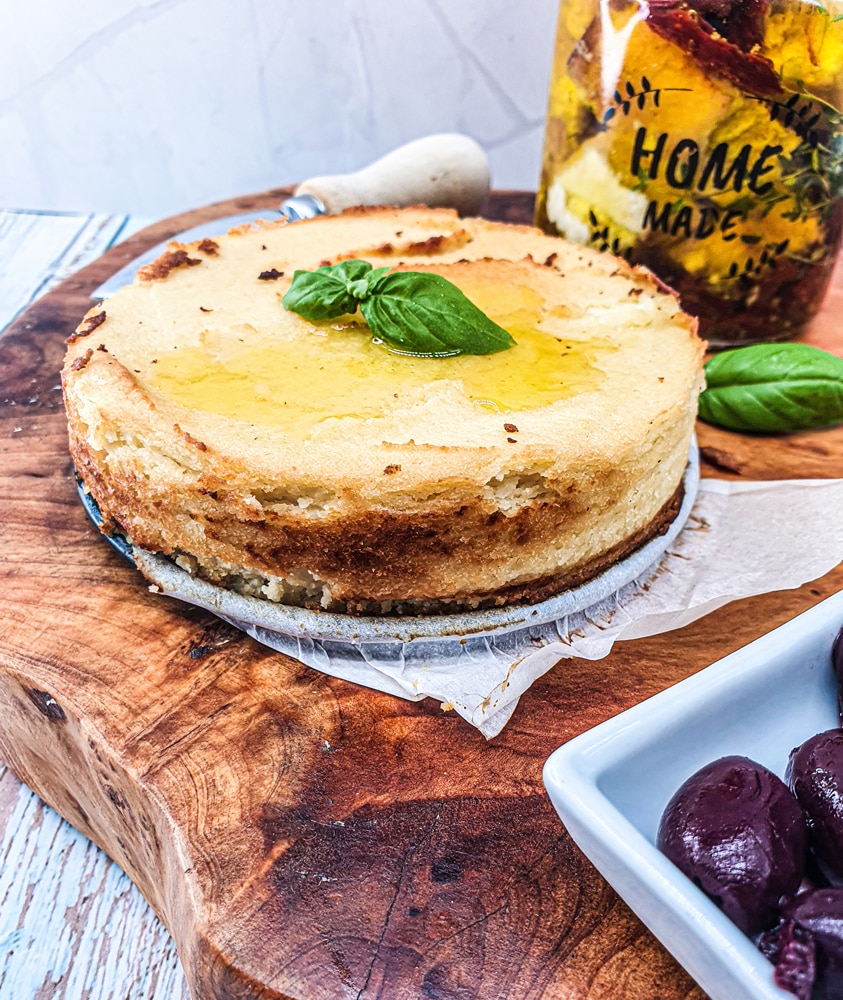 What is beautiful about this Baked Almond Feta Vegan Cheese, is that it is very palatable and delicious in itself. You can combine it with any recipe that you would incorporate a classic feta cheese.  As a filling for ravioli and lasagna, or as a topping for sliced fresh vegetables raw or cooked, nutritious leafy salads, stuffed mushrooms, quiches and pies, savory pastries, a wonderful addition to a plate of fresh fruits and the list goes on! Your antipasti sandwich is delicious and upgraded with this Vegan Cheese recipe.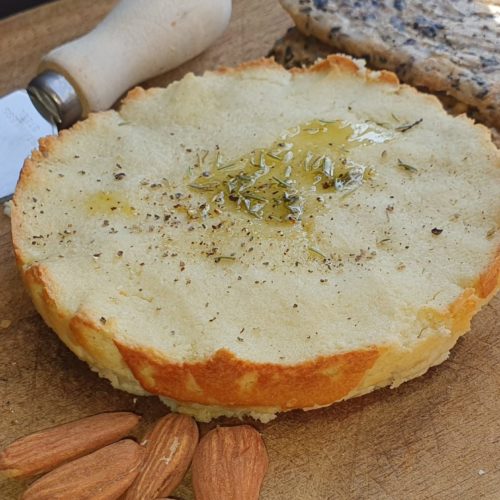 I searched and found the basic recipe online. I made small changes in seasoning and quantities. Instead of adding fresh garlic that can lead to short shelf life, I added a Garlic Confit mash which I prepared myself and of course, it gives the cheese a deeper and richer flavor. I added herbs such as thyme and oregano. Of course, feel free to add any other herbs you like.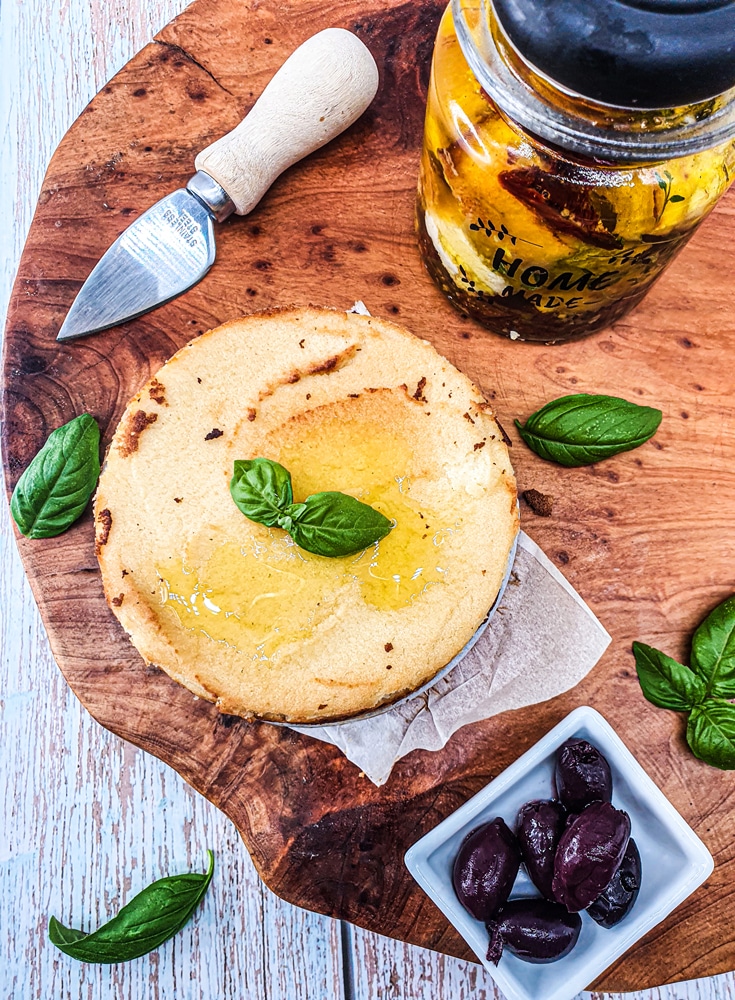 Make sure to keep the qualities that the classic feta cheese has. It is the acidity and saltiness that should be found in it. Once you understand this simple process, you can add to this cheese different flavors and textures.  The options here can be very creative and delicious – nuts, dried fruits, herbs, dried tomatoes, and more. This Vegan Almond Feta Cheese is perfect for your Vegan Breakfast, also Great as an appetizer or Topping.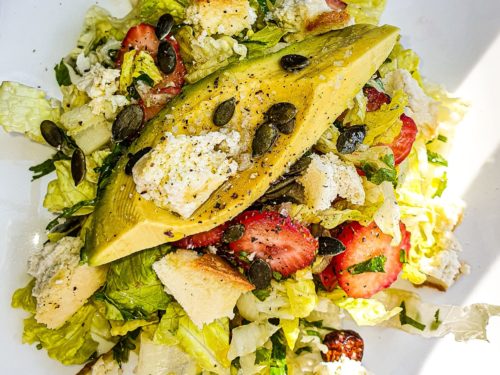 Delicious salad with Greens, Pumpkin seeds, Fresh Strawberries,  and avocado slice. To all of this nutritious bomb, I added the baked almond feta, absolutely stunning, full of vitamins and minerals. so delicious.
Also, do not throw away the liquid you have filtered from the almonds. First of all, it can be used as super tasty and nutritious almond milk. Much tastier than most of the ones you buy at the store. In addition to this milk, you can make a wonderful vegan almond ricotta cheese, and really simple to prepare! Click here for the Vegan Almond Ricotta Recipe.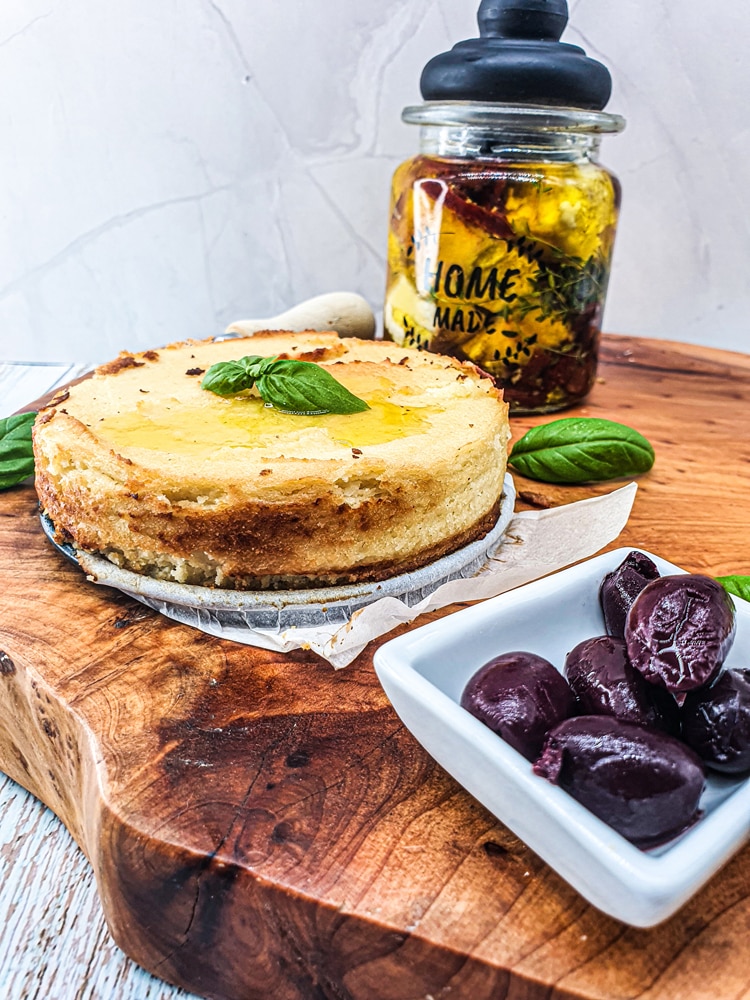 I am very happy that I found this recipe and that it is so versatile and super easy to make. All it takes is a strong blender and a cheesecloth to filter out the smooth mixture created from the liquid. You also have to make sure that you are soaking the almonds the night before to soften and so create the wonderful texture of the feta along with the flavors we will add to it. So, come on! Let's make a Vegan cheese!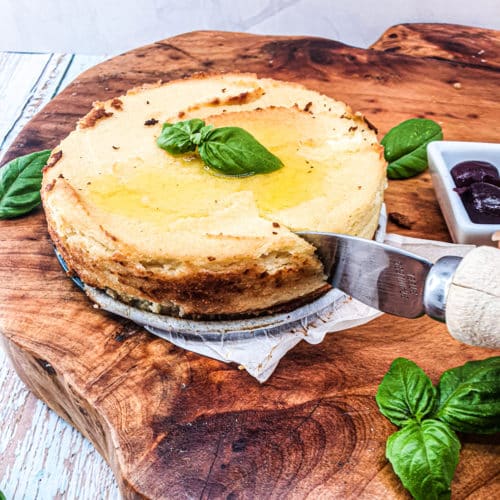 Vegan Almond Feta Cheese
Delicious savory crumbly vegan baked almond feta cheese
Equipment
Cheese cloth

High speed blender

11 cm cake ring
Ingredients
2

Cups

blanched almonds

soaked overnight in water

0.5

Cup

fresh lemon juice

3

Cloves

of garlic confit

4

Tbsp.

garlic olive oil

from the garlic confit

1

Tsp

fresh thyme

1

Tsp

Atlantic Sea Salt

2

Cups

Water
Instructions
Drain the soaked almonds and place in a high-speed blender with 2 cups of water and blend until completely smooth about 6-7 minutes.

Transfer the mixture to a cheesecloth and drain the liquids to a container (don't throw the almond milk! you can make amazing almond ricotta from this milk! recipe here)

Pour all the fiber back to the blender and blend again with all the rest of the ingredients

Transfer again to the cheese clothe, close it up using the 4 ends of the cloth, and place in a container to chill overnight.

Carefully pour the mixture into an 11 cm cake ring slightly oiled or with parchment paper

Bake in a preheated oven 350°F / 180°C for 45 minutes until the ends are slightly brown and the cheese is firm to touch

Serve cold with fruits or crackers or ontop of a fresh salad