Hi Friends!
The following recipe will help you understand how to make A Vegan Ganache. It is actually a chocolate cream that in the classic recipe consists of a 1:1 ratio in the amount of cream and chocolate you have chosen to work with. With vegan ingredients, I found that using a coconut cream the ratio changes. see recipe below. If you do not want to use coconut cream because of the coconut flavor, you can use vegan milk. Here too the ratio is different and the explanation is in the recipe.
Easy but tricky please note
It is very important to keep 2 main principles in mind. In order for the emulsion between the cream or milk to the chocolate achieved and not break down into an unusable mess:
1. The chocolate you choose needs to have a high percentage of cocoa or cocoa butter.
2. The incorporation between the chocolate and the coconut milk or cream will be made while stirring over low heat, and God forbid not at a boiling hot temperature, but at a temperature of 80 degrees Celsius and below.
To Accomplish This We Will Need
To perform one of the 2 techniques or use Bain Marie which is a water bath over a pot of steam out from a boiling eater, for the purpose of a controlled melting of the chocolate in the liquid. Or simply heat the milk to almost a boil and pour it into the chocolate bowl, wait a few minutes and mix gently to dissolve the chocolate and incorporate with the liquid.
 A large number of recipes: fillings and toppings for pastries and donuts, fillings for pralines, cake decorations, cookies, and the variety are really wide. This technique is suitable for all chocolate flavors. For example, it will work great with the Inspiration Series by the amazing brand Valerona who created a series of chocolate coins for confectioners with fruit flavors that are all vegan and amazing in taste.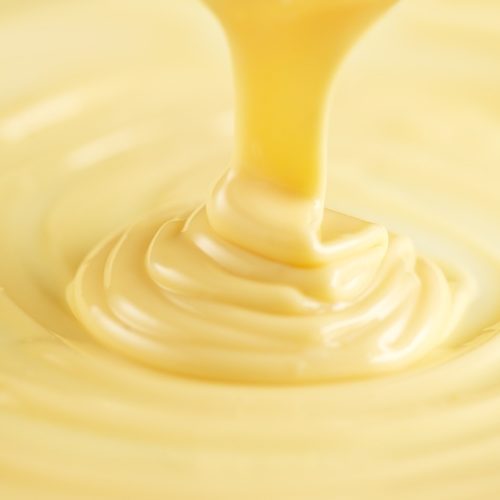 Vegan White Chocolate Ganache
Vegan white chocolate sauce that can be used for glaze, icing, filling pastries and more
Equipment
Sauce pan

Spatula

Mixing bowl
Ingredients
160

Gram

Vegan white chocolate

chips or coins

100

Gram

Coconut Cream

If you want to use a plant milk instead of coconut cream the ratio should be 2:1 vegan chocolate to milk
Instructions
Bain Marie Method - Water Bath
Bring to a boil 2-3 cups of water in a sauce pan and reduce the heat to medium once achieved boiling.

Place the white chocolate and coconut cream in a bowl that can be used for double boiling and stir consistently with a spatula until fully emulsified. Avoid over heating and remove from the heat as soon as fully combined

Transfer melted chocolate to a container with a lead or cover with a plastic wrap and place in the fridge to cool down and stabilize for 3 hours. Then you can transfer to a piping bag and use it for your pastry
Second Method
Bring the coconut Cream to a boil and pour it over the chocolate in the bowl.

Let it sit for 3 minutes and then stir with a spatula until fully combined.

Place in a container and use it after it cools down in the fridge around 2-3 hours. Could take longer to stabilize depends on the chocolate type.