Vegan Mozzarella Cheese
Hi lovelies!
Vegan "Buffalo" style Mozzarella! One with such texture, that's perfect for a Caprese salad, juicy grilled cheese sandwiches, Vegan Pizzas, and whatever you want. A very simple recipe, with no preservatives, and the taste is surprisingly good! This recipe is taken from the queen of vegan cheese Myoko, who owns the Myoko brand named after her. I made her amazing recipe "Better Buffalo Mozzarella" and was just amazed at how delicious and original it was. We all know that cheese is the hardest thing to stop eating when going vegan, not easy to find a similar substitute. This mozzarella is just amazing!
It will be stretchy and gooey inside a grilled cheese sandwich, and over a vegan pizza. It's going to suit perfectly on salads such as Pesto Pasta Salad if you make small mozzarella balls (see explanation below). It'll also work well in a fresh vegan Caprese salad with olive oil and balsamic vinaigrette. In short, you have to make it. Satisfaction Guaranteed.
How to make vegan mozzarella cheese?
So what's important to remember is that most vegan cheeses are made from nuts. This vegan mozzarella cheese is made from cashews, yogurt, or vegan white spreadable cheese of all kinds, tapioca flour, and agar. You can choose different seasoning flavors yourself. Since mozzarella cheese has a relatively neutral taste the seasoning is pretty delicate. Mozzarella usually gets its flavors from other ingredients that are placed with it in the dish. The cashew batter is made from boiled cashews, flavorings, vegan yogurt, and tapioca flour. We will first make the cashew batter in a food processor or blender. Blend in everything until a uniform texture is obtained. We then cook this batter with the gooey agar solution. When all the cheese mixture is cooked, you will notice that the cheese starts to thicken to a stretchy and sticky cheese texture.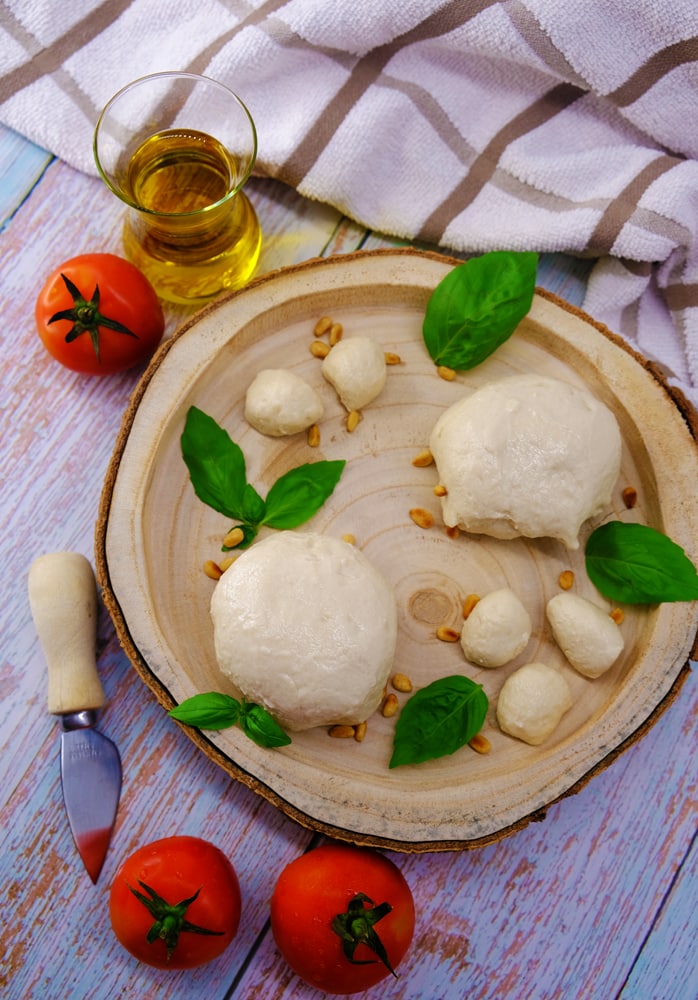 Mix vigorously to get the desired level of consistency. Make sure you have a large bowl filled with ice water. This is the fun part where we make cheese balls with an ice cream scoop and release them into the ice water. As they cool they harden and turn into mozzarella balls that can be easily sliced. If you want smaller balls that can be added to a salad, you can use a Parisian spoon also known as a melon baller.
Vegan Buffalo Style Mozzarella
Vegan cashew mozzarella cheese. Suitable for vegan pizzas, salads, pasta, and more. An easy and delicious gluten-free recipe.
Blender
Ice cream scoop or melon baller
Large bowl (for ice water)
Small saucepan
Spatula
1 Cup Unsalted cashews (Boiled for 15 min.)
300 gr Vegan yogurt or plant milk
3 Tbsp. Fresh lemon juice
3 Tbsp. Nutritional yeast
3 Tbsp. Tapioca powder
1 Tbsp. Agar-agar
¾ Cup Water
Cook the cashews in water until softened about 15 minutes. Strain from the water when ready.

Blend all the cheese ingredients except the tapioca flour, agar, and water, in a high-speed blender until smooth.

Add the tapioca flour and blend again.

In a small saucepan pour the water or other liquid, add the agar powder and stir until all the powder has dissolved. Bring the liquid to a boil until a really thick consistency is obtained about 3 minutes from the moment of boiling.

Add the cashew cheese mixture to the agar mixture and mix well until a stretchy and sticky cheese mixture is obtained.

Prep a bowl of ice water

Using an ice cream scoop, form a large cheese ball. Place it in the water bowl and release the ball into the water. If you want small cheese balls, do it with a round Parisian spoon (Melon baller)

Use the cheese balls right as they have cooled, or transfer them to a container in salted water in the fridge for up to a week.

Serve over pizza, sandwiches, salads, and more.