Cherry Tomatoes Tart Tatin
Hey lovelies!
To celebrate Shavuot (Pentecost), my favorite holiday, I decided to make this amazing recipe that I found online. It would be great to share it with friends and family at the table. This Cherry tomato Tart Tatin is so delicious! We have candied cherry tomatoes, on a crispy puff pastry, with plenty of Vegan Cashew Mozzarella Cheese. The pastry is sweet and savory. The cashew mozzarella is melted on top after a good burn in the oven. The tomatoes got a delicate crunchy sweet coating from the caramel and are just like candies. This is a winning combination of layers of flavor and different textures.
As delicious as this pastry is, it is very simple to make and in less than an hour you have a cherry tomato tart that will leave everyone speechless. One of the most different and special recipes for Shavuot, for brunch, or for any other occasion. Plus it totally gives a wow effect. You really want to try this one!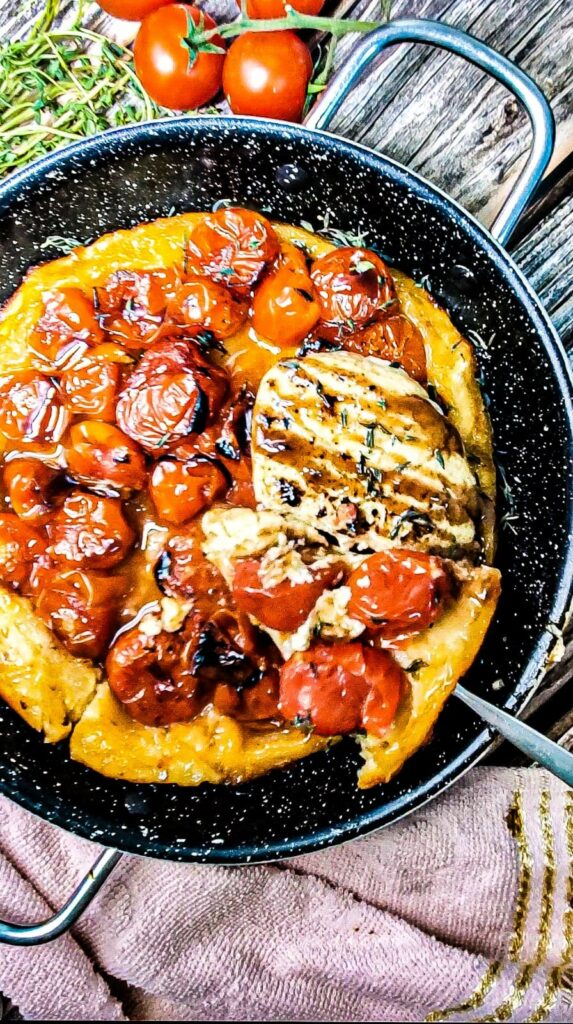 Shavuot is a holiday that has always been my favorite, and probably still loved by many people. And how wouldn't it be? This is the beginning of spring, everyone wears white. It is a holiday that celebrates the giving of the Torah and the first fruits of spring. Thus also a symbol of pure and new beginnings. The food.. everything is made of cheese or dairy products, pies, plates of pasta, colorful and rich salads, and fruity cheesecakes. Like having a picnic brunch with the family only at home around the table.
I have been celebrating this holiday for the past few years with vegan products and I still enjoy it just as much. This Cherry Tomatoes Tart Tatin embodies the spring's flavors and colors, with a good touch of Vegan Cheese that is so suitable for Shavuot. You can serve it with any good vegan cashew mozzarella that oozes or melts after a good broil in the oven.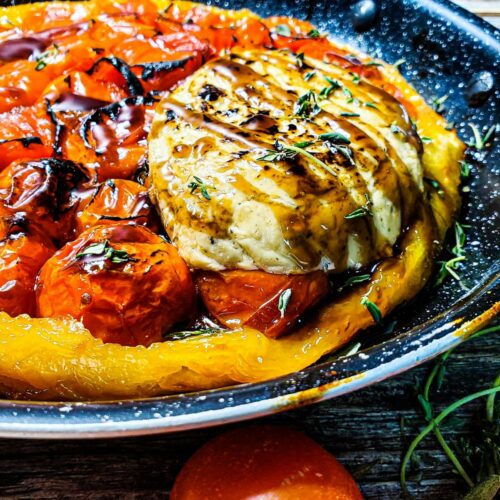 Cherry Tomatoes Tart Tatin
Candied cherry tomatoes on a puff pastry and vegan cashew mozzarella
Equipment
1 A 10 inch round baking dish with handles

Preferably 2 similar dishes, if don't have use a plate
Ingredients
500

Gr

Cherry tomatoes

⅓

Cup

Brown sugar

3

Branches

Thyme

Fresh or dries

½

Tsp

Salt

½

Cup

White wine

or White wine vinegar

200

Gr

Vegan puff pastry

150-200

Gr

Vegan cashew mozzarella

2

Tbsp.

Reduced balsamic vinegar
Instructions
Preheat the oven to 180C/350F degrees.

Melt brown sugar and butter in a pan, add the white wine and salt, and whisk until the mixture is uniform and bubbly.

Add the cherry tomatoes to the pan and let them caramelize for about ten minutes, add thyme leaves and stir every few minutes.

Cut the puff pastry into a circle with a diameter suitable for the baking dish and place it on top of the tomatoes.

Bake the tart for about 30 minutes until the dough is completely golden.

Remove from the oven and separate the pastry from the edges if necessary.

Turn the tart over a matching-sized pan.

Place cashew mozzarella on top and bake in the oven on turbo or on a grill until the cheese and tomatoes are slightly browned.

Sprinkle some thyme leaves and drizzle a reduced balsamic sauce on top. Enjoy!