Cream Of Brussels Sprouts Soup
Hi dear friends!
Cold, rainy, and stormy weather outside. I hope you are well and you are in a warm place!
Luckily, I made this delicious vegan creamy brussels sprouts soup yesterday, and right now that it is pouring rain outside. I can finally enjoy a bowl of hot creamy soup. This vegan cream of brussels sprouts soup is very quick and easy to make. It's comforting, filling, and rich in taste and texture. You can cook it for your friends and family a night in advance if you are hosting. Everyone would love a creamy brussels sprout soup. So it will sure rake in some compliments. And of course, like all recipes here, It is vegan, kosher, and gluten-free.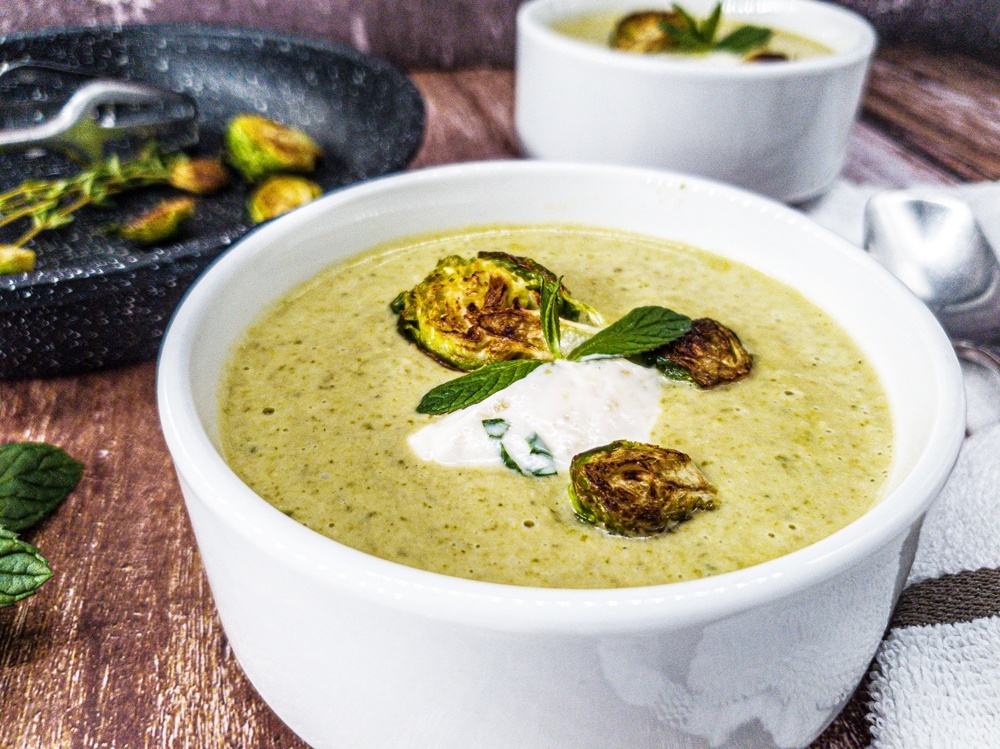 For garnish and more texture, I added some homemade Vegan Almond Ricotta Cheese that I make quite often and used for many of my dishes. I seared few brussels sprouts halves, after giving them a quick 2 min blanching in boiling water. I seared them until they got golden and crispy, about 5 minutes, and a perfect nutty delicious smell came out of them.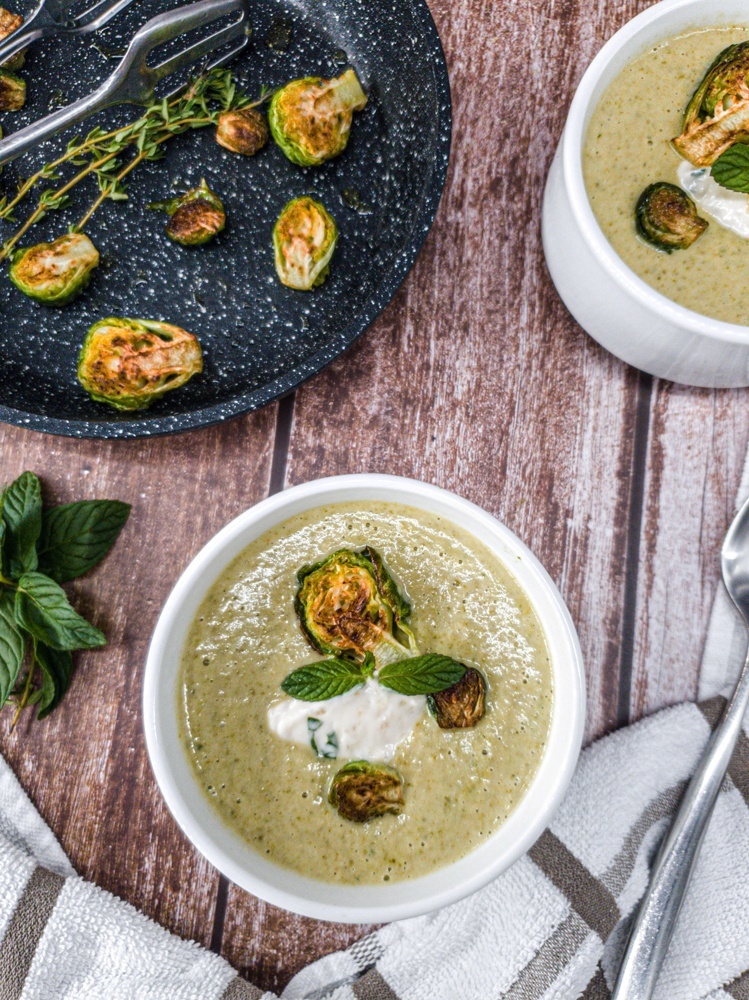 substitute coconut cream with any dairy-free milk
You can switch the coconut cream into any other vegan milk or vegan cream. You can also add liquids, like veg stock or water with too thick for you. If you added too much liquid and the soup turned out too thin, no worries. Let it continue simmering until the soup is reduced to your liking. Also, regarding salt note that I have not listed how much to put because if you have a vegetable stock you may already have salt in it. Therefore, it is better to check how much more is missing if at all 😊
If you want you can see the video of the recipe it is in the highlights of my Instagram page Cacao_Shamaness.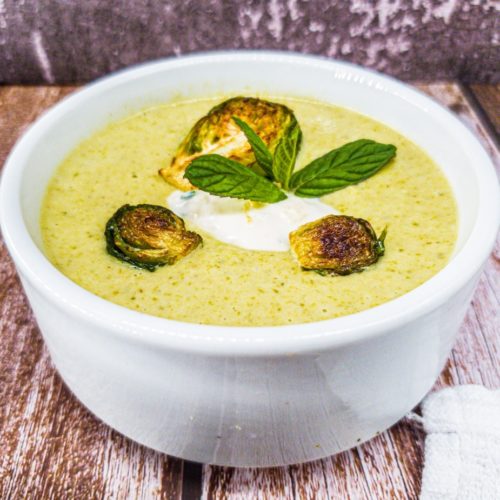 Vegan Cream Of Brussels Sprouts Soup
The best brussels sprouts cream soup topped with almond ricotta
Ingredients
3

Tbsp.

Olive oil

1

Leek

Chopped

2

Shallots

Chopped

2

Cloves

Garlic

Chopped

2

Tbsp.

Vegan butter

3

Branches

Thyme

400

Gram

Brussels sprouts

Destemmed and halved

½

Cup

White wine

2

Cups

Vegetable stock

400

Gram

Coconut cream

1 can or any plant milk

Handful

Fresh mint leaves

Washed

Salt

As needed

½

Tsp

Black pepper
Instructions
Heat olive oil in a large pot and sweat the leeks, shallots, and garlic until translucent for about 7 minutes.

Add the butter, rosemary, and brussels sprouts and mix well. Continue to cook until the brussels sprouts turn bright green for another 5 minutes or so.

Add the white wine and reduce for about 2 minutes.

Add the vegetable broth and let simmer over medium heat until the brussels sprouts soften for about 15 minutes.

Add the coconut cream and mix well.

Add fresh mint and blend the soup using a stick blender or any heat-resistant blender. Return to the heat for another 3 minutes and adjust seasoning if necessary.

To serve: You can take halved brussels sprouts and sear in a pan with a little oil and when ready, put on top of the soup with a tablespoon of vegan almond ricotta cheese