Vietnamese Peanut Noodles Salad
I just love Vietnamese peanut noodle salad!! One of the most fun dishes to eat for two main reasons:
It's a salad with many layers of flavor that makes it super tasty and not boring. It is slightly spicy because of the chili oil. It has a crunchy texture in every bite because of the fresh vegetables and peanut shards. It is usually served with a sweet creamy peanut sauce – be careful, be responsible here, it's addictive! And of course all the fresh herbs, cilantro, and green onions that give every bite a taste of spring. That is what Vietnamese cuisine is for me.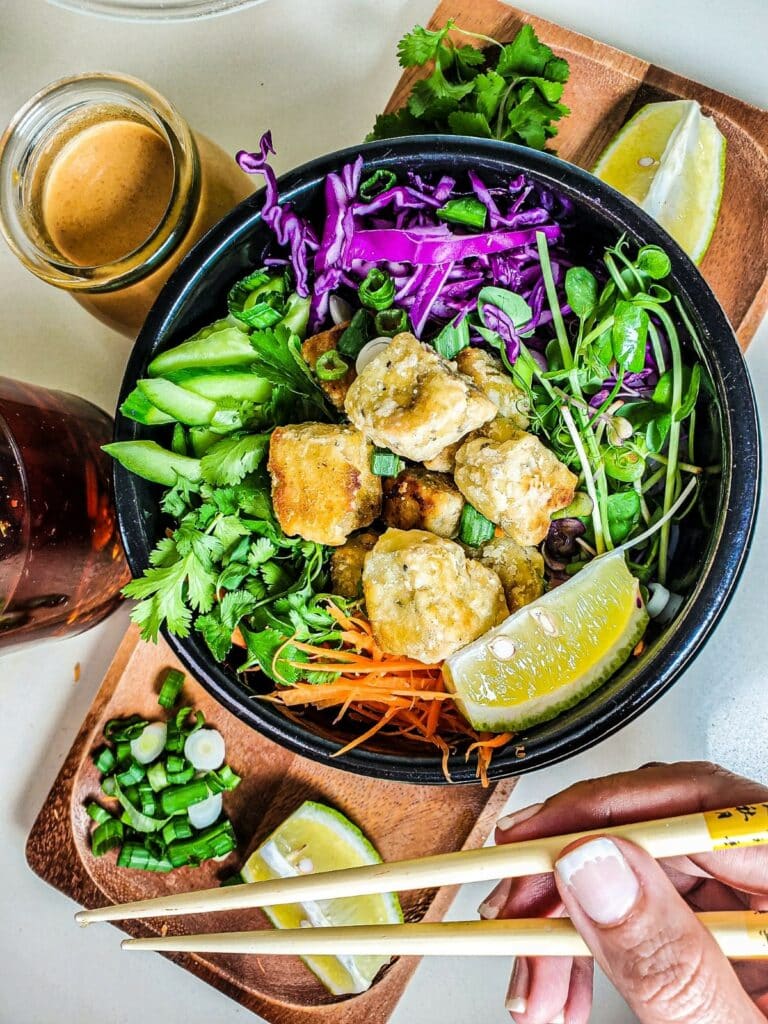 Vietnamese peanut noodles salad What do we need?
Vietnamese peanut noodles salad typically features a base of noodles, which are often rice noodles or vermicelli noodles. These noodles are often cooked until they are tender, and then drained and rinsed with cold water to stop the cooking process and prevent them from sticking together.
Next, it often includes a protein source
In our case here, tofu is a great source. But you can choose any, like Tempe, seitan and others. The tofu is typically cubed or sliced, marinated in a flavorful sauce, or coated in starch and then pan-fried or baked until crispy.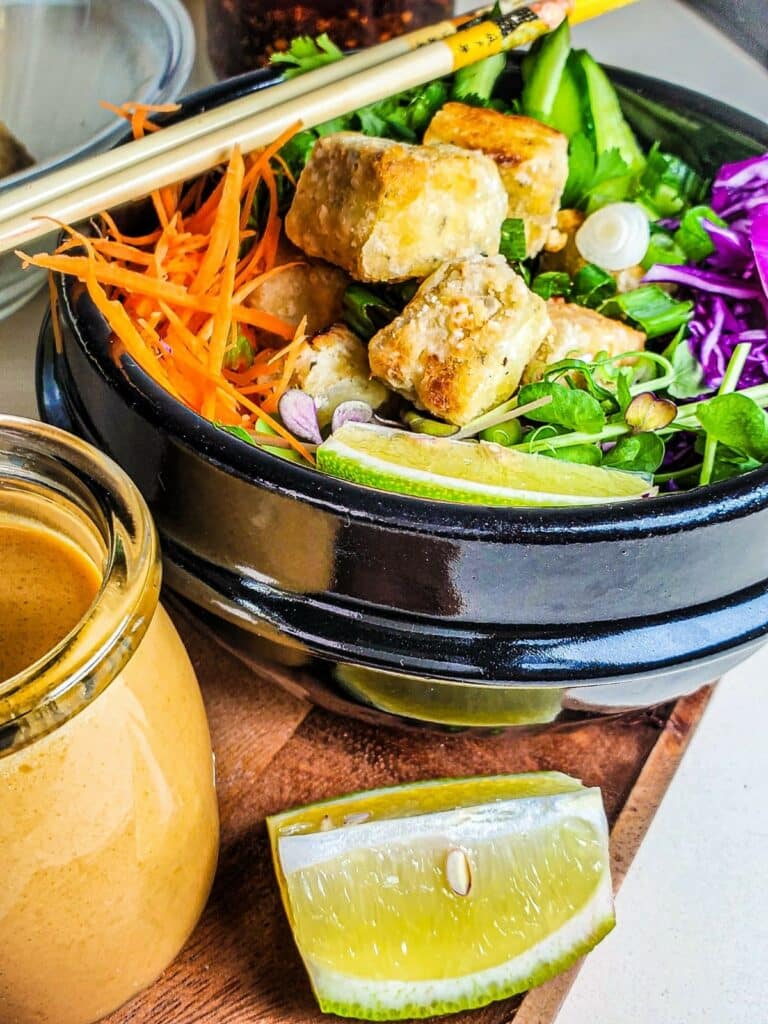 This salad is then usually dressed with a flavorful dressing made with ingredients such as peanut butter, soy sauce, lime juice, and chili paste. This sauce is often creamy and tangy, with a slight kick of spice. Today instead of lime in the peanut dressing I used fresh orange juice which gave it a delish citrusy touch!
Other possible ingredients:
That may be added to the salad include crushed peanuts, crispy shallots (I used my Homemade Crispy Shallot Chilly Oil instead), and sliced chili peppers for an extra burst of flavor and texture.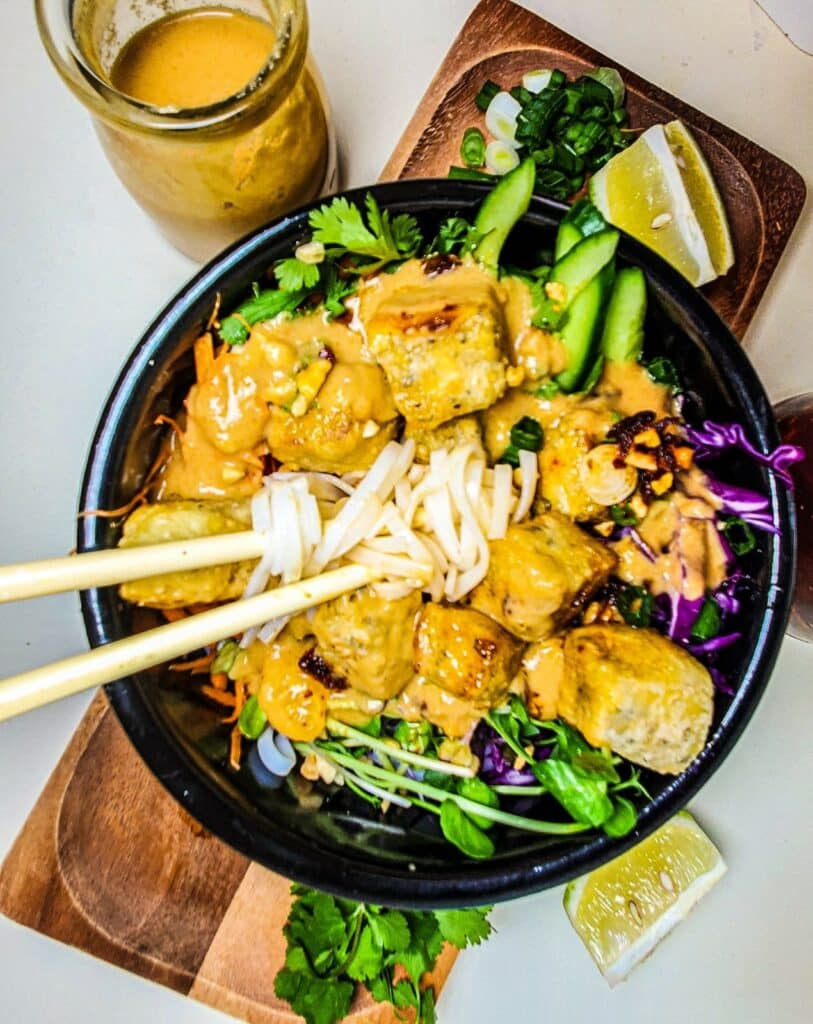 the origin of Vietnamese peanut noodles salad
The exact origin of Vietnamese peanut tofu noodle salad is unclear, but it is likely a modern twist on traditional Vietnamese cuisine. Vietnamese cuisine is known for its fresh, vibrant flavors and emphasis on herbs and vegetables, and this salad certainly embodies those qualities.
Vietnamese peanut noodles salad was created by Vietnamese chefs or home cooks who were looking to incorporate new ingredients and flavors into traditional Vietnamese dishes. Peanut sauce is not a traditional Vietnamese dressing recipe, but it has become popular in many Asian dishes in recent years. Like summer rolls!! there is no summer roll without a peanut dressing! Its nutty, sweet and savory flavors, pair well with the fresh vegetables and herbs in the salad.
Tofu is mainly traditional in Chinese cuisine, and it is a popular ingredient in vegetarian and vegan dishes and may have been included in the salad as a meatless protein option.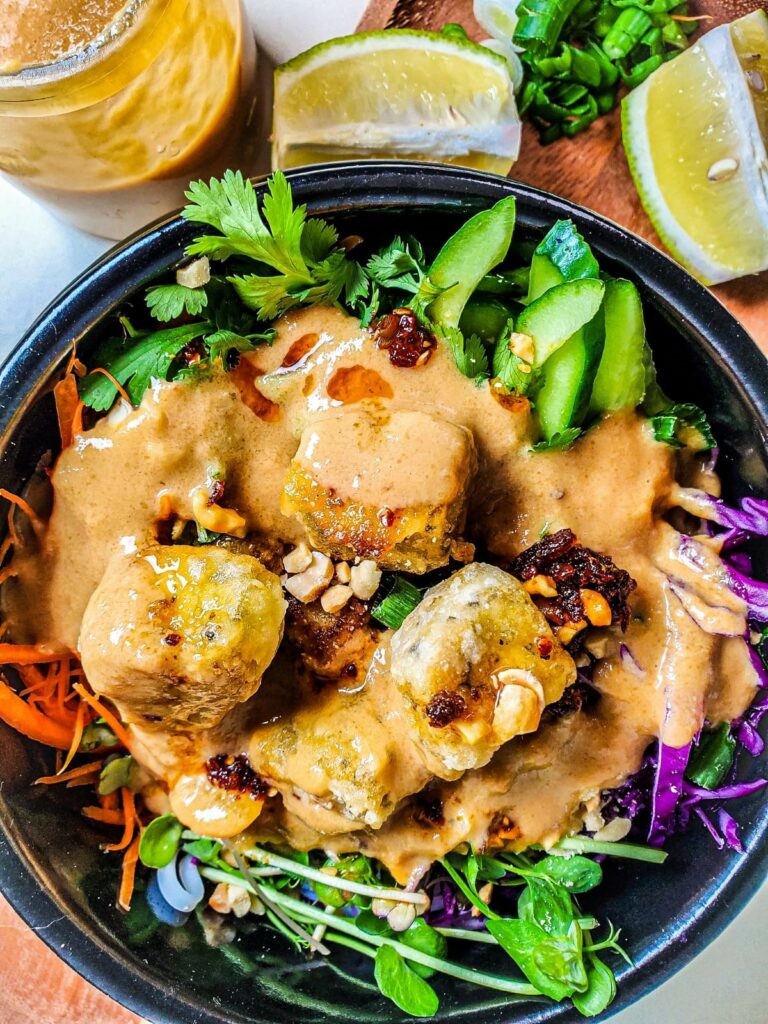 Is Vietnamese peanut noodles salad healthy?
Vietnamese peanut tofu noodle salad can be a healthy meal option when prepared with nutritious ingredients and consumed in moderation as part of a balanced diet. Here are some factors to consider:
Rice noodles or vermicelli noodles are typically used in this salad, which are a good source of carbohydrates. However, they are also high in calories and low in fiber, so it's important to watch portion sizes and balance them with other nutrient-rich ingredients.
Tofu is a good source of plant-based protein and is low in saturated fat. It also contains essential amino acids and is rich in minerals such as calcium and iron.
This salad features a variety of fresh vegetables, such as shredded carrots, sliced cucumber, shredded cabbage, and chopped herbs. Vegetables are low in calories and high in fiber, vitamins, and minerals, making them a nutritious addition to any meal.
The peanut sauce used in this salad is typically made with peanut butter, which is high in healthy fats and protein. However, it is also high in calories, so it's important to use it in moderation. you can also skip the dressing if you are restricting calories and just use soy sauce which will make this salad delicious as well.
Lastly, Vietnamese peanut tofu noodle salad can be a healthy meal option when prepared with fresh, whole-food plant-based ingredients and consumed in moderation. It's the perfect meal prep. You can assemble small portions and preserve them in the fridge inside individual containers. It's important to watch portion sizes, balance the ingredients to ensure a variety of nutrients, and pay attention to the calorie and fat content of the peanut sauce.
Try Other Delicious Salad Recipes:
Vietnamese Peanut Noodles Salad
Rice noodles with cruncy tofu and vegies topped with peanut dressing and chilly shallot oil
Equipment
1 Cooking pot

For the noodles

1 Dressing jar

For the peanut dressing

1 Serving bowl

1 Cutting board

1 Chef knife

1 Mandoline slicer
Ingredients
225

gr

Rice noodles

Half a pack cooked for 10 min in boiling water. Then drained and rinsed in cold water. Then mixed with 2 Tbsp. of sesame oil to prevent sticking.
Crunchy Tofu Cubes
150-300

Gr

Tofu

Depending on how many servings. This amount will do for 2-3 people. The tofu must be rained and dried with a paper towel.

½

Cup

Cornstarch

To coat the tofu

¼

Cup

Olive oil or any cooking oil

For frying the tofu
Vegetebles
2

Cucumbers

Seeds are scooped with a spoon, see the video. and thinly sliced

2

Carrots

Thinly shredded with mandoline. or thinly sliced with a knife

¼

Red cabagge

Shredded or thinly sliced

1

Cup

Cilantro

Chopped

2

Green onions

Chopped

1

Limes

Cut to quarters - to serve with
Peanut Dressing
½

Cup

Organic peanut butter

¼

Cup

Coconut milk

Or any non dairy milk

½

Fresh orange juice from half of orange

2

Tbsp.

Soy sauce

1

Tbsp.

Sesame oil

1

Tsp

Ground ginger

Optional
Toppings
3

Tbsp.

Crushed peanuts

3

Tbsp.

Crispy shallots chilly oil
Instructions
Cook the noodles according to the instructions on the back of the package or for about 10 minutes in boiling water, when they are soft enough to eat, rinse them under a stream of cold water, and massage the noodles with some sesame or olive oil to prevent sticking.

Mix the tofu with the cornstarch until each tofu cube is well covered.

Heat oil in a pan and fry the tofu cubes on medium-high heat for about 7 minutes on each side or until golden. Remove to a plate with absorbent paper.

Chop all the vegetables into thin strips and set aside until serving. Chop the cilantro and green onion as well.

Mix all the peanut dressing ingredients well, you can either use a whisk or a hand mixer if you have one.

Place noodles in a bowl. Add a handful of each vegetable on top, crispy tofu cubes in the middle, and fresh herbs.

Season with lime, peanut sauce, and crispy shallot chili oil. Add a spoonful of peanuts on top and start munching. Enjoy!!
Notes
The caloric value does not include the peanut sauce and the toppings, an addition of 3 tablespoons of the peanut sauce is equivalent to about another 150 calories. You can add only lime and soy sauce to the salad if you want to keep a lower calorie value.