Hi lovelies!
Vegan Eggplant and Almond Ricotta Tower! – The perfect appetizer for when you are having people coming over. This appetizer sharing dish is super easy and quick to make. And most importantly, stunning and delicious. So, when are you going to host people over? Whether you're having Italian style dinner or Mediterranean, this is a recipe you'd love!
Eggplant is such a versatile vegetable. It can be prepared in so many different ways and techniques. And it is a must-have vegetable in any vegan kitchen. Simply because it's healthy and delicious in every way. This time we will go for an Italian-style eggplant. With a light and easy tomato sauce, lots of herbs, and few touches of reduced balsamic. I'll fill this impressive tower with homemade Vegan Almond Ricotta Cheese. If you have one in hand that you like, it would work great as well.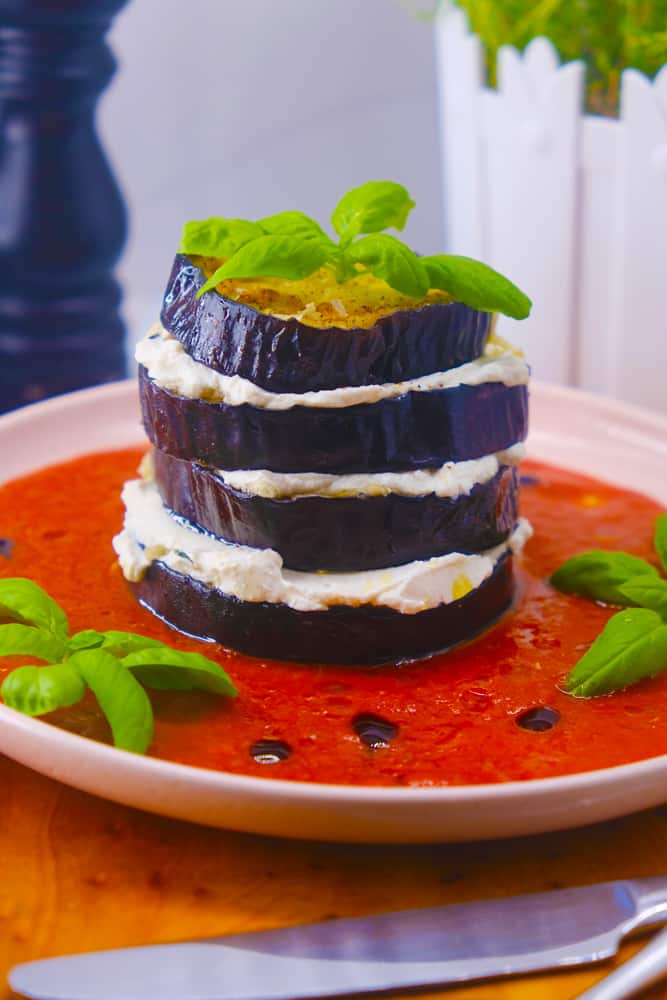 So, how do we make a perfect vegan stacked eggplant
This stacked eggplant Appetizer will be ready before you are done screaming "save the eggplant tower, Marty!". But the vegan ricotta cheese has to be ready in advance, yes? So, without further ado, preheat the oven to 190C degrees. We want to have short and fast baking so that the eggplant slices would be golden on both sides. Slice the eggplant into 1-inch-thick slices. Brush them lightly with the herbs oil we prepped in advance. Bake in the oven until golden on all sides. When golden and beautiful, we'll only take out for a moment to sprinkle vegan mozzarella shreds on top of them. Place them back in the oven to melt the vegan mozzarella cheese. Then, take them out again to build our eggplant tower!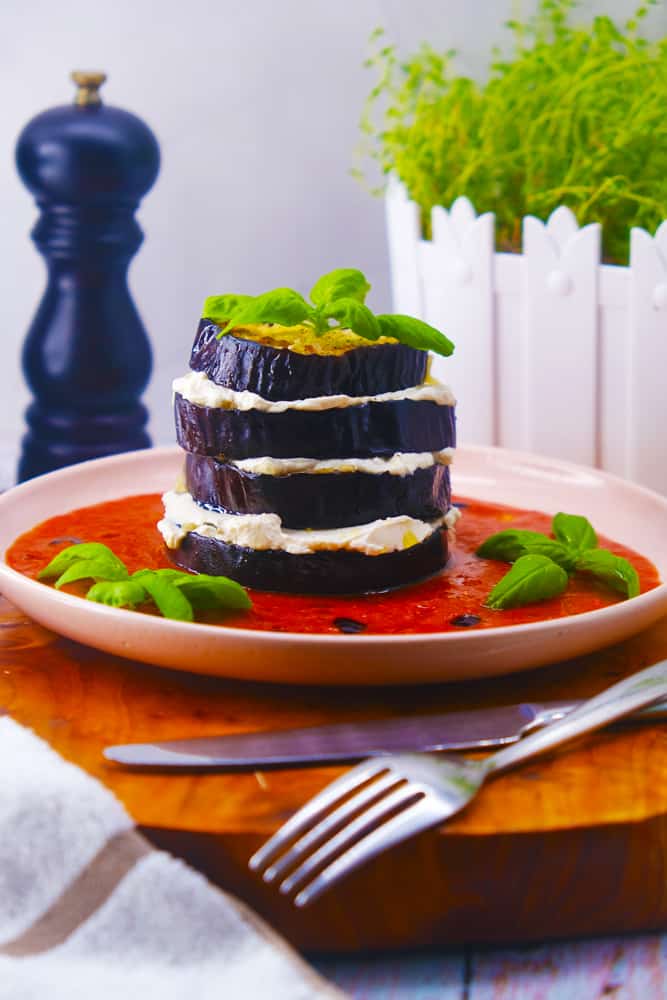 Medium-sized eggplant will yield us about 2 nice eggplant towers. It is best to serve in the middle of the table and let everyone dig in and share. Serve it with fresh Focaccia or good garlic bread. For this recipe, you can use tomato sauce as detailed in the recipe, or Pesto Sauce as a base. Would also work great here is tahini or even just some olive oil and reduced balsamic vinaigrette.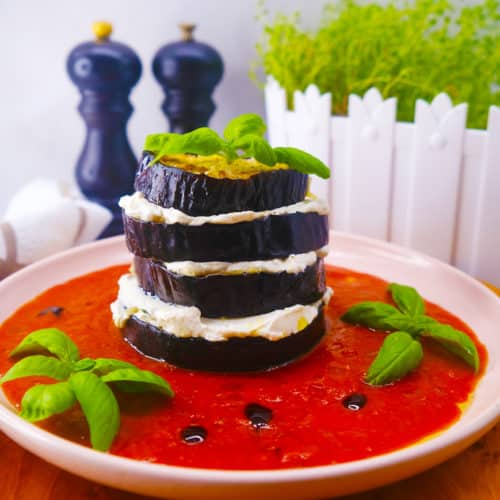 Vegan Eggplant Ricotta Stacks
Layers of baked eggplant with homemade almond ricotta cheese on top of tomato and coulis sauce.
Ingredients
1

Eggplant

6

Tbsp.

Vegan ricotta

100

gr

Vegan mozzarella
Herbed Oil Mixture
6

Tbsp.

Olive oil

1

Tsp

Garlic powder

½

Tsp

Salt

½

Tsp

Black pepper

1

Tsp

Thyme leaves
Tomato Coulis Sauce
400

Tomato pulp

I used Mutti

½

Tsp

Salt

½

Tsp

Black pepper

1

Tsp

Sweet paprika

1

Tbsp.

Garlic confit

2-3

Fresh basil leaves
Instructions
Arrange the eggplant slices on a baking tray with baking paper.

In a small bowl, mix the oil and herbs mixture.

Using a silicone brush, brush the eggplant on both sides with the seasoned oil.

Bake in the oven for 20 minutes, take out the tray carefully, gently turn each slice of eggplant and bake until the other side is golden as well. Add grated vegan mozzarella, and continue to bake until the cheese is melted for about 5 minutes.
Tomato Coulis Sauce
Blend all the ingredients in a blender until smooth.

In a small saucepan bring to a gentle simmer all the sauce ingredients. Cook for 15 hours until the water is reduced.

To assemble the dish, take a flat plate, and pour 4-5 tablespoons of tomato coulis.

Scoop 2 tablespoons of vegan ricotta over 3 slices of eggplant, and place them on top of one other. Place the fourth slice without ricotta over the eggplant tower. For the Vegan Almond Ricotta Recipe click here.

Drizzle around a little olive oil, reduced balsamic vinegar, coarse salt, and fresh basil leaves. You can also use a little pesto sauce, and toasted pine nuts.

Serve with fresh focaccia or garlic bread.
Notes
The recipe makes 2 eggplant towers and is good for 2-3 people as an appetizer