Hi hi lovelies!
What stunning pancakes we have here! I so love how they look and even more how delicious they are. So fluffy and soft! So, in June I celebrated my 36th birthday and decided to buy both myself and the blog a really special gift! I bought a professional camera. Until today I have photographed the food with my phone camera. Yes Yes!! And now I felt there was a need and an opportunity to move forward. So I did a bit of research because I really don't understand cameras nor professional photography yet. After quite a lot of youtube tutorials on cameras, and advice from a professional photography teacher, I decided to buy a Fuji XS 10 Mirrorless which I realized is a really great camera for beginners.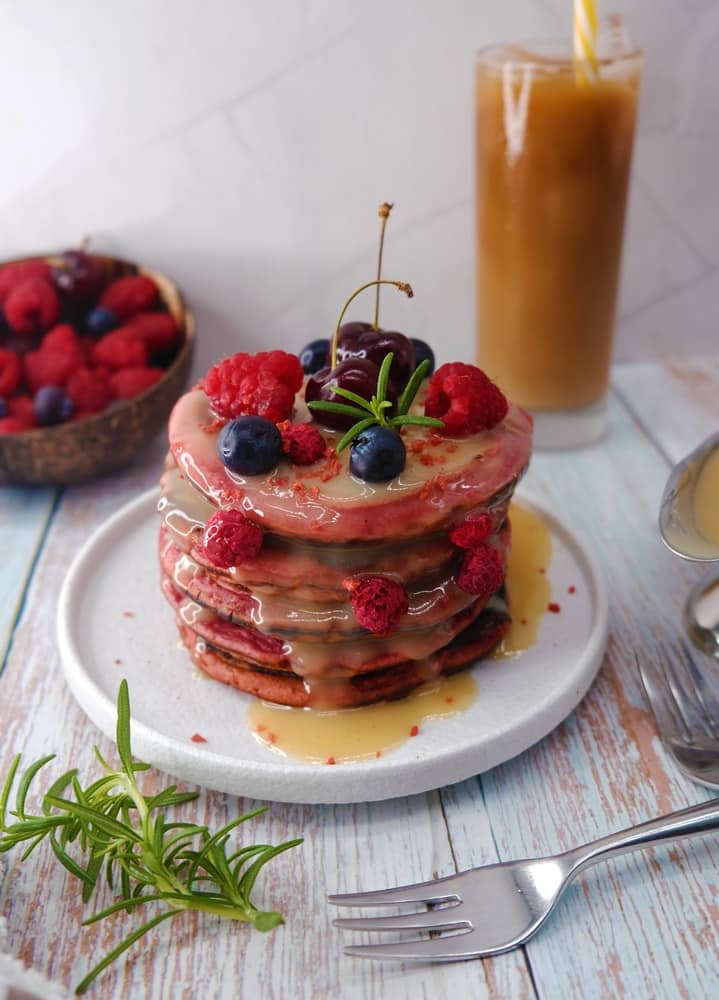 So this is the first recipe on the blog taken with this camera and I am really excited about the beauty and quality. Of course, you also need the right lighting, angles, everything is a working process of learning while doing.
For our pancakes, I used a natural Pink Pitaya Powder. I bought the Pitaya Powder in Iherb and was really excited that the color is natural and not artificial and there isn't really any weird taste. The powder does give a more subtle sweetness to the pancakes. In addition, pitaya powder has antioxidants and vitamins, so it's really nice to add to pancakes. I incorporated Maple Syrup instead of sugar into the batter. This way also has a subtle sweetness and also has the maple flavor that goes hand in hand with pancakes.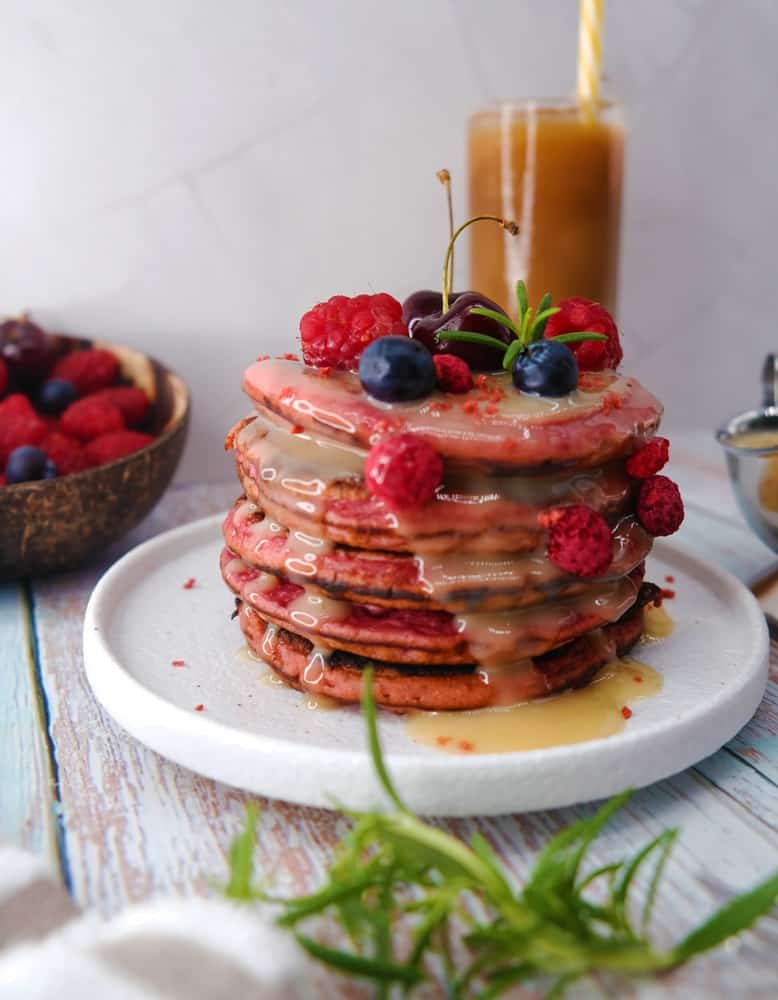 I fried these cute pink pancakes on an extra-small Non-Stick Pan so that each pancake came out to me almost uniformly in size. What's good about a non-stick pan is that it cooks the pancakes well on the inside and doesn't stick to the pan, They can be flipped really easily. Make sure to heat the pan over medium and not high heat so that the pancakes won't burn. Spread some vegan butter on the pan, with the help of a soaked paper towel in a little melted butter or a brush. You don't want to use a lot of butter otherwise you will get too greasy pancakes.
I also made a vegan white chocolate yogurt sauce that is super easy to make. Just melt the chocolate, mix the two well, add the vanilla paste and mix until fully incorporated. That's how you make yourself beautiful luscious pancakes at the level of some exotic hotel's breakfast. Have fun, tell me how it turned out, and tag Instagram on my page Caoco_Shamans if you made it! Much Love !!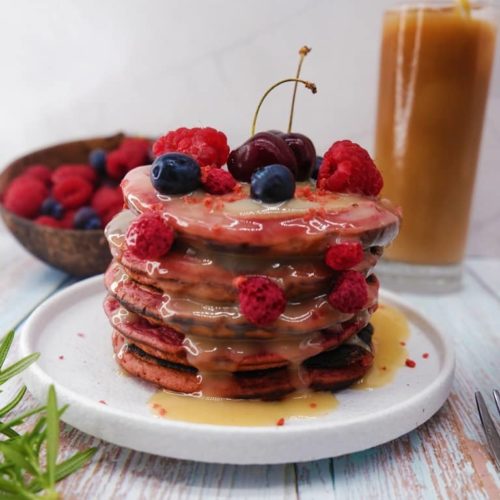 Vegan Pink Pitaya Pancakes
Pancakes with pink pitaya powder and vegan white chocolate yogurt sauce.
Equipment
Non-stick pan

Whisk

Mixing bowl

Spatula
Ingredients
Dry Ingredients
1

Cup

Spelt flour

125 gram

2

Tsp

Baking powder

Pinch

Sea salt
Wet Ingredients
1.5

Tbsp.

Pink pitaya powder

1

Cup

Plant milk

230 gram

1

Tbsp.

Organic apple cider vinegar

1

Tbsp.

Vanilla paste

2

Tbsp.

Vegan melted butter

3

Tbsp.

Maple syrup
Vegan White Chocolate Yogurt Sauce
¾

Cup

Vegan white chocolate chips

125

gr

Soy yogurt

1

Tsp

Vanilla paste
Instructions
Pink Pitaya Pancakes
Weigh and prepare all the ingredients separately. A bowl for the dry ingredients, and a bowl for the wet ingredients and mix each mixture well.

Pour the wet mixture into the dry mixture and mix well with a whisk until smooth batter without lumps.

Brush a little vegan butter with a paper towel in a non-stick pan over medium-low heat and pour about 2-3 tablespoons of pancake batter. Fry for about 3 minutes until bubbles form on top of the pancakes. Turn and fry for another 3 minutes.

Transfer to a plate and continue to fry the rest of the batter.
Vegan White Chocolate Yogurt Sauce
Prepare Bain Marie (water bath) to melt the chocolate gently. Bring water to a boil in a small saucepan, and lower the heat to create steam from the water. Place a stainless steel bowl over the pot. You can also melt in the microwave for about 30 seconds on pulses.

Add the chocolate chips into the bowl and stir gently with a spatula. As the chocolate begins to melt a little add the yogurt and vanilla paste and mix well until a smooth and uniform white chocolate sauce is obtained. Pour into a saucer or dish suitable for pouring sauce.

Place pancakes on a plate, drizzle a little white chocolate sauce on top, add fruit and serve. Enjoy!
Notes
.Calories refer to pancakes only
The amount of all white chocolate sauce is 310 calories