GF Vanilla Orange Cookies
my mom's Need for Healthier Version of Cookies:
My mom and I have always had a love for baked goods. She was never really into too much sweetness. but as we became more health-conscious, we longed for a treat aligned with our goals. During one of our kitchen improvisations, we decided to create a wholesome easy cookie that wouldn't compromise on taste. Thus, these GF Vanilla Orange Cookies came to life.
A Shared Sweet Tooth: Seeking Health in Every Bite
In today's fast-paced world, where health-consciousness is on the rise, finding healthier alternatives to our favorite treats has become a priority. Inspired by my mom's quest for nutritious yet delicious desserts, I've crafted a gluten-free orange Vanille cookies recipe that will satisfy your sweet tooth without compromising your well-being. Join me as I share the story behind this delightful creation, along with the ingredients, baking process, and tips for making these cookies a perfect fit for your busy lifestyle.
What Ingredients Are Needed:
To capture the essence of a refreshing orange flavor combined with the subtle sweetness of vanilla, we'll need the following ingredients for our GF orange Vanille cookies:
Almond Flour: A nutrient-rich alternative to traditional wheat flour.
Oat Flour: Adds a wholesome touch and enhances the cookie's texture.
Orange Zest: Infuses the cookies with a burst of citrusy aroma.
Orange Juice: Provides natural sweetness and a zingy flavor.
Coconut Oil: A healthier substitute for butter, lending a luscious taste.
Maple Syrup: An organic sweetener that complements the other ingredients.
Baking Powder: Ensures the cookies rise to perfection.
Vanilla Bean Paste: Intensifies the vanilla flavor.
Vanilla Sugar: Adds a touch of sweetness and enhances the aroma. You can skip it if you want to keep this recipe refined-sugar free.
Salt: Balances the flavors and brings out the natural sweetness.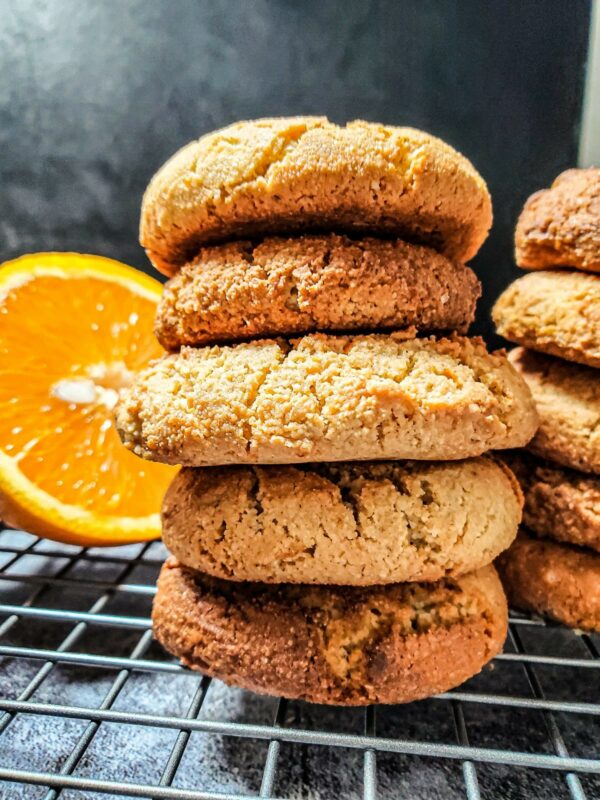 Toppings and Additions You Can Include:
While these GF orange Vanille cookies are delightful on their own, you can add various toppings and additions to customize them to your liking. Here are some delicious options:
Chocolate Chips: Add a decadent touch by incorporating dark chocolate or dairy-free chocolate chips into the cookie dough.
Chopped Nuts: Enhance the texture and flavor by mixing in chopped almonds, walnuts, or pecans.
Dried Fruits: Incorporate dried cranberries, raisins, or chopped dried apricots for a burst of natural sweetness.
Coconut Flakes: Sprinkle some shredded coconut on top of the cookies before baking to add a tropical twist.
How to Make GF Vanilla Orange Cookies:
Making these delightful cookies is a breeze. Just follow these simple steps:
 Step 1: Preheat your oven to 180 degrees Celsius (350 degrees Fahrenheit) and line a baking pan with parchment paper.
 Step 2: In a bowl, combine the almond flour, oat flour, orange zest, coconut oil, maple syrup, baking powder, vanilla bean paste, vanilla sugar, and salt.
Step 3: Mix the wet and dry ingredients until a sticky dough forms.
Step 4: Shape the dough into small balls using slightly wet hands and place them on the prepared baking pan.
Step 5: Bake the cookies in the preheated oven for 17-20 minutes, or until they turn golden brown.
Step 6: Remove the cookies from the oven and let them cool on a wire rack before indulging in their delightful flavors.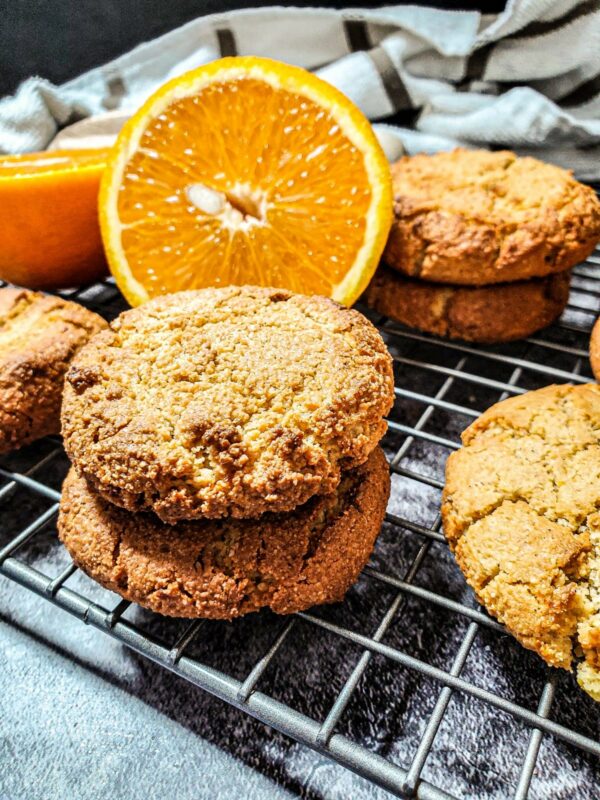 A Healthier Snack for Children: Guilt-Free Pleasure in Every Bite
When it comes to children's snacks, finding a balance between taste and health is crucial. These GF Vanilla Orange Cookies offer a wonderful solution. Not only are they gluten-free, but they also contain wholesome ingredients that can be enjoyed as a healthier alternative to conventional store-bought snacks. You can skip the vanilla sugar if you also want it refined sugar free. But all in all, its only a small amount of vanilla sugar. Treat your little ones to a delightful cookie experience, knowing that you're providing them with a nourishing treat.
Easy to Make Even for Busy People:
In today's fast-paced world, finding time to bake can be challenging. However, this recipe caters to busy individuals who crave a homemade treat without the hassle. With minimal preparation and baking time, these cookies are perfect for a quick baking session, allowing you to enjoy freshly baked goods amidst your hectic schedule.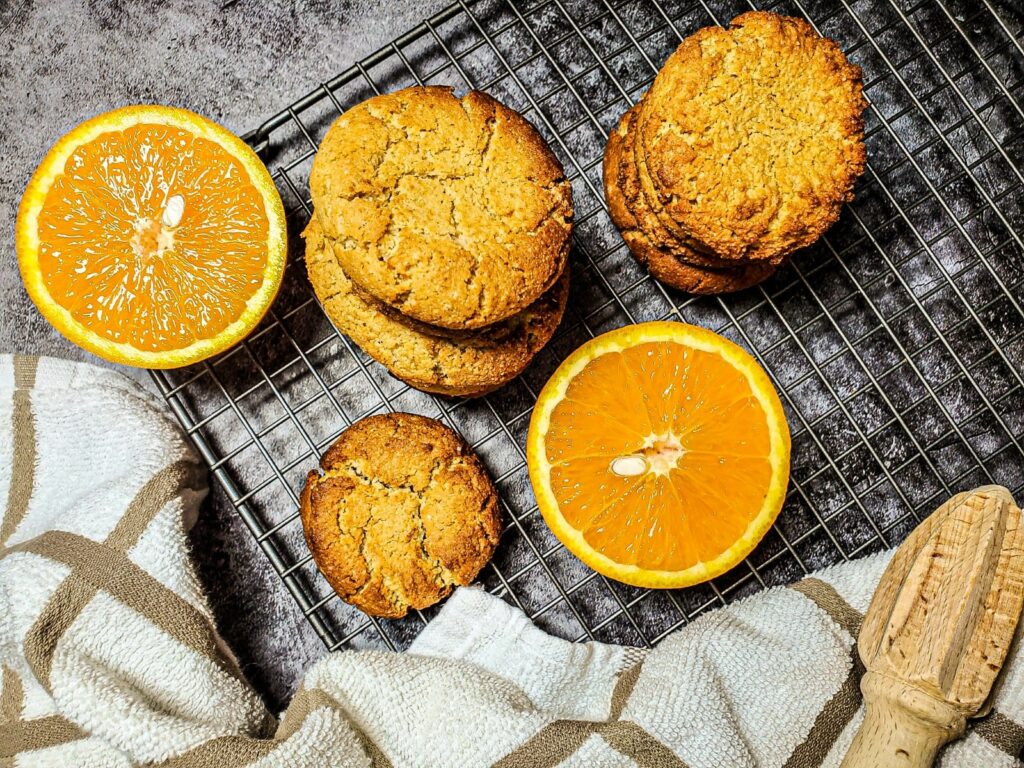 How to Store the Cookies:
Once you've relished these delectable GF orange Vanille cookies, you might wonder how to store them for later enjoyment. To maintain their freshness and flavor, follow these simple storage tips:
Allow the cookies to cool completely before storing them.
Place the cookies in an airtight container or a resealable plastic bag.
If desired, you can layer the cookies with parchment paper to prevent sticking and preserve their shape.
Store the cookies in a cool, dry place away from direct sunlight and heat sources.
Avoid storing the cookies in the refrigerator, as this can cause them to become stale.
These cookies can stay fresh for up to 5 days at room temperature. If you want to extend their shelf life, you can store them in the freezer for up to 3 months.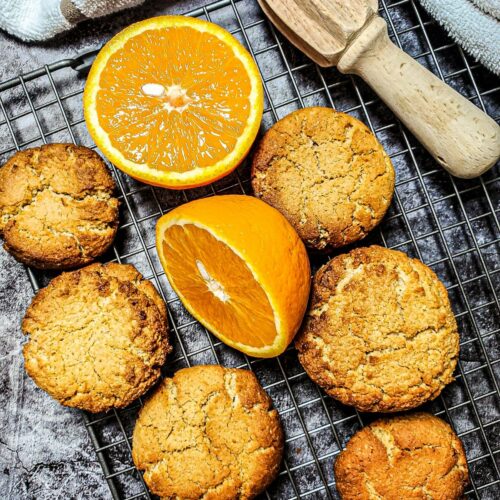 GF Vanilla Orange Cookies
Delicious soft and tender orange vanilla flavored cookies that are easy and quick to make
Equipment
1 Baking Tray

1 Parchment paper

1 Mixing bowl

1 Spatula

1 Measuring cups

1 Scale
Ingredients
1¼

Cup

Almond flour

½

Cup

GF oat flour

1

Tsp

Baking powder

¼

Tsp

Salt

1

Tsp

Orange zest

1

Tsp

Vanilla paste

¼

Cup

Orange juice

3

Tbsp.

Coconut oil

4

Tbsp.

Maple syrup
Instructions
Preheat the oven to 180C/350F degrees

Mix all the dry ingredients in a bowl.

Add the wet ingredients to the dry and mix well with a spatula.

Wet your hands very slightly with water before rolling each cookie into a ball. Scoop out about 2 tablespoons of cookie dough and roll it into a ball. Flatten it a little with your hands and place it in a baking dish.

Bake the cookies until golden between 17-20 minutes. Take out and leave to cool.