Wholesome Summer Delight: Beans and Swiss Chard with Zesty Garlic and Tomatoes
Heyy Lovelies!
I'm excited to share an incredible summer dish that's both super easy to make and incredibly delicious and nutritious. Prepare to indulge in the flavors of fresh tomatoes, tender Swiss chard, and hearty white beans, all brought together with aromatic garlic and zesty seasonings. Get ready to impress your family and friends with this delightful recipe that celebrates the vibrant tastes of summer. Don't forget to also check out my scrumptious Cherry Tomatoes Tart Tatin or these super delicious Vegan Crab Cakes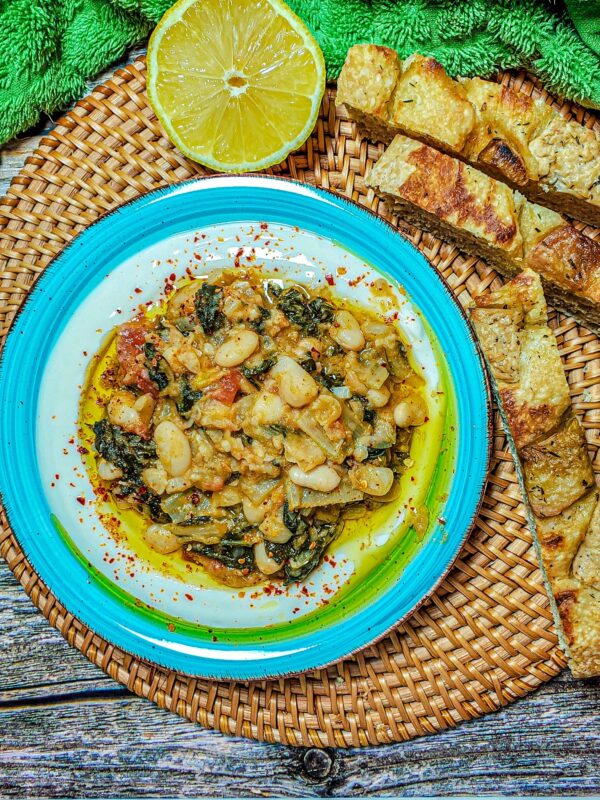 Chopped garlic: Adding a subtle yet robust flavor to the dish.
Cooked white beans: Creamy and protein-packed, these beans provide a satisfying texture.
Tomatoes: Fresh, juicy tomatoes lend a burst of sweetness and acidity.
Swiss chard: Vibrant and nutrient-rich, Swiss chard adds color and texture to the recipe.
Olive oil: A key ingredient for sautéing and enhancing the overall taste.
Seasonings: Enhance the dish with a blend of lemon, cumin, salt, and black pepper for a delightful flavor profile.
Beans and swiss chard recipe: Quick, Nutritious, and Flavor-Packed:
Perfect for Busy Individuals:
Life can get hectic, and finding time to cook a wholesome meal can be a challenge. That's why this beans and Swiss chard recipe is a game-changer for busy individuals seeking a quick, nutritious, and flavor-packed dish. Here's why:
With just a few simple steps, this recipe comes together in no time. The use of pre-cooked white beans saves you the hassle of soaking and boiling them from scratch. Additionally, Swiss chard cooks quickly and requires minimal preparation, making it a convenient choice for busy days.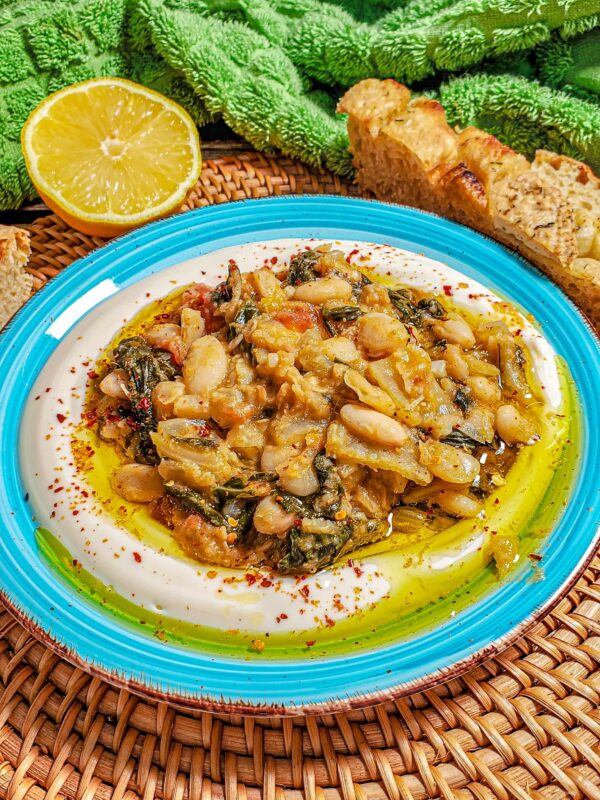 The cooking process for this dish is swift and efficient. Sautéing the garlic takes only a couple of minutes, followed by adding the beans and tomatoes. Swiss chard wilts down quickly, and within a short time, you'll have a satisfying meal ready to enjoy.
Despite its simplicity, this dish doesn't compromise on taste. The aromatic garlic infuses the beans and Swiss chard with a delightful savory note. The sweetness of tomatoes and the tanginess of lemon juice add depth, while cumin, salt, and black pepper bring out the flavors and create a harmonious balance. Each bite will leave your taste buds satisfied and craving more.
Whether you're a busy professional, a parent juggling multiple responsibilities, or someone looking for a quick yet nourishing meal option, this beans and Swiss chard recipe has got you covered. It provides a hassle-free cooking experience, delivers essential nutrients, and ensures you don't have to compromise on taste. Give it a try and savor a delicious and fulfilling meal, even on your busiest days.
Nutritional Benefits of the Ingredients
White beans are an excellent source of plant-based protein, making them an ideal choice for vegetarians and vegans. Protein is essential for building and repairing tissues, promoting muscle health, and providing a feeling of fullness.
These beans are packed with dietary fiber, which aids in digestion, regulates blood sugar levels, and supports heart health. Fiber also promotes a healthy weight by keeping you satiated for longer periods.
White beans contain essential micronutrients such as iron, magnesium, and folate. Iron helps transport oxygen throughout the body, while magnesium contributes to bone health and muscle function. Folate is important for cell division and the formation of red blood cells.
Swiss chard is loaded with vitamins A, K, and C. Vitamin A supports eye health and boosts the immune system, while vitamin K is essential for blood clotting and bone health. Vitamin C is an antioxidant that supports immune function, collagen production, and helps the body absorb iron.
This leafy green vegetable is a great source of minerals, including iron, magnesium, and potassium. Iron is crucial for oxygen transport, magnesium supports nerve and muscle function, and potassium helps maintain a healthy balance of fluids and electrolytes in the body.
Swiss chard contains various antioxidants, such as beta-carotene and flavonoids, which help reduce inflammation, protect cells from damage caused by free radicals, and support overall health.
Antioxidant Lycopene: Tomatoes are rich in lycopene, a powerful antioxidant known for its potential to reduce the risk of certain cancers and promote heart health.
Vitamin C and Potassium: Tomatoes are a good source of vitamin C, which boosts the immune system and collagen production. They also provide potassium, an essential mineral for maintaining healthy blood pressure levels.
By incorporating these ingredients into your diet through this beans and Swiss chard recipe, you'll benefit from a range of essential nutrients that support overall well-being. Enjoy this flavorful dish while nourishing your body with the goodness of protein, fiber, vitamins, minerals, and antioxidants.
I had the pleasure of serving this delightful beans and Swiss chard dish on top of creamy vegan labane, accompanied by freshly baked focaccia. The combination was simply divine! The creamy labane added a luxurious and velvety texture to each bite, perfectly complementing the tender vegetables and beans. The warm, fragrant focaccia provided a delightful contrast, with its crisp exterior and soft, fluffy interior. It was an absolute delight to indulge in the creaminess of the dish alongside the comforting bread.
However, the beauty of this recipe lies in its versatility. You have the freedom to explore and experiment with various serving options. If you're a fan of the classic Mediterranean flavors, serving it with hummus would be a fantastic choice. The smooth and savory dip would enhance the dish with its rich flavors. Alternatively, you can opt for vegan yogurt, which adds a refreshing and tangy element to the mix. The possibilities are truly endless, allowing you to cater to your personal preferences and create a dining experience that resonates with your taste buds.
So go ahead and unleash your creativity! Whether you choose to serve it on top of creamy vegan labane and enjoy it with freshly baked focaccia, pair it with hummus or vegan yogurt, or even come up with your own unique combinations, I have no doubt that you'll create a truly remarkable and satisfying meal. Enjoy the process of exploring different flavors and textures, and relish in the joy of sharing a delicious and versatile dish with your loved ones.
Other Easy Vegan Lunch Recipes: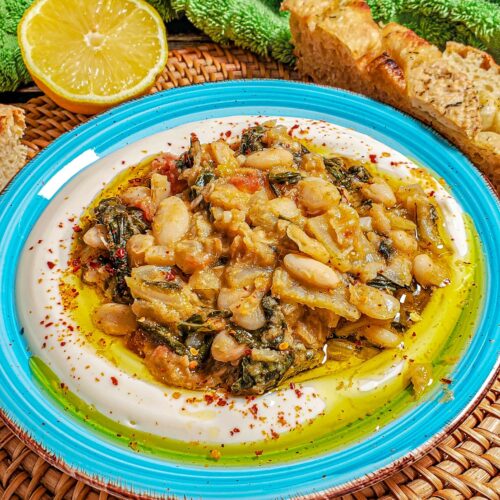 Beans and Swiss Chard
Easy Tangy Mediterranean-style beans cooked and Swiss chard on a vegan labane
Equipment
1 Cutting board

1 Chef knife

1 Wide Saute Pan
Ingredients
4

Tbsp,

Olive oil

8

Cloves

Garlic

Chopped

6

Leaves

Swiss chard

Chopped - separate the leaves from the stem - Well pan fry the stem first

2

Tomatoes

Peeled and chopped

3

Cups

Precooked beans

I used dried beans and soaked them overnight

1

Cup

Water

1

Lemon juice

From a whole lemon

1

Tbsp.

Cumin

1

Tbsp.

Salt

I used Himalaya

1

Tsp

Black pepper
To Serve
Some vegan labane or vegan yogurt or hummus

Bread of choice

Fresh mint on top

Optional, Chopped
Instructions
In a wide sautee pan, heat oil and lightly fry the garlic and the Swiss chard stems for about 5 minutes.

Add the chard leaves, the beans, chopped tomatoes, and 1 cup of hot water, stir well, bring to a simmer, and cover with a lid for 5 minutes.

Add the spices, lemon, and olive oil, stir well, and cook on medium heat until there is no liquid left.

Serve on your favorite spread, drizzle with olive oil, herbs, and any bread you like.