Hi lovelies!
You know, I never liked meringue much up until I had the vegan version made of aquafaba! It's not that I've never had any meringue. You just wouldn't catch me in a restaurant ordering a dessert made of meringue. Before becoming vegan, I was more into the crème brûlée, chocolate lava cake, or even churros type of desserts. I didn't like desserts in which the smell of eggs was noticeable. And always recognized some hint of eggs in non-vegan meringue for some reason.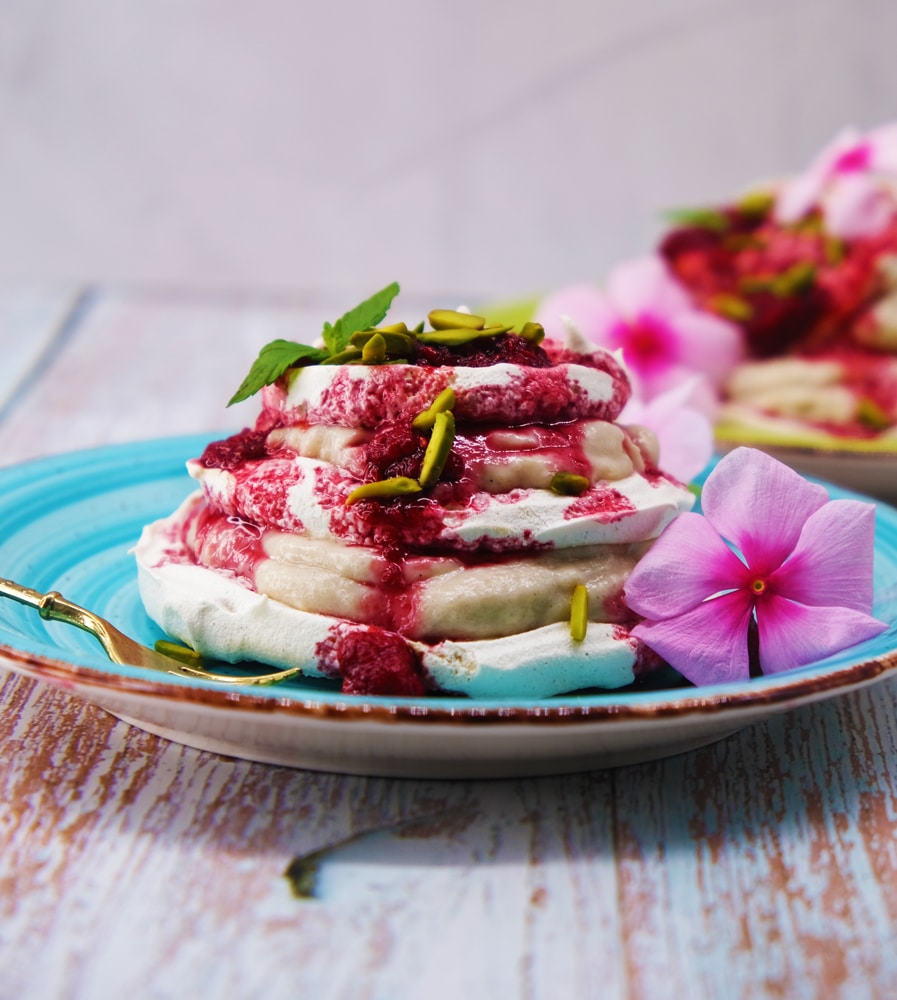 Which is to say, the first pavlova I ever had, I made myself. And it's a 100% Vegan Pavlova! And the fact is, it turned out tastier than I thought. Although excessively sweet to my taste, yet still an impressive and delicious dessert. This is an excellent dessert if you happen to be hosting. Especially if you wish to serve those in a form of individual mini desserts.
How to Make a Vegan Pavlova Dessert?
Our vegan pavlova consists of 3 of the simplest layers in the world to make! Layers of crispy vegan meringue, rich vanilla cream, and tarty raspberry sauce that cooks in just 2 minutes.
Those vegan meringue layers are baked and are essentially like crunchy meringue kisses only in different shapes. Vegan meringue is made from reduced aquafaba. Aquafaba is canned chickpea water that becomes reduced to half the amount obtained from a can. You can reduce them by cooking and evaporating half the amount of water. Once the aquafaba has cooled and is ready to work with, pour it into a stainless-steel bowl with a little Cream of Tartar Powder. 
Make sure to prep the powdered sugar and a spoon in advance, so that you can gradually add it while whisking with a Hand Mixer. Once you have a stable meringue, transfer it all into a Piping Bag. Pipe meringue cookies over baking paper and dry them in a preheated oven at 100 C degrees for two hours. Finally, after two hours, leave the baking pan with the meringue inside the oven after turning off the oven until completely cooled. The vegan meringue kisses can stay in the oven for 24 hours. So you can surely serve them even the day after.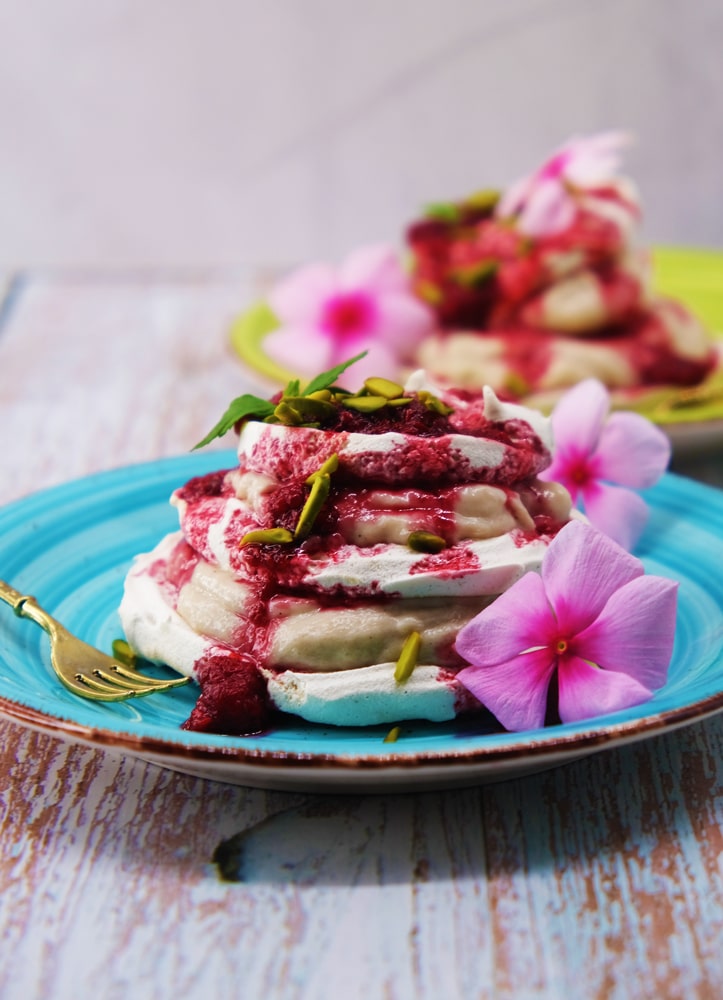 This vanilla cream is suitable for filling the vegan pavlova layers, made in just 2 minutes. All you have to do is put all the ingredients in a bowl and beat with a hand mixer. Then place the cream in the refrigerator to set.
If you use frozen fruit, you can use any type fruit you want here! Put them in a small saucepan with water and sweetener of your choice. I used maple syrup. Cook it over medium heat until desired thickness.
You can also garnish with roasted pistachios and other sour fruits of your choice. Enjoy!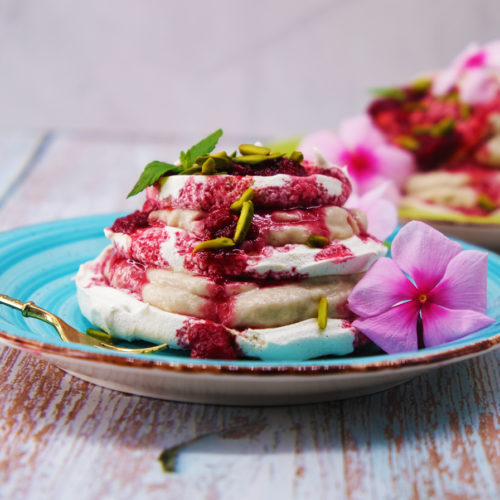 Mini Vegan Pavlova Dessert
Layers of vegan meringue with vanilla cream and raspberry sauce
Equipment
Hand mixer

Mixing bowl

Small saucepan

Baking Tray

Piping bag

Round Piping tube or any shape you want

Spatula

Measuring cup
Ingredients
Vegan Meringue
300

ml

Aquafaba

Reduce it to half of the amount so there will be left 150 ml

⅛

tsp

Cream of tartar powder

9

Tbsp.

Powdered sugar

1

Tbsp.

Vanilla bean paste
Vegan Vanilla Flavored Cream Filling
200

gr

Full fat coconut cream

The solid parts only, refrigerate a can in the refrigerator over night ahead of time.

200

gr

Vegan cream cheese

80

gr

Vanilla instant pudding

3

Tbsp.

Sugar or maple syrup
Raspberries Sauce
200

gr

Frozen raspberries

¼

Cup

Maple syrup or sugar

1

Cup

Water
Instructions
Reduced Aquafaba
Separate the water obtained from a can of chickpeas . The amount obtained is usually between 250 ml and 300 ml. Measure with a measuring cup. Save the chickpeas for other recipes.

Boil those waters in a small saucepan. Check every few minutes the amount of chickpea water left with a measuring cup. When the quantity has been reduced to half of what it was at the beginning, transfer it to a container and store it in the refrigerator or freezer until completely cooled.
Vegan Meringue
When the water has cooled transfer it to a stainless steel bowl, add the cream of tartar powder. Start whisking with a hand mixer for about 7 minutes until a fairly firm foam is obtained.

Start adding the powdered sugar slowly and gradually. After each tablespoon, keep whisking until a firm and glossy meringue is obtained.

Add vanilla paste and continue to whisk until combined.

Transfer all the meringue into a piping bag with a piping tube of your choice, or without one. Cut out the end of the bag so you can pipe the meringue.

Draw circles on the baking paper so you can pipe the meringue in a round shape. It is also possible to use a baking ring in different sizes.

Pipe the meringue around the circle line and inside the circle.

Bake the meringue for two hours. After two hours turn off the oven. Leave the meringue in the oven until it cools completely. No need to put them in the fridge. If you serve the pavlova the next day you can leave it in the oven or outside.
Vegan Vanilla Flavored Cream Filling
Mix all the ingredients together with a hand mixer and leave the cream to cool for an hour.
Raspberries Sauce
In a small saucepan, cook all the ingredients over medium heat for 15-20 minutes until a slightly thick raspberry sauce is obtained. Leave it to cool for an hour.
Serving:
Assemble the pavlova next to serving time only. It cannot be stored for long after you have assembled the components together. Arrange the pavlova in layers, starting with a layer of baked meringue, pouring a little of the cream over it. Continue with another layer of meringue, cream, and meringue.

Drizzle the raspberry sauce over the pavlova and garnish it with pistachio chips or any nut or fruit you want. Enjoy!