The Most Scrumptious Vegan Leek Patties Ever
In the bustling kitchens of Tel Aviv's thriving vegan food scene, where culinary delights abound, I once served as a young, professionally-trained cook at a local renowned vegan restaurant. I discovered that leeks, with their delicate yet robust flavor, formed the perfect foundation for crafting delectable vegan patties. The subtle sweetness and mild onion-like tang of leeks melded harmoniously with an array of complementary ingredients, resulting in a symphony of flavors.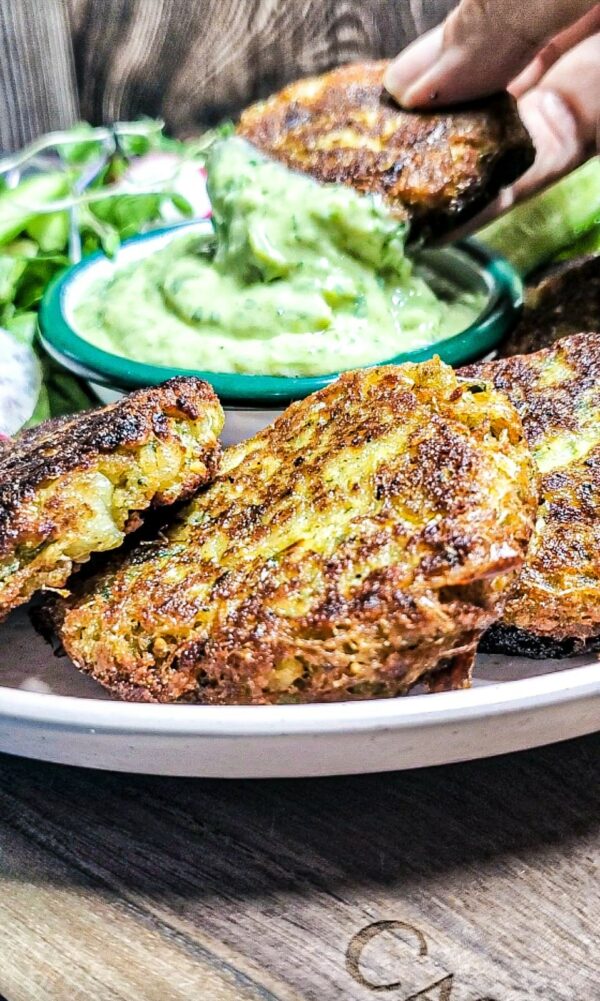 It was in that fast pace kitchen where we made endless batches of these mouthwatering and nutritious vegan leeks patties. I recount this flavorful adventure and share with you my tweaked recipe accompanied by a beautiful fresh herbed yogurt dip. This one is enriched with more greens, garlic confit, and crumbled tofu, to elevate both protein content and green goodness. Get ready to tantalize your taste buds with these irresistible vegan leek patties. which are perfect for children!
How to Make: Step-by-Step Guide
vegan leek patties pre-made Ingredients:
Garlic confit
Leeks (baked in the oven covered)
Tofu (crumbled with your hands)
Olive oil
Cooked mashed potatoes
Chopped Swiss chard
Chopped parsley
Salt and pepper
Nutritional yeast
Gluten-free oat flour
Vegan grated mozzarella – optional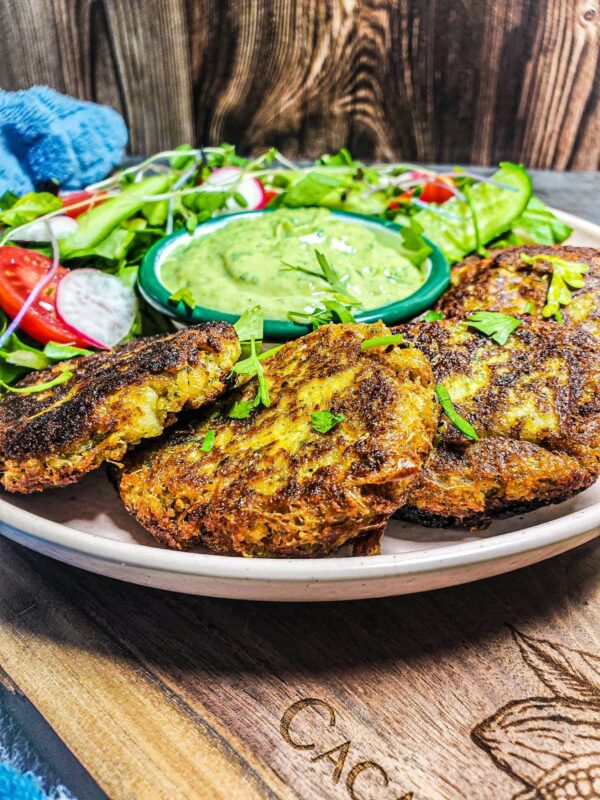 Step-by-Step Instructions:
Preheat your oven to 180C/350F.
Place the garlic cloves in a small baking dish and drizzle them with olive oil. Cover the dish with silver foil and bake for 1-2 hours until the garlic cloves become soft and fragrant. you can add them to the pan with the leeks as well.
Meanwhile, prepare the leeks by trimming off the dark green. Place the leeks on a baking sheet, drizzle with olive oil, add 2 cups of water to the baking pan, and cover the pan with silver foil. Bake for 2-3 hours until the leeks are completely softened.
Combine the cooked leeks and chopped Swiss chard. Use a blender or food processor to blend them until you have a smooth green mash.
In a mixing bowl add the mashed potatoes, crumbled tofu, chopped parsley, garlic confit (squeezed from their skins), salt, pepper, nutritional yeast, and a few tablespoons of gluten-free   oat flour to the bowl. Mix everything together until well combined. if you want to add vegan grated mozzarella, now is the time!
Take a handful of the mixture and shape it into a patty using your hands. Repeat with the remaining mixture to create more patties.
Heat a frying pan over medium heat and add a bit of olive oil. Place the patties in the pan and cook for 8 minutes on each side or until they turn golden brown.
Once cooked, transfer the patties to a plate lined with paper towels to absorb any excess oil.
You Can Fry It, Bake It, or Air Fry:
These vegan leek patties offer flexibility in cooking methods. Whether you prefer the crispiness of frying, the ease of baking, or the healthier alternative of air frying, you can choose the method that suits your preferences.
Simply heat a frying pan with a bit of olive oil and cook the patties until they are golden brown on each side.
If you prefer baking, preheat your oven to 180C/350F and place the patties on a baking sheet lined with parchment paper. Brush them lightly with olive oil so they can get a nice golden color. Bake them for about 30-40 min or until their color is satisfying.
Alternatively, if you opt for air frying, preheat your air fryer, place the patties inside, and cook them according to the appliance's instructions. Whichever method you choose, these leek patties will turn out deliciously flavorful.
For children who enjoy and prefer fried foods, this recipe can be an excellent option(so many hidden veggies!). Plus, adding a sprinkle of vegan shredded mozzarella on top of the patties before frying will make them even more irresistible. The melted mozzarella creates a gooey and cheesy goodness that children will adore.
How to Store The Leek Patties :
If you have leftovers or want to make a larger batch for meal planning, it's important to know how to store these vegan leek patties properly. Allow the cooked patties to cool completely before storing them. Place them in an airtight container or wrap them tightly with plastic wrap. You can refrigerate the patties for up to 3-4 days, ensuring they are well sealed to maintain their freshness. 
If you want to store them for a longer period, they can be frozen. Place the patties in a freezer-safe container or wrap them individually in plastic wrap and store them in the freezer for up to 2-3 months. When ready to enjoy, simply thaw them in the refrigerator overnight and reheat using your preferred method.
Scrumptious Leek Patties Serving Options:
With a Salad, Great in a Sandwich or Wrap,
These vegan leek patties offer a range of serving options to suit various meals and occasions. Serve them alongside a fresh salad, allowing the flavors of the patties to complement the crispness of the vegetables. Alternatively, these patties are perfect for creating a hearty sandwich or wrap. Simply place them between two slices of bread or wrap them in your favorite tortilla with your choice of condiments and fillings for a satisfying meal on the go.
Perfect for Meal Planning:
The versatility of these patties also makes them ideal for meal planning. With a batch yielding approximately 25 patties, you can prepare them in advance and incorporate them into your weekly meal plan. They can be enjoyed as a main course or used as a protein-packed addition to various dishes.
The Dip: A Divine Accompaniment
No patties are complete without a delicious dip to enhance its flavors. Prepare a divine dip by blending together vegan yogurt, chopped parsley, fresh mint, garlic confit, nutritional yeast, salt, pepper, olive oil, and a splash of lemon juice. This creamy and herbaceous dip perfectly complements the savory taste of the leek patties. Its refreshing and tangy notes will add an extra layer of addictive deliciousness to every bite.
vegan leek patties main ingredients nutritional benefits:
These ingredients come together to create a delicious and nutritious vegan leek patty that offers a variety of vitamins, minerals, and plant-based protein. Incorporating these patties into your meals can help contribute to a well-balanced diet.
Leeks:

Leeks are a member of the allium family and offer a mild onion-like flavor. They are a good source of vitamins A, C, and K, as well as folate and potassium. Leeks are also rich in dietary fiber, which aids in digestion and supports a healthy gut.

Tofu:

Tofu is a versatile plant-based protein made from soybeans. It is low in calories and contains all nine essential amino acids, making it a complete protein. Tofu is also a good source of iron, calcium, magnesium, and vitamin B12 (if fortified). It is known to promote muscle strength, support bone health, and provide satiety. function and promote gut health.
Garlic Confit:

Garlic is renowned for its distinct flavor and potential health benefits. Confit garlic refers to garlic cloves that have been slow-cooked in oil until they become soft and fragrant. Garlic is known to have anti-inflammatory and immune-boosting properties. It also contains antioxidants that may contribute to heart health and help lower blood pressure.

Mashed Potatoes:

Potatoes are a starchy vegetable and provide a good source of carbohydrates, which are essential for energy. They are also rich in vitamin C, potassium, and fiber. However, keep in mind that the nutritional value of mashed potatoes may vary depending on the added ingredients (such as butter or cream) and cooking methods.
Swiss Chard:

Swiss chard is a leafy green vegetable packed with vitamins A, C, and K. It is also a good source of minerals like magnesium and potassium. Swiss chard contains antioxidants that help protect against oxidative stress and inflammation in the body. Including leafy greens in your diet can support overall health and well-being.
Parsley:

Parsley is an herb commonly used for its fresh and vibrant flavor. It is rich in vitamins A, C, and K, as well as folate and iron. Parsley also contains antioxidants and has been associated with potential anti-inflammatory and diuretic effects.

Nutritional Yeast:

Nutritional yeast is a deactivated yeast often used in vegan cooking to provide a savory and cheesy flavor. It is a complete protein source and is packed with essential vitamins and minerals, including B vitamins, zinc, and selenium. Nutritional yeast is also known for its high content of beta-glucans, which can support the immune system.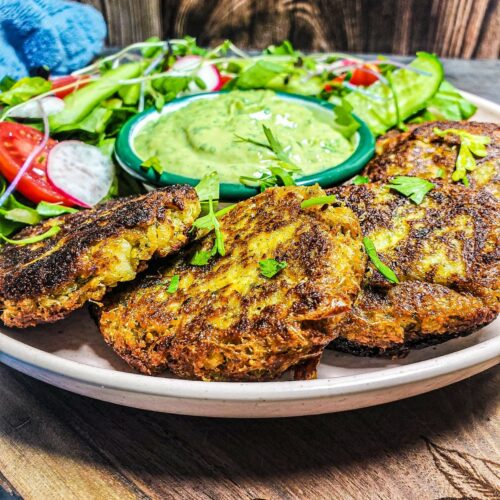 Scrumptious Leek Patties
Leeks and Swiss chard patties, scrumptious and addictive, vegan and gluten-free.
Equipment
1 Food processor or a blender

1 Baking pan

1 Mixing bowl

1 Spatula

1 Small cooking pot

1 Wide plate with an absorbent paper
Ingredients
3

Leeks

Cut and discard the green part

1-2

Whole garlic heads

Oven-baked confit (if you want to make the dip, prepare 2 heads of confit garlic)

5

Swiss chard leaves

Chopped

2

Medium potatoes

Boiled until soft without the skin

1

Block of firm tofu

330 grams, finely crumbled with your hands or a fork

1

Cup

Chopped parsley

1

Tbsp.

Olive oil

1

Tbsp.

Pink Himalayan salt

1

Tbsp.

Ground black pepper

4

Tbsps

Nutritional yeast

2

Tbsps

GF oat flour
Herbed Yogurt Dip
1

Vegan yogurt

2

Tbsps.

Garlic confit

¼

Cup

Chopped Parsley

¼

Cup

Chopped fresh mint

½

Tsp

Salt

½

Tsp

Black pepper

2

Tbsp.

Nutritional yeast

½

Lemon juice from half of lemon
Instructions
Preheat your oven to 180C/350F

For the oven-baked garlic confit: cut the top part of the end of the head of garlic, drizzle olive oil, and spices, and wrap well in foil. It can be baked in a pan together with the leeks.

Place the leeks on a pan with baking paper. Rub them with some oil on all sides. Add about 2 cups of water to the bottom of the sheet so they don't dry out during baking. Wrap the tray well in foil.

Cook potatoes in a small pot with boiling water for about half an hour or until soft. At the end of cooking, peel them and puree them in a large mixing bowl.

As soon as the leek is very soft, take it out of the oven, cut it into pieces, and put it in a blender together with the Swiss chard and parsley. Blend until you get a smooth green puree.

To the bowl of potatoes, add the leek puree, confit garlic, crumbled tofu, spices, oil, oat flour, and nutritional yeast. Mix everything with your hands. It is recommended to use rubber gloves when mixing.

Scoop some of the mixture and roll it into a patty of desired size but not too thick so that it cooks well.

Heat oil in a pan, and fry each patty on medium-high heat for about 8 minutes on each side or until the patty is golden brown. At the end of frying. Transfer to a plate with absorbent paper.
Herbed Yogurt Dip
Blend all the dip ingredients in a blender until you get a green and smooth creamy texture.
Serving Options
Can be served alongside a fresh salad, over rice or accompanied by a noodle dish as well as in sandwiches and wraps.