Vegan Cauliflower Pizza Crust
A Vegan and Gluten-Free Pizza Fix!
As an avid vegan pizza lover, I have always cherished the indulgence that comes with a cheesy slice. However, to align my eating habits with my desire for a healthier lifestyle, I decided to explore vegan options while reducing gluten and carbs. Short research got me to discover the magic of cauliflower as a versatile substitute for traditional pizza crusts. If you want to make your own vegan Cashew Cheese for this pizza you can check the Vegan Mozzarella Cheese recipe and also my amazing Vegan Pesto Sauce to give it that beautiful basil touch!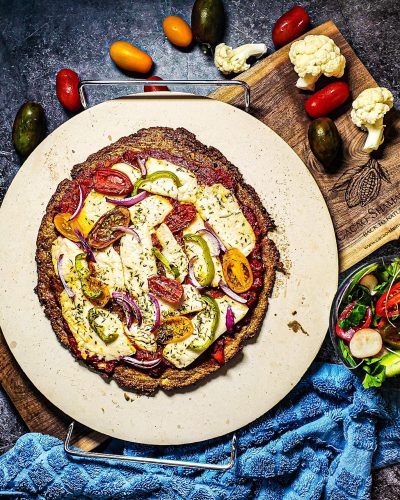 In the realm of healthy and dietary-conscious eating, cauliflower has emerged as a versatile and nutritious substitute for various ingredients. Among its many culinary applications, cauliflower pizza crust stands out as a game-changer for those following a vegan and gluten-free lifestyle. Are you a pizza lover? This recipe is just for you. cauliflower pizza crust that not only fulfills your pizza cravings but also aligns with these dietary goals.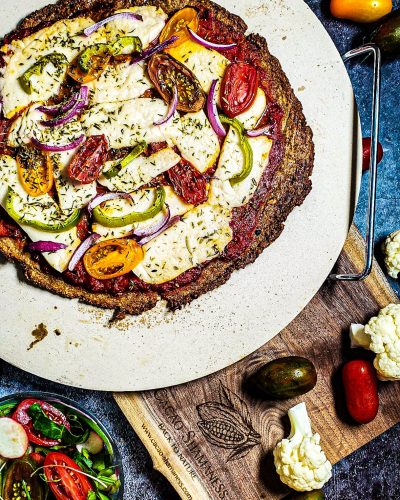 To create the perfect cauliflower pizza crust, you'll need the following ingredients:
Cauliflower

– 1 medium-sized cauliflower head, only the florets without the stem, well blend them to create rice flour.

GF Flour

– 60 g of GF oat flour, or any gluten-free flour blend (such as almond flour or chickpea flour)

Vegan Egg Substitute

– 1 tbsp psyllium husk mixed with water
or
Flax Egg (1 tablespoon ground flaxseeds mixed with 3 tablespoons water)

Starch

– 1 tbsp tapioca starch

Flavor

– 3 tbsp nutritional yeast (for added flavor)

Olive oil

– (for greasing)

Optionals

:
1 teaspoon dried oregano
½ teaspoon garlic powder
½ teaspoon sea salt
How To Make a Cauliflower Pizza Crust
Step By Step Instructions:
Preheat the oven:

Begin by preheating your oven to 400°F (200°C) and lining a baking sheet with parchment paper.

Prepare the cauliflower:

Cut the cauliflower head into florets and pulse them in a food processor until you achieve a rice-like consistency.

Steam the cauliflower:

Steam the cauliflower on the stovetop for about 8-10 minutes. Once steamed, allow it to cool for a few minutes.
Alternatively, I don't use microwaves but if you do, Place the cauliflower rice in a microwave-safe bowl and microwave for 4-5 minutes until soft.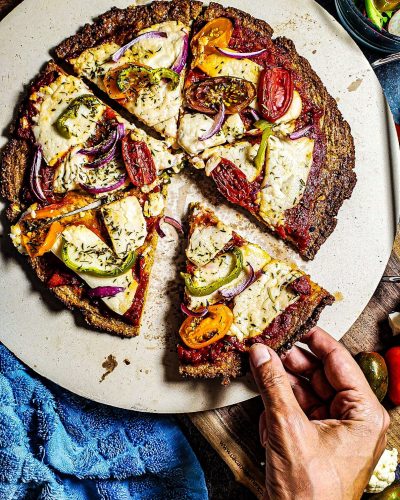 Drain the cauliflower:

Transfer the steamed cauliflower rice to a clean kitchen towel or cheesecloth. Squeeze out the excess moisture thoroughly to ensure a crispier crust.

Form the crust mixture:

In a mixing bowl, combine the cauliflower rice, Vegan egg substitute, gluten-free flour blend, dried oregano, garlic powder, and sea salt. Mix well until all the ingredients are evenly incorporated.

Shape the crust:

Transfer the cauliflower mixture onto the prepared baking sheet. Using your hands, spread and shape the mixture into a thin, round crust, approximately ¼ inch thick.
Bake the crust:

Place the baking sheet in the preheated oven and bake for 15-20 minutes or until the crust turns golden brown. Flip the other side and bake for another 15 minutes.

Add your favorite toppings and bake again:


Once the crust is baked, remove it from the oven and let it cool slightly. Now comes the fun part! Add your favorite vegan toppings such as tomato sauce, dairy-free cheese, colorful vegetables, and aromatic herbs. Return the pizza to the oven and bake for an additional 10-15 minutes until the toppings are cooked to perfection.

Serve and enjoy:

Once the pizza is done, remove it from the oven and allow it to cool for a few minutes. Slice it into wedges, serve it warm, and savor the deliciousness of your homemade cauliflower pizza crust.
This recipe caters to a wide range of individuals, including fitness enthusiasts looking for a low-carb alternative, individuals who avoid gluten, and foodies seeking a delicious and healthy pizza option. Regardless of your dietary preferences, this cauliflower pizza crust is bound to satisfy your cravings and provide a guilt-free indulgence.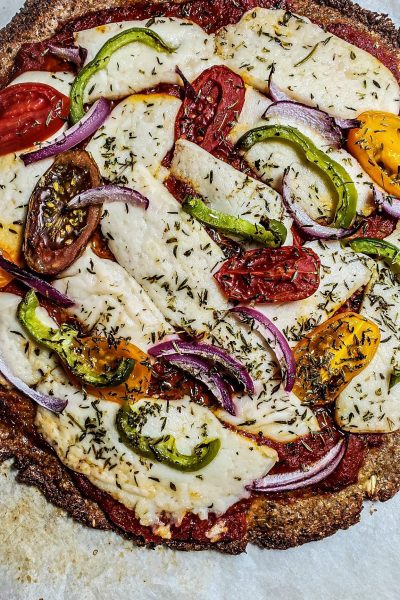 Options for Vegan Pizza Toppings:
The options for vegan pizza toppings are endless! Consider adding some of the following delicious toppings to your cauliflower crust:
Fresh tomato sauce
Dairy-free cheese (such as vegan mozzarella or cashew cheese)
Sautéed mushrooms
Bell peppers
Red onions
Fresh basil leaves
Spinach
Artichoke hearts
Vegan sausage or plant-based protein options
Pineapple for a touch of sweetness
Feel free to get creative and experiment with different combinations to suit your taste buds. The versatility of vegan pizza toppings allows you to customize your cauliflower crust pizza and enjoy a variety of flavors with each bite.
Whether you're a fitness enthusiast, someone who avoids gluten, or simply a foodie seeking a tasty and nutritious alternative, this crispy cauliflower pizza crust will become your go-to recipe. Treat yourself to a slice of plant-based perfection and enjoy the delightful journey of exploring different vegan pizza toppings.
Other Vegan Gluten-Free Recipes: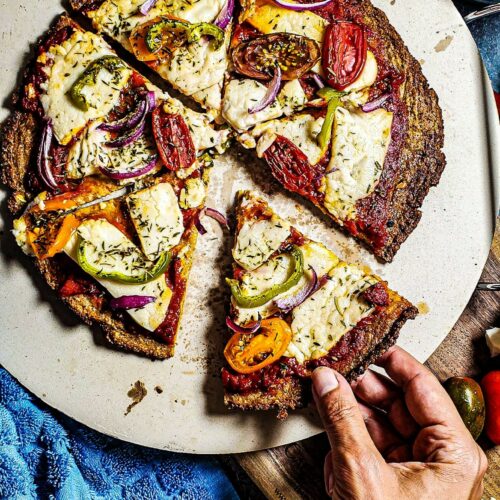 Vegan Cauliflower Pizza Crust
Vegan Gluten Free Cauliflower Pizza Crust
Equipment
1 Baking pan

2 Parchment Papers

1 Rolling Pin

1 Small cooking pot + strainer

To steam the cauliflower rice

1 Towel

To drain the water from the cauliflower

1 Mixing bowl

1 Spatula
Ingredients
1

Medium size cauliflower

Grated to rice cauliflower

1

Tbsp.

Psyllium husk+3 Tbsp water

Vegan egg substitute, you can also use ground flaxseeds with water.

1

Tbsp.

Tapioca starch

3

Tbsp.

Nutritional yeast
Instructions
Separate the cauliflower florets from the stems and mash them finely in a blender, or you can scrape them with a grater until you get fine rice-shaped cauliflower crumbs.

Boil water in a small pot, place a strainer over the pot, and pour the cauliflower rice into the strainer. Cover with a lid and steam for 10 minutes until the cauliflower florets soften slightly.

Transfer the cauliflower rice to the center of the towel over a bowl and wait a little until the cauliflower cools down.

Wrap the rice in cauliflower and squeeze out the liquid completely with the help of the towel.

Transfer the squeezed cauliflower rice to an empty bowl and add the rest of the dough ingredients there and start kneading until you get a round dough ball.

Place the cauliflower dough between 2 baking sheets and roll out until you get a thin round and flat pizza dough

Carefully separate the top baking paper and transfer the pizza dough to a baking tray.

Bake the pizza dough in an oven preheated to 180 degrees for about 15 minutes on each side. To bake the other side, take the dough out of the oven and carefully remove the baking paper, then put it back in for another 15 minutes.

Add the pizza sauce, toppings, and your favorite vegan mozzarella cheese and bake again until the ingredients are well baked.

Take it out of the oven, cut and serve, and enjoy!