Hi lovelies!
Get ready for the most delicious vegan pesto sauce ever! and ready in 15 minutes! It has the perfect acidity level and lots of umami flavor from the nutritional yeast. So delicious you won't believe it's vegan! For the life of me…, I couldn't stop tasting it with my finger to see if I truly came up with such a delicious pesto.
What's not vegan in the classic pesto sauce?
Pesto sauce or dip is originated in Italy and consists of fresh basil leaves, olive oil, roasted pine nuts, and Grana Padana type Parmesan cheese. Sometimes people like to add anchovies to the pesto, as it is high in salt and enhances the umami flavor in the sauce. Pesto sauce has many and varied uses. You can add it to other sauces, mashed potatoes to make flavored gnocchi, flavor different fillings, and types of pasta. In short, we got so many options as to what to do with fresh delicious pesto. You also can simply enjoy it with a good Sourdough Focaccia or Vegan Pizza.
How to make a vegan pesto sauce.
All you need as mentioned is fresh basil leaves, olive oil, roasted pine nuts, and our famous alternative to parmesan cheese – nutritional yeast flakes. If you want, you can use these 4 ingredients only, and simply follow the technique in the recipe. I decided to upgrade this vegan pesto recipe a bit, to make it super tasty and nutritious: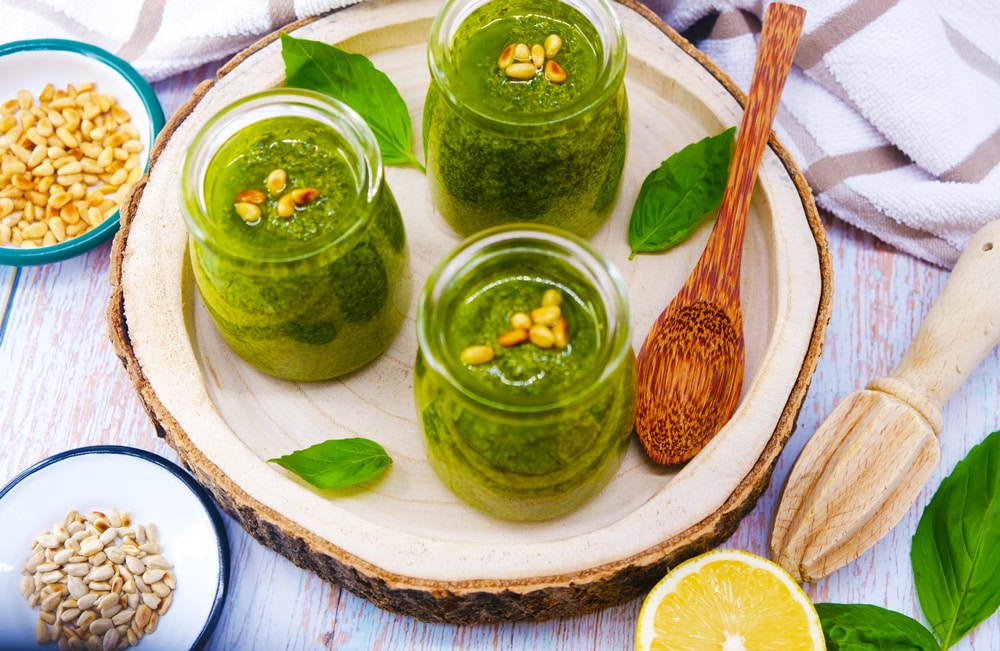 I roasted both Pine Nuts and Sunflower Seeds. By doing so, heating the seed's natural oils, we bring out a much deeper nutty flavor into the sauce. Make sure that after toasting them, you let them cool completely. Basil does not like heat.
Also added to this recipe are some fresh parsley leaves and coriander. Their ratio should be 50% of the amount of basil. That is, in the recipe, we have 120 grams of basil (only the leaves without the stems). To them, I added 60 grams of fresh coriander and another 60 grams of fresh parsley. This way, the taste of basil is still dominant while getting more hue and nutritional values from the other greens. If you don't want to add parsley and coriander, it's not a problem. Just make sure you cut the amount of toasted seeds in the recipe by half. Otherwise, you'll have a seed spread. Still delicious, but less basil pesto.
I reduced the amount of olive oil and mixed it with Grapeseed oil. This is to slightly lower the dominant flavor of the olive oil. Naturally, feel free to choose which oil that works for you.
Tips to make the best vegan pesto sauce
Whether you make vegan pesto or not, it is important to know that pesto leaves turn black very quickly in contact with water. Therefore it's advisable to wash the basil leaves quickly and also dry them very quickly with a towel or Salad Spinner. It would be best to prep all the recipe ingredients in advance, and wash the leaves only when you are about to make the recipe. If you keep the basil green, the pesto sauce will stay green and beautiful for a long time.
Lemon also retains the evergreen color of the pesto. If you love it, don't shy about adding lemon juice generously.
I separated the leaves from the stems. Of course, you can use basil stems as well and grind them together with the leaves. The difference is that you will get a pesto sauce that is more than a pesto spread that contains the fiber of the stems.
Any pesto sauce should contain olive oil generously. This way the pesto won't oxidize too fast, and its shelf life will be extended for 2 months in the fridge or more.
Vegan Basil Pesto Sauce
The most delicious vegan homemade basil pesto dip or sauce recipe. Perfect as a spread for sandwiches, salad dressing, pasta sauce, and more.
Equipment
Food processor or a blender

Small pan for toasting the seeds

Lemon juicer

Kitchen scale

Measuring cup
Ingredients
120

gr

Fresh basil leaves

Well rinsed and dried with a towel. Separated from the stems.

60

gr

Fresh cilantro leaves

Well rinsed and dried. Cut off the lower stems area - where has fewer leaves.

60

gr

Fresh parsley leaves

Well rinsed and dried. Cut off the lower stems area - where has fewer leaves.

70

gr

Toasted pine nuts

70

gr

Toasted sunflower seeds

50

ml

Olive oil

50

ml

Grapeseed oil

or other neutral oil

80

ml

Fresh lemon juice

From about 2 lemons

1

Tsp

Sea salt

2

Tbsp.

Nutritional yeast
Instructions
Toasting Pine Nuts and Sunflower Seeds
Toast the pine nuts and sunflower seeds (separatly) in a pan or in the oven. If toasting in a pan, toss them over medium-high heat for about 5 minutes, stirring constantly, until the seeds are golden on all sides.

If in the oven - preheat the oven to 180 ° C. Bake the seeds and nuts over a baking tray with parchment paper for 10 minutes. Stir every minute or two so that the seeds won't burn. Wait until cool completely before you start making the recipe.
Rinsing The Greens
Make sure all your leaves are washed and towel-dried. The basil must be well dried right after rinsing otherwise it will turn black.

Separate basil leaves from their branches, and place them in a bowl.

In a food processor blend together the green leaves, pine nuts, sunflower seeds, spices, oil, and lemon juice until smooth but not too much. We want to get a spread that is not a completely homogeneous texture.

Check flavors if more salt or lemon are needed. Pour into a glass jar/container with a lid. Drizzle a little olive oil over the sauce to extend the pesto's shelf life. You can also freeze the sauce and use it for later.

Serve pesto with fresh sourdough bread with vegan vegetables and vegan cheese, or use as a pasta sauce, and more.
Notes
1 Serving = 100 grams.
Calories per 100 grams of vegan pesto = 475 Cal