Vegan Moroccan Meat Bureka
I am so excited to share this recipe. I have finally veganized this dish which is originally made of puff pastry stuffed with ground lamb meat. This one is a recipe that is dear to my heart. We enjoyed it at so many family meals, and I also served it when I hosted my best friends for dinner. For many years I couldn't have it because I gave up many foods after going vegan. 
This is my first time experimenting with Textured Soy Protein and I really managed to create an amazing texture that resembles ground meat. I can bet that no one will notice that it isn't meat. The spices, the herbs, the vegetables, all these ingredients closely imitate one of my favorite homemade recipes.
What do you need to make a vegan meat burka?
I used dried soy protein flakes as the filling of this pastry. First, I boiled the TVP in water with a little Miso Paste for about 10 minutes. Just so it'll rehydrate and absorb some umami. Textured soy protein (or TVP – Textured Vegetable Protein) are flakes made mostly from soybeans.
These have no fat and are rich in protein and nutritious fiber.
* Having that said, this is far from being a fitness recipe or suitable for pre/post workout food. It is food porn in every possible form and is recommended to have and serve only occasionally. Either at family events or serve it at weekend dinners or occasional gatherings. The store-bought vegan puff pastry is made with a lot of margarine. We all know, or at least most of us, know, where that goes…
Alternatively, with TVP you can make super healthy nutritious dishes. This ingredient will fit any recipe that uses ground meat normally. The only difference is that, as I mentioned, there is no fat in TVP. It can't easily form into a hamburger if we won't add any binding ingredient to the mixture such as Chickpea Flour, Methylcellulose, or the like.
So if you want to make a vegan hamburger from TVP, Just make sure to add a binding agent such as chickpea flour to the mix.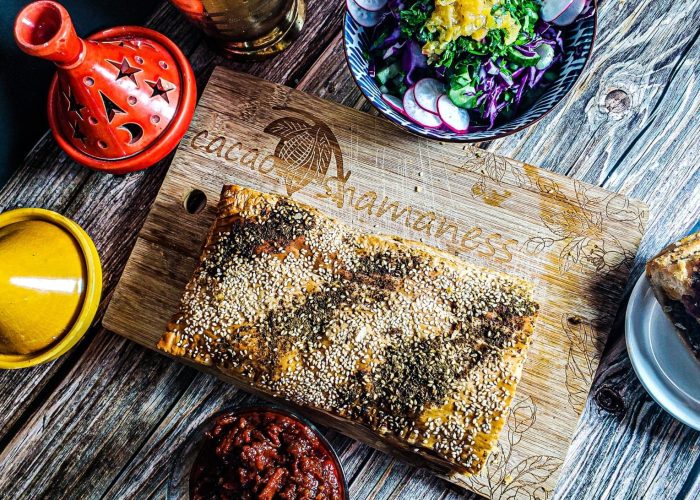 Vegetables – I added finely chopped veggies to get that wholesome flavor. Carrot, celery, onion, garlic, and of course chopped champignon mushrooms. You can skip any veg or any ingredient that you don't like. The spices will do the rest! Lastly, I added a generous amount of fresh chopped cilantro and parsley for some freshness. Check below when to add each ingredient in the recipe.
Spices – Here we have a spice mixture that differentiates between foods and their Origins. Once you add this spice mix, there's no mistaking that the flavors here are anything but Moroccan. Back home, we would always add them to the stews by eye. Meaning we weren't measuring quantities. Over time I was able to define them into exact amounts of tablespoons and teaspoons. Our spice mix here is made of Sweet Paprika, Turmeric, and most importantly, Bharat. Bharat is a spice mixture that is often used in oriental, Mediterranean dishes. There are several versions and the Bharat, but in most cases, you will find cloves, cardamom, nutmeg, cinnamon, and cumin in varying amounts.
Vegan Meat Bureka Serving and Storing
This Moroccan Vegan Meat Burka is a recipe that, as mentioned, we make on holidays, special events, and Friday meals with friends and family. We usually serve it with a Matbucha Salad or a rich Mushroom Sauce, along with Moroccan side dishes and fresh salads. You can also make a simple tahini dip in 2 minutes and enjoy the pastry with Tahini.
If you have a lot left, which would be surprising, you can store it in the fridge for up to a week and reheat it in the oven. You can also store it in the freezer for up to 2 months and reheat it in the oven when needed. Needless to say, it turned out insanely delicious, and you'll thank me later. I hope you will make it and enjoy it!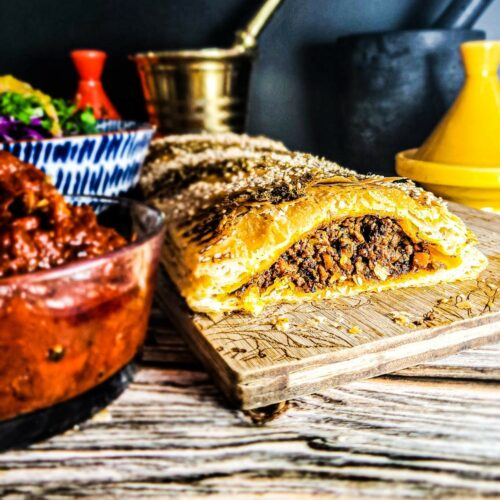 Vegan Moroccan Meat Bureka
Puff pastry stuffed with homemade vegan Moroccan-style minced meat made from soy flakes
Equipment
Baking Tray

Nonstick wide sautee pan

Chef knife

Small cooking pot

Strainer
Ingredients
1

Cup

Dried soy flakes

Or textured vegetable protein

1

Tbsp.

Miso paste

2

Cups

Hot water

¼

Cup

Olive oil

For shallow frying

1

Cup

Mushrooms

Finely chopped

1

Carrot

Finely chopped

1

Onion

Finely chopped

1

Celery stalk

Finely chopped

4

Cloves

Garlic

Finely chopped

½

Cup

Fresh parsley

Finely chopped

½

Cup

Fresh cilantro

Finely chopped

1

Tbsp.

Tumeric

1

Tbsp.

Sweet paprika

1

Tbsp.

Baharat spice mix

1

Tsp

Black pepper

1

Tsp

Himamlayan salt
For The Pastry
500

Gram

Puff pastry

Thawed, cut into 2 long rectangles of equal size

3

Tbsp.

Soy milk

For brushing "egg wash"

1-2

Tbsp.

Sesame seeds or/and Zaatar

To sprinkle on top.
Instructions
Preheat the oven to 180C/350F degrees.

In a small pot, cook the soy flakes and miso paste with 2 cups of boiling water for about 10 minutes until the soy flakes soften.

Then strain them through a strainer and squeeze the water out of them well by pressing a spatula or a large spoon against the strainer.

In a wide non-stick pan, heat olive oil and fry the onion, carrot, celery, and garlic over medium heat for about 10 minutes or until softened.

Add the chopped mushrooms and the cooked soy flakes and mix well.

Add all the spices and mix well, if the "meat" looks dry you can add another tablespoon of olive oil.

Add the herbs. Stir again for about 2 minutes, remove from heat and let cool.

Cut puff pastry into a rectangular shape lengthwise twice, one for the base and one for the cover. They should be of equal size.

Fill the vegan meat in the center along the dough making sure to leave a space of 1 centimeter at the edges to tighten the edges of the dough.

Place the second dough rectangle over the base with the ground "meat", and tighten the edges well with a fork.

Brush the puff pastry with soy milk and sprinkle a little sesame and zaatar if you have it.

Bake the filled dough in the oven for about 30 minutes or until the whole dough gets a golden-brown color.

Can be served on the side with tahini, matbucha, vegan mushroom sauce, or whatever you want. Enjoy!