Vegan Pizza Rolls Adventure:
Transforming Puff Pastry Leftovers into a Flavorful Delight!
Hey Lovlies!
After the holidays have come to an end, it's not uncommon to find yourself with a surplus of puff pastry leftovers. Instead of letting them go to waste, why not embark on a quick culinary adventure and create something extraordinary? I transformed those leftover puff pastry sheets into delicious vegan pizza rolls that will tantalize your taste buds.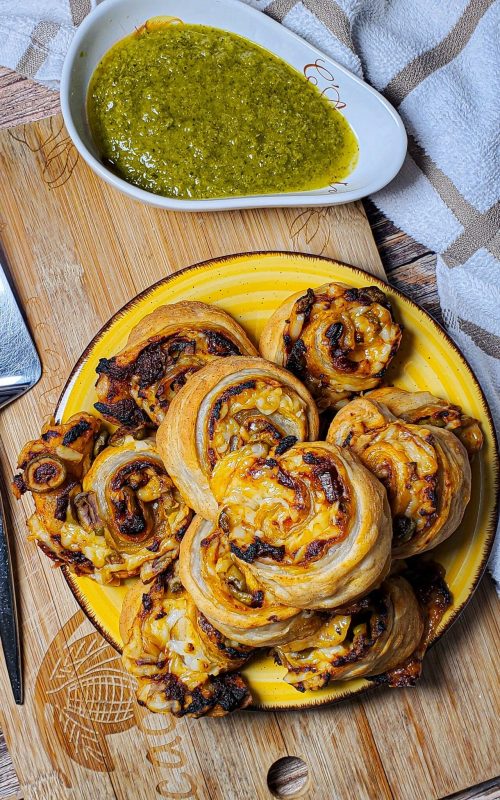 Unveiling the Ingredients
n this recipe, the basic dough is a store-bought vegan puff pastry. It's a versatile ingredient that acts as the canvas for our culinary masterpiece. To begin, roll out the pastry into a delightful rectangle shape, ready to be adorned with a vibrant spread.
n a bold move to elevate the flavors of these pizza rolls, I decided to swap out the traditional pizza sauce for something unique—my homemade Moroccan Matbucha Salad. I've included the Matbucha recipe in this blog post for your convenience. Don't worry if you're pressed for time, any pizza/tomato sauce will do. But let me tell you, using Matbucha salad as a tomato spread really gives the pizza rolls a kick you won't forget.
To seal the deal and achieve the ultimate pizza roll experience, a generous sprinkle of shredded vegan mozzarella cheese is added to the mix. This melty masterpiece will bring the rolls to a whole new level of gooey goodness.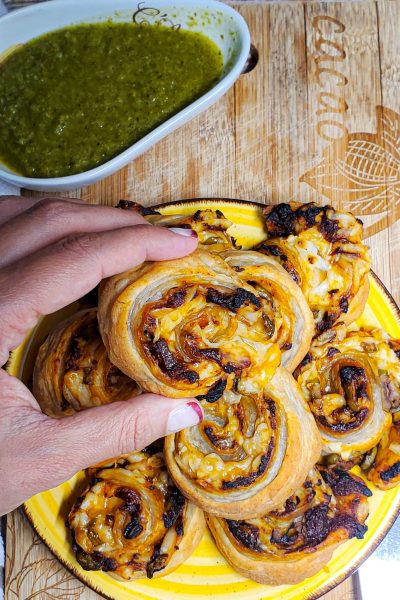 With the preparations complete, it's time to let the baking magic happen. I rolled the puff pastry into log shapes and carefully cut them into individual pastries. Placing these delectable creations on a baking tray lined with parchment paper, I eagerly awaited their transformation in the oven.
As the aroma of freshly baked pizza rolls fills the air, anticipation grows. The rolls are baked in a preheated oven at 180°C/350°F, and after 25-30 minutes, the puff pastry turns golden brown, and the vegan mozzarella cheese melts to perfection.
Perfect Pairings with Flavorful Dips
No pizza roll adventure is complete without an array of delectable dips to complement the flavors. And for this recipe, I have a treat in store—a refreshing and easy-herbed olive oil dip. Made with a combination of fresh parsley, cilantro, half olive oil, and half grapeseed oil, a squeeze of juice from a zesty lemon, and a sprinkle of salt. this dip adds a burst of herb-infused goodness to every bite. Simply blend all the ingredients in a powerful blender until the mixture liquefies, and voila! You have a tantalizing dip that perfectly complements the flavors of the vegan pizza rolls.
Pairing these sensational matbucha pizza rolls with the herbed olive oil dip takes the taste experience to new heights. The vibrant herb flavors of the dip dance harmoniously with the tangy Matbucha spread, while the creamy vegan mozzarella adds a smooth and luscious element. Whether you dip, dunk, or drizzle, the combination of flavors and textures will leave your taste buds dancing with delight.
So, gather your pizza rolls and whip up a batch of the herbed olive oil dip. Whether you're hosting a party, enjoying a cozy night in, or simply seeking a delicious snack, this dynamic duo will surely impress. Prepare to embark on a taste adventure that will have you coming back for more, time and time again.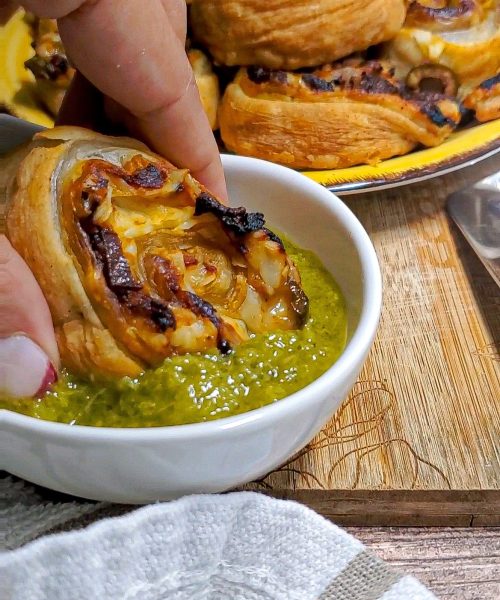 Storing Your Matbucha Pizza Rolls
Congratulations on creating these mouthwatering vegan pizza rolls! But what if you can't devour them all in one sitting? Don't worry—I've got you covered. Here's how you can store your pizza rolls for future enjoyment.
Once your pizza rolls have cooled down completely, it's important to store them properly to maintain their freshness and flavor. Firstly, ensure that the rolls are placed in an airtight container or wrapped tightly with plastic wrap. This will prevent them from drying out and help retain their scrumptious texture.
Next, you have a couple of options for storage. If you plan on consuming the pizza rolls within a day or two, storing them at room temperature is perfectly fine. However, if you need them to last longer, it's best to refrigerate them. Simply transfer the container or wrapped rolls to the refrigerator, where they can stay fresh for up to three to four days.
For even longer storage, you can freeze the pizza rolls. Place them in a freezer-safe container or wrap them tightly in aluminum foil or freezer bags. Frozen pizza rolls can maintain their quality for up to two to three months. When you're ready to enjoy them, simply thaw them in the refrigerator overnight and reheat them in the oven or microwave until warmed through.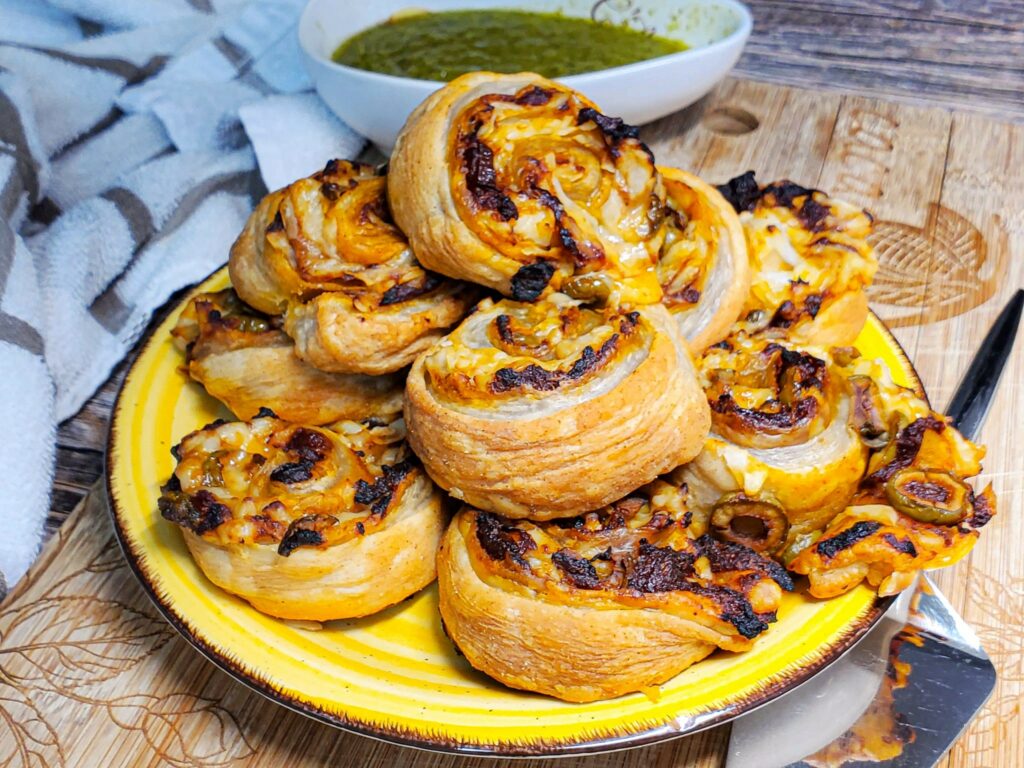 Whether you choose to store them at room temperature, in the refrigerator, or in the freezer, make sure to label and date your container or wrapping for easy reference later on.
Now that you know how to properly store your vegan pizza rolls, you can make a larger batch without worrying about waste. Simply heat them up whenever you're in the mood for a delicious snack or a quick meal.
Why They're Perfect for Lunch, Brunch, and Shavuot:
hese vegan pizza rolls are a versatile dish that can be enjoyed at any time of the day. Whether you're looking for a quick and satisfying lunch option or a delightful addition to your brunch spread, these pizza rolls won't disappoint. Additionally, with Shavuot on the horizon, this recipe can serve as a delicious and dairy-free alternative for those celebrating the holiday.
Matbucha Pizza Rolls
Puff Pastry rolls filled with Moroccan Matbucha Spread, Vegan Mozzarella, and olives
Equipment
1 Baking Tray

1 Rolling Pin

1 Grater
Ingredients
500

gr

Vegan puff pastry

250

gr

Matbucha spread (Salad)

About 1 cup

250

gr

Vegan Mozzarella

Shredded

5

Tbsp

Green Olives

Or any other toppings of choice
For The Green Herbs Olive Oil Dip
¾

Cup

Grapeseed oil/Avocado oil

¼

Cup

Olive oil

½

Fresh juice from half of lemon

1

Medium white onion

2

Cups

Fresh Parsley

2

Cups

Fresh Cilantro

1

Tsp

Salt
Instructions
Thaw the puff pastry beforehand in the refrigerator so that it is comfortable to work with and not too hot or at room temperature.

Heat the oven to 180C/350F degrees.

Spread the puff pastry horizontally on a floured work surface.

Using a tablespoon, spread the Matbucha salad or pizza sauce over the surface of the dough, leaving about a centimeter at the edges without spread.

Sprinkle some grated vegan mozzarella over the sauce area.

Top with olives or any topping of your choice.

Roll the filled dough across its width into the shape of a rolled snake, from the edges at the beginning of the dough to the end and gently tighten the edges of the dough.

Cut the snake into pieces about 2 centimeters thick and place them with the spiral downwards, on a baking tray lined with baking paper.

Bake in the oven for 30 minutes until the dough is golden and crisp and the vegan cheese is melted.
Green Herbs Olive Oil Dip
Grind everything together in a strong blender until a uniform liquid dip is obtained. Taste and adjust flavors if salt is lacking, or lemon, etc. Serve with the pastries.