A Nutritionist's Recommendation and Summer's Fresh Bounty
Recently, I had the pleasure of visiting my nutritionist, who emphasized the importance of incorporating more cooked vegetables into my daily menu. With summer in full swing, I yearned for a light and refreshing dish that would perfectly complement the season. That's when the idea of a vegan kale and roasted beet salad sprouted in my mind. Not only do I have an affinity for beets, but I also knew they would be a splendid addition to a vibrant salad. If you follow a healthy vegan diet make sure to check also my Scrumptious Leek Patties Recipe and High Protein Green Udon for your next lunch!
Beets and Kale Salad - Instructions
Roasting the Beets: Unleashing Earthy Sweetness
Start by preheating your oven to 400°F (200°C). Wash the beets thoroughly and trim off the greens, leaving about an inch of the stems intact. Wrap each beet individually in aluminum foil, ensuring they are well sealed. Place the wrapped beets on a baking sheet and roast them in the preheated oven for approximately 45-60 minutes, or until they are tender when pierced with a fork. Once cooked, remove the beets from the oven, allow them to cool slightly, then peel off the skin. Cut the roasted beets into small, bite-sized cubes and set them aside.
Preparing the Kale and Herbs: Freshness and Vibrancy
While the beets are roasting, it's time to prepare the kale and herbs. Wash the kale leaves thoroughly and remove the tough stems. Chop the kale into small pieces and place them in a large mixing bowl. Next, wash the parsley and cilantro, remove the leaves from the stems, and finely chop them. Add the chopped parsley and cilantro to the bowl with the kale.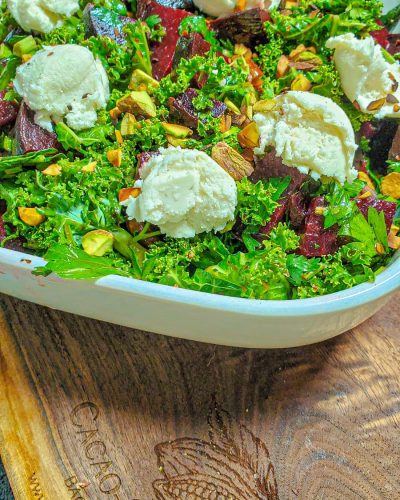 Toasting the Pistachios: Adding a Crunchy Element
Toasting the pistachios will enhance their flavor and add a delightful crunch to the salad. Heat a small skillet over medium heat. Add the pistachios to the dry skillet and toast them for 3-5 minutes, stirring frequently, until they become fragrant and lightly golden. Be careful not to burn them. Once toasted, remove the pistachios from the skillet and set them aside to cool. Once cooled, roughly chop the pistachios.
Assembling the Salad: Bringing It All Together
In a large mixing bowl, combine the roasted beet cubes, chopped kale, parsley, cilantro, and toasted pistachios. Gently toss the ingredients together to ensure even distribution. Finally, crumble the vegan almond feta over the salad mixture.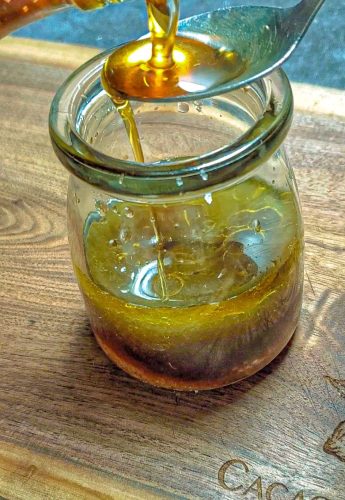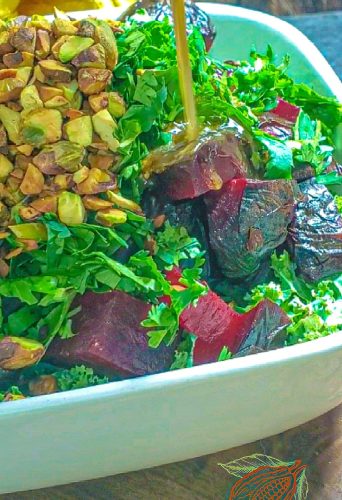 Making the Sweet-Savory Dressing: Flavorful Balance
In a separate small bowl, whisk together the olive oil, lemon juice, balsamic vinegar, maple syrup, salt, and pepper until well combined. Adjust the seasoning according to your taste preferences. Pour the sweet-savory dressing over the salad mixture, starting with a small amount, and toss gently to coat the ingredients. Add more dressing as needed, ensuring all components are evenly coated.
Storing The Salad: Enjoying Freshness and Convenience
he vegan kale and roasted beet salad not only delights the taste buds but also offers convenience and longevity. After preparing this delicious dish, you'll be pleased to know that it can be stored in the refrigerator, allowing you to enjoy its flavors throughout the week.
To keep the salad fresh, transfer any leftover portions to an airtight container or cover the mixing bowl with plastic wrap. Properly stored, the salad can be safely consumed for up to a week. This makes it an excellent option for meal prepping, as you can prepare a batch in advance and have nutritious meals readily available.
Try Other Delicious Salad Recipes: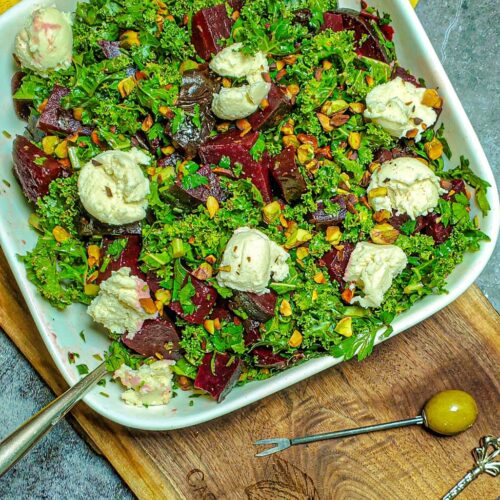 Beets and Kale Salad
Grilled beets with kale, pistachios, and vegan feta
Equipment
1 Baking pan

1 Chopping board

1 Chef knife
Ingredients
4-5

Medium

Beets

Baked, cubed to medium 2-inch size

2

Cups

Kale

Chopped

½

Cup

Parsley

Chopped

½

Cup

Cilantro

Chopped

½

Cup

Pistachios

Chopped and Toasted

100-150

gr

Vegan feta

Sprinkled
For Balsamic Vinaigrette Dressing
4

Tbsp.

Olive oil

¼

Cup

Lemon juice

3

Tbsp.

Maple syrup

4

Tbsp.

Balsamic vinegar

1

Tsp

Pink salt

1

Tsp

Black pepper
Instructions
Preheat the oven to 200C/400F degrees.

Place beets in a pan and grease them with a little oil and salt.

Bake the beets in a foil-wrapped baking dish for about two hours in an oven preheated to 200 degrees, or until completely softened. Can take more.

Meanwhile, chop all the green leaves and set aside.

Chop the pistachios and toast them on a pan until they become crunchy and with a nutty smell. About 10 minutes on medium-high heat. You can also bake in the oven for about 10 minutes in a separated pan. When they are ready, take them out and put them aside.

Prepare the dressing - mix all the sauce ingredients in a bowl and keep in the fridge until serving time.

When the beets have softened, take them out of the oven and wait until they cool down. Cut into bite-sized medium cubes, and place in a large salad mixing bowl.

Add the leaves, the roasted pistachios, and the sauce and mix.

Sprinkle over as much vegan feta cheese as you like.