Refreshing Acai Breakfast Bowl
Hi lovelies!
So today I started the day with a gorgeous acai bowl with fruits and Homemade Granola, and let me tell you something, it feels like eating ice cream with sweet toppings. The vegan granola is so crunchy with a subtle sweetness from the maple and cinnamon. The colorful and sweet fruits each, in turn, give their flavor. Blueberries, fresh figs, cherries, and bananas. The dried Golden Berry gives a sour kick to all this sweetness. And the Organic Peanut Butter adds a fun creamy texture. Everything is so delicious and healthy. A Smoothie Bowl full of vitamins, dietary fiber, provides long-lasting energy. This is a breakfast or any hour of the day meal, that will only do good to your body.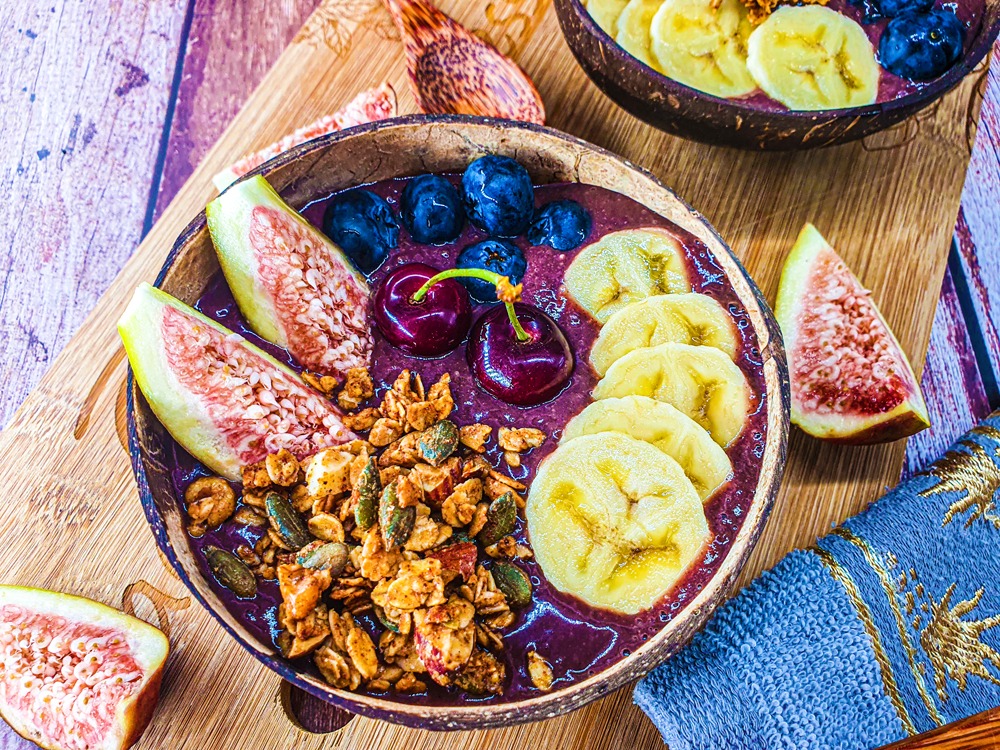 So, what exactly is acai?
Acai is a grape-like purple fruit that originates in the Amazon forests of Brazil. Acai is attributed a lot of health benefits because it is rich in vitamins and minerals. Acai has a substance called anthocyanin. And it helps the body fight free radicals and environmental toxins like air pollution. Anthocyanin lowers cholesterol levels so it is good for people with heart problems and high blood pressure. In Acai, you will also find a high concentration of vitamin C and E as well as calcium and potassium. Adding acai regularly to your diet will help fight menstrual pain and osteoporosis.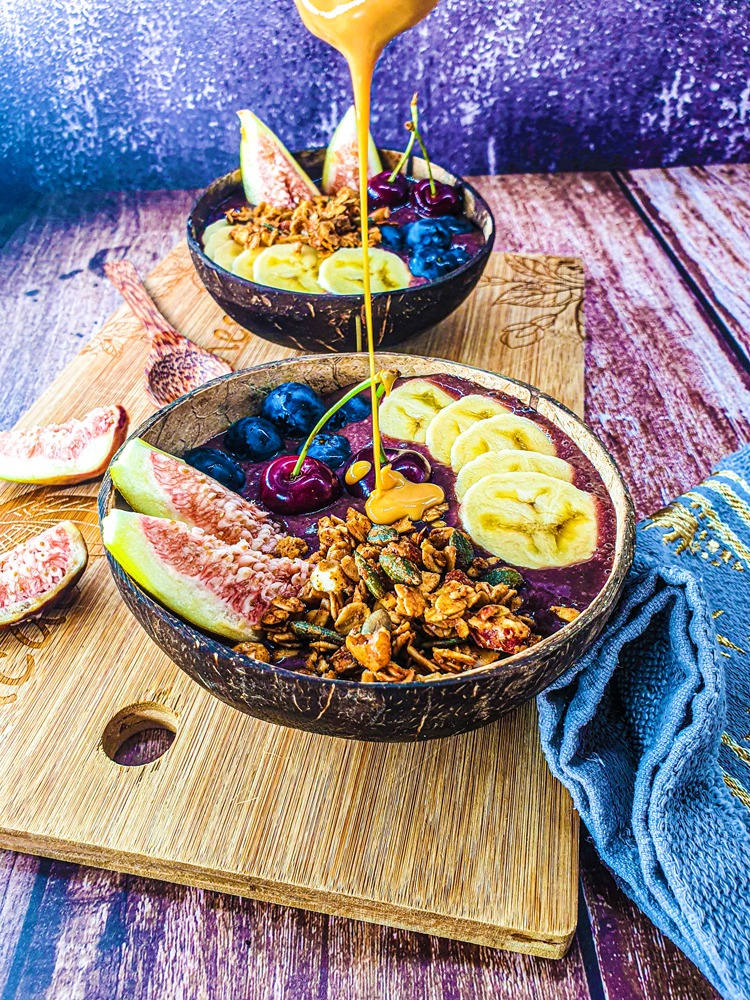 Strengthens the heart by lowering blood cholesterol.
Helps with healthy weight loss.
Contributes to shiny, healthier, younger-looking skin, due to its many antioxidants.
Helps fight free radicals, infections, and helps prevent cancer.
Provides energy and contributes to the fight against fatigue and weakness by cleansing toxins.
Acai is used to make healthy drinks, smoothies, smoothies, protein drinks, and snacks. It can come as a powder or a frozen puree pack.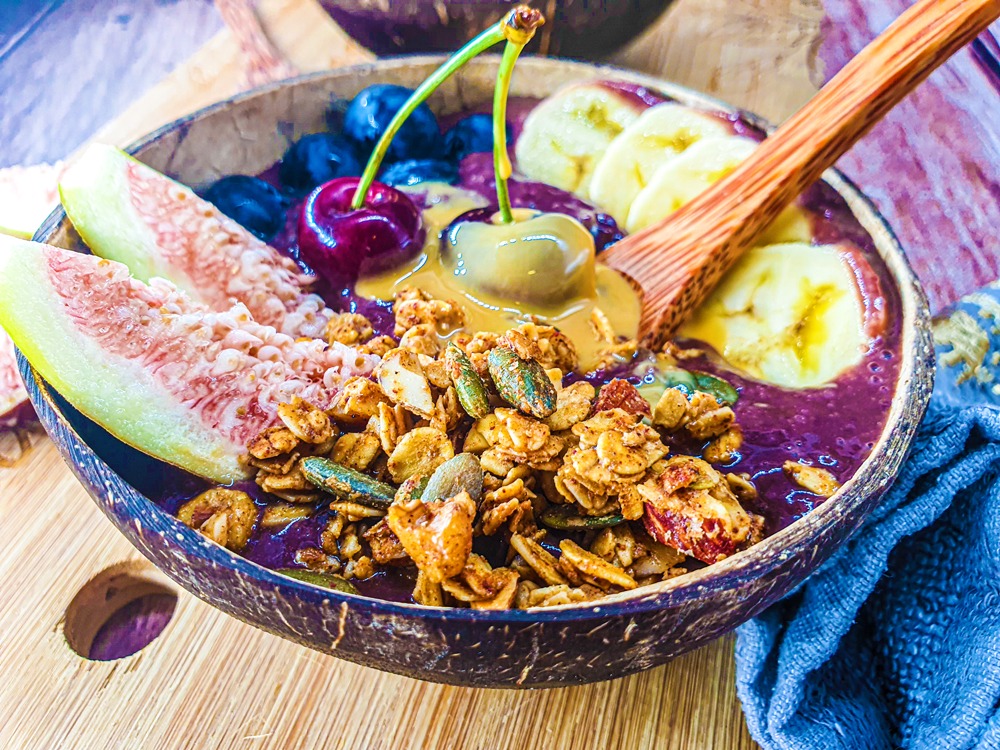 How to make a perfect consistency, delicious smoothie bowl?
A Smoothie Acai Bowl is a fun whole food meal to enjoy in a hot summer because it is frozen, full of fruits, and doesn't give a feeling of heaviness after having it. But exactly the opposite. To achieve a good smoothie consistency that's like a thick fruit sorbet we will need to use frozen fruits.
In this recipe, I used frozen bananas. I blended them with the frozen acai puree. If the mixture is too frozen and doesn't reach a creamy smooth texture, you can add a bit of liquid like soy milk, almond milk, oat milk, etc. Of course, in terms of toppings, feel free to add whichever fruit you love or have in season. You can use all kinds of nut butters, vegan chocolate, maple syrup, sesame seeds, and fruit jams in terms of sauces. Kinds of dried fruit, granola, cocoa or coconut chips, and other nuts you like. If you do not like to use a banana as a base, you can use frozen mango or frozen vegan yogurt.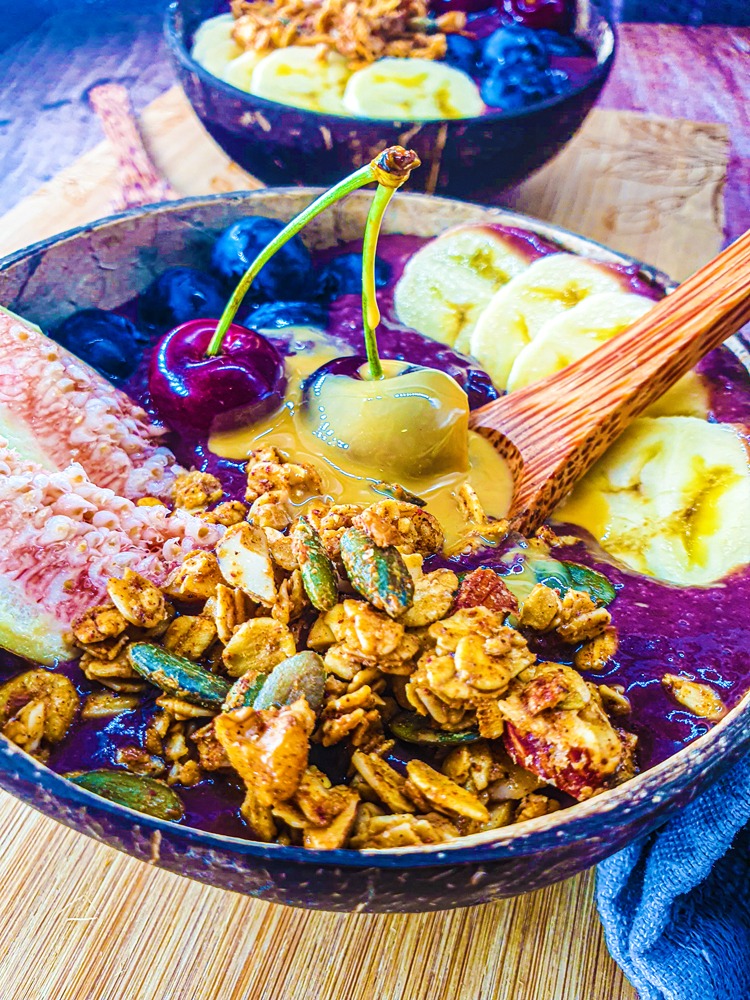 You can add protein powders to your smoothie bowl. You can also add, root powders that strengthen your immune systems, such as Reishi Mushroom powder, Astragalus Root Powder, Maca, and the like. If you want to add any powder, make sure to add it along with the frozen fruits into the blender.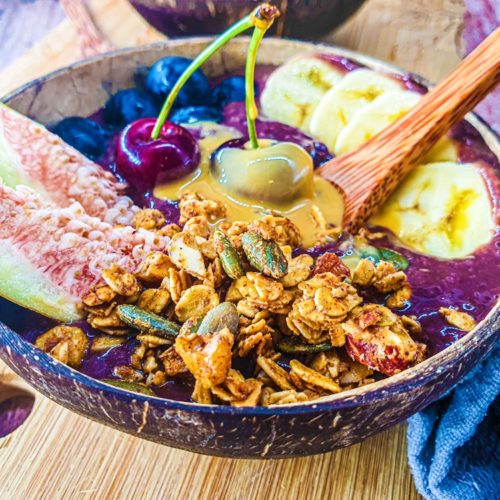 Acai Smoothie Bowl
Frozen banana and acai smoothie with fresh fruits, granola and peanut butter. Perfect breakfast.
Equipment
Food processor or a blender

Smoothie serving bowls
Ingredients
2

Frozen bananas

Store in the freezer a day before

250

Gram

Frozen acai puree

¼

Cup

Soy milk
Toppings
2

Fresh figs

Halved

4

Tbsp.

Fresh blueberries

4

Tbsp.

Vegan granola

2

Tbsp.

Organic peanut butter

1

Fresh banana

Sliced

2

Tbsp.

Golden berries
Instructions
In a food processor, blend the bananas together with the acai puree.

Add plant milk or any liquids as needed. For a thicker and more stable texture, add just a little liquid, about a quarter cup. For a thinner texture add a little more vegetable milk. Transfer the smoothie to bowls.

Garnish with the fruits and toppings you love. For this dish, I chose fresh figs, banana, blueberries, homemade granola, and organic peanut butter with no added sugar or other ingredients.

For a gluten-free option just leave out the granola or find a gluten-free granola mix. Usually, oatmeal should be gluten-free but make sure to check the composition of the product you are buying to avoid health issues.