Feta Stuffed Tinkerbell Peppers
Hey friends!
How are you? That seems like a pretty relevant question given the crazy times we are in right now. We went through this crazy year of Covid19, from one quarantine to a lockdown, along with the recent holidays, we jumped straight to all this challenging war situation in Israel and the world.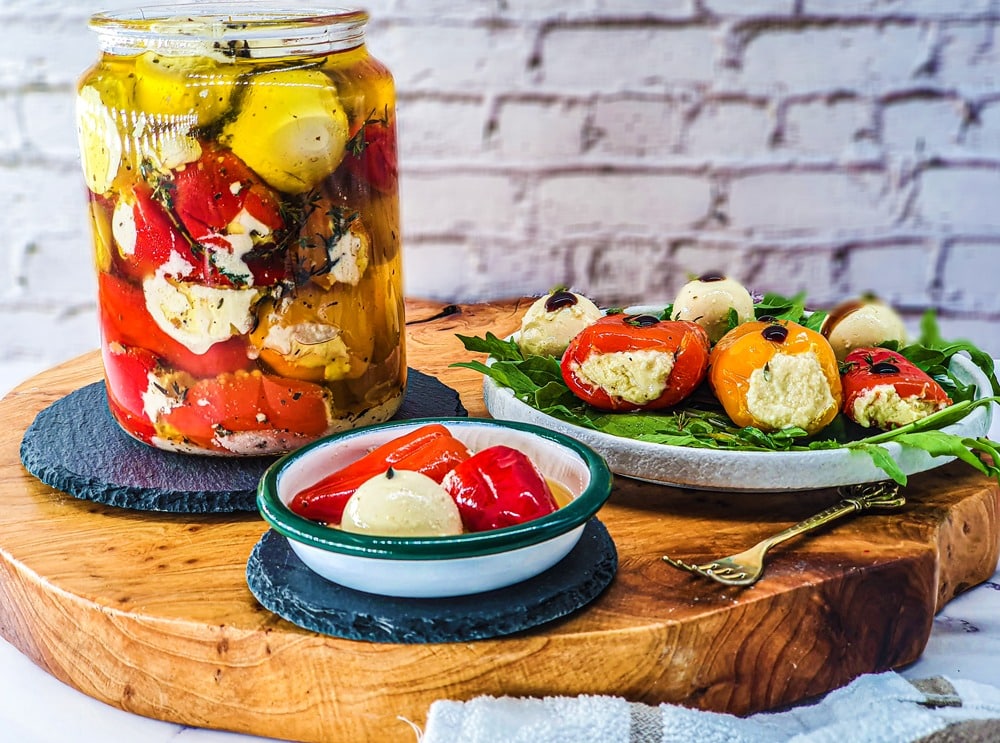 I'd say too much seems to be happening… Sometimes it takes a moment and to switch everything off. Log Out. Breathe air. Maybe open a good bottle of wine? Accompanied with an assorted quality vegan cheese plate? Sounds like exactly what I need to relieve stress.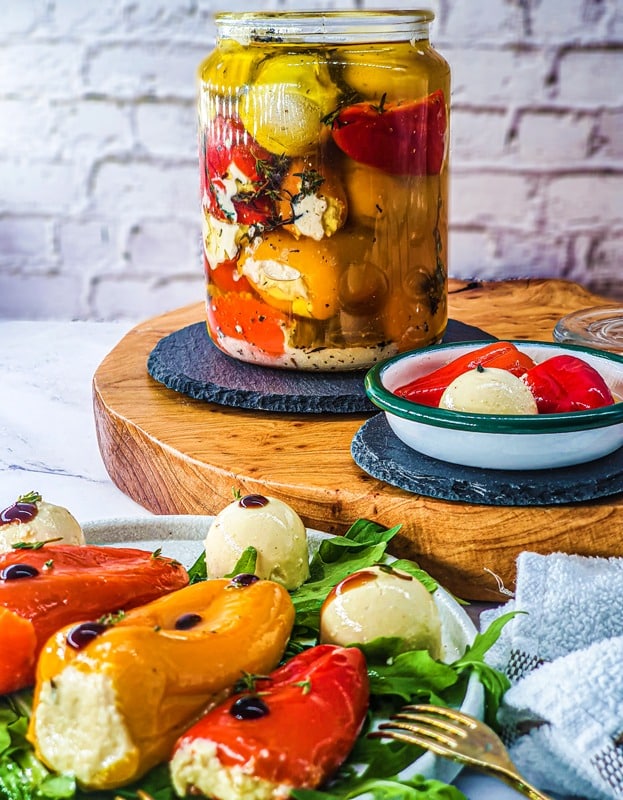 If you are going to have people coming over soon, for an evening of cheese and wine, here is an appetizer that will suit this celebration perfectly. Mini 'Tinkerbell' peppers. Pleasantly sweet and delicious. These peppers are going to go through a very quick 5-minute gentle simmering and stay in the hot oil until completely cooled. This will be done twice. 
After the peppers are cut and clean, place them in a small saucepan covered with oil, and cook until you see the first bubbles. As soon as those bubbles emerge, turn off the heat and let them cool down completely before repeating this action.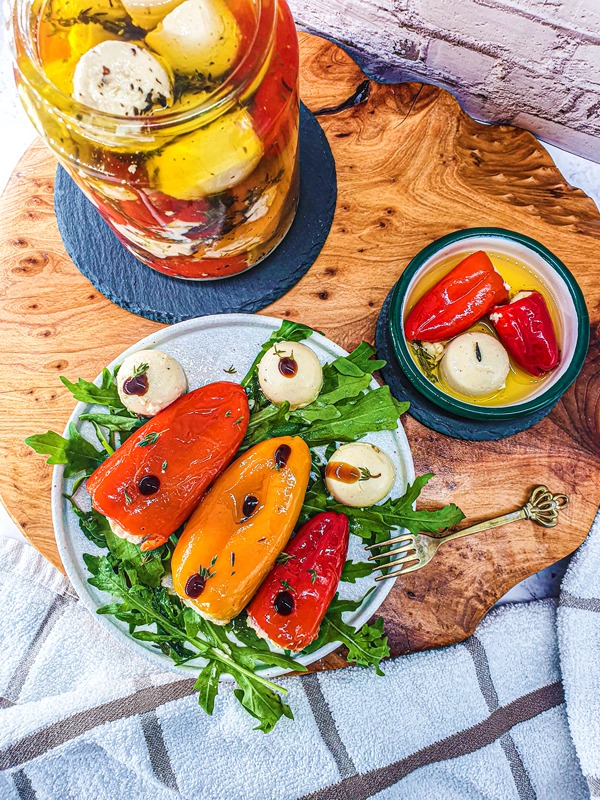 Feel free to use my Vegan Feta Cashew Cheese Recipe from the blog or any vegan cheese you like. Store-bought or homemade. Once you have finished filling these cute peppers with cheese, using a small spoon, of course, place them in a container with a lid. Cover them with the seasoned oil you used for quick cooking, all the way up.
They can be stored for up to 3 weeks in the refrigerator, as the oil prevents them from spoiling quickly.
Stay safe, wherever you are, and enjoy! I sincerely wish for a quiet and fun summer for everyone.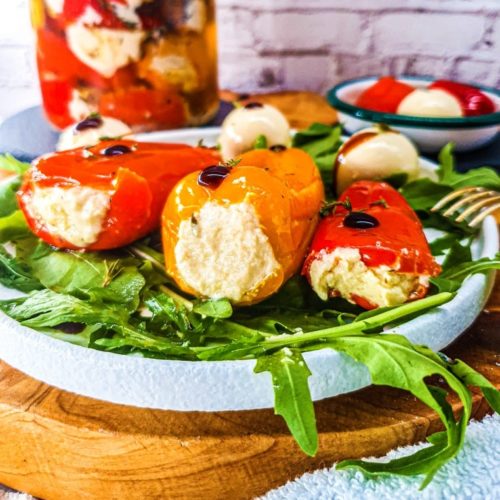 Feta Stuffed Tinkerbell Peppers
Tinkerbell small sweet peppers confit, and stuffed with vegan feta cashew cheese and herbs.
Equipment
Small saucepan

Tourne knife
Ingredients
250

Grams

Tinkerbell small sweet peppers

About 15-20 small peppers. Cleaned from the stem.

2-3

Cups

Olive oil and grapeseed oil mix

50/50 ratio. Add the oil mix to cover the peppers. The amount of oil depends on the pot size and the size of the peppers.

1

Tbsp.

Reduced balsamic in raspberry flavor.

Or any flavor you got. Just reduced balsamic is also good.

2

Tbsp.

Sugar

1

Tsp

Sea salt

1

Tsp

Black pepper

1

Tbsp.

Fresh/dried herbs

Oregano/Thyme/Rosemary

200

Gram

Vegan feta cheese

Homemade or store-bought
Instructions
Gently cut the pepper stem around and clean the pepper from seeds if there are any.

Place all the clean peppers in a small saucepan.

Cover the peppers with olive oil and grape seed oil or other cooking oil in a ratio of half to half.

Add all the spices, herbs, and reduced balsamic to the pot and mix gently.

Heat all the contents on the stove for about 5 minutes, or until you see gentle bubbles. Turn off the heat. Wait until cool completly at room temperature, and repeat this again.

Transfer all the contents to a jar with a lid and leave to cool in the refrigerator for two hours.

To fill the peppers, take a small teaspoon, and it is best wearing rubber gloves, to avoid getting your hands dirty.

Grab a pepper, drain well from the oil inside, fill generously with the vegan feta cheese using a spoon, and place back in the oil. Repeat for all the peppers.

Store in a tightly-closed container for up to 3 weeks with all the peppers covered in oil. Serve it as an appetizer, or addition to a salad, or toast. These pepper confit are especially suitable for brunch and with vegan cheese plate and wine 🙂