Hi everyone!
I just returned from a beautiful week of visiting to my family in the North. I was pretty sure I would upload new recipes while I was there. However, since I didn't see them for a while because of the 3rd lockdown, as I'm sure you all know, I decided to take time off. Not only did we have perfect needed quality time together, but I also felt the need to rest from the computer and 'doing things' in general.
But today, I got up with lots of energy and made myself an amazing breakfast! Vegan Pancakes drizzled with maple syrup and fresh colorful fruits. A super simple and quick recipe. Fluffy and perfect pancakes that are suitable for Breakfast, brunch, or whenever you feel like. And for those of you who describe themselves as having 2 left hands in the kitchen, here are a few pancakes tips to succeed: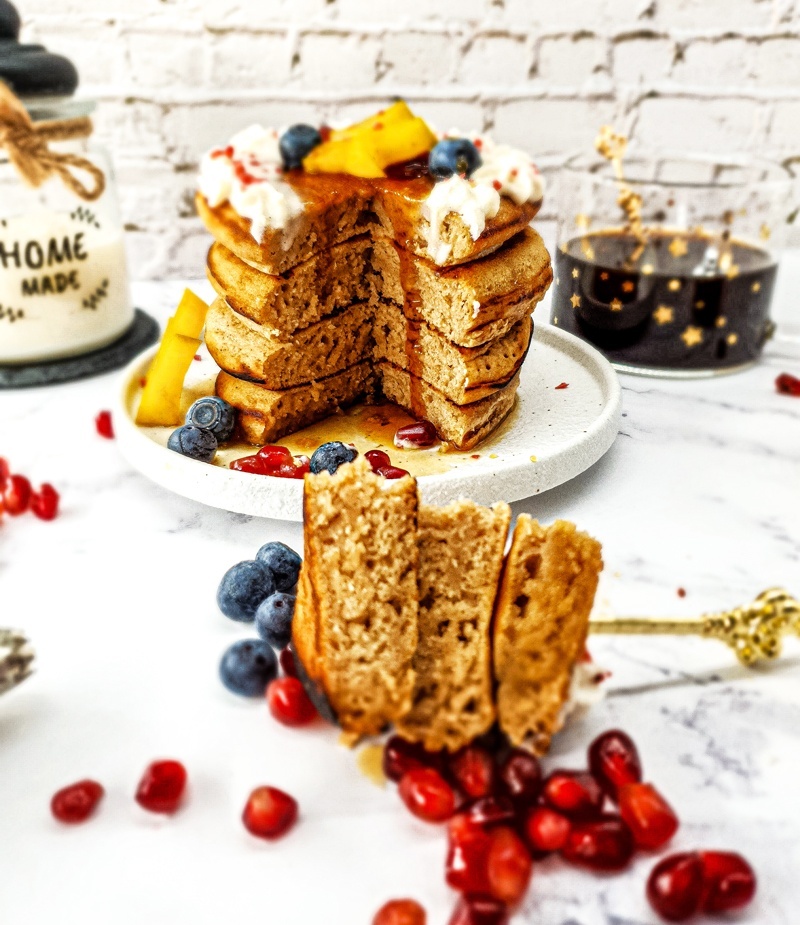 Tips for perfect pancakes
Easy pancakes are always better to make in a Non-Stick Pan … otherwise… Well, the pancakes will surely stick to the pan. It will be really unfortunate because it will also take you time to scrape clean it without even eating.
What makes these pancakes so fluffy and fun, is the vinegar that is inside the wet ingredients that activate the baking powder in the dry ingredients. Make sure to mix to get a well smooth batter.
You can replace it with any flour and make it gluten-free or whatever works for you. Additionally, you can add any sweetener you want instead of sugar or no sweetener at all. Instead of vegan butter, you can use and fry with coconut oil but it will give a strong coconut flavor to your vegan pancakes.
It is important to keep the flame on medium-high heat and put a drop of vegan butter or oil between each time frying a pancake. But do pay attention to the heat because every stove is different! If you see that the bottom is cooking too fast lower the heat. Flip the pancakes over when you see air bubbles formed on the top and cook the other side as well. Enjoy!!
Try Other Breakfast Recipes!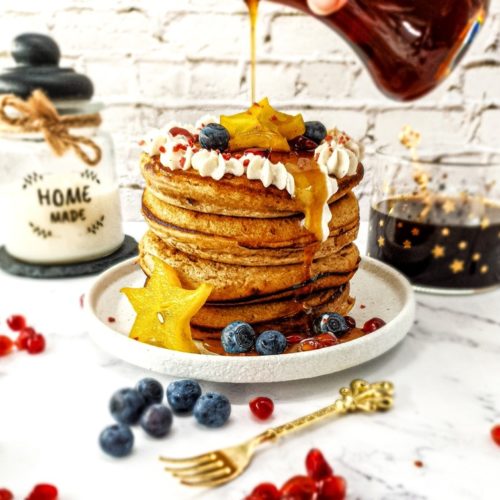 Vegan Spelt Flour Pancake
The fluffiest vegan pancake ever! with fresh fruit and coconut whipped cream
Ingredients
Dry Ingredients
1

Cup

Spelt flour

2

Tsp

Baking powder

½

Tsp

Sea salt
Wet Ingredients
1

Cup

Plant-based milk

1

Tsp

Vanilla paste

2

Tbsp.

Sugar/Maple syrup

1

Tbsp.

Apple cider vinegar

1

Tbsp.

Melted vegan butter

1

Tbsp.

Vegan butter for cooking
Coconut Whipped Cream
1

Can

Full fat coconut cream

Only the fat. Chill the can in the freezer overnight.

1

Tsp

Vanilla paste

1

Tsp

Sweetner
Instructions
Weigh and prepare all the ingredients separately. A bowl for the dry ingredients, and a bowl for the wet ingredients and mix each mixture well.

Pour the wet mixture into the dry mixture, and mix well with a whisk until a smooth batter is obtained.

In a non-stick pan, heat a little vegan butter over medium-low heat and pour about 2-3 tablespoons of batter. Fry for about 3 minutes until bubbles form over the pancakes. Turn and fry for another 3 minutes.

Transfer to a plate and garnish with fruit, whipped cream, and maple.
Coconut Whipped Cream
Separate the coconut fat and pour out the coconut liquid.

Add the sweetener, vanilla puree, and whisk with a hand mixer or just mix well with a fork. For a more stable whipped cream, you can add a tablespoon of tapioca starch and whisk in a mixer with the rest of the ingredients.