Hi dear friends!
I follow a lot of really great food blogs. It is always within my curiosity to find out about new cooking ideas. New techniques and discover other cuisines and cooking traditions. A lot of classic recipes inspire me to try and veganize them. The truth is that this recipe was already vegan and it's not what I wanted to talk about now, I wanted to talk about the amazing Korean cuisine I was exposed to first time about 5 years ago. There will be many more good and amazing recipes from this cuisine here.
One of my favorite food blogs is of an amazing Korean woman named Maangchi. Highly recommend following her. She has lots of vegetarian or vegan recipes and recipes that can be easily Veganized. Full of colors, rich in flavors and character that is reserved for traditional and wonderful Korean cuisine. She also makes sometimes-popular recipes that are less traditional like Korean street food recipes. Nevertheless, each one of her recipes is stunning. I will try to prepare and bring my favorite Korean recipes. Created by her or other Korean recipes. And if possible to make a vegan version out of them I will definitely try!
Korean cuisine is definitely in my TOP five.
How in love am I with this kitchen? I can not describe it enough. A few years ago I lived in South Korea for almost a year and I felt like I was in paradise. South Korea is rich in happy colorful foods, colors, traditional costumes, and ancient palaces in the heart of a bustling city like Seoul. They use a lot of exotic vegetables for their side dishes. Definitely a recommended destination and not only for a week or two. For Westerners like me, it takes a little more time to absorb the power and splendor that this country has to offer. 
The same thing happened to me with Korean food. My palate was not used to something as fermented like kimchi or Spicy Rice Cakes that meet the name Tkeokboki. After a while there, and having these foods more frequently, I realized I could not do without them. I Have to have Korean food in my life more often. I will have a lot more to talk about this beautiful country and cuisine but until then .. please get a recipe that made me fall in love with tofu more than ever.
The principle in this dish is quite simple. Anyone familiar with the technique of Braising from the world of cooking will understand this immediately. We treat tofu as if it were actually chunks of meat that are browned through frying in a bit of oil. The crunchy coating created with the frying allows for almost any sauce to penetrate the tofu and enrich it with flavors so that in the very same technique you can actually create the same dish with the flavors you prefer.
Immediately afterward, sweat the garlic and ginger lightly without browning in the same oil in which we pan-fried the tofu. If there is too much oil left, you can pour a little of it into a heatproof container and throw it away as it cools. Add the sauce mixture with the soy, water, sugar, and pepper, to the sautéed garlic, ginger, and onion in the pan and allow it to reduce and thicken.
The sauce in this recipe is sweet and spicy. All that is left, is to continue to cook the browned tofu pieces within the reduced sauce for a few more minutes on both sides until the liquids are almost gone.
Serve With Anything You Like
This simple tofu dish can come as a starter if divided into 3 or 4 people or as a main course for 2 people with the addition of rice or stir-fried vegetables. You can combine the tofu inside of a steamed bun and the sauce can definitely be absorbed in the bun with the excellent flavors we have created.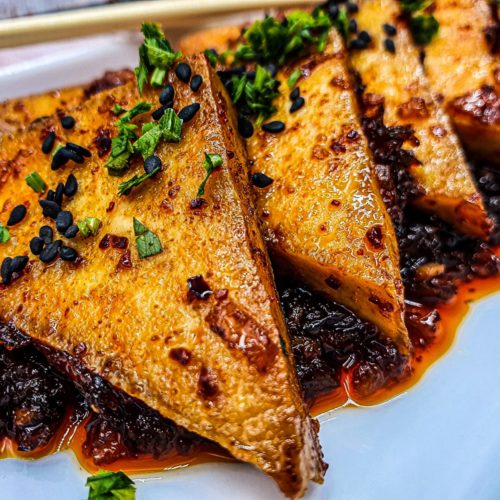 Korean Braised Tofu
Vegan Korean Braised Tofu in A Spicy Sweet Sauce (Dubu-jorim: 두부조림)
Ingredients
300

Gram

Hard Tofu

½

Cup

Oil

For frying

1

Medium

Onion

Finely Chopped

2

Cloves

Garlic

Finely Chopped

1

Tsp

Ginger

Finely Chopped
For the Sauce
½

Cup

Soy Sauce

½

Cup

Water

2

Tsp

Sugar

or Maple Syrup 1 Tbsp

1

Tsp

Korean Hot Pepper Flakes

I used a Pepper Kimchi Mix. You can also use hot paprika.

Mix all the sauce ingredients together and set aside
Instructions
Using a paper towel, dry the tofu.

Cut the tofu into bite-sized triangles or rectangles.

Heat the oil in a pan, and fry the tofu pieces until golden on each side. If there is no oil, add a little. Once golden lay on a plate with paper towel.

Lower the heat to medium and in the same pan sauté the chopped onion for about 3 minutes and then add the garlic and ginger.

Once the onion is translucent add the soy sauce mix we first prepared to the pan with the onion, garlic and ginger and let the sauce reduce over medium-low heat.

Once the sauce becomes thick and glossy, add the crispy tofu pieces to the sauce and cook for a few minutes on one side and turn to the other side. The dish is ready as soon as there is almost no sauce left and the tofu is soaked in it on all sides.