Hi everybody!
Every week I'm trying new interesting and delicious salad recipes. Fresh salads are healthy, nutritious, and balancing our diet. Healthy doesn't necessarily mean boring. This kale salad is tasty, crunchy with fresh vegetables, and the right seasoning. This salad has extra tart with the homemade Baby Pickled Lemons, I made a few weeks earlier. My pickled lemons are enriched with savouriness and acidity. Hence, chances are you won't have to add lemon and salt to your salad. Finely chop the pickled lemon, and add it to the salad. Make sure to taste test before adding seasoning, as one pickled lemon is very concentrated in flavor.
I've been having a lot of kale lately. It's just an amazing vegetable. Suitable for salad, baking, cooking and smoothies. And all in all, it is healthy, nutritious and delicious. Kale contains high amounts of vitamin A, helps reduce cholesterol in the blood, strengthens and immunes the body, contributes to detoxification and contributes to good mood among other things.
Cooked chickpeas are rich in protein, increase energy and satiates for long time, are great for strengthening bones and aiding with healthy weight loss.
This kale salad is great as a full meal with vegan cheese or tofu, avocado, or whatever you like to add to your salad. It is excellent as a side dish, or an appetizer as well. Quick and easy salad to prepare and super healthy for you.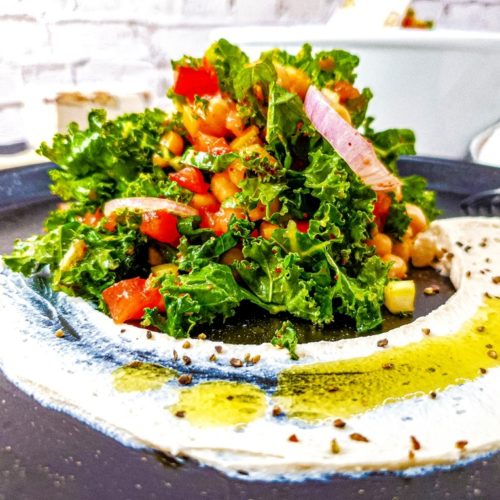 Kale and Chickpeas Salad
A healthy and flavorful salad with chickpeas, kale, and pickled lemons.
Ingredients
4

Leaves

Kale

Chopped chiffonade

1½

Cups

Cooked chickpeas

2

Medium

Tomatoes

Chopped

½

Red onion or 2 shallots

Chopped

2

Celery sticks

Chopped

2

Pickled lemons

Chopped or mashed

1

Avocado

Diced optional

3

Tbsp.

Fresh cilantro

Chopped

½

Tsp

Sweet paprika

½

Tsp

Ground black peppers

½

Tsp

Garlic powder

2

Tbsp.

Lemon juice

To taste if the pickled lemon is not enough
Instructions
Chop all the vegetables and place them in a mixing bowl.

Crush the pickled lemon into a puree and add to the rest of the vegetables. Add the spices.

Using 2 large spoons or with your hands, mix the salad from the bottom up gently until the whole salad gets flavors.

Check the taste. If the pickled lemon is not salty and seasons the salad enough, you can add a little more salt and lemon juice.

It is best served with vegan cheese that you like or as a side to your meal.