White Chocolate & Macadamia Cookies
Hi lovelies!
Today we will make my favorite cookies! If I'm consciously choosing to stuff my face up in a pile of fresh-baked cookies, then these will no doubt be macadamia nuts and white chocolate cookies. Even in a vegan version, that combination wins. There is nothing like the smell of baked macadamia cookies that have just come out of the oven. These cookies are soft and chewy. They go perfectly well with a cold or hot coffee. These cookies are there for you if you feel your sweet tooth coming, and going to rake in compliments when serving them to your guests. So let's go ahead bake some cookies!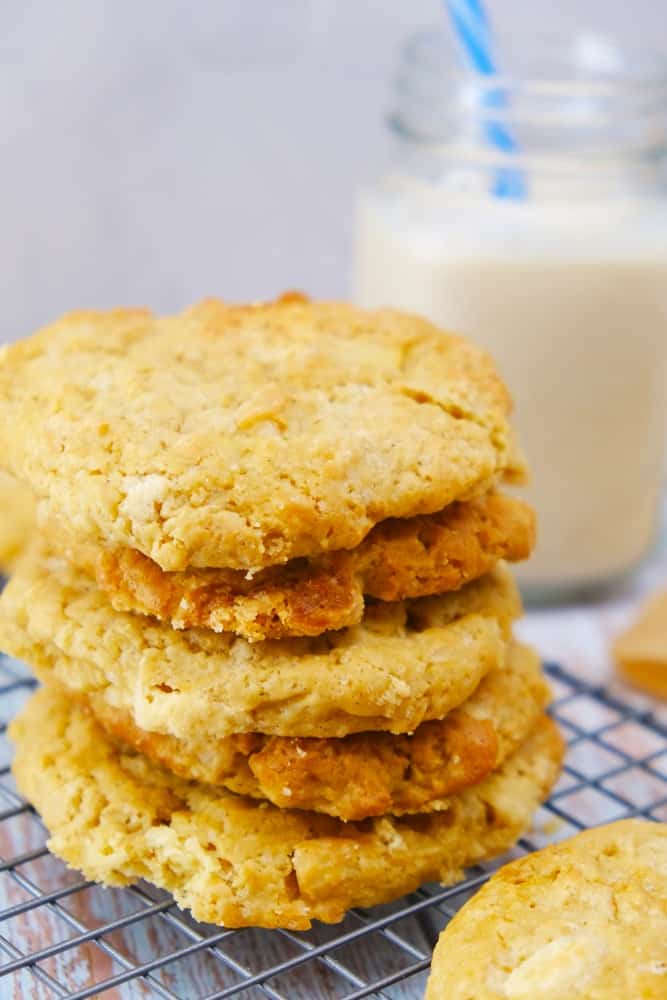 So how do you make soft and delicious vegan cookies?
The most important thing in making soft and chewy cookies is to first whip the cold vegan butter with brown sugar. Preferably packed sticky brown sugar. Whisk with a hand mixer until creamy. You can use a standing mixer if you want to double up the amount.
Is it possible to use coconut oil?
Well yes, it is possible. Just make sure that the coconut oil is in a paste-like texture. Like that of butter which in itself might be a bit tricky to get. The coconut oil needs to be at a temperature that is not too hot or too cold.  This way it'll easily whip together with the brown sugar. It is also recommended to use refined coconut oil so that the coconut taste won't be present.
In this cookie recipe, I used salted vegan butter. So if you are also using salted butter, you can go easy with the salt in the recipe. After creaming the brown sugar and the vegan butter, all that's left is to add the rest of the ingredients and mix until combined – the soy yogurt, the milk, and the vanilla paste. You should be getting a sort of sticky dough in which to that you add the flour. Once you get nice thick cookie dough, add the macadamia and vegan white chocolate chips inside and mix. Note that the cookie dough is suitable for any flavors and additions that suit you. Dark chocolate, dried fruit, granola, etc.
Before baking, it's best to cool the dough in the freezer for 30 minutes. To do that, take a baking pan and place baking paper on it. Using hands, scoop some of the cookie dough, form a ball, and place it on the baking pan. Flatten it slightly with your hand. It is important to leave some space between each cookie because they expand in the oven. Once ready, let it cool completely before serving. Store the cookies in a hermetically sealed container inside the fridge for up to 5 days. You can also freeze the cookie dough and bake it directly in the oven when you want to use it. If you made these delicious cookies, tag me on my Instagram page Cacao_Shamaness. Enjoy!
Vegan White Chocolate Macadamia Nut Cookies
Chunky and delicious cookies with macadamia nuts and white chocolate chips
Equipment
Baking pan

Mixing bowl

Hand mixer

Spatula
Ingredients
¼

Cup

Vegan butter

cold

½

Cup

Brown sugar

3

Tbsp.

Vegan yogurt

2

Tbsp.

Plant milk

1

Tbsp.

Vanilla paste

1⅓

Cup

Flour

½

Tsp

Baking powder

¼

Tsp

Baking soda

¾

Tsp

Sea salt
Instructions
In a mixing bowl, cream the sugar and butter with a hand mixer for a minute or until combined.

Add the vanilla paste, soy milk, and vegan yogurt, and continue to mix with the mixer.

Add the flour, baking powder, baking soda, and salt and mix well.

Add the macadamia nut and white chocolate chips and mix well.

Take some of the cookie dough and form a ball. Place over a surface, plate, or baking pan that can fit in the freezer, and mash the ball slightly downward to form a flat round shape. Repeat with the rest of the cookie dough.

Put the tray in the freezer for half an hour.

Bake the cookies for 25-30 minutes until slightly golden but still soft.

Once they are ready let them cool completely. Store in a container with a lid in the refrigerator for up to 5 days.