Hey friends!
So, this week I had a bunch of bananas that decided to ripen too fast. I immediately thought of making banana bread, and adding to it any delicious toppings I have! It came out just perfect. Very soft, and moist on the inside. Classic banana bread is not supposed to be too sweet. It is usually served warm with a little (vegan) butter on the side. This is why it is called banana bread because it is a combination of bread and cake.
At the last moment, I made a vegan salted caramel sauce as well. It complimented the not so sweet cake wonderfully. If you add a little bit of vegan salted butter, and a bit of this hot caramel sauce, you have turned this Banana Bread into a mouthwatering dessert. It would be great to spoil your guests as they would like extra sweet if you are inviting them over.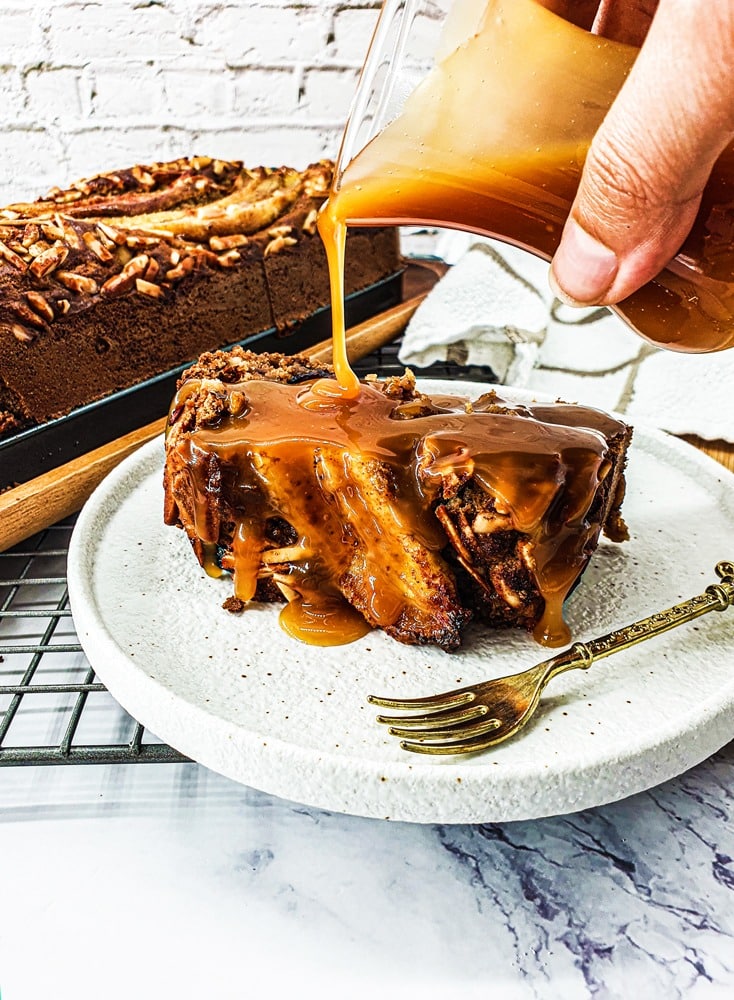 I combined whole spelt flour with almond flour in the recipe. This allows the cake to come out a little fluffier than if it was without the almond flour. This is because whole spelt flour alone would make the texture bit denser than white flour. Although I must note that I like the taste and texture of whole-grain flours.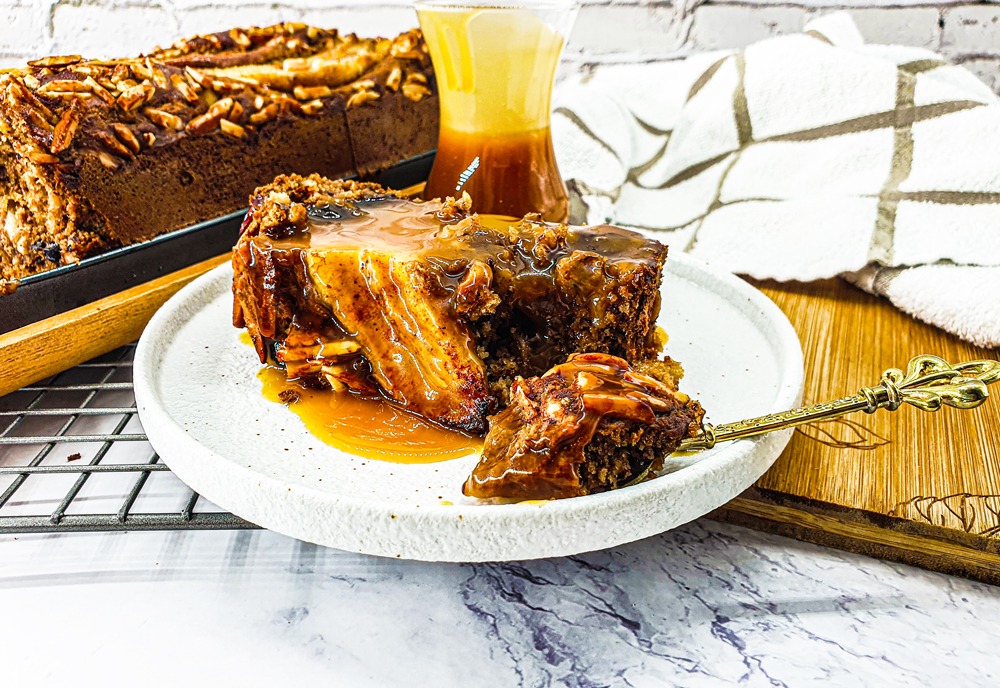 How to make vegan banana bread without eggs?
The role of the eggs in the classic banana bread recipe, is to function as a liaison between the rest of the ingredients. Add golden brown color to the pastry when it is caramelized in the oven, and maintain fluffiness. The banana itself plays a good role in this case as a binder between all the ingredients. We solved the color issue both in the type of flour it naturally browns in baking, and also by sprinkling brown sugar or brushing maple syrup over the bananas before baking. And almond flour reduces the density level that could have been created if we had used only whole spelt flour.
This banana bread is delicious and easy to make. Measure the dry and wet in separate bowls, mix the wet well with the dry, decorate with toppings and place in the oven. that's it! I used lightly toasted almonds here, but any nut you like will work here. Pecans, walnuts, and even dried fruits.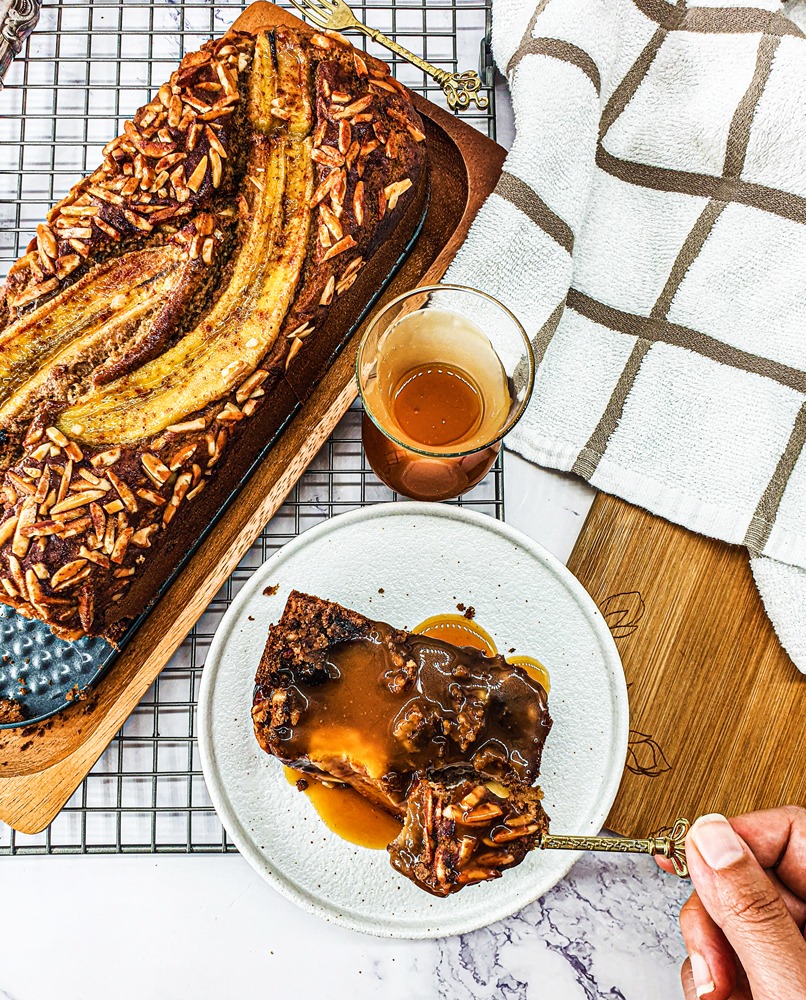 This Vegan Banana Bread is great for brunch and even for breakfast or in between. Note that I didn't use a lot of sugar, and I used coconut sugar. Feel free to swap the sugar with the one you like. You don't have to make the caramel sauce. It was just something I wanted to make, and the combination came out as a great option for a dessert recipe. Enjoy!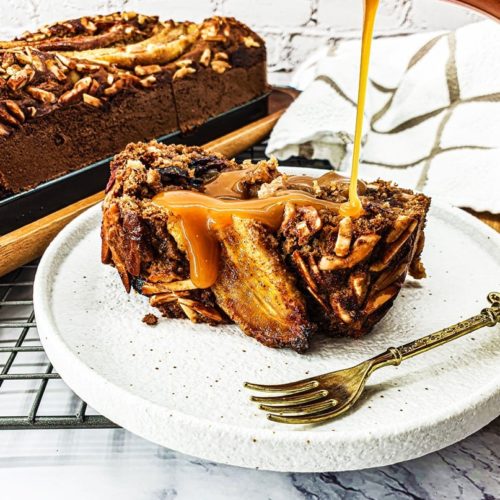 Vegan Banana Almond Bread & Salted Caramel Sauce
Vegan banana and almond bread with whole spelt flour, not too sweet. With salted caramel sauce on the side.
Equipment
Rectangular bread pan. I used 30X10 cm depth 8 cm

Mixing bowl

Syrup brush

Pan

Spatula
Ingredients
Dry Ingredients
2

Cups

Whole spelt flour

1

Cup

Almond flour

1

Tsp

Baking soda

1

Tsp

Baking powder

½

Tsp

Sea salt

1

Tsp

Cinnamon
Wet ingredients
½

Cup

Coconut sugar

4

Mashed ripe bananas

And another one to garnish on top

½

Cup

Grapeseed oil or Coconut oil

½

Cup

Plant milk

1

Tbsp.

Vanilla Paste

1

Tbsp.

Apple cider vinegar

¾

Cup

Roasted almond sticks

Half into the batter and a quarter to garnish on top

1

Tbsp.

Maple syrup

For brushing over the cake when done baking
Vegan Salted Caramel Sauce
¾

Cup

Sugar

225

ml

Vegan heavy cream or coconut cream

1

Tsp

Salt

2

Tbsp.

Vegan butter
Instructions
Preheat oven to 170 ° C. Oil the bottom and sides of the baking pan.

In the first bowl weigh all the dry ingredients.

In a second bowl mash 4 bananas, add the sugar, and the rest of the wet ingredients and mix well.

Pour the wet mix into the dry and mix until combined.

Pour the batter into the oiled pan and straighten with a spatula.

Garnish the top with almond sticks. Cut a banana in half lengthwise and gently place over the batter. Sprinkle coconut sugar over the bananas or brush them with maple syrup.

Bake for 40-50 minutes, and towards the end check with a toothpick in the center of the cake. If it comes out dry, then it is ready.
Vegan Salted Caramel Sauce
Heat sugar in a pan over medium-high heat while stirring gently until all the sugar has melted. Once melted and taken on a brown caramel color, turn off the heat, add the cream or coconut cream, and stir well.

Add the salt and vegan butter and continue to mix. Wait for the caramel to cool slightly before transferring to a bowl.
Notes
The banana bread is reduced in sugar so, to that I added a salted caramel sauce on the side. If you want, you can add another half cup of coconut sugar to the cake, (or not, still delicious!) and you can skip the caramel sauce.