Vegan Meat Stuffed Artichokes
Hi everyone!
How about a comforting Moroccan artichoke stew? Stuffed with vegan minced meat, such as Beyond or whatever you have in hand. Served on a bed of cooked green peas, and potatoes? Delicious!
Today it's possible to enjoy all types of cuisines in their vegan version. The same goes for traditional foods. This dish was served at our home quite often. The only difference is that we used to cook and serve it with meat. That was kind of a usual lunch for us. When I switched to veganism, I didn't think I could go back and enjoy the foods of my childhood.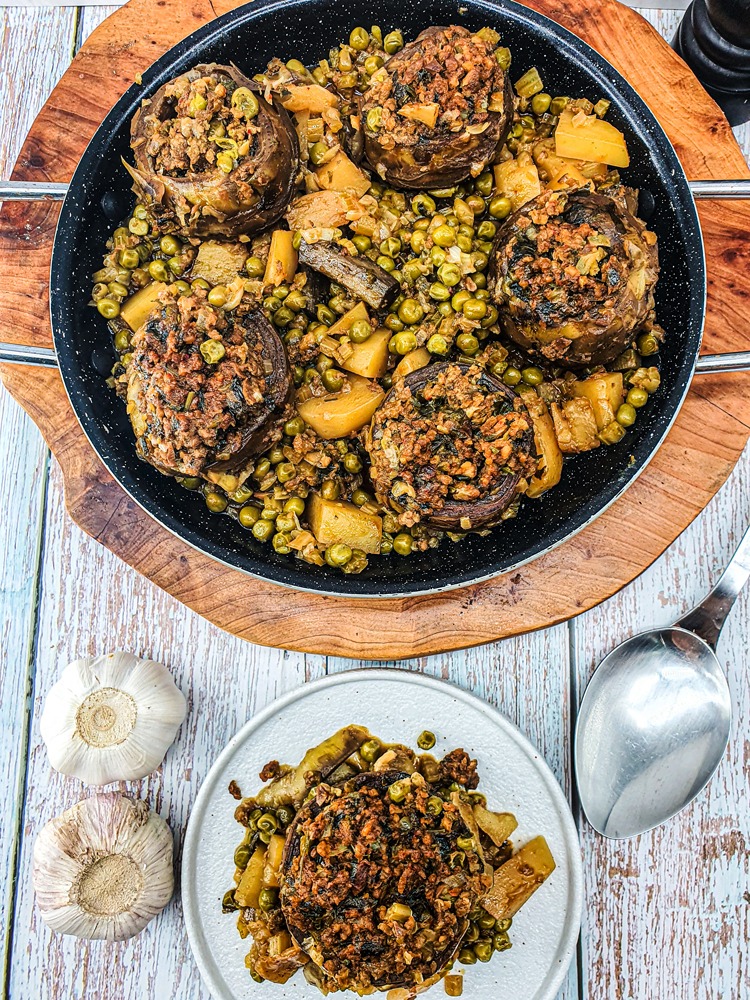 Most Moroccan cuisine contains meat and other animal-based products. The presence of vegan meat substitutes everywhere now is a huge game-changer. It allows us to cook all world's cuisines and, in my case, traditional Moroccan dishes in their natural and vegan form. It is highly significant for me and I'm sure it is for you too from whichever tradition you brought up with. This allows me to enjoy and savor the flavors that remind me of childhood in my parent's house. The huge steamy pots, full of slow-cooked stews, over the stove flames at my grandmother's as well.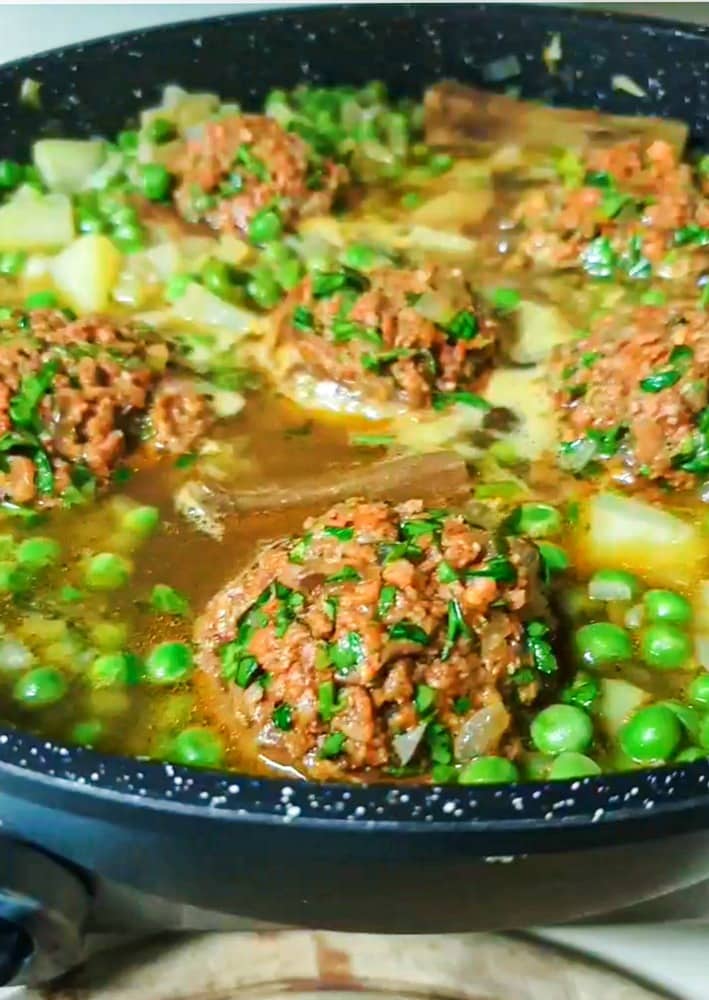 What do you need for this Artichokes stew?
Artichoke hearts – you can peel fresh artichokes yourself. It is a bit of work though. You can also buy them frozen which come already peeled and of really good quality.
Vegan meat – it is important that you choose vegan minced meat that does not fall apart during slow cooking.
Lots of onions – the onions will add sweetness to our dish. We'll sweat a large portion of chopped onions until translucent. We then divide half of the onions and will add them to the minced beyond meat mixture.

Peas and potatoes – in which the artichoke hearts will be cooked and turn into a hearty and comforting stew.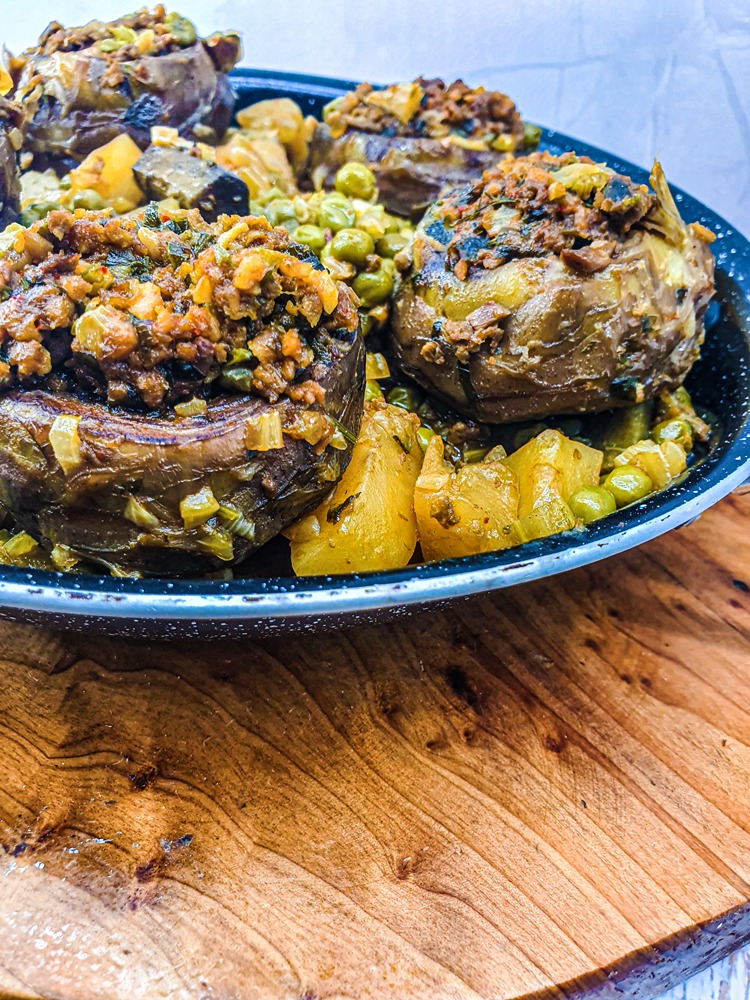 Dried porcini mushrooms – I tend to use porcini mushrooms a lot when I need a beef stock substitute. they give depth and flavor. Of course, it's totally optional, and you can use other mushroom stock/seasoning in hand. In addition to the stock, I added vegan chicken stock powder. You can also use vegetable stock instead. I squeeze the dried mushrooms that have now been hydrated and chop them into the meat.
Celery leaves and herbs – Add them to the minced meat mixture with chopped celery leaves. To the rest of the onions left for the peas and potatoes, we add 2 chopped celery sticks.
Spices – I added black pepper, salt, garlic powder, turmeric, sweet paprika, exact amounts appear in the recipe.
To see this full step by step you can check the Stuffed Artichoke highlight on my IG page Cacao_Shamaness.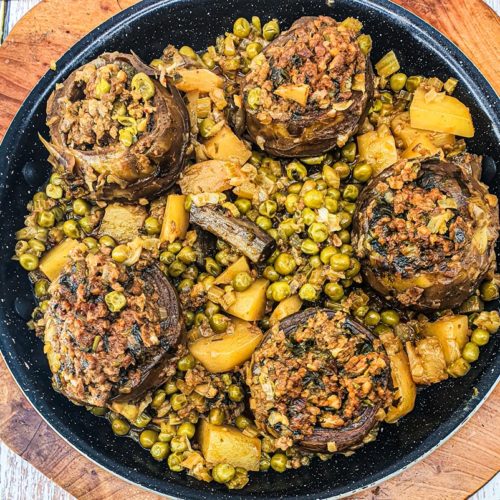 Vegan Stuffed Artichokes Stew
Artichoke hearts stuffed with vegan minced meat, with green peas and potatoes.
Ingredients
3

Tbsp.

Olive oil

5-6

Artichoke hearts

Fresh or frozen. Pealed

2

Potatoes (medium)

2 cm cubes

3

Onions (large)

Chopped

2

Celery

Chopped

350

gr

Green peas

3 cups

½

Cup

Dried porcini mushrooms

Soak in a glass of boiled water for about half an hour (optional, gives a deeper flavor)

1

Pickled lemon

Optional

2

Tbsp.

Vegan chicken/veg stock powder

in 1 cup of boiled water

1

Tsp

Salt

1

Tsp

Black pepper
Beyond Meat Stuffing
250

gr

Minced beyond meat

1

Cup

Parsley

Chopped

1

Cup

Celery leaves

Chopped

Sauteed onions - Half the amount of onion we sauteed above

Add to the "meat" mixture after frying

2

Tsp

Sweet paprika

2

Tsp

Tumeric powder

2

Tsp

Garlic powder
Instructions
Soak the dried porcini mushrooms in boiling water. Leave them for at least half an hour.

In a large cooking pot, sweat the chopped onion over medium heat until translucent.

Transfer half of the cooked onions to a bowl with the thawed vegan minced meat.

Add the chopped celery to the pot and continue to steam with the onion. After 5 minutes add the potatoes, peas, and mix.

Add the porcini mushroom stock to the pot. Squeeze the porcini mushrooms left, chop them, and add to them meat mixture.

Add spices, chopped celery and parsley leaves, to the vegan meat bowl. Mix everything well.

Fill each artichoke heart with the minced meat filling. Place each stuffed artichoke into the pot with the peas and potatoes.

Pour the vegan chicken/vegetable stock into the pot so that the liquid reaches 3/4 of the height of the artichokes. Cover with a lid.

Cook over medium-low heat for about an hour until most of the liquid has reduced and the artichokes have softened. Check with a fork.

Serve with rice/noodles /quinoa or a salad!