Vegan white chocolate blueberry financier
Hi Friends!
Although my official culinary education pretty much comes down to cooking only, I find myself drawn to baking and making vegan sweets and desserts more than anything. I constantly think about French classic desserts and try to challenge myself to make them vegan. The financier is a French tea cake that is made mostly of butter and egg whites. The following vegan recipe is definitely a small but significant step for those people who love these classic desserts and sweets and can't find it in a vegan version in bakeries and cafes.
 I really liked the result of the Classic Vegan Financier I baked and I decided to make another batch. This time I added Vegan White chocolate chips and fresh blueberries! I couldn't help but stuff my face with this amazing Vegan treat! This time, with the same amount of butter from the classic vegan financier recipe I used 12 cupcake silicon molds, and added 3 fresh blueberries and 3 White chocolate chips to each one.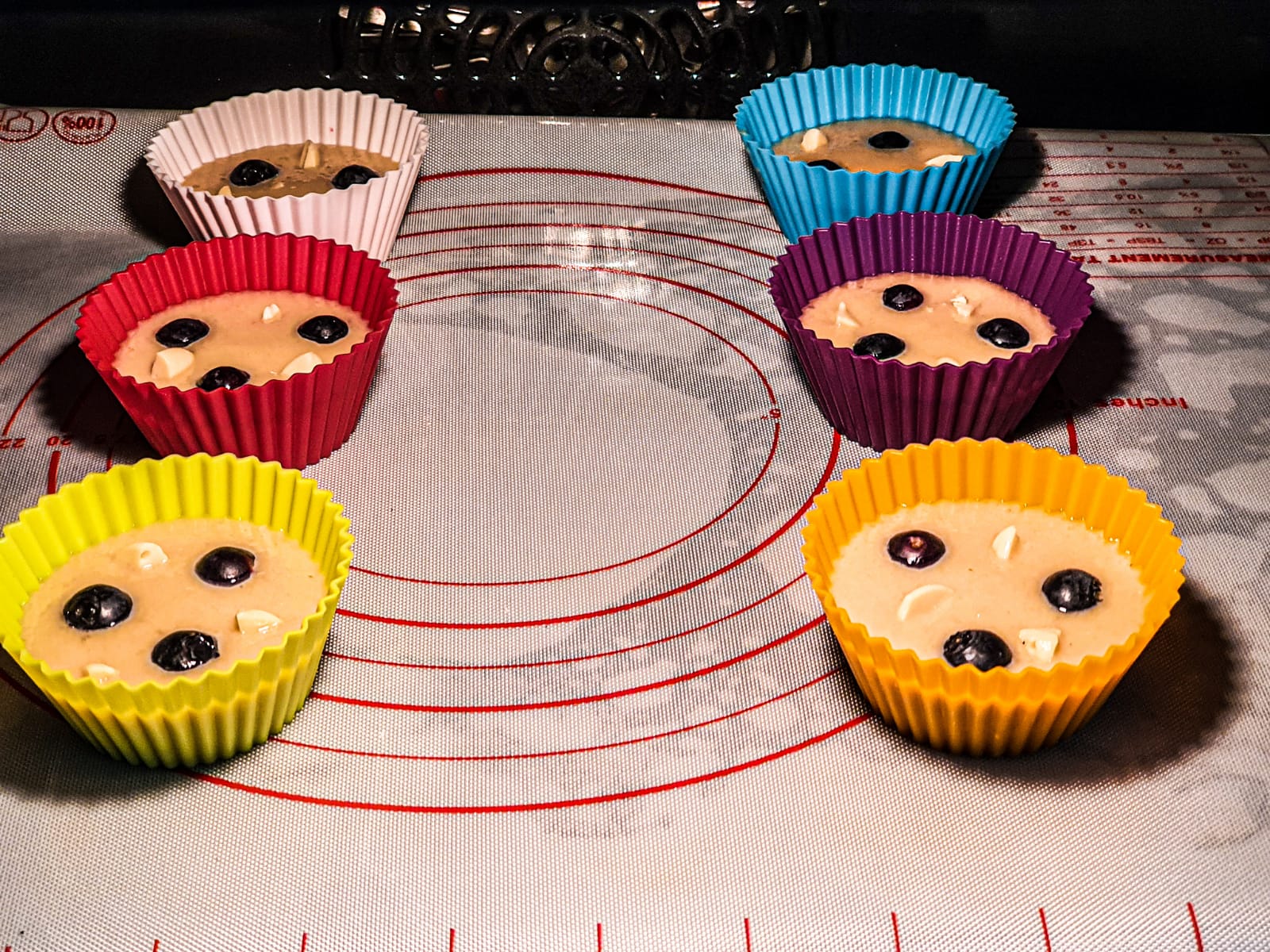 White Chocolate Blueberry Financiers
Vegan French Classic financiers with vegan white chocolate and fresh blueberries
Equipment
Silicon Spatula

12 silicon cupcake molds
Ingredients
120

Grams

Coconut oil

refined or not, or vegan butter as close as possible to real butter in taste and qualities

120

Grams

Apple puree or Vegan plain yogurt

used as an egg replacer

70

Grams

Brown Sugar

20

Grams

Maple syrup

80

Grams

Almond flour

36

blueberries (20 Gram)

36

chips

Vegan white chocolate chips

Few

drops

Vegan butter extract ( essence)

½

tsp

Vanilla extract

Pinch

Salt
Instructions
Mix all the wet ingredients in a bowl and whisk until incorporate.

Mix in a different bowl all the dry ingredients.

Pour the wet mix to the dry mix and stir with a spatula until fully incorporate to a smooth batter.

Pour the batter to the 12 silicon molds , about 2 tbsp each mold.

Tap the mold gently on the surface to make sure there are no air bubbles.

Garnish with 3 fresh blueberries and 3 small chocolate chips for each financier

Bake in a preheated oven of 190°C for between 16-20 minutes or until the financiers are golden brown on the edges and might crack in the middle. careful not to burn:)

Let completely cool before taking out of the mold .