Hi friends!
Did I mention you how much I love Korean sweet potato noodles? This is simply the most amazing product that exists! These noodles are so flexible and unusually chewy after cooking. Sweet potato noodles are very starchy. Therefore, if you are making any kind of sauce for it, that sauce, will thicken and flavor these noodles beautifully. They work great inside soups, stir-fries, salads, and also as a filling for steamed buns. These noodles will keep you full and are also gluten-free. I'm not sponsored or anything I'm just really in love with this product. These are available on Asian grocery stores and online as well.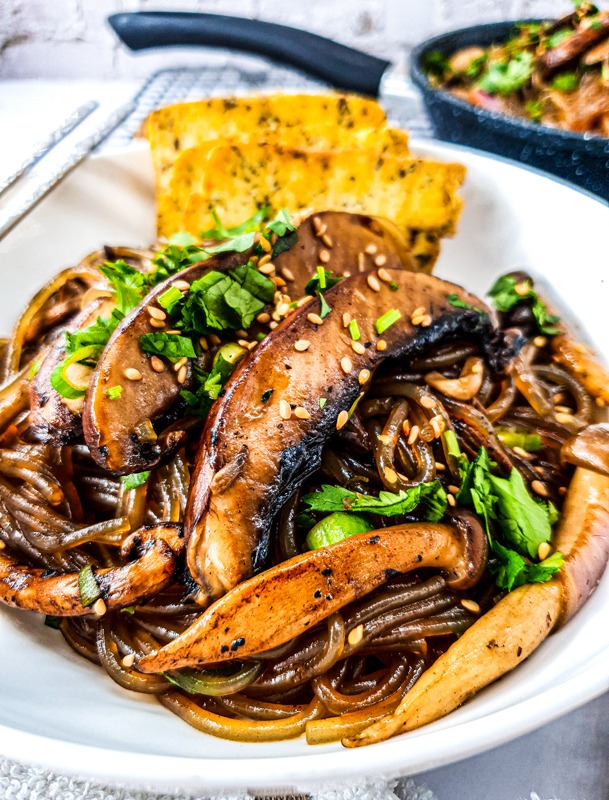 I usually buy 3-4 packages at a time. Simply because of the reason you can't find them in every store. The portion of half a package of noodles is enough for 4 servings! In short, Totally worth it. You will find in this recipe lots of assorted mushrooms. I used Portobello, and Shimeji. But feel free to use any mushrooms you want.
These noodles amazing umami flavor is obtained from the porcini mushroom stock that I prepped prior to the cooking. Porcini mushroom stock is super easy to make. Just need to brew a good handful of dried porcini mushrooms in boiling water and leave them for 2 to 24 hours in the fridge. I added 2 tablespoons of black garlic puree to this porcini stock and got a deeper and more nutty flavor.
Once you have the stock and the noodles ready, all that is left is to sauté all the mushrooms/vegetables you like. With only a few tablespoons of oil, season well, and add the stock. Bring the whole thing to a gentle simmering, and add the noodles. The noodles will release their starch during cooking into the porcini stock and it will thicken into a sauce within minutes. A memorable meal for sure! This one is highly recommended! Enjoy!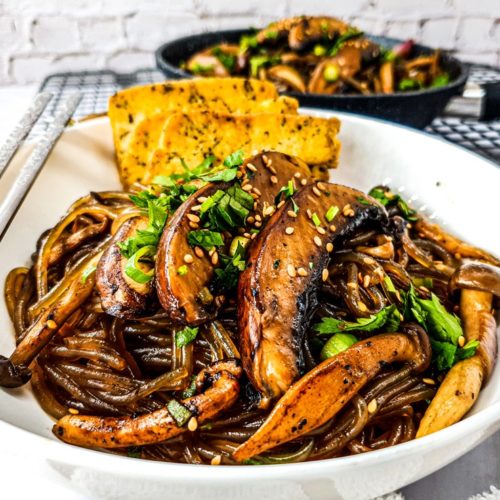 Korean Sweet Potato Noodles, Mushrooms & Black Garlic
Sweet potato starch noodles with porcini mushroom & black garlic stock, and mix of mushrooms.
Equipment
Pot for the noodles

Large sautee pan or wok
Ingredients
250

Gram

Korean sweet potato noodles
Porcini Mushroom Stock
1

Cup

Dried porcini mushroom

2

Cups

Boiling hot water

2

Tbsp.

Black garlic paste
All The Rest
2

Tbsp.

Olive oil or grapeseed oil

4

Small shallots

Cut to quarters

1

Tbsp.

Ginger

Chopped

4-5

Large

Portobello mushrooms

Sliced

150

Gram

Shimeji mushrooms

1 pack

3

Tbsp.

Fresh lemon juice

¼

Cup

Soy sauce

2

Tbsp.

Sesame oil

1

Tbsp.

Korean red chili powder

Salt and black pepper for taste

4

Green onions

Chopped

½

Cup

Fresh cilantro
To Serve
1

Tbsp.

Toasted sesame seeds

300

Gram

Tofu

Sliced, dried from liquids, and seared in a pan.
Instructions
Soak the dried porcini mushrooms in boiling water for about two hours or more. It can also be prepared the day before and stored in the fridge. Add black garlic puree and mix.

Cook the sweet potato noodles in boiling water according to the manufacturer's instructions. When ready, rinse with cold water to stop cooking and remove most of the starch.

Heat oil in a pan and start sautéing over medium-high heat portobello, shallots, and ginger. Add the shimeji mushrooms and continue for another 5 minutes.

Add the porcini mushrooms, soy sauce, lemon, sesame oil, and spices and mix well. Reduce for about 5 minutes.

Add the noodles and cook for about 10 minutes while stirring every 2 minutes, letting them absorb flavors and get the mushroom stock to thicken from the starch present in the noodles.

When almost done, add the chopped cilantro and green onions and mix well.

Garnish with roasted sesame seeds, and drizzle with a little sesame oil. Serve with seared tofu.