Hi lovelies!
We are at the pick of summer now which is indeed my favorite season, yet it's so hot outside that a cold drink recipe is a much-needed thing. The first time I had a boba drink was in Thailand which is one of my favorite countries and cuisines. 
While exploring Chang Mai city on a hot day, There was a bubbly coffee shop that featured colorful drink glasses in a variety of flavors. I was walking with a good friend and because of the heavy heat, we immediately entered. I ordered a black tea Boba and sweetened condensed milk (I was still vegetarian back then ..). It was the first time I had tapioca pearls. Those pearls always remind me of gummy candies only a tad softer. But still chewy like gummy candies. Generally speaking, everything I had in Thailand was delicious, fresh, and colorful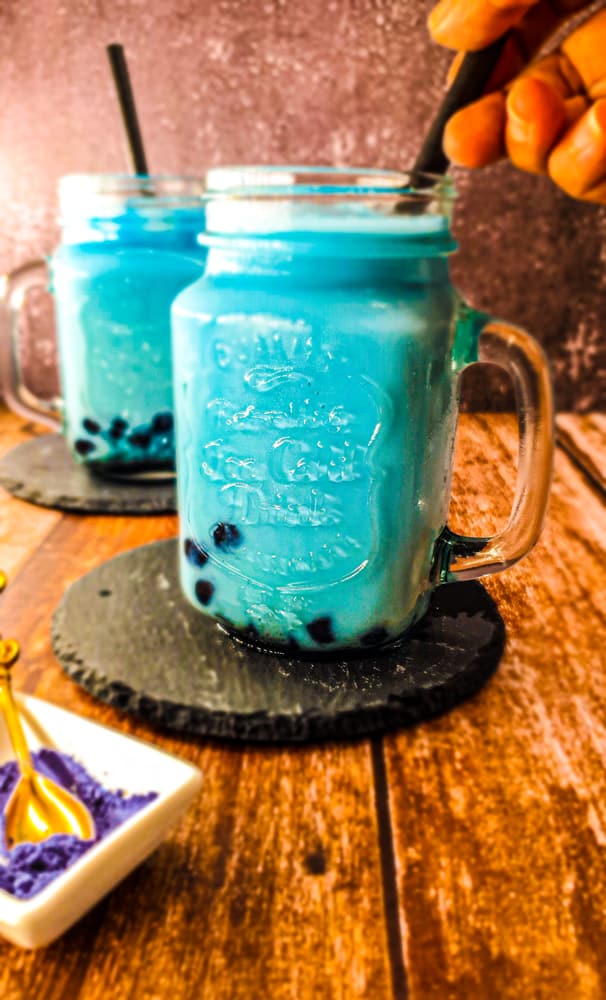 I recently got from IHerb "Blue Butterfly Pea Flower Powder" which is a natural blue powder and is extracted from the same flower. It paints almost any food in a beautiful blue natural color. I decided to make a blueberry-flavored cold drink with this powder, and with homemade tapioca pearls. And so I created this vegan blueberry milk bubble tea. The original version uses non-vegan milk and sweetened condensed milk. You can use sweetened condensed coconut milk instead. I couldn't get it at this time. I used maple syrup to sweeten both the tea and the tapioca pearls instead.
The black color of the pearls is extracted from brown sugar and Black Molasses. I didn't use brown sugar this time but only molasses, maple syrup, and vanilla paste. Trying to keep it less sugar as possible. You can color the pearls in any food coloring or fruit you want. You can even use the Blue Butterfly Pea Flower Powder to paint the tapioca pearls. If this is what you want to do, mix the flour itself with a tablespoon of the blue powder before adding it to the syrup in the nonstick pan.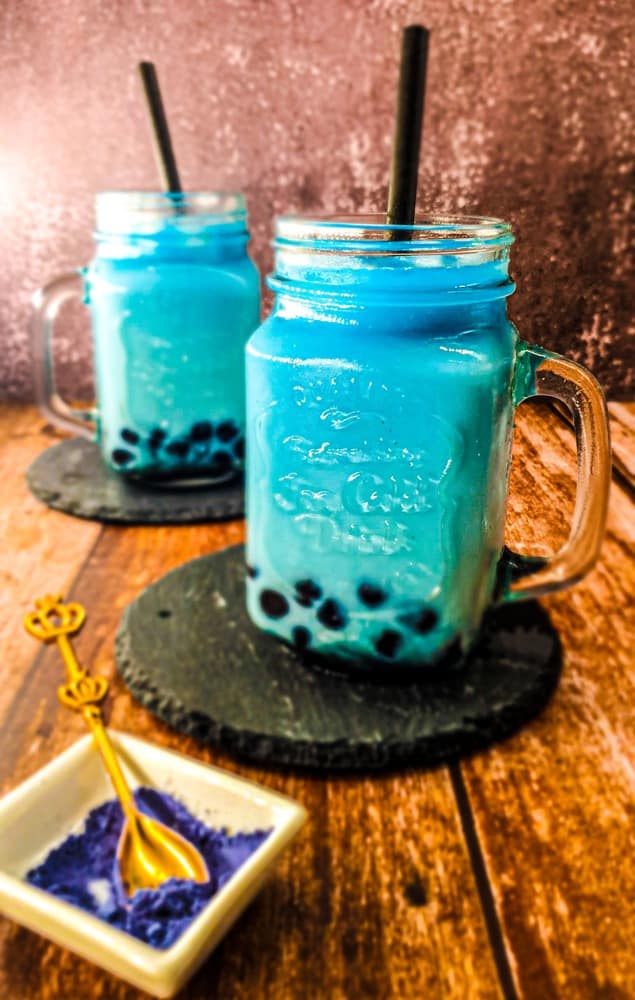 How to make tapioca pearls at home.
If you don't have an Asian grocery market nearby, like me, then the only option is to make it at home. Luckily, it's simpler than I thought. You need to make a tapioca flour-based dough, then roll small pearls from this dough and cook them for about 20 minutes.
First, heat a little water in a non-stick pan to make a syrup that will form the flavor basis for the tapioca pearls. Add the water, maple syrup, molasses, and vanilla puree and mix until uniform.
Put in about 3 tablespoons of the tapioca mixture and pea powder and mix well until a lump of dark tapioca dough is formed. Transfer the dough to a bowl with the rest of the tapioca flour and let the dough cool for about 10 minutes.
Once it has cooled it is time to knead the dough well until all the flour is absorbed in it and you get a soft easy dough to work with.
Form the pearls. Roll the dough into a ball and divide it into 4 equal parts with a knife. Roll each piece into a snake shape and cut each snake into really, really small pieces. Can be marked with a ruler if you want to achieve a uniform size. Take about 4-5 of the small pieces of dough you just cut. Roll them between both your hands to create a round shape.
Transfer to a tapioca-floured mixing bowl to prevent sticking.
All that is left to do is cook the pearls in boiling water just like pasta, for 20 minutes. Strain the pearls under cold and you'll see that you get small, cute, and delicious black or blue balls. You can add them to cold drinks like iced coffee, iced tea, fruit smoothies, and any cold drink you like.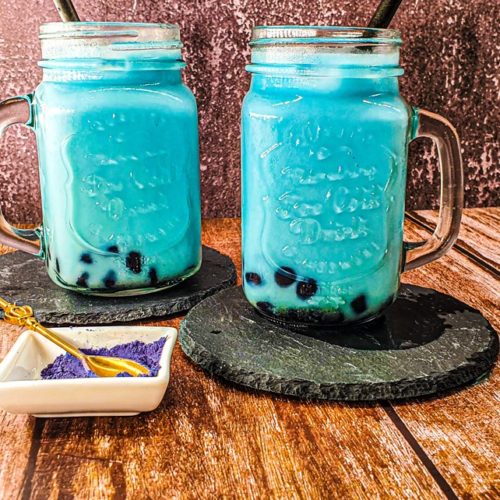 Blueberry Bubble Milk Tea with Tapioca Pearls
Cold refreshing blueberry-flavored milk tea drink with homemade tapioca pearls. Vegan.
Equipment
Small pot

Tall drink glasses

Thick bubble tea straws
Ingredients
Homemade Tapioca Pearls
100

gr

Tapioca flour

65

gr

Water

1

Tbsp.

Vanilla paste

40

gr

Maple syrup or sugar

1

Tsp

Black molasses
Blueberry Tea
¼

Cup

Hot water

1

Tsp

Butterfly pea flower powder

1

Blueberry tea bag

Or natural blueberry flavor extract

3

Tbsp.

Maple syrup

1

Cup

Cold water

12-16

Ice cubes

1

Cup

Oat milk

or any plant milk
Instructions
Homemade Tapioca Pearls
Add tapioca flour to a mixing bowl.

Pour the boiling water into a small non-stick pan, add maple syrup or sugar, molasses, and vanilla puree and stir over low heat until the liquid is uniform.

Add 3 tablespoons of the flour to the syrup formed in the pan and mix well until everything uniforms into a kind of sticky dough.

Place the tapioca dough formed in the pan to a floured bowl and wait a few minutes for the dough to be cool to the touch.

Transfer the remaining flour together with the tapioca dough to a clean work surface and start kneading until all the flour is absorbed, and the uniform dough is obtained.

Roll the dough into a ball and divide it into 4 equal parts. Roll each piece into the shape of a thin snake. With a knife cut the snake to small cubes of about half an inch in size.

Roll all the cubes into a ball shape and place them in a tapioca-floured bowl so that the balls won't stick to one another.

Boil water in a pot and cook the pearls. Stir immediately to prevent sticking. Cook for about 20 minutes. Strain the pearls under cold water and set them aside.
Assembling The Bubble Milk Tea
Dissolve the blue pea powder in the boiling water along with the maple syrup. Place the tea infusion inside to flavor the water for 10 minutes. You can also use a natural blueberry-flavored extract instead of tea.

After 10 minutes add a glass of cold water to the infusion.

Into tall glasses pour about 4 tablespoons of tapioca pearls to the bottom of the cup. Add ice. Pour the blue tea infusion. And add plant milk o choice.