Vegan Gluten-Free Coconut Macaroons
Hi lovelies!
I'm back making vegan and delicious vegan Aquafaba Desserts! And this time, gluten-free, Vegan Coconut Macaroons with chocolate ganache. These coconut triangles are so decadent and delicious that their addiction is guaranteed here! Every bite is perfect and chewy. Coconut and chocolate are known to be good friends! And that's what makes this vegan coconut macaroon a perfect dessert or an in-between snack.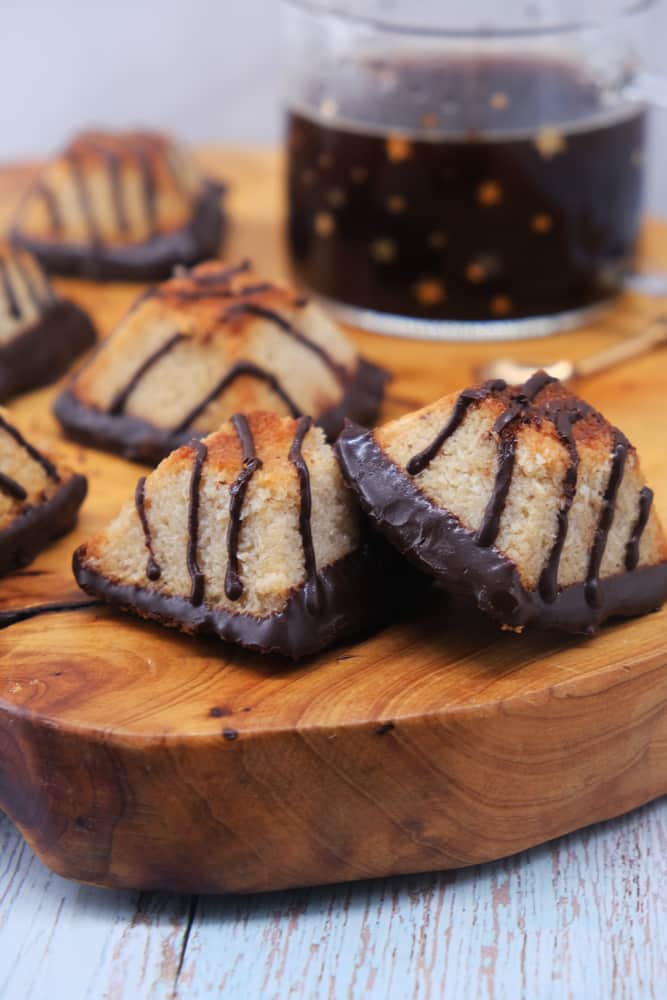 So, for those who are new here or new to veganism, first of all welcome! In vegan baking, Aquafaba is one of the most interesting ingredients that currently exists. Aquafaba is the water obtained from a can of chickpeas or white beans. This water is so high in protein, that it can substitute a substance as complex as egg whites. It is the closest substitute to egg whites there is, which even allows you to make vegan meringue! With vegan meringue, we can achieve the sticky and chewy texture that exists in a classic coconut macaroon. I've written an extended article on Aquafaba.
If you want you can know more about this magical water and what recipes can be done with it on the Aquafaba Blog Post.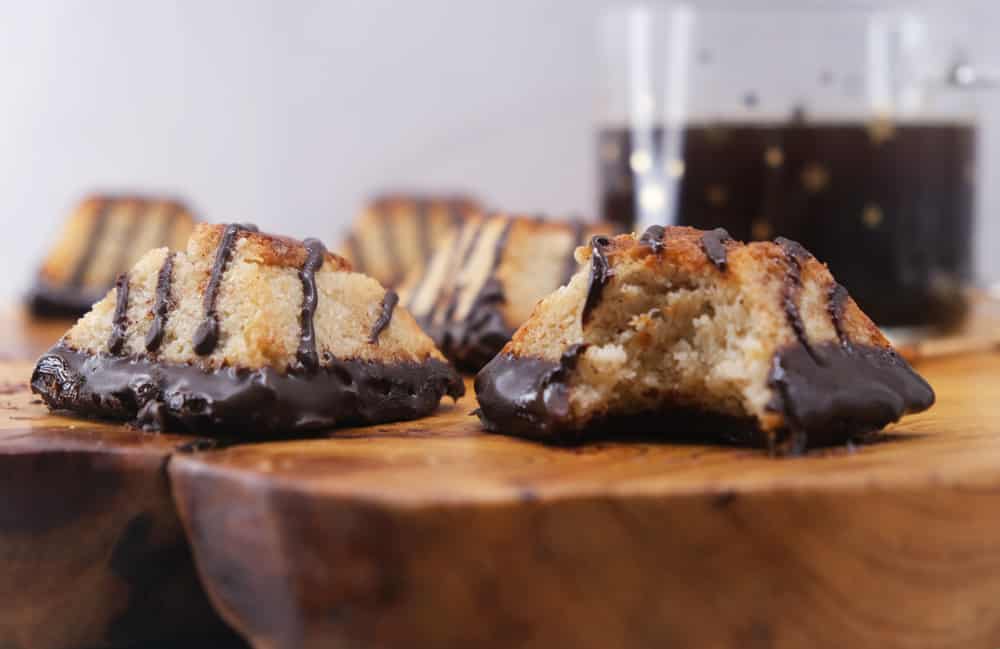 How to make vegan coconut macaroons
In two really simple steps:
The first step, mix all the coconut macaroon ingredients in a bowl. Coconut Flakes, Almond Flour, salt, and Condensed Coconut Milk. Condensed coconut milk can be found in Asian and vegan markets. You can also make condensed coconut milk at home by reducing the coconut cream and sugar for about an hour. This process takes more effort, so if you can get store-bought condensed coconut milk then you should give it a try. If you haven't been able to buy or make it, you can use the solid part of the coconut cream instead. Just add more sugar or maple syrup to the recipe to balance the sweetness. To use the solid part of the coconut cream, you want to store the coconut cream can in the fridge overnight or in the freezer for 8 hours.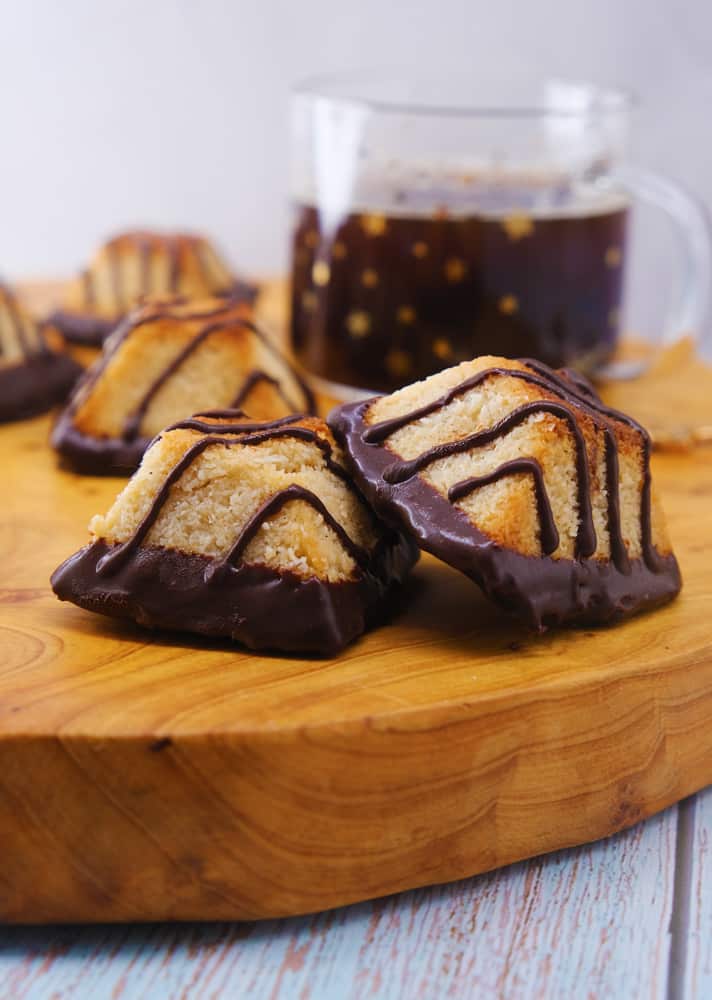 The second step, whip the meringue. Make sure ahead of time that the aquafaba is reduced to half of the amount by boiling the water. Usually, the amount of water obtained from the can of chickpeas is between 200-300 ml. It's advisable to measure in advance with a Measuring Cup to know how much to reduce. This way you can reduce the amount by half. Start whipping aquafaba with a Hand Mixer together with the Cream of Tartar. After whipping for about 10 minutes, you can add the powdered sugar slowly and gradually until you get a perfect and shiny vegan meringue with pointed tips.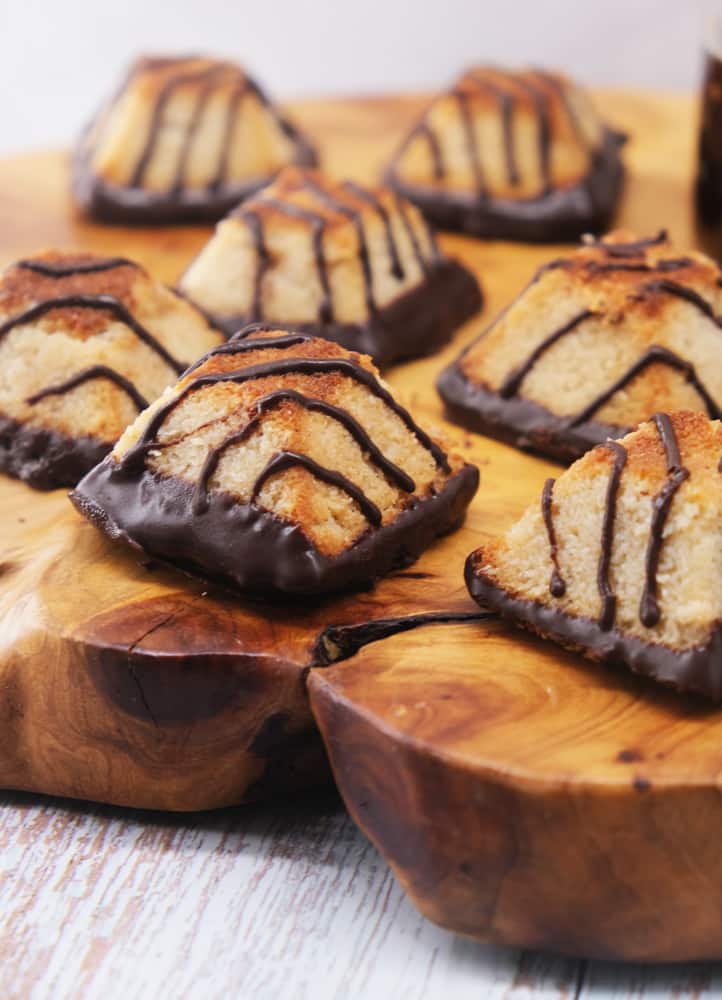 Lastly, fold the meringue into the coconut mixture gradually. We will do this gradually because we want a sticky mixture but not too wet or runny. If you have a lot of this meringue left over, you can make a Vegan Pavlova with it!
To create this cool pyramid shape, I used a Silicone Mold with triangular sockets but its not a must for this recipe. You can roll little coconut balls with your hands or with an Ice Cream scoop. The most crucial thing to remember is to store them in the fridge or even in the freezer after baking to let them set. If you try to get them out of the mold without refrigeration, they will fall apart. So this is an important step. Additionally, it's best to dip them in melted Dark Chocolate only after they have cooled. The chocolate will stabilize more after storing them in the fridge.
More vegan sweets recipes
Vegan Coconut Macaroons Video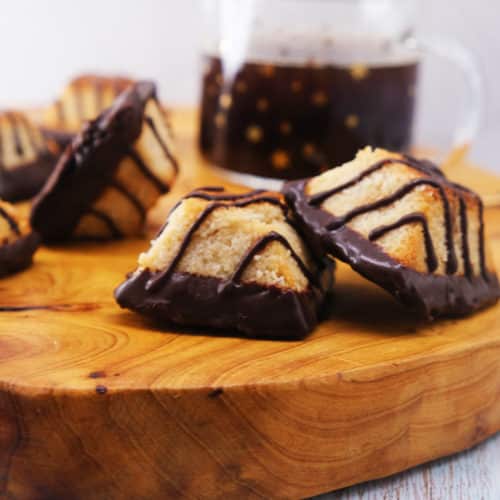 Vegan Coconut Macaroons
Gluten-free coconut macaroons with vegan chocolate ganache.
Equipment
Hand mixer

Mixing bowl

Baking Tray

Spatula

Triangles silicone mold or small ice cream scoop to shape
Ingredients
2

Cups

Coconut flakes

½

Cup

Almond flour

½

Cup

Condensed coconut milk

½

tsp

Salt
Vegan Meringue
200

ml

Aquafaba

Reduce it to a half of the quantity (100 ml) and chill for 2 hours in the fridge

⅛

tsp

Cream of tartar powder

9

Tbsp.

Powdered sugar

½ a cup

1

Tbsp.

Vanilla paste
Vegan Chocolate Ganache
1

Cup

Dark chocolate chips

½

Cup

Soy milk

Or any plant milk
Instructions
In a bowl, mix the coconut, almond flour, concentrated coconut milk, and salt.

In a separate bowl, using a hand mixer, whisk the reduced aquafaba with cream of tartar cream for about 10 minutes, or until the whip is firm and leaves firm stripes.

Start adding the powdered sugar slowly and gradually. Continue to whisk until you have added all the powdered sugar and a strong and stable meringue is obtained.

Add half the amount of meringue to the coconut mixture and fold the meringue into the mixture. Add the other half as well and continue to fold the mixture until combined.

Take a baking pan and arrange the coconut mixture according to the desired shape. I used a silicone mold with triangular-shaped sockets. You can also take a small ice cream scoop or a spoon and roll the coconut balls with your hands or in any shape you want.

Bake in the oven for 16 minutes. When done baking, take them out and wait until completely cool. If baking in a silicone mold, it's best to refrigerate for two hours before extracting the macaroons from the mold.
Vegan Chocolate Ganache
In a small microwavable bowl, melt the dark chocolate chips with plant milk of choice in the microwave for about a minute in pulses. Remove from the microwave and stir until a glossy chocolate sauce is obtained.

Dip the coconut macaroons in the chocolate and place them on the baking net. Place the macaroons in the fridge until the chocolate has set. You can also drizzle chocolate stripes on top of the macaroons.

It is advisable to keep it in the fridge in an airtight container for up to a week or in the freezer for up to about a month.