Hi everyone!
Lately, I start every morning with coffee. However, I did have a habit a year ago of starting the day with plenty of natural, smoothies, juices, and I even had a period of pure celery juice straight up every morning. I really liked it. I felt very sharp and energetic. I want to get back to this daily routine and share my love for natural juices with you. I remember I started reading a lot about fruits and vegetables. How their vitamins and minerals strengthen our immune system and how each fruit or vegetable has its own healing properties.
Today, I made a green smoothie from kale that maybe not everyone likes. However, blending it with the right fruits, not only makes this green smoothie super healthy for you and great to start the morning with, but it also comes out really tasty and does not have the bitter taste of kale.
Our Vegan Green Kale Smoothie is very suitable for these weird Covid days we are in at the moment. It helps to strengthen our immune system in a natural way.
Here are some health benefits that This green smoothie provides
Kale – Rich in vitamin A, among other things, thus helping to reduce damage caused to the eyes by aging. contains a high amount of iron, helps cleanse toxins from the body and helps with weight loss. Kyle contains fatty acids that contribute to the appearance of healthy skin and strong nails.
Spinach – one of the healthiest leaves, rich in vitamins and minerals such as vitamin A and folic acid. Slows down the aging process and strengthens the immune system
Banana – balances the nervous system and aids calming. Gives energy, balances high blood pressure, and maintains heart health.
Blueberries – rich in powerful antioxidants and thus help prevent the growth of cancer cells. help with weight loss, improve the appearance of skin and hair, slow down aging, and help cleanse toxins from the body.
Strawberries – richer in vitamin C than citrus fruits, as well as antioxidants that help prevent cancerous infections in the body and fungi on the skin. Strengthens the immune system and improves digestive functions.
Along with all these wonderful benefits the smoothie green is really delicious, easy to prepare, and gives the energy to start the day! You can definitely combine them with protein powders or other powders that you like, such as spirulina and other superfoods.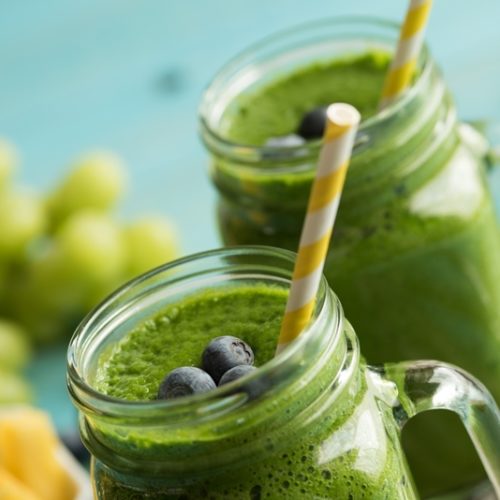 Green Kale Smoothie
Super healthy green kale smoothie with amazing taste and great to start the morning with!
Ingredients
2

Cups

Kale

1

Cup

Spinach

1

Banana

4

Strawberries

½

Cup

Blueberries

½

Cup

Water

2

Cups

Pineapple Juice

3

Ice Cubes
Instructions
Put all the ingredients in a blender and grind on high speed until smooth. Pour into a glass to drink and enjoy. For health!