And what about our spinach? Spinach is a leafy green that I can have in any recipe. Quiches, Stews, Pastries, and even add it to a healthy morning Smoothie. Spinach is highly nutritious and we are in love with its health benefits. It is full of vitamin C and fiber that are responsible for cleansing the stomach from toxins. It is rich in antioxidants, and a good source of vitamin K, vitamin A, manganese, folic acid, vitamin B2, vitamin B6, copper, vitamin E, calcium, and potassium. All of those vitamins help maintain younger skin, enhance brain function, and slow down aging. And what do I have to say to that? I'll have what she's having!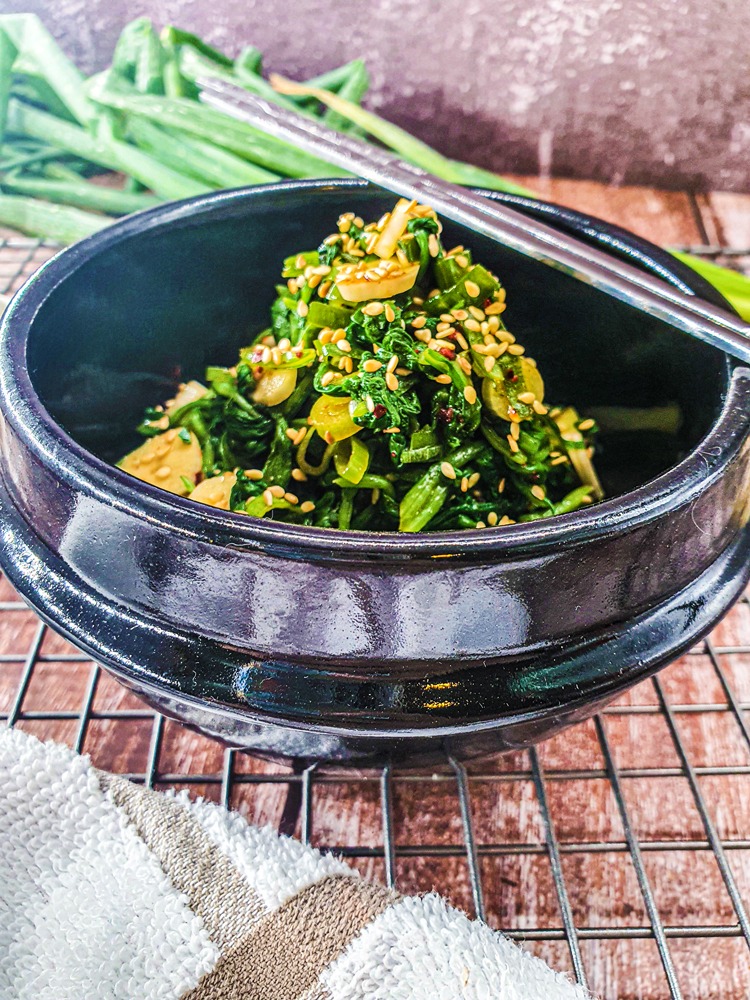 So, within 5 minutes prep and you got yourself a super healthy, delicious spinach side dish. It can be served as a topping on hot fresh rice, or vegan bibimbap. It would be perfect over Asian-style vegetable noodles like Japchae. Whichever recipe you add it to, it'll be superb.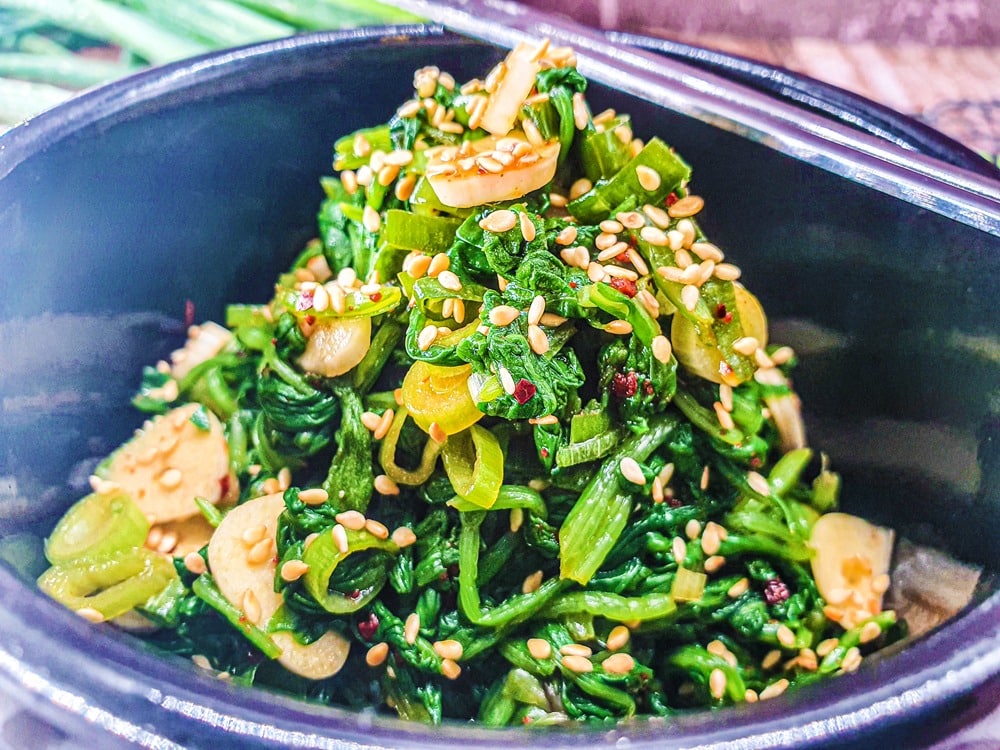 Super easy! Bring water to a boil in a large pot. Put all the spinach in the pot for a quick 20 seconds of blanching. You will notice that the spinach is getting wilted quickly. Transfer the spinach to ice water to stop cooking. Make sure in advance that you have a bowl with Ice water. 
After the spinach has cooled, drain it out of the water, and squeeze it well with both hands. You will get a lump of cooked, squeezed spinach yet still contains lots of its nutritional values. So, don't worry! Transfer it to a cutting board and cut the spinach ball into bite-sized pieces. Transfer to a mixing bowl and add all the flavors mentioned in the recipe below. It is delicious to eat healthy! Enjoy!!
Other Vegan Korean Recipes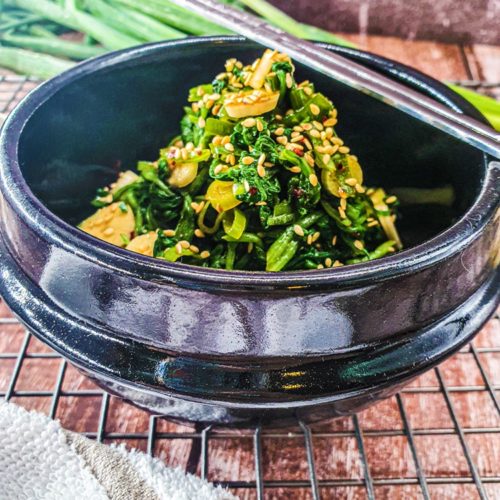 Korean Spinach Side Dish
A side dish of cooked spinach in Korean seasoning.
Ingredients
250

Gram

Spinach

1

Green onion

Chopped

1

Garlic

Sliced

1

Tsp

Soy sauce

2

Tsp

Sesame oil

2

Tsp

Lemon juice

½

Tsp

Korean red pepper flakes

1

Tsp

Toasted sesame seeds
Instructions
Bring water to a boil in a saucepan.

Boil the spinach for 30 seconds and remove it directly to ice water to stop cooking.

Squeeze the spinach well from liquids. Transfer to a cutting board and cut the spinach to bite size-pieces.

Transfer to a mixing bowl and add the rest: sliced garlic, chopped onion, soy, sesame oil, lemon, chili flakes, and mix well.

Sprinkle toasted sesame seeds over and serve with hot rice or over noodles.