Vegan Spinach and Cashew Cheese Quiche
Hello everyone!
Hope you are all well these days.
So this blog was published about a week ago. There was a lot of excitement and compliments from many of you who expressed your interest. So many thanks to the readers for the compliments. I hope I will continue to bring you delicious and awesome content.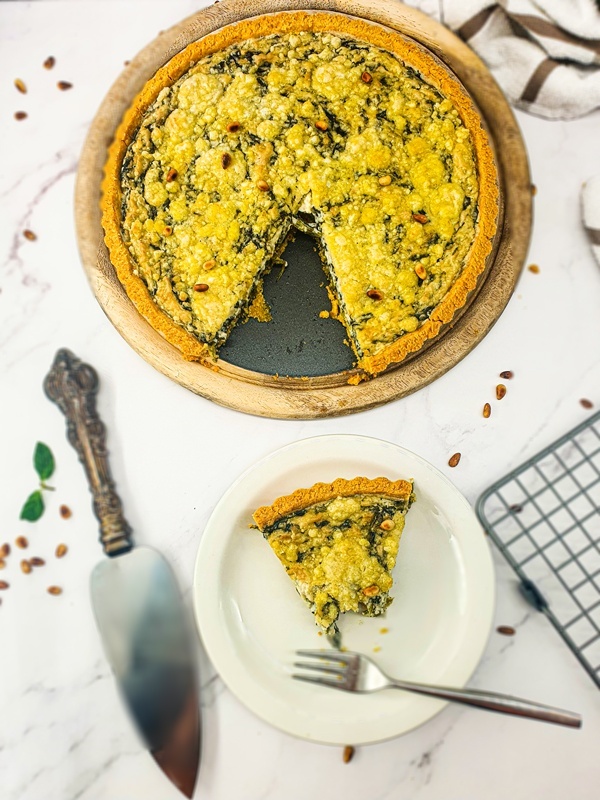 One of the references that came up following the publication of the blog is recipes for various allergens. Recipes such as gluten-free, and other types, and that there are not enough recipe resources for those allergens. I don't really know much about allergens. However, it was a coincidence that I was already in the final stages of baking this Vegan Cashew Cheese Spinach Quiche with gluten-free pie crust as I was getting that comment.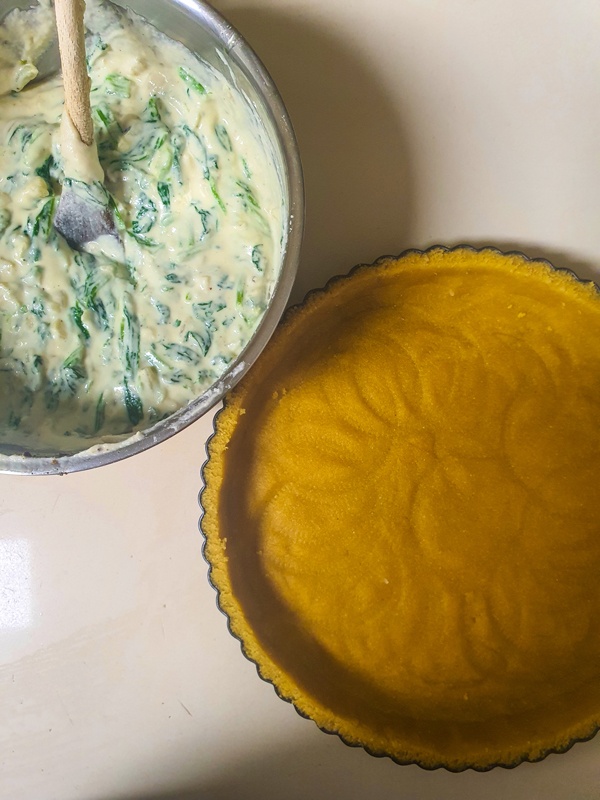 At first, I was a bit worried because I wasn't a big fan of chickpea flour. But I was pleasantly surprised.  This gluten-free savory pie crust is made from cornmeal and chickpea flour and it came out just surprisingly well.
As it came out of the oven, the crispy dough was dry and crumbly, and at the same time a very stable crust. it was delicious. The next day, it was a bomb!  This is because the crust had absorbed the flavors and moist of the vegan cashew cream and spinach filling. And most of all, it is filling very quickly since it is rich in protein because of the chickpea flour. Combine this vegan quiche with a fresh salad or hot soup and you have a perfect and complete wholesome meal.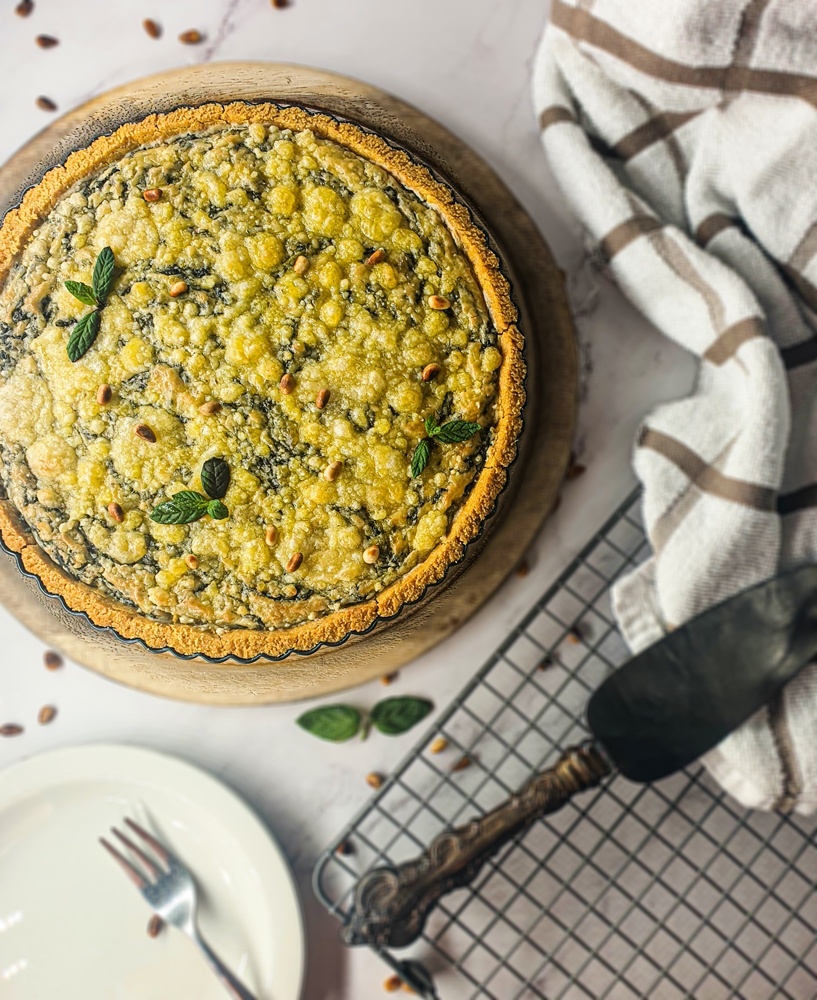 It's very easy to make. Our gluten-free dough mixture is easy to shape inside the pie mold. Immediately after we mixed the ingredients and got a soft dough, we can shape the crust with our hands like a jigsaw puzzle. piece by piece. No need for a rolling pin and no putting between 2 baking sheets. It's a slightly different dough. Like shaping structure in a sandbox for kids. Finally, we level the base with a glass with a flat bottom so that we get an even thickness. Once we have arranged and shaped the base of the quiche inside the pie pan, put it in the refrigerator to cool and move on to the filling.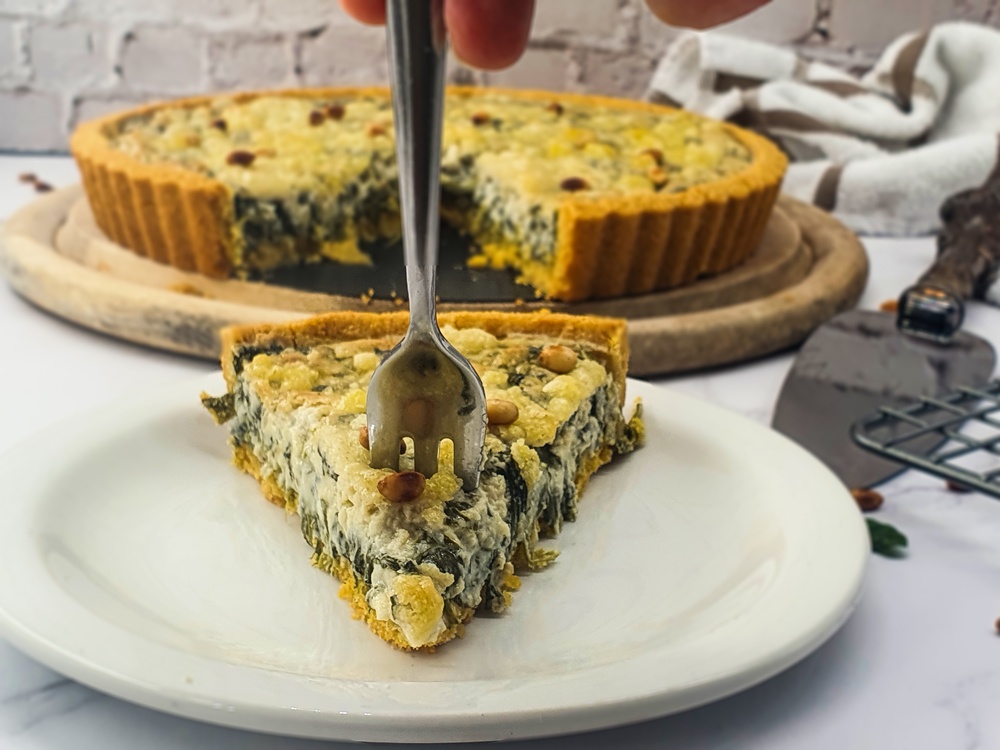 Spinach and Cashew Cheese filling
The filling has 3 steps that are listed in the recipe and it is important to do them separately before assembling everything.
Sautee spinach. and it takes exactly 2 minutes. Into the pan with a little hot olive oil. stirring consistently until the volume reduces.
Blend the cashews that were soaked in water, without the soaking water. Add vegan cream and spices, ¾ cup water, and blend to a smooth creamy texture.
In the last step, we'll make an aromatic white wine concentrate, to which we will add the cashew cream and spinach for another short 2-minute cooking. And that's it.  All that is left is to pour this delicious filling into the cooled crust waiting for us in the fridge.
To sum this experience up it is very easy to make and bake. unlike the traditional quiche, which will appear here shortly. Do not worry. It tasted very good and creamy, and it's nice to occasionally leave out gluten. If there are any questions or if you have any problems feel free to contact me and I will be happy to help.  Enjoy!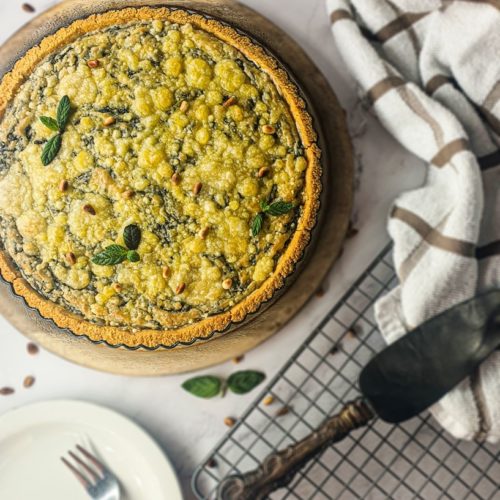 Vegan Spinach and Cashew Cheese Quiche
Vegan Spinach quiche filled with cashew cream and crumbly gluten-free pie crust
Ingredients
Gluten-Free Crust
150

Gram

Cornmeal

150

Gram

Chickpea flour

150

Gram

Vegan butter

½

Tsp

Salt

½

Cup

Water

1

Tsp

Vinegar
Filling
250

Gram

Spinach

Chopped, sauteed with a little oil, and drained.
Cashew Cheese Cream
200

Gram

Cashews

Soaked in hot water for 30 minutes

200

ml

Vegan rice heavy cream

or Coconut cream

¾

Cup

Water

½

Tsp

Nutmeg

½

Tsp

Salt

½

Tsp

Black pepper

1

Tsp

Nutritional yeast
Flavors - White Wine Concentrate
4

Shallots

3

Garlic cloves

2

Fresh thyme branches

½

Cup

White wine
Garnish
3

Tbsp.

Vegan Mozzarella

1

Tsp

Toasted pine nuts
Instructions
Gluten-Free Crust
In a bowl, mix the 2 flours with the salt and butter with your hands until a buttery sandy texture is obtained.

Add the water and vinegar and continue to mix until a uniform dough is obtained.

Shape the dough inside the pie pan. Take a little of the dough by hand each time, and tighten to the bottom of the pan, as well as to the sides. When all the dough in the pan, it can be tightened and shaped again with a flat bottom cup.

Take a knife and cut off the excess dough at the edges to make it straight.

Refrigerate until the filling is ready.
Filling
Sautee the chopped spinach with a little olive oil until the spinach gets smaller in volume. When ready transfer to a sieve to drain the liquids.
Cashew Cheese Cream
Strain the cashews from the water and transfer to a blender along with the vegan heavy cream, and add the water. Blend to a very creamy smooth texture.

Add all the spices and continue to blend well. Set aside.
Flavors - White Wine Concentrate
In a saute pan, steam the shallots until translucent. Add the garlic and continue to steam. Add the wine and thyme and continue on a gentle simmering or about 5 minutes.

Assembling:

Add the cashew cream to the white wine concentrate and cook for about 3 minutes. Add the cooked spinach and mix.

Pour the spinach and cheese mixture over the pan with the dough. Sprinkle over some vegan mozzarella. Drizzle with a little olive oil and bake for about 40 minutes until the cheese is slightly golden.