Hello Friends!
Here is a really easy recipe for a pickled red onion in a vinegar brine. I added vinegar, sugar,  good quality black peppercorns, and dried bay leaves. Great recipe. You do not have to make a large amount. One large onion fills an entire jar and it is kept refrigerated for a long time. Easy 3 months. Within 3 hours of refrigeration and you have pickled onions that you have made from scratch at home and from natural ingredients.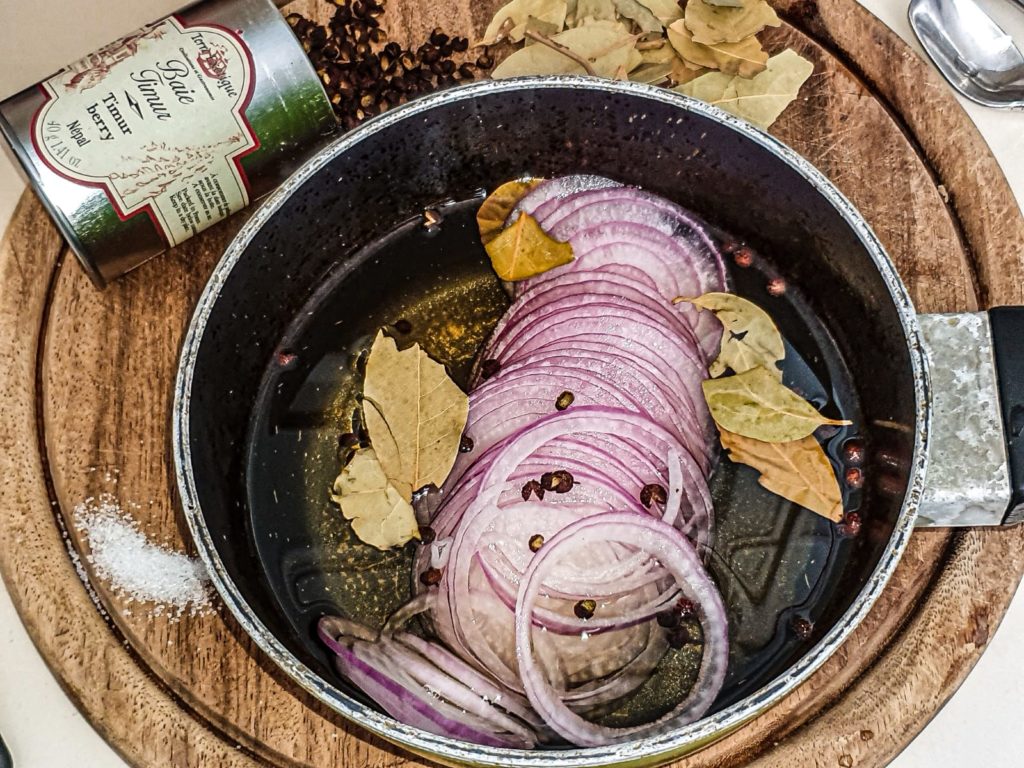 Why Pickle an onion you ask? It just adds a sour and sweet taste to a lot of dishes like tacos or Vegan Burritos, Avocado On A Toast. Excellent over scrambled tofu and upgrades any boring or tired sandwich. It's suitable for falafel and adds really nice color to garnishing dishes.
It is possible and even recommended to add Sumac which is an excellent spice that also helps to pickle the onions. I made this recipe without Sumac. Add 1 teaspoon of Sumac for each one onion.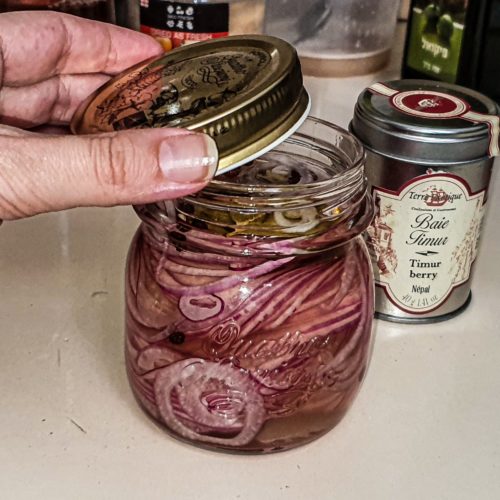 Red Pickled Onion
Thinly sliced pickled onions with Vinegar sugar and dried herbs
Equipment
A Glass Jar to store your pickled onion

Mandoline slicer
Ingredients
1

Medium

Purple Onion

1

Cup

Hot Boiled Water

½

Cup

Apple Cider Vinegar

½

Cup

Sugar

1

Tsp

Salt

5-7

Dried Bay Leaves

2

Tsp

Black Peppercorn
Instructions
Slice the onion thinly with a Mandolin Slicer

In a mixing bowl add the hot water, salt, sugar and stir until fully dissolved.

Add the vinegar, peppercorns and bay leaves

Add the sliced onions to the brine and cover with a silver foil or plastic wrap. set aside to let it cool for 3 hours.

Pour the onions and the brine to the jar you have prepared, cover and store in the fridge for up to 2 months.