Hi friends!
Ever since I started working on my food blog, and up until now, I've come to the conclusion that if I want to continue to making decedent cakes and pastry recipes of all kinds, and at the same time to maintain a healthy shape, I must implement some sort of a structure in which I can balance my diet. In this way I would both make foods that excites me or haven't tried yet, as well as will continue to eat healthy, colorful and fresh. I was thinking about going for the "vegetables all week and dessert on the weekend " eating model. What do you think? Can it be implemented? I will definitely try to meet this challenge and update.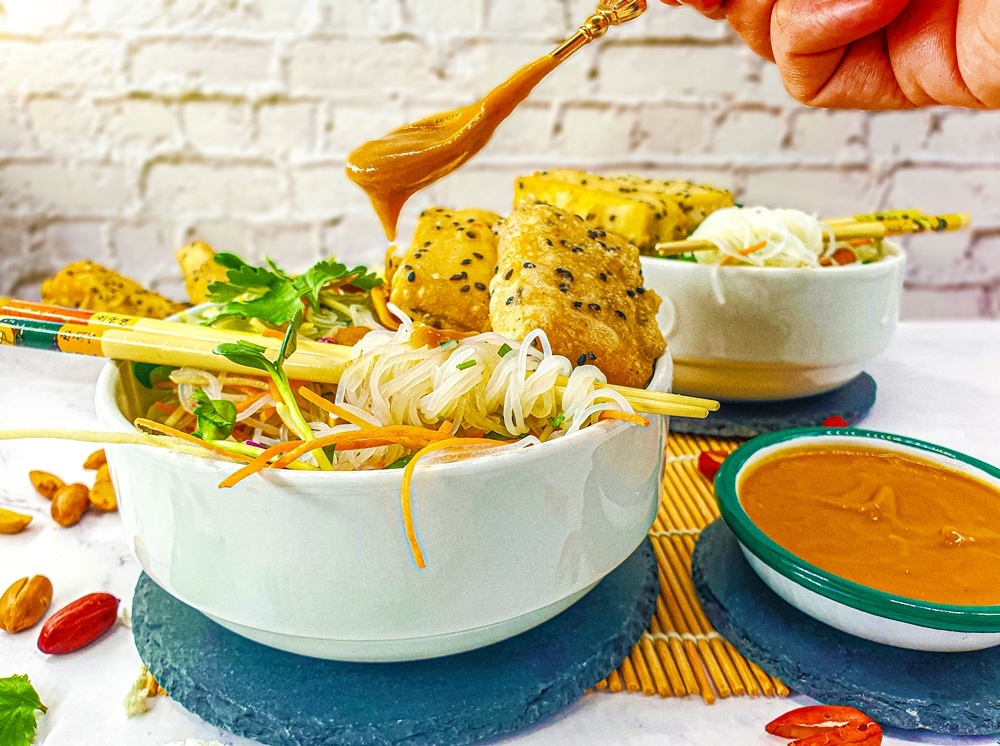 This Asian noodle salad, is inspired by trips I've been to in the Far East, as well as restaurants I've worked at in the past. This Vietnamese style salad has all the good ingredients in it. Great gluten-free bean noodles. Finely grated root vegetables – carrots and kohlrabi. Fresh purple cabbage cut into thin strips. Homemade unsalted peanuts. I explain in the recipe notes how to roast peanuts in the oven at home. I also made pieces of crispy fried tofu in a rice flour batter crust, so that it is also gluten free. You can replace the rice flour with white flour or tempura in the exact same amount if you do not mind gluten. And of course, the most delicious peanut sauce I have ever made and had. This homemade Vegan Orange-Peanut Sauce will take this fresh salad and fly you straight to Vietnam.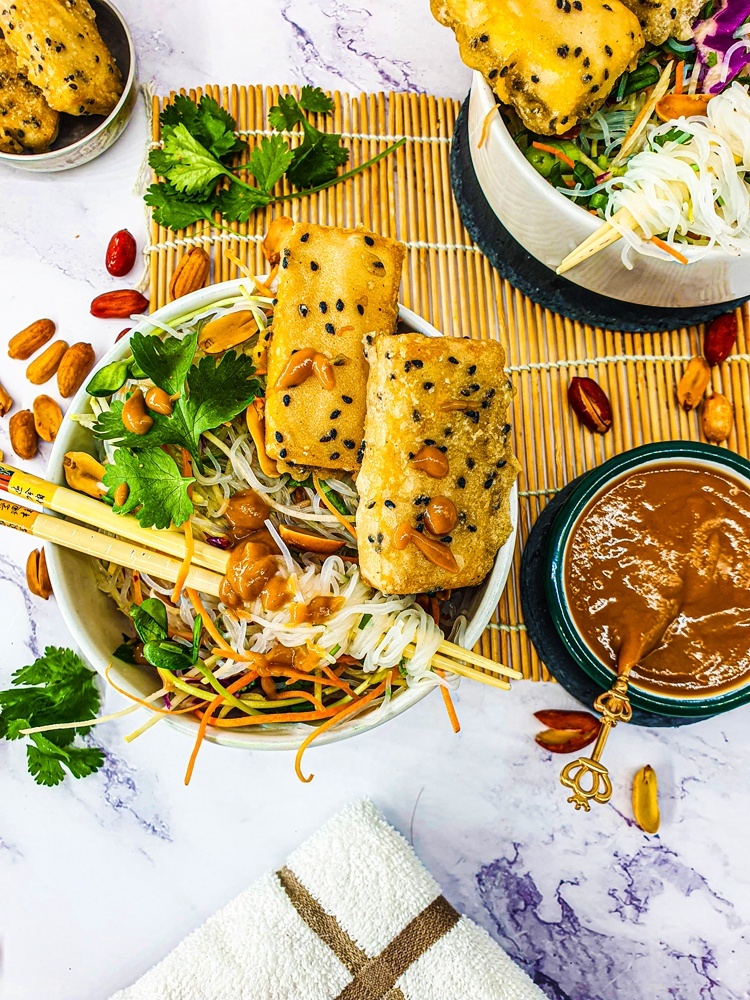 Plus, this salad is a whole meal in itself so much so that I was debating whether to put it in the lunch and dinner category. It has carbs, proteins, vegetables, and healthy fats from the peanut butter sauce, and the roasted peanuts. Satiating for a long time and suitable for one meal a day lifestyle (OAMD).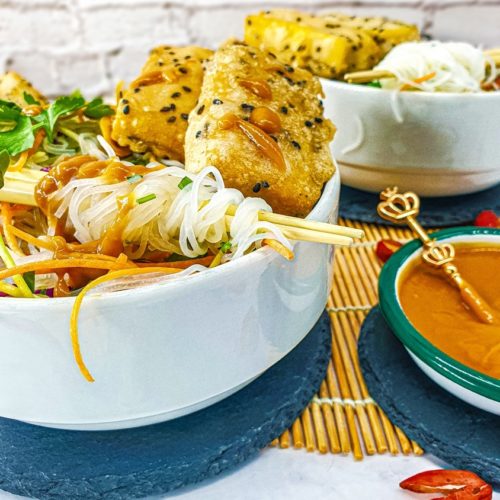 Vietnamese Peanut Noodle Salad
Vegan Bean Noodle Salad with Shredded Vegetables, Crispy Tofu, and Amazing Peanut-Orange Sauce Gluten Free!
Equipment
Mandoline slicer

Deep saucepan for frying
Ingredients
200

Gram

Bean noodles (a full pack)

Cooked according to instructions on the pack

1

Large carrot

Cut to thin Juliennes

1

Kohlrabi

Cut to thin Juliennes

½

Small red cabbage

Cut to thin Juliennes

1

Pack

Sunflower sprouts

About a 100 gram

3-4

Green onions

Chopped

1.5

Cup

Roasted peanuts

1

Cup

Fresh coriander

Chopped
Noodle Nonstick-Season Mix
2

Tbsp.

Peanut oil or olive oil

2

Tbsp.

Lemon juice

2

Tbsp.

Mirin
Peanut-Orange Salad Sauce
¼

Cup

Organic peanut butter

100

ml

Orange juice

About 1 orange

10

ml

Soy sauce

or 2 Tbsp.

2

Tbsp.

Maple syrup

1

Tbsp.

Sesame oil
Gluten-Free Fried Crispy Tofu
300

Gram

Firm tofu

Pat dried and sliced to about 1 cm rectangles

¾

Cup

Rice flour

Or white flour if you don't mind gluten

¾

Cup

Water

1

Tbsp.

Cornstarch

Pinch

Salt

¼

Tsp

Pepper

1

Tbsp.

Black sesame seeds

1

Cup

Oil for frying

Depends on the depth of your frying pan
Instructions
Cook the noodles in boiling water for about 10 minutes or according to the instructions on the package. When ready, rinse the noodles under cold water to stop cooking and wash the starch.

Mix the ingredients with the recommended Noodle Nonstick-Season Mix. Drizzle over the noodles, and mix with your hand so that the noodles won't stick and will add a bit of flavor as well. Set aside.

Cut all the vegetables as recommended and add to the noodles.

Mix all the peanut-orange sauce ingredients, and set aside.

Mix the tofu batter ingredients in a bowl, rice flour, cornflour, sesame seeds, and spices.

Heat oil for frying in a pan

Dip each slice of tofu in the batter and fry on both sides for about 5 minutes until crispy. Place on a plate with a paper towel when ready.

Serve the noodle salad with the vegetables and peanuts in a bowl or plate. Place 2 slices of crispy tofu, and drizzle the peanut sauce over. Enjoy!