Hi everyone!
I love sweets, cakes, and pastries. Who doesn't? But today I said enough! It's salad time! And the truth is, for this Vegan Nicoise Salad, I used what I found in my fridge. I chopped fresh vegetables and baked small, well-seasoned potatoes to achieve addictive crispiness. Also, Sautéed fresh green beans with homemade pickled lemons I made myself, cooked chickpeas, with garlic oil, and garlic confit. All of these elements turned this Vegan Nicoise Salad into a whole meal you can't get bored of. This vegan Nicoise salad is a complete and filling meal. It is rich in vitamins, antioxidants, proteins and it is healthy for digestion.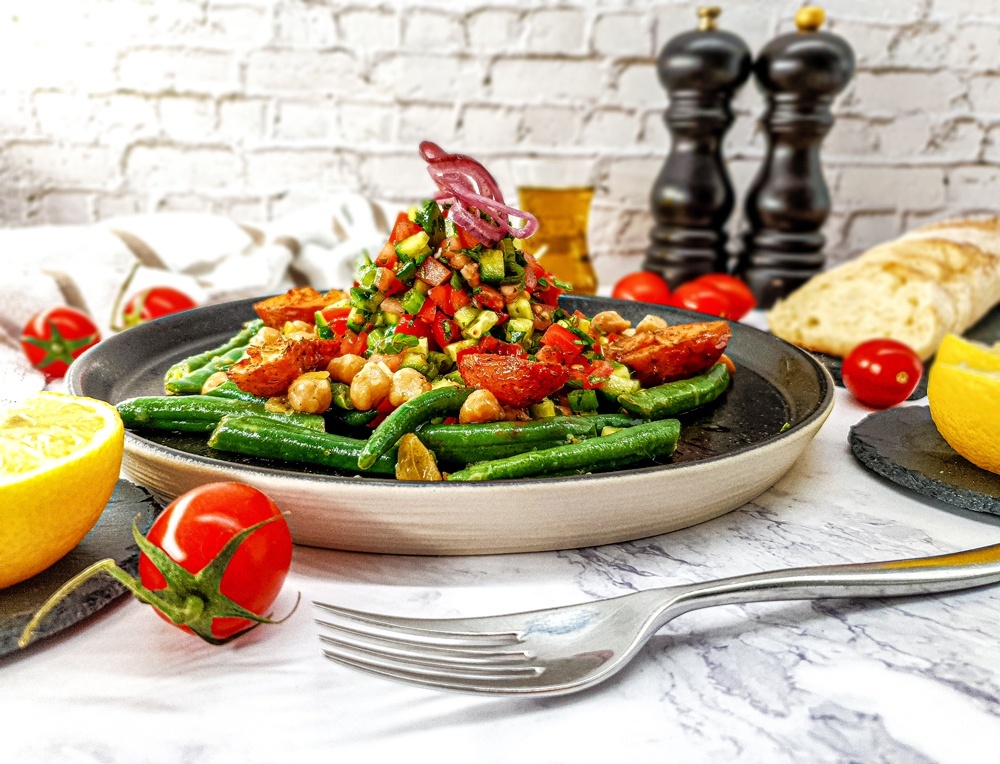 With the sauce, I left it pretty simple. Drizzled a bit of olive oil, fresh lemon, and a little salt. For those who want to take it another step, tahini sauce will be excellent here and will provide a complete and healthy protein. It is really fun to eat a salad that is half cooked and the other half fresh and crispy. You can also add tofu or any protein you like to this salad. If you want to add tofu or seitan strips, you can sauté it along with the lemony green beans.
This stunning salad is basically suitable for any meal of the day, breakfast, lunch, or dinner. Works for one meal a day diet, and is gluten-free.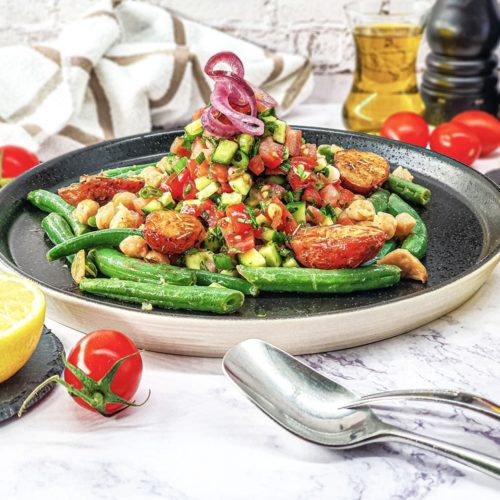 Israeli Nicoise Salad
Fresh chopped Israeli salad, with crispy baked potatoes, and sautéed green beans in pickled lemon.
Equipment
Baking Tray

Spider strainer spoon

Small blanching pot
Ingredients
Sauteed Green Beans
2

Cups

Fresh green beans

Halved and destemmed

¾

Cup

Cooked chickpeas

2

Small pickled lemons

Chopped

2

Tbsp.

Garlic oil and confit

½

Tsp

Black pepper
Crispy Baked Potatoes
5

Small potatoes

Halved

1

Tsp

Sweet paprika

1

Tsp

Black pepper

1

Tsp

Sea salt

1

Tsp

Dried rosemary

2-3

Tbsp.

Olive oil
For a fresh chopped vegetable salad
1

Tomato

Chopped

1

Cucumber

Chopped

3

Tbsp.

Parsley or cilantro or both

Chopped

1

Green onion

Chopped

1

Tbsp.

Lemon juice

1

Tbsp.

Olive oil

¼

Tsp

Sea salt
Instructions
Sauteed Green Beans
In a saucepan with boiling water blanch the fresh beans for about 7-minute. When ready, transfer the beans with a strainer spoon (spider) to a bowl with cold water to stop cooking.

In a saute pan, sauté over medium-high heat, the cooked beans, chickpeas, pickled lemon, with the garlic oil and the garlic confit, for about 5 minutes. Season with ground pepper. No salt is needed here, the pickled lemon has a lot of salt. Set aside.
Crispy Baked Potatoes
In the same boiling water cook the potatoes for 10 minutes.

After 10 minutes, transfer potatoes to a baking pan, and season with all the spices in the recipe. Add olive oil, squeeze a bit each potato with your hand, and mix well with the oil and spices. Bake in the oven for about 30 minutes or until crisp.
For a fresh chopped vegetable salad
Mix all the chopped vegetables and herbs with lemon juice and a little salt.

Serve all the salad parts the way you like. Either next to each other or all mixed.