Hi lovlies!
Lately, I have kale my fridge quite often. Because of that, I use it for many recipes. Smoothies, salads, stir-fries, quiches, stuffing, and more. Kale is known to be one of the healthiest and most beneficial greens if consumed on a daily basis. So in the past week, I have had an unexplained craving for Caesar salad. I also had the chance to dine in a few vegan restaurants that served me a vegan Caesar salad. In some restaurants the Caesar salad served was quite yummy. So I decided to make my own version of it. Vegan Kale Caesar Salad. Fresh iceberg lettuce and kale curls. Croutons from my homemade olive sourdough bread, (of course no need to rush and buy only this, use what you have). Capers. Vegan Parmesan. Roasted king oyster mushrooms. Vegan Caesar dressing – The dressing that'll connect all this goodness together.
Which ingredients i can use to make a vegan Caesar salad.
Most of the ingredients can be store-bought, ready-made, or homemade at your convenience.
Kale and Iceberg lettuce – So in my case this time I opted for chopped kale cabbage curls and combined with chopped iceberg lettuce. Romanian lettuce is used in the classic recipe.
Capers – Capers are basically types of tiny flower buds that are usually pickled in vinegar or salt and can be bought in jars from the deli stores. They help season up dishes and add umami flavor to recipes.
Croutons – the crunchy ingredient that simply can't be dismissed from this salad! You can get store-bought croutons or make them at home easily and quickly with the flavors you like, and even save money. Choose which bread you like. Cut into small cubes with a knife. You can bake the bread cubes straight as you bought it while it is still fresh, or let it dry naturally all day outside and then bake in the oven. Drying the bread before baking in the oven will make the croutons more crispy and durable on the outside. Put the bread cubes in a mixing bowl. Season with salt, pepper, vegan parmesan, nutritional yeast if desired, garlic powder, herbs, and the like. Add 3 tablespoons of olive oil or other oil. Preheat oven to 180 degrees. Spread the croutons in a baking pan and make sure there is a distance between them. Bake the croutons for 30 minutes tossing them in between.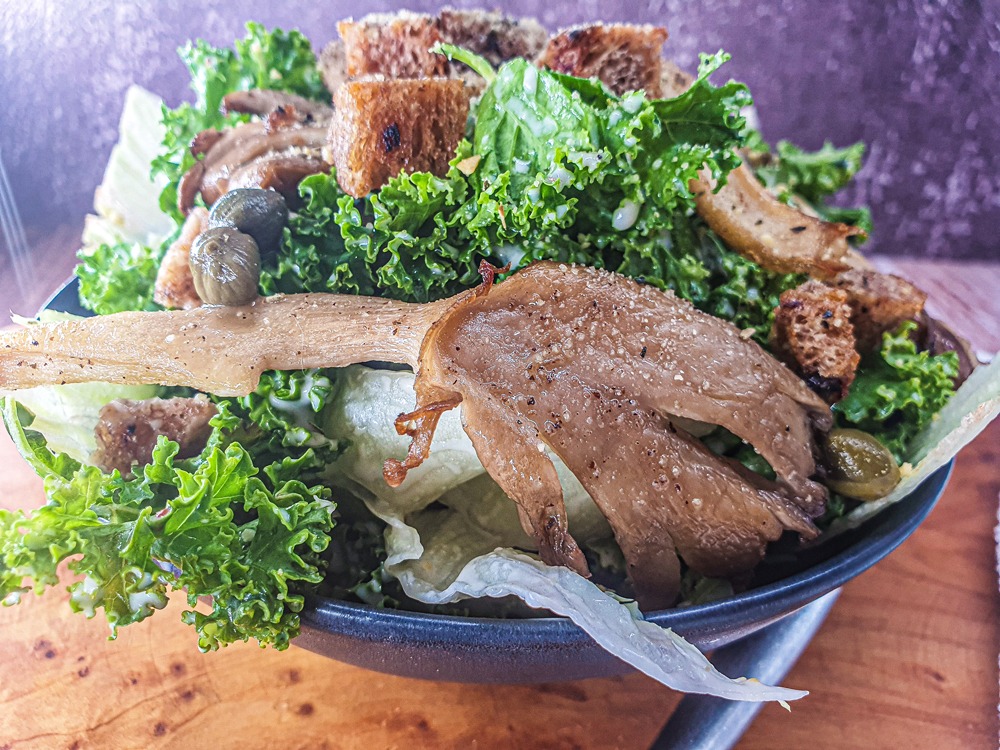 Vegan Parmesan – You can either buy or make it at home. You can also use nutritional yeast instead if you have no other option.
Roasted king oyster mushrooms – These mushrooms replace the chicken or protein you used to add to your caesar. Roasted oyster mushrooms have a good texture after roasting with a little oil and spices that you like. This time I used only salt and pepper but you can add chicken seasoning, garlic powder, etc.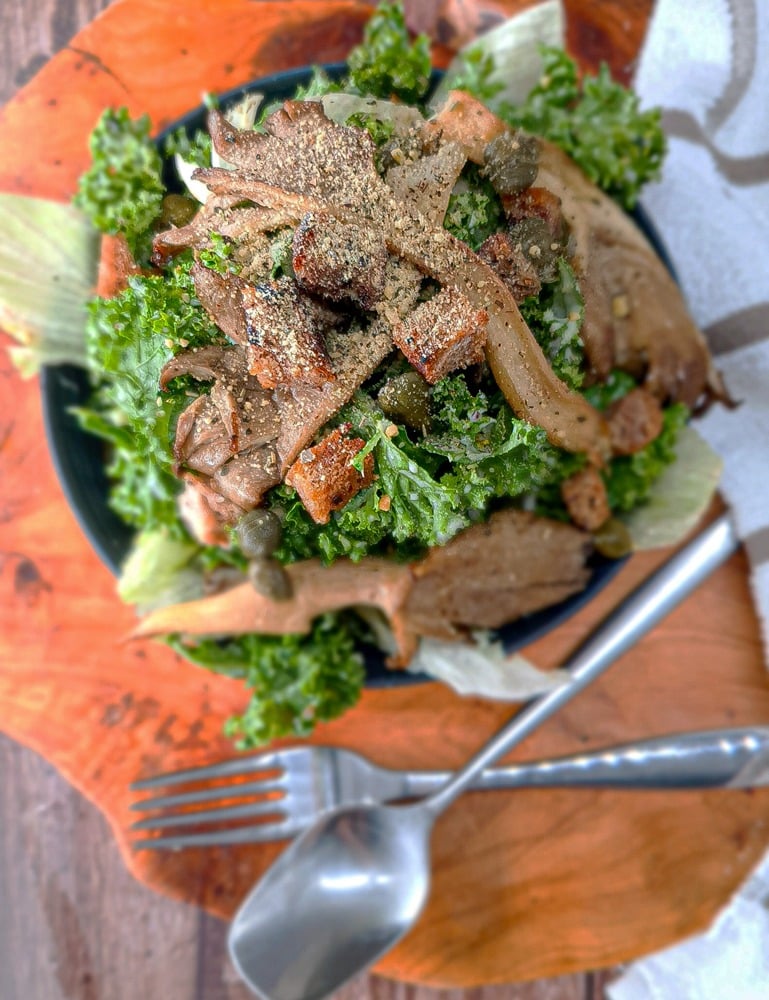 How to make a vegan Caesar dressing for a Caesar salad
To make a vegan Caesar dressing you will need the base which is vegan mayonnaise. You can both easily prepare and buy. Sometimes I make the vegan mayonnaise recipe that from this blog and other times when there are more complex recipes I just buy vegan mayo. generally speaking, I prefer to make vegan mayonnaise myself but sometimes there's no time. I used 'Follow Your Heart' vegannaise this time and just mixed into it the ingredients that made this perfect and delicious vegan Caesar dressing!
Mix all of these together, pour everything into a storage jar. Allow the dressing to cool slightly and soak up all the flavors and serve it cold along with the Caesar salad. Or even a delicious fried tofu schnitzel.
Vegan Kale Caesar Salad
A salad of kale and lettuce leaves, sourdough croutons, capers, roasted wild mushrooms, and a vegan Caesar dressing.
Equipment
Baking Tray

Mixing bowl

Blender
Ingredients
Caesar Salad
3-4

Kale

1-2

Iceberg lettuce

6

Oyster mushrooms

Handful

Sourdough croutons

1

Tbsp.

Capers

1

Tbsp.

Vegan parmesan flakes
Vegan Caesar Dressing
5

Tbsp.

Vegan mayo

I used 'follow your heart' veganise

1

Tsp

Mustard

2

Tbsp.

Vegan parmesan cheese

2

Tbsp.

Fresh lemon juice and a bit of zest

1

Clove

Garlic (small)

2

Tsp

Capers

Pinch

Salt

¼

Tsp

Black pepper

1

Tbsp.

Nutritional yeast

2

Tbsp.

Vegan Worcestershire Sauce

Optional
Instructions
Vegan Caesar Dressing
Blend all the dressing ingredients until smooth. If too thick you can add 2-3 tablespoons of water. Chill the dressing in the fridge and serve with the salad.
Caesar Salad
In a baking pan place the oyster mushrooms. Drizzle 3-4 tablespoons of olive oil, season with black pepper, sea salt, and mix the mushrooms well. (You can also add a teaspoon of nutritional yeast and half a teaspoon of garlic powder (it will turn out great!)

Bake the mushrooms for 15-20 minutes until juicy and golden at the edges.

Cut 1-2 slices of sourdough bread or whatever you have, into small cubes. Drizzle with 2 tablespoons of olive oil, salt, and nutritional yeast and mix well. Place them on a baking pan and bake for about 20-30 minutes until they become crispy and golden.

Chop the 2 lettuces into medium chiffonade and place them into a mixing bowl. If you can't eat raw kale, you can soak it for 5 minutes in boiling water and then drain it under cold water to stop cooking. It will still be easier to consume after soaking.

Squeeze the capers out of the brine.

To serve, prepare a salad bowl, and add the lettuce mixture. Add croutons, roasted mushrooms, and capers. Pour 3-4 tablespoons of the caesar dressing or as many as you want and mix gently. Add vegan parmesan on top. Enjoy!
Notes
The salad alone without the Caesar dressing would be about 485 calories.