Hi lovelies!
Well, the next salad isn't exactly 5 minutes of prep this time. This is not just another salad. But a complete whole meal. The reason it's a complete and nutritious meal is that it contains a lot of vitamins, protein, (because of the chili black beans and kale), and good fats from the vegan cashew sour cream. This vegan taco salad will also be great if you are hosting. It can be prepared in large quantities and served on shared plates, with nachos or crispy tacos. It's suitable for people who exercise because of the high natural protein concentration it has. And especially suitable for one meal a day diet (OMAD) because it is satiating over time.
So what do we have in this amazing salad?
Ingredients for the vegan kale taco salad
Kyle – So of course the base of the salad this time is kale that is full of so many vitamins, minerals, and antioxidants that are so necessary for our health and strengthen the immune system. Rinse the kale well in water, you can even boil it in boiling water for about 5 minutes (and transfer to frozen water to stop cooking) if it is difficult to eat it uncooked. Chop it into strips and place it in a large mixing bowl.
Roasted sweet pepper – there is a detailed explanation in the recipe of how to bake it. Sweet red peppers are rich in vitamin C and give an amazing sweetness to salads. You can also use a store-bought if you want to save time. Once it is roasted, clean of peel and seeds, we will cut it into thin strips and add to the kale in the bowl.
Corn – What's more Mexican than corn? I cooked the corn in water until soft and separated the seeds from the cob with a knife. The cutting is done from top to bottom as we hold the corn at the top end at a right angle to the cutting board.
Tomato – another integral part of Mexican cuisine. Just need to chop it finely.
All this perfect base is mixed with a little olive oil, salt, and lemon juice. we then top it with the cooked black bean chili and vegan cashew sour cream that will give us those perfect Mexican flavors.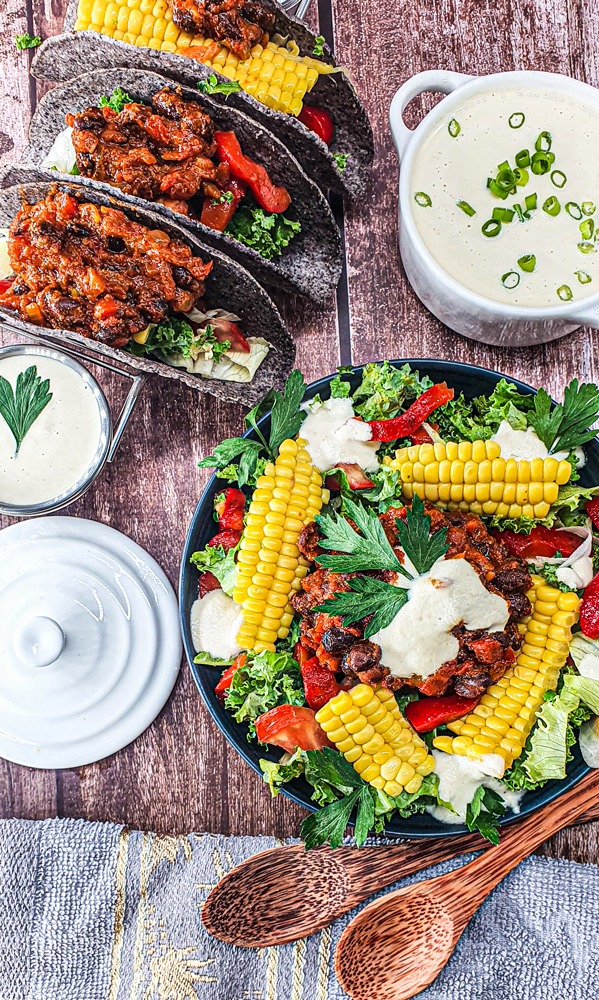 How to make vegan black bean chili
Easily. First, fry the spices with the oil on really low heat to open up all the flavors. Then, immediately add the onion, carrot, and garlic. Add the pepper and tomatoes and continue to bring out the flavors for a few more minutes. Finally, we add the cooked beans with about 1 cup of water so that everything cooks together until the liquids are completely reduced. About 20-30 minutes over medium heat.
If you want to use dried beans instead of canned, first soak the black beans the night before. The next day we strain the beans and boiled water in a pot. To cook the beans faster you can use a pressure cooker or add a teaspoon of baking soda into the cooking water.
Tell me if you enjoyed it as much as I did.
Enjoy your meal!!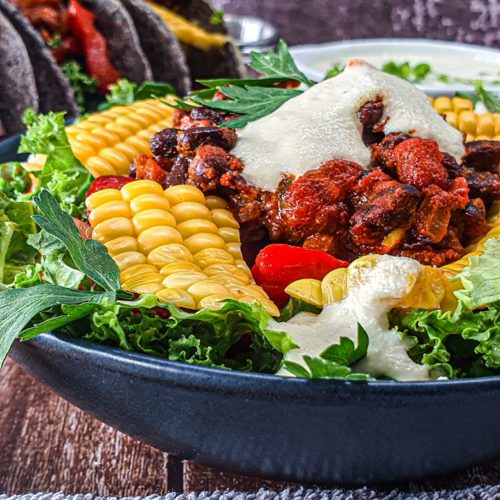 Vegan Kale Taco Salad
A delicious Mexican taco kale salad, with black bean chili, roasted peppers, and vegan cashew sour cream.
Equipment
Baking tray to roast the peppers

Small cooking pot for the corn

Deep sautee pan for the chili
Ingredients
Black Bean Chili
3

Tbsp.

Olive oil

1

Medium onion

1

Carrot

1

Tomato

½

Red sweet pepper

4

Cloves

Garlic

230

Gram

Cooked black beans

Canned or dried

4

Bay leafs

1

Tbsp.

Red chili powder, or chipotle powder

1

Tbsp.

Sweet paprika powder

1

Tbsp.

Cumin

1

Tbsp.

Tumeric

2

Tsp

Sea salt

1

Tbsp.

Black pepper

½

Lime or lemon

Juice from half lime
Salad
4-5

Kale leafs

Chopped

1

Tomato

Chopped

1-2

Corn cobs

Cooked, sliced lengthwise, you can use canned as well.

1

Roasted pepper

Instructions in recipe

2

Tbsp.

Chopped cilantro

Optional

Drizzle olive oil, lemon juice, pinch salt.

To season the veg
Vegan Cashew Sour Cream
1

Cup

Cashews

½

Cup

Water

3

Tbsp.

Lemon juice

1

Tbsp.

Organic apple cider vinegar

½

Tsp

Sea salt

100

gr

Soy yogurt

1

Tbsp.

Nuitritional yeast
Instructions
Vegan Cashew Sour Cream
Strain the cashews from the water.

Add all the ingredients to your food processor and grind until smooth. Place in the refrigerator to cool for about an hour.
Corn
Cook in boiling water in a covered pot or pressure cooker for about 40 minutes or until softened.
Roasted Peppers
Rub the pepper with oil, and place in a preheated oven. Bake for 40 minutes to an hour. Turn the pepper in the oven halfway through. You want to brown the pepper so you can separate the peel.

Once the peel is slightly browned, remove it from the oven into a plastic container or bag and close it. When the pepper is cold enough, peel it with your hands, rinse and cut into strips.
Black Bean Chili
Heat oil in a pan over low heat along with all the spices, onions, garlic, and carrots for about 5-7 minutes until the onions are translucent.

Add the chopped tomatoes and peppers, mix and cook for another 5 minutes.

Add the black beans together with 1 cup of water and lemon juice. Continue to cook over medium heat for another 20-30 minutes, stirring occasionally. The chili will be ready when there is no liquid left in it. When ready you can add chopped coriander if you like.

Serving:

In a mixing bowl, add the chopped kale, roasted pepper, chopped tomato, and corn with a little lemon salt and olive oil and mix.

Add a generous tablespoon or two from the black bean chili.

Drizzle the cashew vegan sour cream over the salad with the bean chili as much as you like. You can mix all the salad if you like, or not mix and enjoy different flavors on each bite. Appetite !!!!
Notes
Calories refer to one serving of salad along with 3 tablespoons of bean chili and 3-4 tablespoons of cashew vegan sour cream.
The Sour cream recipe yields an amount that's enough for other things. You can use it for tacos, burritos, nachos, and other foods.
It's better to use the cashew cream fairly quickly. It will last around 3-4 days only because it has no preservatives. You can also make half of the recipe.