Crafting a Scrumptious Vegan Gnocchi Alfredo:
A Perfect Delight for Lunch, Brunch, and Shavuot Celebrations
Hey Lovelies!
Indulging in the exquisite flavors of a creamy vegan gnocchi alfredo is a gratifying experience that can be enjoyed on various occasions. Whether you're planning a delightful lunch, a leisurely brunch, or preparing a special meal for the joyous Shavuot holiday, this plant-based delicacy is sure to delight your taste buds. Join me as I share my culinary adventure of crafting a vegan gnocchi alfredo, made with store-bought gluten-free gnocchi and a delectable mushroom cream sauce. Let's dive into the flavorsome details that make this dish an extraordinary choice for any occasion.
One fine day, I found myself in pursuit of a vegan rendition of the classic gnocchi alfredo. Seeking convenience without compromising on taste, I opted for store-bought gluten-free gnocchi. The idea of pairing these tender potato dumplings with a velvety mushroom cream sauce sparked my culinary imagination.
The Magic of Mushroom Cream Sauce
To create the luscious creaminess of the sauce, I began by sautéing finely chopped shallots in a glimmering drizzle of olive oil. Next, I added a medley of oyster mushrooms and a handful of mixed dried mushrooms, allowing them to release their earthy aromas. As the mushrooms turned golden brown, I elevated the flavors by deglazing the pan with a generous splash of white wine, infusing it with a delicate acidity.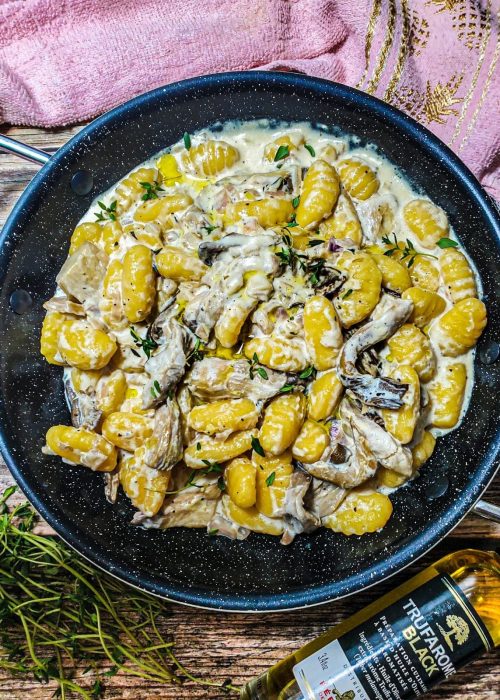 Creating Creamy Perfection
To bring the sauce to its creamy pinnacle, I introduced soy cooking cream, a dairy-free alternative that adds richness and smoothness. As the sauce simmered gently, I sprinkled in a pinch of thyme, a hint of salt, and a dash of freshly ground black pepper, each element contributing to a harmonious blend of flavors. The magic was complete when I drizzled a tantalizing hint of black truffle oil over the finished creation, imparting a touch of luxury.
Gluten-Free Gnocchi Joins the Celebration
n parallel, I cooked the gluten-free gnocchi until they reached their tender perfection, following the instructions on the store-bought package. Once al dente, I strained the gnocchi and added them to the mushroom cream sauce, allowing them to absorb the velvety goodness. Each dumpling became a vessel of delectable flavors, complementing the creaminess with their delightful chewiness.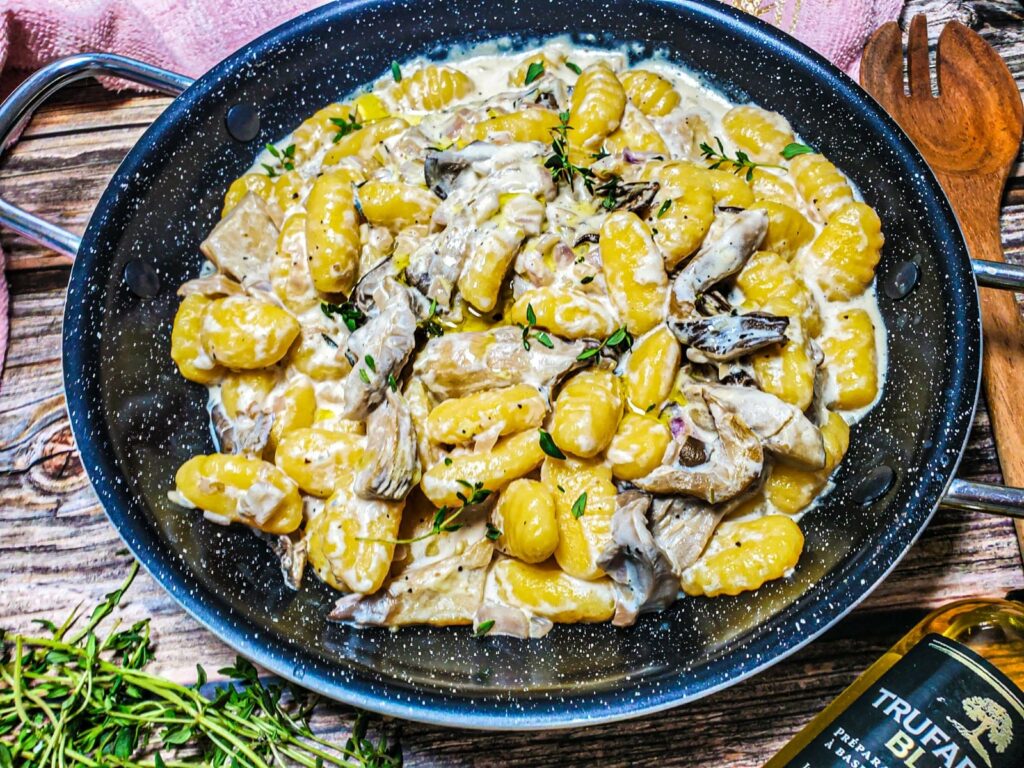 Lunch, Brunch, and Shavuot Delight
Now that our vegan gnocchi alfredo has come together flawlessly, let's explore how it caters to various occasions. For a delightful lunch, serve it as the star of the show, accompanied by a fresh side salad or some roasted vegetables. As a brunch option, pair it with a colorful fruit platter, freshly squeezed juices, or even a sparkling mimosa. And when Shavuot arrives, this dish beautifully blends with the spirit of the holiday, offering a plant-based alternative that honors tradition while embracing modern tastes.
Easy Comfort food for any occasion
In summary, the journey of crafting a vegan gnocchi alfredo using store-bought gluten-free gnocchi and a tantalizing mushroom cream sauce is one filled with culinary creativity and appreciation for diverse occasions. Whether you're planning a leisurely lunch, a delightful brunch, or celebrating the joyous Shavuot holiday, this dish is a perfect choice. The harmonious blend of flavors, from the earthiness of mushrooms to the creaminess of
the sauce and the delightful chewiness of the gluten-free gnocchi, creates a memorable dining experience that will leave your taste buds and guests craving for more. With its versatility and plant-based goodness, this vegan gnocchi alfredo is a testament to the endless possibilities of vegan cuisine, offering a delicious option for anyone seeking a delectable meal that celebrates both tradition and innovation. Embrace the joy of savoring this dish, and let it become a cherished part of your lunch, brunch, or Shavuot festivities.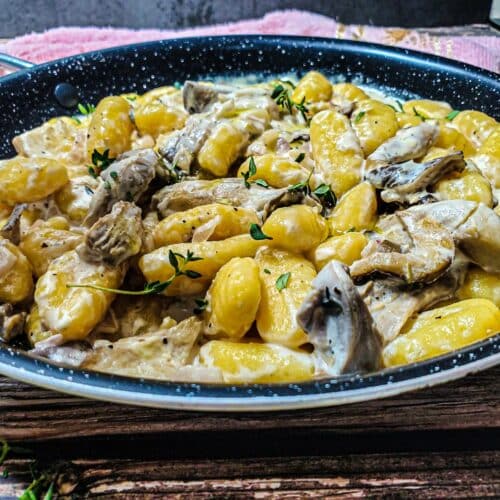 Vegan Gnocchi Alfredo
GF Gnocchi With creamy Mushroom Sauce
Equipment
1 Small cooking pot

1 Wide Sautee Pan

1 Spatula
Ingredients
500

gr

Store-bought GF Gnocchi

1 Pack

4

Tbsp.

Olive oil

2

Shallots

Finely chopped

170

gr

Oyster Mushrooms

Separated into strips

1

Tsp

Salt

1

Tsp

Black pepper

25

gr

Dried mixed mushrooms/Porcini mushrooms

Rehydrated with hot water for 10 min

2

Branches

Thyme

¼

Cup

White wine

250

gr

Vegan cooking cream

I used Alpro
Instructions
Soak the dried mushrooms in a jar of boiling water for about 10 minutes.

In a wide pan, heat about 4 tablespoons of oil and fry the mushrooms for about 5 minutes on medium-high heat.

Add the shallots and continue sauteeing for another 5 minutes.

Add thyme leaves and stir well. Pour white wine and reduce it together with the mushrooms.

Add 3 tablespoons of the rehydrated mushrooms and another 3 tablespoons of the mushroom stock created by soaking.

Add the cream and cook over a gentle bubble for about 10 minutes until the sauce thickens.

In a small pot with boiling water and a teaspoon of salt, cook the gnocchi for about 10 minutes until the gnocchi float on the surface of the water. As soon as they start to float they are ready.

Strain the gnocchi, add it to the sauce, and cook for about 5 minutes.

Serve on a plate and drizzle a little of the black truffle oil over the gnocchi. Enjoy!