Hi everyone!
I worked for a few hours to get the perfect Vegan & Gluten-free Blintzes recipe for Shavuot. After a few glitches and few batches of batter thrown in the trash, I was able to achieve a perfect texture and delicious Blintzes that any filling you like would fit in. In addition, I bought a Non-stick Crepe-pan that I only needed for this recipe, however, I was surprised at how good and comfortable it was to work with. It is definitely a useful pan. You can fry savory or sweet crepes, heat a burrito, pancakes, and so much more!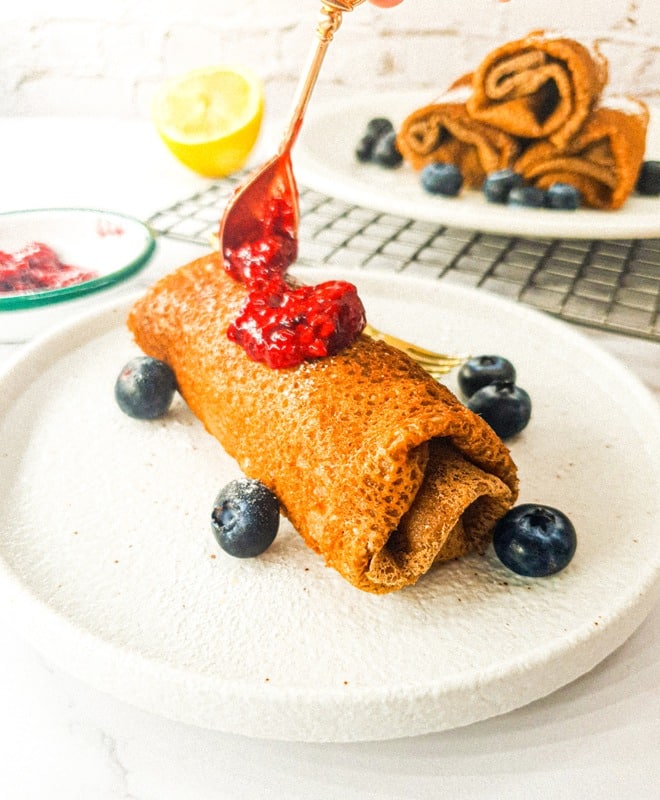 Teff flour vs. white flour
This is the first time I use Teff flour and chose it because I read how healthy it is. Since I love pastries and sweets I wanted to see if I could make the perfect Vegan Cheese Filled Blintzes without the use of white flour. So I went through some trials because unlike white flour which has gluten and it consolidates the batter well in frying, in the Teff flour batter we need to use starch or a thickener since we don't use eggs. So I tried a few different thickeners like tapioca, potato starch, and the truth is that cornstarch yielded the best result so far.
How to make vegan gluten-free blintzes
To make the perfect Blintzes, there must first be a good quality non-stick pan that is not scratched or old. You don't have to buy a crepe pan if you have a good non-stick pan. Additionally, you need to have a wide-shaped Spatula that can lift a larger area of the crepe, so we can lift it and turn it over without tearing it. Another important thing is that you need to heat the pan well before pouring the batter, and spread a really thin layer of vegan butter. If there is too much fat, you will not get a crepe, but something that looks more like scrambled eggs.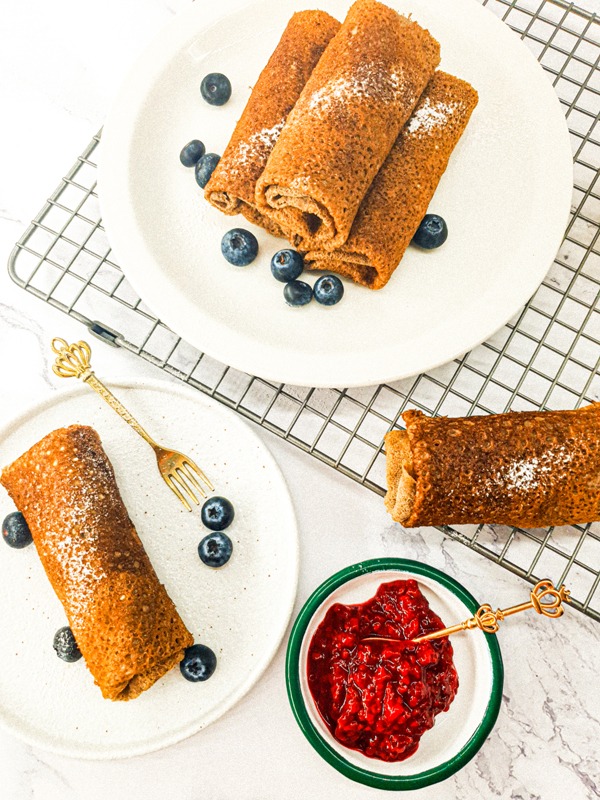 Vegan cashew ricotta cheese filling
Lastly I made vegan ricotta cheese from cashews and tofu and it came out just perfect. I wanted it to be firm and similar to ricotta cheese, so while I was blending the mixture in a blender, I boiled agar water that stabilizes the mixture to a texture of delicate jelly.  This vegan ricotta cashew cheese will work with any flavor you want to add to it, savory or sweet. It is suitable for spreading on toast or any bread as well. 
This blintz recipe is a healthier version of the classic recipe and is no less delicious. It is gluten-free, and is full of protein that is present in both Teff flour and cashew tofu cheese. In this recipe, I used mostly maple and coconut sugar so it is also free of processed white sugar!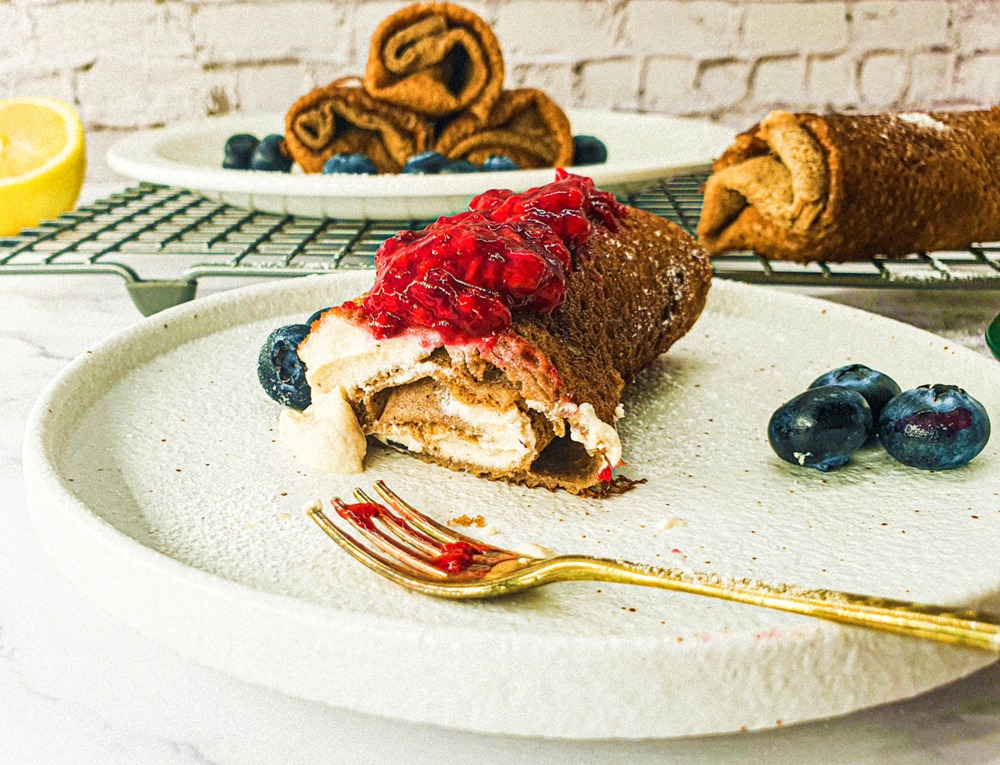 These amazing Vegan Blintzes can easily be served on Breakfast, healthy dessert, and festive occasions. And of course, it is added to my collection of vegan Shavuot recipes! Have fun and tell me how it turned out in the comments 😊
Vegan Teff Cheese Blintzes Video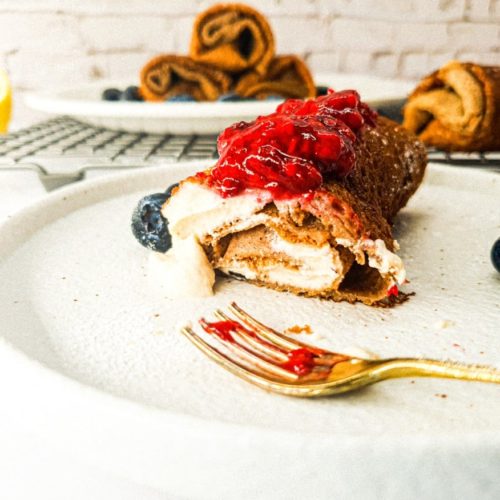 Vegan Teff Cheese Blintzes
Gluten-Free Teff crepes with a sweet cashew ricotta filling and raspberry sauce.
Equipment
Nonstick pan

Spatula

Blender

Saucepan
Ingredients
Dry Ingredients
1

Cup

Teff flour

2

Tbsp.

Cornstarch

2

Tbsp.

Coconut sugar

Or maple syrup/sugar

Pinch

Salt
Wet Ingredients
1

Cup

Soy milk

Or any vegan GF milk

¾

Cup

Water

1

Tsp

Vanilla paste

/Essence

2

Tbsp.

Grapeseed oil

1

Tsp

Rum essence

or Orange essence
Vegan Cashew Ricotta Filling
1

Cup

Unsalted cashews

150

Gram

Firm tofu

Soak for about an hour in hot water

1

Cup

Water

3

Tbsp.

Agar flakes

or 1 Tbsp. Agar powder

4

Tbsp.

Maple syrup

4

Tbsp.

Lemon juice and 1 Tbsp. zest

1

Tbsp.

Vanilla paste

2

Tbsp.

Raisins
Raspberry Sauce
1

Cup

Frozen barries

1

Cup

Water

2

Tbsp.

Cornstarch

3

Tbsp.

Maple syrup

Or Other sugar
Instructions
Vegan Teff Blintzes
Blend all the blintzes ingredients until a smooth batter is obtained. Or alternatively, mix the dry and wet ones in separate bowls and then pour the dry ones into the wet ones and mix well with a whisk.

Heat a nonstick pan over medium heat, take a paper towel, dip it in a little vegan melted butter and brush the pan with a bit of butter.

Pour the batter into the pan and turn so that the batter is spread over the entire pan and you have a thin crepe. If you have a crepe stick the work will be easier.

Fry the first side for 5-7 minutes until the edges are becoming loose. Gently lift it up and flip with a wide spatula and fry for another 2-3 minutes. Fry all the crepes and transfer them to a plate.
Vegan Cashew Ricotta Filling
In a small saucepan, bring the water to a boil along with the agar flakes. Mix well until the water thickens.

Blend the cashews with a quarter cup of their soaking water and tofu.

Pour agar water into the blender and continue to blend until the mixture is smooth. Pour into a container and let it set in the refrigerator for 2 hours. At this point, the cheese has a neutral taste just like that of ricotta. You can also use it for sweet or savory foods, add any flavors you like.

Once the cheese has stabilized and cooled, transfer it into a mixing bowl and add all the flavors: lemon juice, zest, maple, vanilla, raisins, and mix.
Raspberry Sauce
In a saucepan, mix all the ingredients well and heat on the stove while stirring. Remove from heat when the sauce got to a thick consistency. About 5 minutes after simmering.

Fill each blintzes with 3-4 tablespoons of the ricotta cashew cheese and roll. Add the raspberry sauce on top. Enjoy!
Notes
It's best to prepare the cashew ricotta about two hours before the blintzes so that the cheese stabilizes in the refrigerator first.
You can also use a store-bought vegan cheese such as Tofutti.
For these blintzes, you must use a nonstick pan only.
Brush the pan with a tiny amount of butter with absorbent paper so that there is but a drop of grease.
This batter takes longer to cook on each side than the white flour batter, about 5 minutes each side so cook around 5-7 minutes until you see that the edges separate easily from the pan and there are a few bubbles in the center of the crepe.
It's better to flip the blintzes with a flat spatula, first loosen the edges of the cooked blintzes on one side, then insert the spatula underneath the center of the blintzes, gently lift it, and flip.